Wall Art Decor That Spikes The Imagination In Extraordinary Ways
Beauty often lies in the little things and in interior design the finishing touches play a crucial role in defining the space and bringing everything together A piece of modern wall art can turn out to be the missing detail in a room that has beautiful accent walls and stylish furniture. When decorating a space, there are many different strategies that can lead to success. The wall art decor can be a focal point for the room or a way to tie together the diversity of accent colors used throughout. So what's your decor strategy that you'd choose for these interesting creations?
The Palisades impresses with the dynamism of the apparently random pattern. It's a piece of wall art that can be installed either vertically or horizontally, depending on the size and shape of the surface you want to display it on.
The design is created out of rattan that has been hand-bent and turned into a geometric structure of interlocking lines. You can find this piece in two beautiful tones of natural brown. It measures 85" w x 45"h with a 5.5" depth.
Planters and vases are a lovely way of decorating an accent wall, especially when there's a clean and beautiful contrast going on. We love the idea of using bamboo stalks for this purpose.
Tie two or three together and turn them into tubular vases or containers for air plants and small succulents. It's a really fresh idea with a little bit of zen to it.
A detail that applies to all wall art is the lighting. Use accent lighting to put the spotlight on your wall art and to emphasize its true and beautiful colors or interesting design.
For every space there's at least one perfect type of wall art. Let's say you have an interior courtyard or garden with an accent wall that you want to turn into a gallery of exquisite artwork. Perhaps you could find inspiration in this artistic and also quite dramatic display.
Decorative plates used to be really popular at one point but then they became a symbol of cozy rustic homes or cottages. You can revive that unique charm by creating an eye-catching gallery of ornamental plates.
There are many different and also extraordinary ways of displaying plates in a modern environment. You can use a mixture of plates and bowls of various colors to create a unique and dramatic display.
That's actually quite the artistic composition. It's a unique marriage between furniture and wall decor. The artwork takes over the space in a striking but at the same time delicate way.
Wood wall art is known to make spaces feel warm and inviting. The design possibilities are numerous and we'd like to emphasize this particular concept: a series of circular compositions created using slices of wood of various small dimensions. A project like this can be recreated at home if desired.
When you seek inspiration in nature you can translate that into some mesmerizing designs. Something as simple as a flower shape or a leaf form can take new forms and can inspire eye-catching designs that are sure to stand out. This, for instance, is an beautiful autumnal creation.
String wall decor takes a new form here. These abstract pieces of wall art focus on color contrast and texture. They look stunning as a set of three but one would also be enough if you want to add a stylish focal point for a living room, bedroom or home office.
Since we mentioned colors and contrasts let's focus on that a little bit more. The black and white combination is timeless and always chic and elegant and here it was used in a minimalist and pure way. The color block wall art is a wonderful option for dining rooms or contemporary living rooms, home offices or even bedrooms.
When creating large wall art you don't always need to have a plan. Sometimes it's just fun to improvise and to see where your inspiration of the moment gets you. Find new ways to repurpose and upcycle things like pipes, plates, chalk and other everyday items.
this symphony of colors is a creation by Pascale Marthine Tayou. It's one of the many oversized pieces of artwork meant to impress and to become subjects of conversation. So if you decide to go with something similar for your home, make sure you find a good spot for it.
Designed by Steven and William Ladd from Cristina Grajales Gallery, this unusual design was created using a unique combination of papier mache, fiber, metal trinkets and pins. It's definitely an intriguing piece that has plenty of glamour although not in a traditional fashion.
When dealing with something so unusual and unconventional, there are no rules when it comes to decorating. Of course, you could play it safe and complement the trinket wall art with something equally glamorous such as a console table or a cabinet that features golden accents.
This is string art taken to a whole new level. Instead of the usual clean and simple look, the artist chose to do something a little bit more dramatic. The loose ends that would have normally been cut down and neatly tucked away are allowed to hang freely and the whole composition looks as if it's bleeding color.
Woodworking is an amazing form of art that has changed over the years and now simple forms and delicate shapes have replaced the once glamorous intricate carvings and ornaments. Modern wall art is often linked to geometry in one way of another and this is a pretty beautiful example.
There was a time when everyone had to have a wall clock in their home. It was a must-have that slowly faded away. This makes displays like this one that much more interesting. A collection of vintage wall clocks have been juxtaposed resulting in a fancy wall decor capable of making any space look charming.
The inspiration for this delicate wall art series seems to be the world of corals and flowers. We love the delicacy of the forms and the complexity of each and every piece in the collection.
The same collection is featured here in a different and more colorful form. The same beautiful and delicate lines are now presented with more pizzazz and flavor.
One man'c junk is another man's treasure. This is something we can understand and agree with, especially when we come across designs that use recycled and repurposed materials. When it comes to wall art, anything can be displayed in an interesting and meaningful way, even some rusty traffic signs or a piece of driftwood with a lot of history.
This is a great way to celebrate and value wood as a material good at everything. These are in fact framed pieces of wood. They have been sliced and cut at interesting angles and they each tell a story. Together they form a unique puzzle.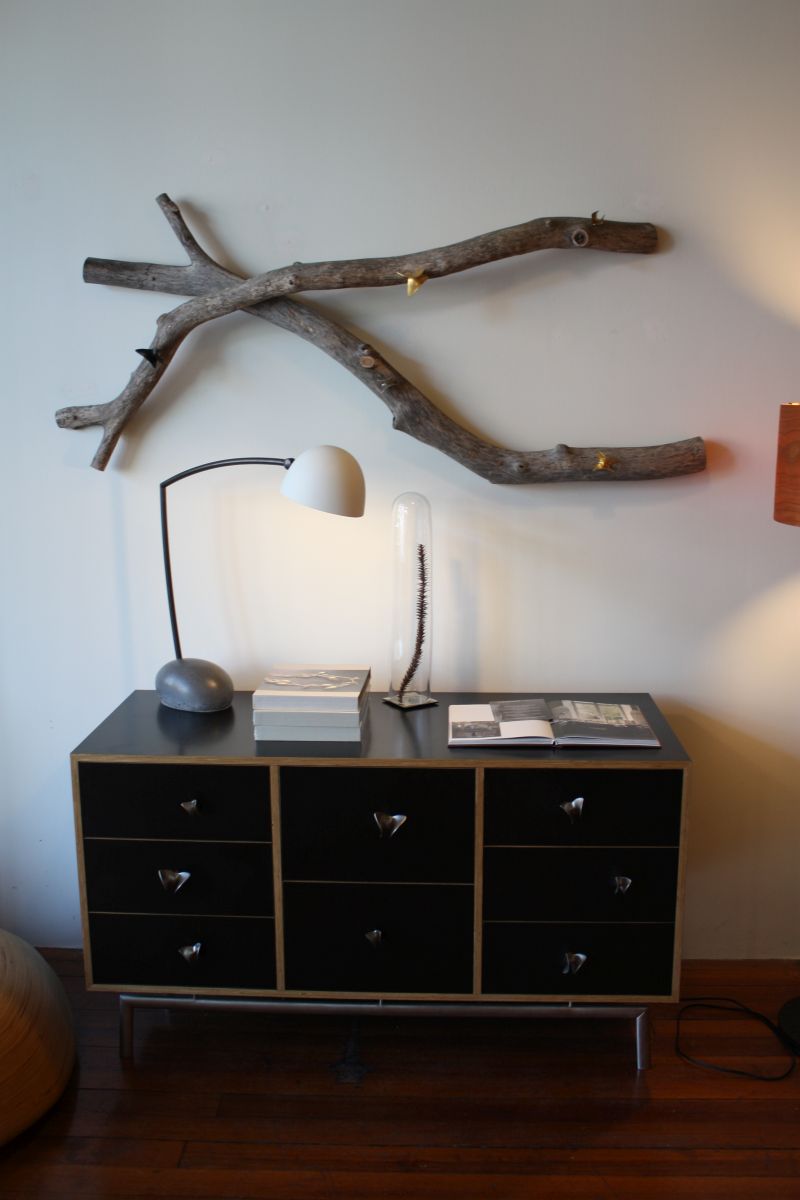 Of course, simpler designs can also be charming. This is actually something you can easily do yourself: two tree branches displayed on a wall. The little golden accents may not be very dramatic but they definitely make all the difference.
And here we are at the end of our article with a collection that we find as intriguing as it is versatile. This wall art decor really spikes the imagination. Lie back and come up with a story or a meaning behind this.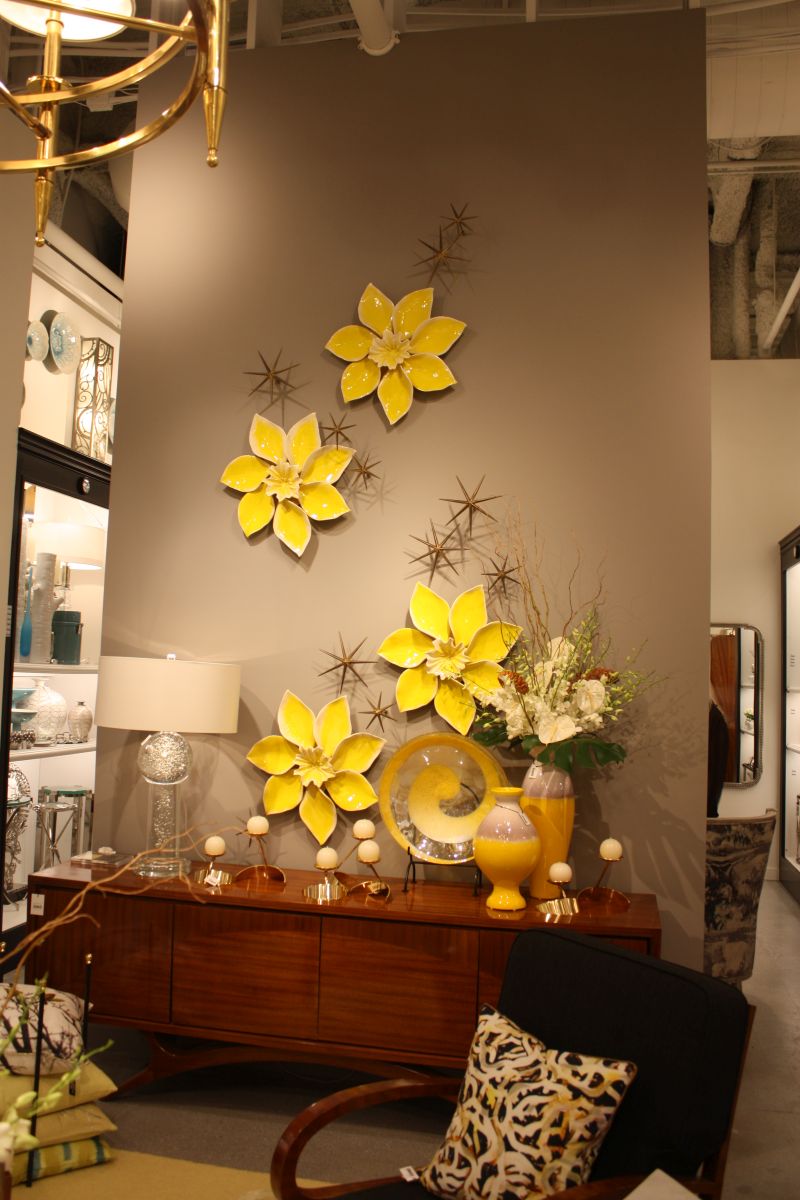 We've admired flowers ever since we first laid eyes on them and we still constantly look for new and interesting ways to make them a part of our decor and everyday life. They're a symbol of beauty and femininity and wall decors like this one perfectly illustrate that.
This beautiful floral installation finds inspiration in nature and uses a combination of simple but at the same time complex forms to create a design that impresses through a lovely balance of colors, shapes and distribution.
Another wonderful way to display flowers and other similar items is in shadow boxes. These ones have a nice neutral background that highlights the metallic and light colors and clear glass fronts and sides for a nice perspective of the entire design.
Whether you decorate with natural or faux flowers and plants, the effect is often very similar. The different is that faux plants offer more freedom when it comes to the designs and ideas you can express. For instance, you can spray paint their stems and leaves using a copper or gold tone for a glamorous and sophisticated look.
These shadow boxes hold something quite intriguing: vegetables. That's a pretty unusual wall decor idea and the simple way in which it's being displayed totally reflects the organic and natural charm of each piece. Consider something like this for the kitchen.
What you see here is a collection of paint cans. This is not usually something we consider repurposing or turning into wall art but we have to admit that the idea is daring and really inspiring.
When you think about, anything that has a special significance can be used as wall art. Here, for instance, you can see a collection of top hats. They're all gathered at the center of a more complex installation, being framed by a multi-colored geometric pattern.
Abstract designs are often the most interesting and intriguing. We love using our imaginations and looking for patterns and meaning in everything and an installation such as this one doesn't really let the mind get bored easily.