Terrazzo Flooring Offers Decades of Style and Durability
Designs and materials cycle in and out of popularity and terrazzo flooring is back in the spotlight! Flecks of color and a mottled look —not to mention amazing durability — make terrazzo popular for homes and commercial buildings.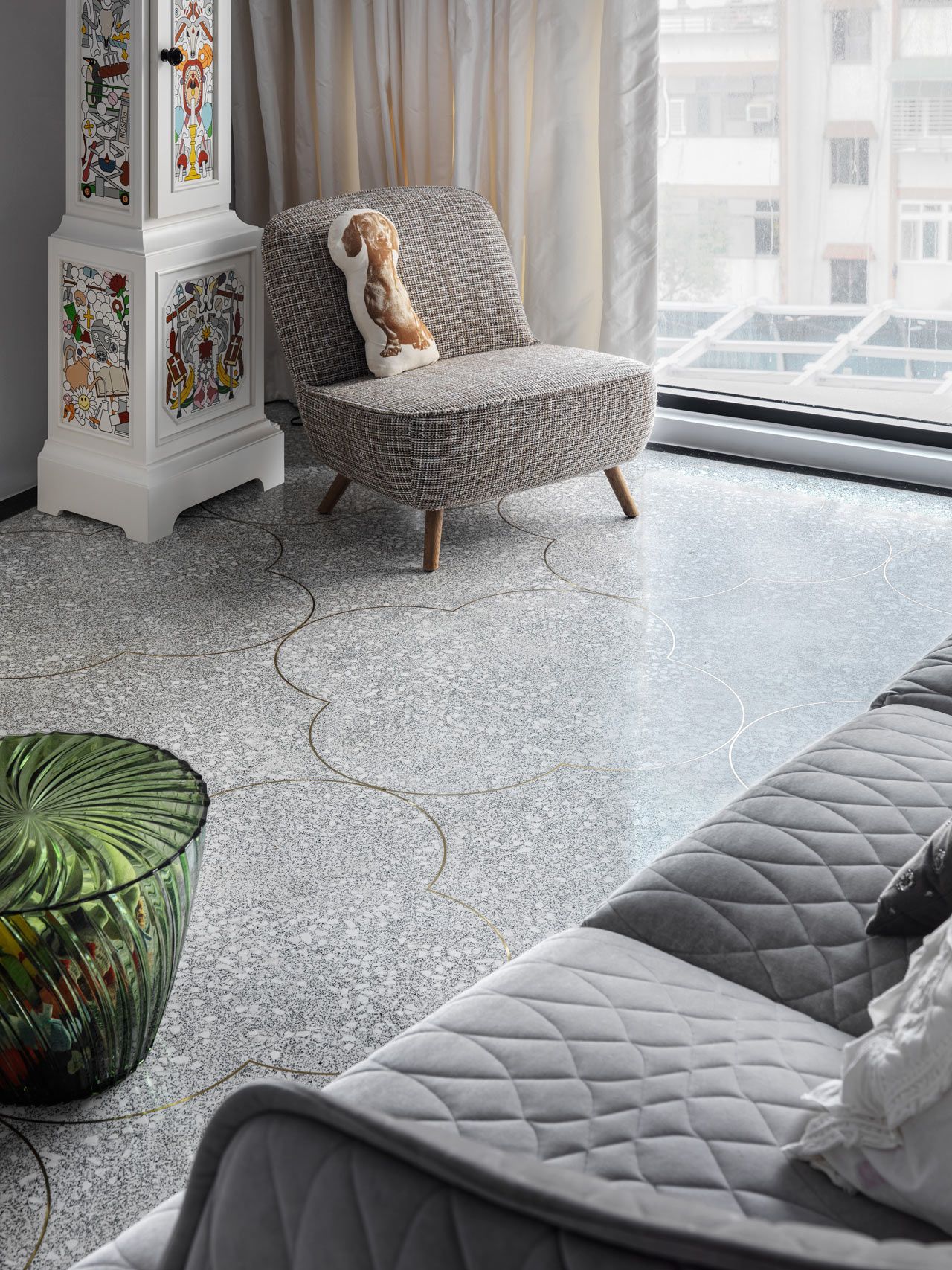 The history of the material goes back centuries but new colors and changes in production are making it a modern material. It's increasingly in demand and especially ideal for minimalist interiors.
What is Terrazzo?
Terrazzo – the Italian word for terrace– is actually a composite material used mainly for floors, but also for walls. It contains any variety of material chips – from stone, glass or marble to granite – and a binder holds them together.
Today, that is usually a concrete or epoxy-resin binder. Installers sprinkle extra chips on top while the material is still wet. Next, they cure the flooring, then grind and polish it. While you can buy terrazzo tiles, most often when people think about a terrazzo floor, it is the type that is poured in place.
The terrazzo we use today has its roots in Italy, where workers put marble fragments into cement for a more inexpensive flooring material. Although it debuted in the United States in the late 1890s, it didn't really become popular until the 1920s.
Early versions cracked easily, but the development of divider strips and the electric grinding machine made it rise in popularity. This was especially true in the era of Art Deco and Moderne style. The divider strips allowed for curved designs, which were emblematic of this design era.
First used primarily in commercial buildings, terrazzo is now more popular in homes. In addition to flooring, it is also used for kitchen surfaces like countertops and backsplashes.
The colors and flecks are customizable, allowing for a wide range of design possibilities. Of course, as with any material, there are pros and cons to using it in your home. So before you make a decision, make sure you weigh all the different factors.
Pros of Terrazzo Flooring
It's a High-Style Option
When you choose terrazzo flooring, you're opting for beauty, elegance and a high-end material that is growing in popularity. The color and mix of chips that you choose will be unique and provide a magnificent base for the design of the space.
Terrazzo is a more stylish alternative to concrete floors in modern or industrial designs that helps "soften the hard edges." Whatever the style of your home, the floor will be a distinctive custom feature that adds to its value.
Terrazzo is Durable
Floors done with terrazzo — which is also comparatively light — are about as durable as they come. That's why you'll find the material in many commercial spaces.
The stone or glass chips are mixed into a concrete or resin base that is stronger than any other flooring option. Yes, they can still chip – although it's hard to do – but the repair of a terrazzo floor is not expensive.
Besides, the appearance of a terrazzo floor camouflages any minor chips or scratches if they do occur. If the terrazzo floor was not properly installed, cracks can form and these are much more costly to remedy.
Cleaning is a Breeze
Terrazzo floors are among the easiest to clean: There's no scouring, polishing or scrubbing. The speckled texture and strong base material make these floors difficult to stain.
A mop and a bucket of water can clean up just about everything. and you don't need special or chemical cleaners. These floors also have a sealant that is applied when they are installed and this makes them waterproof.
It's the Epitome of Customization
Because the spectrum of colors nearly limitless, you really can achieve a one-of-a-kind floor with terrazzo. Go neutral, go bright – it's entirely up to personal preference. Pouring a floor into place means that you can easily create custom designs. Professionals can also mold it into tubs, countertops or sinks, or even furniture.
Terrazzo is Clean and Green
Many terrazzo floors incorporate environmentally friendly recycled chips of stone, glass, marble or porcelain. This makes them super appealing to many consumers.
In addition, when properly installed and sealed, it is completely nonporous. This means it doesn't harbor allergens or molds and is a healthy choice. The one thing it does retain well is heat, which makes it an ideal surface for homes with radiant heating.
Cons of Terrazzo Flooring
High Initial Costs
Terrazzo can be one of the most expensive types of flooring to install, both with regard to materials as well as labor for installation. Of course, the size and design of the floor will affect the price, but the types of chips you choose to mix in can also make it more expensive.
In addition, the more base colors your design includes, the higher the price will be. The cost of installing a terrazzo floor can run anywhere from $25 to $90 per square foot.
If budget is a concern, limit your choice of materials to glass or granite instead of more expensive aggregate materials. It's also important to remember that not everyone is a fan and if you are not staying in the home for a longer period of time, you may not recoup the value of the investment.
Terrazzo is Definitely Not a DIY Project!
Yes, the installation costs sound pretty pricey at about $20 per square foot, but this is a complex job only for experienced installers. It's not just a matter of knowing how to mix and pour the floor because there are several important parts to the process: The preparation of the area is critical to a successful installation. Putting down a terrazzo floor requires a smooth surface with an underlayment, which helps prevent cracks and protects the terrazzo from moisture seeping in from underneath.
The thicker the layer of base protection, the more costly the project will be. Holes can develop in the surface as the floor sets and they must be filled with grout before sealing.
It Can Be Hard and Cold
The very same characteristics that make terrazzo floors desirable can also be drawbacks. Yes, they are hard, durable and last for many decades, but this also means they are not the most comfortable of flooring options.
Walking barefoot on these floors is not so pleasant, especially in cold weather and neither is standing for long periods. Depending on the specific room, homeowners may want to budget for area rugs as well. Adding radiant heating when installing the floors can also mitigate the coldness of the floor.
Terrazzo Tiles A More Affordable Option
If you're in love with the look of terrazzo but don't have the budget for a poured floor, terrazzo tiles can be a more affordable option. Granted that they are still more expensive than porcelain or ceramic tiles, they are cheaper to install than a poured floor: Most are under $40 per square foot including installation. A wide range of color and design options are available, just not the full variety that comes with poured terrazzo flooring.
While terrazzo tile installation can also be a project for experienced DIYers, most people opt to let the professionals install these too. Installers can add a sanded and sealed finish to help you achieve more of a poured terrazzo look.
Terrazzo is a stylish flooring options ideal for many of today's interiors that lean to the modern or industrial end of the design spectrum. That said, it's important to take into consideration the cost and other variables before choosing a terrazzo floor.
If you decide it's worth the investment, you'll have an easy-care and stylish floor that you can enjoy for decades.