Terrazzo Flooring Offers Durable And Stylish Grace For Your Interiors
Terrazzo flooring is experiencing a renaissance. The flooring style features color flecks, marble chips, and a mottled appearance.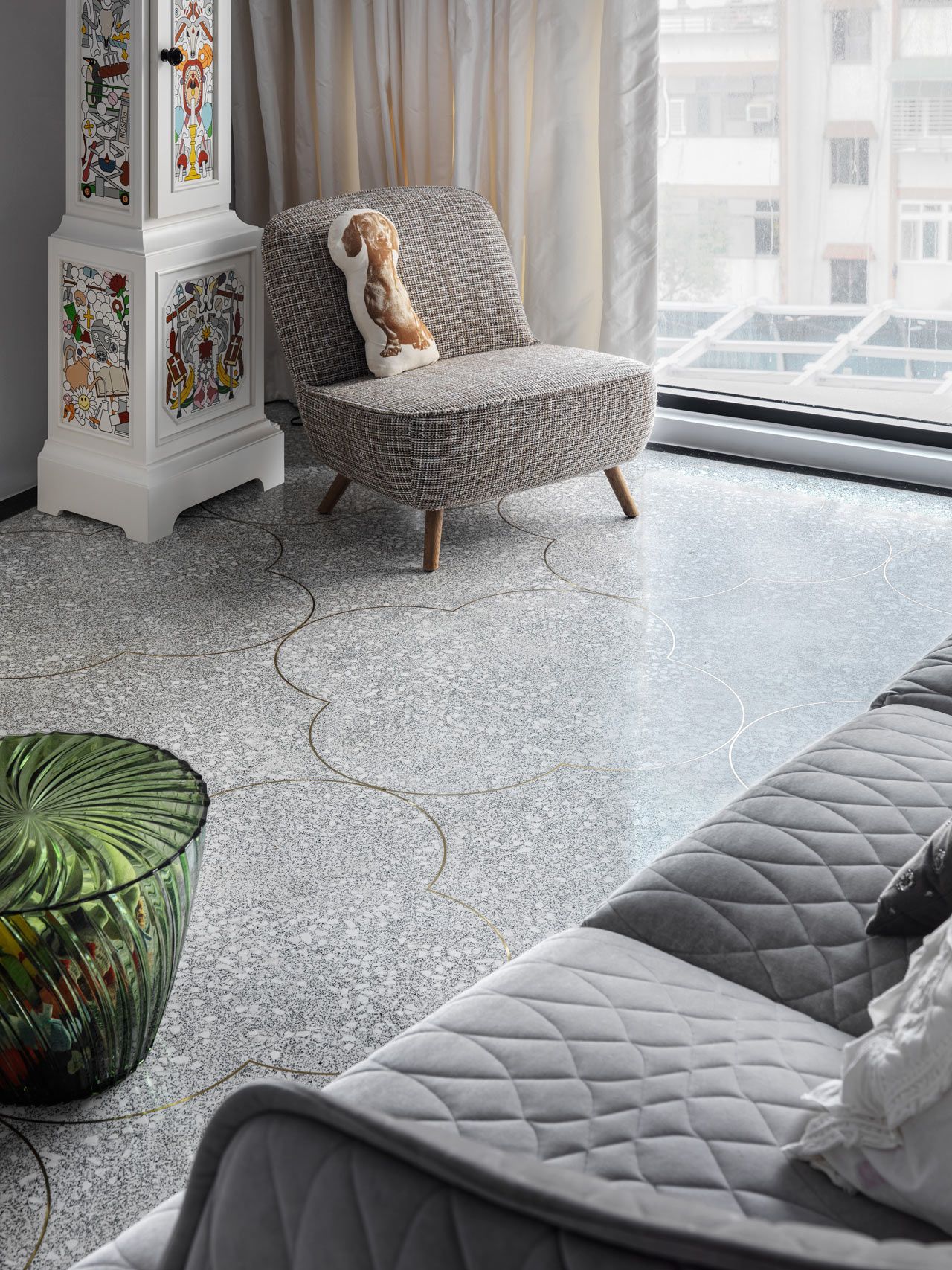 Popular in households and commercial buildings, cement terrazzo flooring offers style and durability..
According to the National Terrazzo And Mosaic Association (NTMA), original terrazzo floors consist of "marble, granite, onyx, or glass chips and Portland cement or resonance matrix. Terrazzo is poured, cured, ground, and polished. Typically used as a finish for floors, stairs, or walls, terrazzo can be poured in place or precast."
If you're thinking about a terrazzo installation, we'll show you its pros and cons. The material dates back over a thousand years.
Since then, new colors and designs have emerged. Although cement based terrazzo waned in the late 20th century, today, the flooring is in high demand.
What Is Terrazzo?
Terrazzo, which means "terrace," in Italian, is a composite material used for floors and walls. Cementitious terrazzo contains a variety of material chips like stone, glass, marble, and granite. A binder is applied to hold everything together.
Today, a concrete or epoxy matrix binder is used. Installers sprinkle extra chips on top while the material is still wet.
Next, they cure the flooring, then grind and polish it. While you can buy terrazzo tiles, most often when people think about a terrazzo floor, it is the type that is poured in place.
Terrazzo Origins
Terrazzo has its roots in Italy, where workers put marble fragments into cement to make it inexpensive. Although it arrived in the US at the end of the 19th century, it didn't become popular until the 20s.
Early versions cracked easily, but the development of divider strips and the electric grinding machine made it rise in popularity. This was true in the era of Art Deco and Moderne styles. The divider strips allowed for curved designs, which were emblematic of this design era.
Terrazzo Applications
First used in office and government buildings, terrazzo installation is prominent in residential homes. In addition to flooring, it is also used for kitchen surfaces like countertops and backsplashes.
Cement terrazzo features colors and flecks which are customizable, allowing for a wide range of design possibilities. As with any material, there are pros and cons to using it in your home. Before you make a decision, make sure you weigh all the different factors.
Terrazzo Flooring: Pros
Here, we'll discuss the benefits of terrazzo installation.
High-Class Option
When you choose terrazzo, it's because you want beauty and elegance for your home. The color, marble, or glass chips provide a stylish base for the space's design.
Among floor installation options, terrazzo is preferred over concrete floors in modern or industrial design to "soften the hard edges." Whatever the style of your home, the floor will be a distinctive custom feature.
Terrazzo Offers Durability
Terrazzo floors are light and durable. It's for these reasons the material is popular among commercial spaces.
Stone, glass, or marble chips and other materials are mixed into a concrete or resin base that is stronger than any other flooring option. Yes, they can still chip – although it's hard to do – but the repair of a terrazzo floor is not expensive.
A cement based terrazzo floor hides minor imperfections or scratches if they do occur. If terrazzo flooring is not installed properly, cracks can form and are expensive to fix.
Easy To Clean
Terrazzo floors are among the easiest to clean: There's no scouring, polishing, or scrubbing. The speckled texture and strong base material make these floors difficult to stain.
A mop and a bucket of water can clean up just about everything. and you don't need special or chemical cleaners. These floors also have a sealant that is applied when they are installed and this makes them waterproof.
Simple Customization
Because the spectrum of colors are limitless, you can achieve a one-of-a-kind floor with terrazzo. Pouring a floor allows you to create custom designs. Professionals can also mold it into tubs, countertops or sinks, or even furniture.
Eco-Friendly
Many terrazzo floors incorporate environmentally friendly recycled chips of stone, glass, marble, or porcelain. This makes them super appealing to many consumers.
In addition, when properly installed and sealed, it is completely nonporous. This means it doesn't harbor allergens or molds and is a healthy choice. The one thing it does retain well is heat, which makes it an ideal surface for homes with radiant heating.
Cons of Terrazzo Flooring
Here, we'll review the issues that come with the flooring style. Like anything else, there are negative aspects to consider.
Upfront Expenses
Terrazzo isn't cheap, and that's putting it lightly. Everything from materials to installation labor expenses costs more. The size and design of the floor will affect the price, while the types of chips included will also impact its price.
In addition, the more base colors your design includes, the higher the price will be. The cost of installing a terrazzo floor can run anywhere from $25 to $90 per square foot. To reduce costs, limit your choice of materials to glass or granite instead of expensive aggregate materials.
Terrazzo Flooring Is Not A DIY Project
Although installation isn't cheap, at $20 per square foot, what do you expect for complex terrazzo flooring? Regardless of your DIY skills and experience, you'll need to suck it up and leave this job for experienced floor installers. You wouldn't want to ruin your home or embarrass yourself among your family members.
Terrazzo flooring is more than knowing how to mix and pour the floor. There are important steps that need to be taken when installing the floor.
Preparation is critical for installation.
Laying terrazzo floor requires a smooth surface with underlayment to prevent cracks and moisture damage.
A thick layer is required for base protection
Grout must be applied as holes can develop in the surface when floor sets
Hard And Cold
The same characteristics that make terrazzo floors desirable can also be drawbacks. Yes, they are hard, durable, and last for many decades, but this also means they are not the most comfortable of flooring options.
Walking barefoot on these floors is not so pleasant, especially in cold weather and neither is standing for long periods. Depending on the specific room, homeowners may want to budget for area rugs as well. Adding radiant heating when installing the floors can also mitigate the coldness of the floor.
Terrazzo Tiles: An Affordable Alternative
If you're in love with terrazzo, but it's too expensive, then terrazzo tile is a cheaper option. The tiles are more expensive than porcelain or ceramic tiles, yet cheaper to install than poured floors.
Terrazzo tiles cost less than $40 per square foot, including installation. A wide range of color and design options are available, just not the full variety that poured terrazzo flooring offers.
While terrazzo tile installation may be handled by experienced DIYers, it's recommended that you enlist professional floor installers to handle the job. Flooring experts can add a sanded and sealed finish to achieve that famous poured terrazzo look.
Budget Planning
Terrazzo is a stylish flooring option ideal for interiors leaning toward modern or industrial designs. However, it's necessary to consider expenses and other variables before choosing a terrazzo floor.
After you've decided it's worth the investment, you'll find yourself with a stylish and low-maintenance floor that will last for decades.
Frequently Asked Questions (FAQ)
FAQ
Is Terrazzo Slippery?
Whether terrazzo flooring is slippery will be up to you. There are things you can add to the flooring, so it won't be slippery. The type of sealer you use after you've polished the floor is important. Check the manufacturer's label for details indicating if a floor is non-slippery when wet.
Shiny floors look slippery, but it's the sealer that makes them slippery. If you don't want to apply a sealer, use lower grit levels to create a slip-resistant floor.
Can I Tile Over Terrazzo?
You can tile over terrazzo, but there is a process you must follow. Most terrazzo floors are cement, but others contain epoxy and different resins. The floors are coated with acrylic or wax finishes after they've been polished. Many surface coatings are bond breakers, so you'll need to remove them first. You might have to mechanically abrade the flooring to obtain a high level of adhesion
You'll also need to figure out the grout and mortar application with your contractor. If your terrazzo flooring has pre-existing cracks or signs of potential separation between the flooring and metal divider strips, an anti-fracture membrane may be required.
What Is Vitrification?
Vitrification is a honing process whereby an acidic chemical treatment that buffed into the flooring with steel pads. The process generates heat on the surface and in the applied mixture. The heat chemically changes the surface, making it harder, and more durable, and sealing it against contaminants.
Is Terrazzo Floor Restoration Possible?
Terrazzo flooring restoration is easy. You can do it even if there was once carpet over the top, or has holes and cracks. As one of the most durable flooring materials available, terrazzo floors will last for decades and look just as beautiful as when they were first installed.
Where Can Terrazzo Epoxy Be Installed?
Epoxy terrazzo is common in high-traffic areas like airports, schools, hospitals, and hotels. You'll also find the flooring in malls, workplaces, recreation centers, markets, and restaurants. 
Terrazzo Flooring Conclusion
Terrazzo floors are an interior design art form. During installation, supervision is necessary as terrazzo shrinkage is a concern. Also, concentrated stresses attributable to the configuration of divider strips and impact loads will impact installation.
If you apply vitrification it will produce a striking surface with the inherent colors of the terrazzo. It will also create a saturated and shiny appearance, superior to waxing. Professionals have said that vitrified floors require less maintenance than waxed terrazzo surfaces.
To avoid problems after installation, proper curing of cementitious terrazzo is essential to achieve compressive strength and safeguard against early shrinkage. Gap size, upward vertical offset, and weight impact durability.
It is important that architects, engineers, and contractors utilize proper installation methods to ensure the terrazzo process produces the best results. It's also necessary to minimize stress concentrations. Furthermore, divider strip spacing minimizes deterioration that causes cracking and impacts loads.