When it's time to buy a new mattress, a million things will probably float through your head. What is the best mattress within my price range? How do I determine what mattress would be best for my back issues? What are the best hypoallergenic materials that suit my health needs? While there are so many great mattresses on the market right now, you may find it overwhelming to read list after list of specs and product details.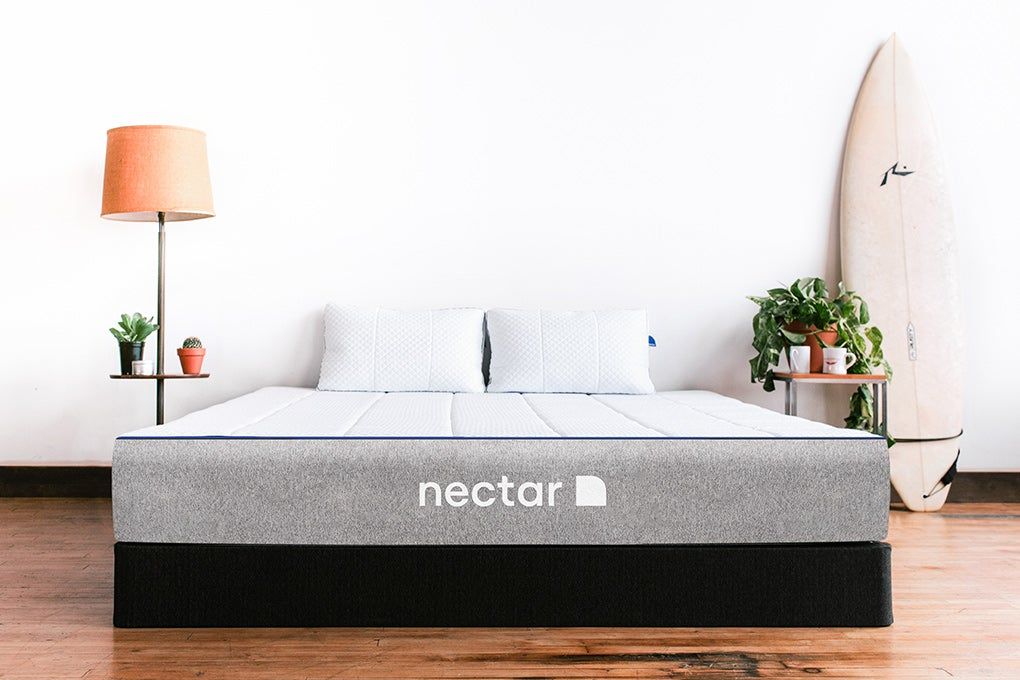 While you can't go wrong with all-organic made mattresses, sometimes they can run a bit high. The Nectar mattress is an interesting hybrid mattress that has layers of cooling memory foam and plenty to boast about, as it's one of this year's top-selling mattresses you can find on the market. With a whole year to test it with a sleep trial and a lifetime warranty, you might want to put your sights on Nectar when it comes to your next big mattress purchase.
$100 Off
The Story
Nectar officially started selling their hybrid mattresses in 2017. They use high-quality materials that are sourced from manufacturers from across the world to provide a premium mattress. Because of all this high-quality material, Nectar promises the "best sleep of your life, guaranteed." Nectar also boasts over 500,000 satisfied sleepers and customers who have reached out with positive feedback over the mattresses.
Many customers, according to their reviews, sought out Nectar mattresses due to physical ailments such as back pain and/or joint issues. The mattress is said to help relieve any back and joint pain, enabling the body to rest for longer. Reviews online tout that people who were accustomed to sleeping four to five hours a night were able to sleep to up to eight hours a night due to the comfortability of Nectar mattresses.
Shipping, Unboxing, and Off-gassing
Each Nectar mattress ships throughout the United States and shipping is free. Nectar can also ship to Alaska and Hawaii for extra costs in shipping. The bed will arrive to you in a box, but once unpackaged, the mattress will form into its natural shape within a few hours. Due to the unboxing process, there may be a bit of off-gassing, as it could absorb smells from the packaging itself over the shipping process.
For an extra fee, Nectar will provide a white-glove service option for about $150. This means that a team will arrive at your house with the mattress, help you unbox it and set it up, and even remove your old mattress so you don't have to worry about getting rid of it yourself, as this could be a cumbersome job for one person. The company is happy to set up and get rid of your existing mattress, so you don't have to worry about these minor steps.
Initial Impressions
The Nectar mattress is made from top quality materials, and you'll be able to tell this right away. You may not trust a "bed in a box" situation right off hand, but after the mattress takes its shape, you can see for yourself just how durable the mattress is. With very little off-gassing, setting your mattress up is a breeze, especially if you utilize the white-glove service that comes with the mattress at an extra fee.
Made with four layers of foam and a milled cooling cover, the Nectar mattress is plush, using Certi-Pur LUSH and Hi-Core foam layers. The cooling cover is a soft, durable cover that helps move out heat from all that memory foam and keeps the sleeper cool all throughout the night.
With fast recovering memory foam and layers of memory gel, there is a lot to experience when you lay on a Nectar mattress. From plushness to cooling gel, you can actually feel the mattress target so many pressure points and gently cradle your body all throughout the night. It's no wonder that this mattress is recommended by physical therapists and doctors for joint and back pain sufferers. With a high-density base foam layer, the whole mattress sits atop a strong base that sets that pivotal foundation for the rest of the mattress layers to work to their fullest potential.
Construction
Each Nectar mattress comes with one-inch, semi-open, fast recovering gel memory foam layer, three-inch 3.5-pound memory foam with a medical-grade cooling recovering level and a 2.2-pound high-density base foam. The cooling cover helps move out the heat from all that memory foam and keeps the sleeper cool and comfortable. You can spot clean the mattress with some water and detergent if needed. Each layer of the mattress is made of flexible foam that is certified by CertiPUR-US, a global rating standard to protect the manufacturing of products with heavy chemicals and gasses.
Nectar is also safe from flame retardants, heavy metals, formaldehyde, and other volatile organic compounds, making this mattress a true value for the cost. With so much care in mind, it's no wonder there is little to virtually no off-gassing of the mattress itself. Any off-gassing more commonly comes from the shipping materials or the box that the mattress is stored in upon shipping.
It's recommended to sleep on the mattress with the cooling cover on, as it can run a bit hot if you leave off that cooling gel cover. The gel helps move out the heat of the mattress, as memory foam is known to absorb body heat and can make for a bit too hot of temperature for adequate sleeping. As each layer is made from top quality memory foam with some gel properties, some may find the mattress too hot if not equipped with the cooling cover it comes with.
$100 Off
Features and Benefits
The benefits of sleeping atop all that joint cradling memory foam are that it prompts the body to rest for longer. Not only will you be able to fall asleep faster and more comfortable, but you can be guaranteed that your body will rest deeper and easier. Memory foam is known to cradle the body, but Nectar has taken the idea of memory foam and made it unique in their fabric technology that promotes optimal levels of firmness, coolness, breathability, and comfort. It's the best of so many different aspects of what makes a great mattress fantastic.
The Tencel cooling cover provides that breathable, soft and absorbing element to the mattress that most mattresses fall flat on. Since the cover is what you are immediately sleeping on, it's important to have a cover that is durable and able to support moving heat. The Certipur-US certified foam is an element not found in many memory foam mattresses because of the cost. Nectar has provided plenty of this high-density foam for a fraction of what it actually costs manufacturers. The extra double layer of gel memory foam helps distribute weight throughout the mattress and cradles all the contours of your body.
Aside from these fantastic mattresses, Nectar also provides pillows, bedding items such as sheet sets, mattress protectors and weighted blankets, and bases or frames for your mattress. With so many amazing products to choose from, all backed by that fantastic warranty that Nectar provides, you could easily make Nectar a one-stop shop when it comes to completely revamping your sleep space. Also, there is an ongoing special that provides two free pillows with each mattress purchase, so make sure to check into that promotion while it lasts.
Loft and Sizes
Nectar mattresses come in all that standard sizes: twin, twin XL, Full, Queen, King, and California King. You can easily find the appropriate size for your sleep space and even add on extra items such as bed sheets, pillows, and frames for each mattress. There is a drop-down menu that will ask you if you'd like extras that you can add to your cart with one click of your mouse.
The loft is pretty much set at a solid six out of a 10 scale of firmness. The Nectar mattress if plush, but definitely supportive. It is designed to provide plenty of support to the body while adding that cushiony comfort with the cooling top layers. Most reviewers have said that the mattress offers support and still feels like "sleeping on a cloud."
Heat Transfer
Due to tall that amazing cooling gel memory foam, the heat gets transferred out instead of becoming trapped within the mattress. With a cooling top layer and two layers of cooling memory foam, heat retention is almost non-existent with Nectar mattresses, a point that they pride themselves on. No one wants to wake up sweaty and uncomfortable, so this is a huge benefit for hot sleepers.
With so much memory foam, it wouldn't be uncommon for a potential customer to believe that these mattresses would run too hot, but Nectar kept this point in mind during the overall construction of the mattress. Even the hottest sleepers can find comfort in the cooling properties of this mattress and be able to enjoy all the benefits of sleeping on memory foam without being stuck with the heat that memory foam mattresses are notorious for.
Durability
On a scale of one to ten, Nectar mattresses firmness levels fall on a solid six. This is perfect for a medium-firm mattress. With a strong support base and extra layers of foam, this mattress is durable and will keep its shape no matter what it's up against. There are also no issues with the sinking of feeling as if you're falling into the mattress because the memory foam layers only cradle, they don't fall apart, and they pop back into original shape over and over again.
While memory foam is ideal for cradling the body and relieving pressure from joints, it's also super strong and will offer strong support all throughout the night. It's a perfect mattress for those who prefer a medium-firm mattress with extra cushion for contouring.
$100 Off
Maintenance, Protection, Care and Warranty
Maintenance is pretty simple with Nectar mattresses. You don't have to fuss over this mattress of being gentle with it due to the high-density memory foam. These layers help the mattress pop back into shape time after time and won't sag or buckle under any circumstances. It's a strong support mattress that is ready to help you get the best sleep of your life, as the company touts.
There are extra add-ons such as mattress protectors that you could utilize in order to prevent any spills or stains settling into the mattress, but the cooling gel layer top cover pretty much acts as a protector in itself. For extra protection, go ahead and order another mattress protector in order to keep your mattress in the best shape possible for years to come.
Overall care is simple, and the Nectar mattress can be spot cleaned with some warm water and a little bit of detergent. The covers can be washed in a standard washing machine and dryer. Spot cleaning is the recommended way to care for the mattress, as you can't wash individual layers.
The warranty for Nectar is pretty fantastic as it's a forever warranty. If you are using your Nectar mattress normally and it breaks for whatever reason, the company will replace it at no extra cost. Nectar has designed their mattresses for long term use, and the company prides itself in its warranty and protection plans since they benefit customers directly.
Cost
Nectar mattress will range anywhere from $500 to $900, just depending on the size. Extra add ons such as the sheets and bases will range in pretty moderate price grids. With each mattress purchase, Nectar will include two pillows for free, which would usually cost $150. This is an added bonus that most customers try to take advantage of since these pillows are constructed with high-quality materials, just like their mattresses are.
| Size | Dimensions | Weight | Price |
| --- | --- | --- | --- |
| Twin | 38" x 75" x 12" | 40 lbs | $449 |
| Twin XL | 38" x 80" x 12" | 42 lbs | $569 |
| Full | 54" x 75" x 12" | 55 lbs | $699 |
| Queen | 60" x 80" x 12" | 66 lbs | $799 |
| King | 76" x 80" x 12" | 84 lbs | $1099 |
| Cal King | 72" x 84" x 12" | 83 lbs | $1099 |
The more expensive items, such as the bases, will run you anywhere from $1,000 to $2,000, it just depends on the size and how fancy you want to get with it. The option of purchasing bed frames and even headboards are extra and there are drop-down menus and pictures to explain what each product looks like, what sizes it comes in and how much extra it will be. The best part is that Nectar does provide financing.
$100 Off
Reviews and Feedback
The overall rating of Nectar mattresses is high. Most customers are excited about the way the mattresses are able to contour and offer strong support at the same time. Many have said that their joint pain has disappeared within a week of using the mattress and others are happy with the financing option, as many mattress companies don't provide financing.
Many are also impressed with the overall design and look of the mattress, as the bed frames and base options are fashionable and more modern in aesthetic. This is an added bonus since most customers find it appealing to buy everything you need for the mattress at one stop. The financing definitely does come in handy, especially if you want to purchase any extras to go with your Nectar mattress.
Who Do We recommend the Nectar Mattress for?
The Nectar mattress is best suited for back and side sleepers. Since this mattress targets so many pressure points and back zones, it's a great investment for anyone who sufferers from an aching back and joints. The high-density foam helps with keeping the body aligned and alleviates too much pressure from settling in, which occurs naturally while we're sleeping.
Since the high-density foam is also certified, that means that the mattress is made with no harsh chemicals or compounds. This is ideal for anyone who has sensitive skin and for anyone who sufferers from allergies or lung issues.
Our Final Verdict
Overall, the Nectar mattress is pretty amazing and won't break the bank. It's affordable and will last you for years and years. If it breaks, simply call the company and they'll replace the mattress completely free of charge is anything happens to it. The lifetime warranty is set for life – so it doesn't matter if it's 100 days or 100 years, Nectar will replace your mattress if it proves to be faulty.
With so much memory foam, some customers may believe that this mattress may run a bit too hot, even with the cooling cover. There are some other ways around it, such as selecting cooling sheets and using cooling mattress protectors, but it could be that the mattress will be too hot for some. You can always give it a try with that sleep trial and decide for yourself. Simply send it back if it's not the ideal mattress for you.
$100 Off
Frequently Asked Questions (FAQ)

FAQ
Is a mattress cover needed?
Nectar comes with a cooling cover, but mattress covers can be purchased at an additional cost.
How does the returns process work?
Nectar comes with a year sleep trial. If you don't like the mattress within that time, contact the company for more information.
Where can these mattresses be shipped?
Nectar ships all throughout the United States, including Alaska and Hawaii for an extra charge.
Is the loft adjustable?
The loft is set at six out of ten levels for firmness.
What type of sleeper is this mattress best suited for?
Best for back or side sleepers, or anyone who has back or joint issues.
Best for what sleep position?
The Nectar mattresses are best for back or side sleepers, or anyone who has back or joint issues.
Materials:
Cover: Cooling gel
Fill: Cooling gel cover, layers of high-density memory foam, firm base
Pros:
Above-average durability
Comes with cooling gel cover
Strong edge support
Ships all throughout the United States
Cons:
May run too hot for some
May have too much sink ability due to the foam
Can be out of a normal budget price range