Modern Credenza Designs to Reinvent Your Home
Are you redecorating a room or looking for extra storage? A modern credenza is a cool furniture to add style in any space.
What is a Modern Credenza?
Credenzas date back to the 14th century as decorative dining furniture providing food and drink for nobles. And they would discover if someone had poisoned the meal before serving it. So, in Italian, the word credenza translates to 'belief' or 'confidence.'
Today, modern credenzas are great for storage and are like buffets and sideboards.
Credenzas tend to be low to the floor with very short legs or no legs at all. They're long with sliding, sleek doors with no clear handles for opening.
Credenza vs. Buffet vs. Sideboard: What's the Difference?
Should you get a buffet or a sideboard? Are they the same thing as a credenza?
Credenza Definition
According to Merriam Webster, the definition of credenza is a buffet, sideboard, or bookcase, without legs. They are all quite similar with a few differences.
Buffets vs. Credenza
Buffets are the most like credenzas, differing in size. They tend to be larger and outfitted with cabinet-like drawers and doors for storage. Used to serve food, buffets get designed for dining rooms. They will also be taller with more noticeable legs.
Sideboards vs. Credenza
Sideboards are a bit different than credenzas as they have floor-length cabinets. And many come with hutches for more storage for displaying decorative pieces. They tend to be more prominent in size and used as utility pieces.
Sideboards are in dining rooms, living rooms, and hallways like credenzas. They share their lengthy shape, maintain a low profile, and provide extra storage.
What is a Credenza Used for?
Credenzas are used in the dining room for serving purposes. They are also suitable in office spaces, or in living rooms for decoration.
They're also gaining popularity as TV stands and received their own term as a TV credenza.
The benefit of using a credenza for a TV is they offer more storage compartments than regular TV stands.
What to Put on a Credenza
From houseplants and fine china to TV's and focal art, you can put anything on your credenza. Give purpose to your credenza with the following ideas:
Use it as a home bar for serving drinks.
Display your fine china.
The perfect plant station for your house plants.
A changing table for your baby.
Place your record player on top and place the records in the storage compartment.
Use it as a dresser and place a mirror on top.
How to Choose a Modern Credenza
Credenzas are functional storage or serving piece that are interchangeable throughout your home.
Choose the best modern credenza by:
Deciding where it will best serve its purpose.
Consider your budget including warranties and delivery costs.
What credenza design style and size best suits your needs.
From modern to mid-century or Scandinavian to farm-house, you want a credenza to for the style of your room.
The Best Modern Credenza Designs
Embellish your decor with one of these modern designed credenzas, sideboards, or consoles.
Jungle Credenza Design
The Jungle Cabinet is a unique piece with a lot of character and style. The cabinet has three drawers, a square storage module, and no visible hardware. Its front features vertically-laid makassar ebony that creates a seamless, graphical pattern.
A strong jungle leaf pattern stands out on the cabinet but doesn't overwhelm the design. It would be a suitable decoration and serve as a drink station in a dining or living area.
Othello Credenza with Drawers
This Othello credenza has aged brass feet. And an intricate pattern displayed on the sides of its drawers with a simple, elegant center.
The credenza drawers have pastel pink lambskin on the bottom. And the entire cabinet features a hand-rubbed satin lacquer finish. Perfect to use in a bedroom as a dresser or in a hallway for storage.
Chatton Wood Credenza
This simple and chic chest of drawers is a Chatton credenza made of ash wood. It has an antique brass frame with matching hardware. The wood credenza parts come in several different finishes.
Lapiaz Low Credenza
The Lapiaz credenza is a combination of two individual modules. This mirrored credenza has a polished stainless steel finish and golden accented cracks. Poplar root wood veneer covers the interior of the credenza.
Storage Credenza by Faolchú
This storage credenza by Faolchú is a perfect example of a modern credenza design. It's versatile and offers plenty of storage inside its drawers and central modules. This credenza is elegant and simple to include in various decors and spaces.
Maya Walnut Credenza
This stylish Maya credenza is simple and rectangular in shape. And has a captivating line pattern printed on the front.
You can get it in light oak or Canaletto walnut. Use it as a sideboard or console table in living rooms, offices, hallways, and dining rooms.
Giò Black Modern Credenza Designs
The Giò black credenza (or console table) is part of a collection designed by Rodolfo Dordoni. The design blends wood and marble into a simple yet very suggestive form. The angular sides give this modern table credenza a decisive contemporary style.
Large Modern Credenza Design: Harald 240
Both the smoked mirror and the wood version of the Harald 240 sideboard are sleek and stylish, each in its own way. The frame of the credenza is made of canaletto walnut and structured with two doors and two drawers. G. Carollo designed this stylish modern credenza.
Balzac Small Modern Credenza Designs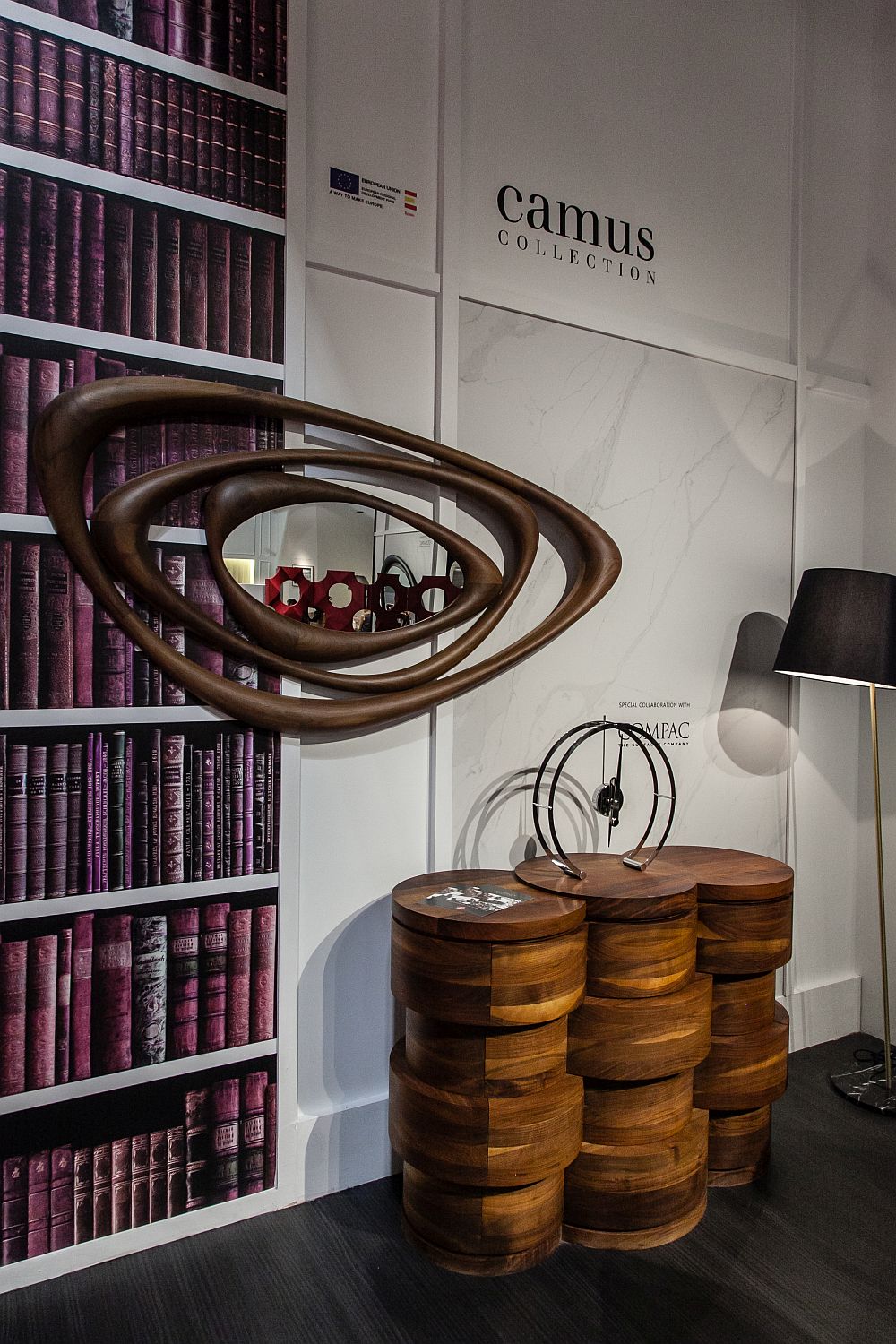 Balzac is a small modern credenza that combines a robust structure with a bohemian style. It's not your typical credenza and doesn't resonate as a sideboard or cabinet either.
The body, made of stacked circular modules, opens up as drawers, and the top can get used as a display surface. You can create a more significant piece with two or more of these modern credenzas.
Giorgio Wood Credenza
Giorgio is another stunning low credenza with a beautiful natural wood deign. The design highlights the imperfections as beautiful decorative motifs. The drawer fronts curve like waves and give the wood credenza a dynamic look.
Bacchus Limited Edition Modern Credenza
This limited edition credenza, named after the Roman god of wine, Bacchus, is designed in the form of a barrel. A curving frame made of stainless steel and a series of wooden doors open to reveal the internal storage. The credenza was a limited edition of only 20 pieces.
Elegant Elizabeth Credenza Cabinet
Elizabeth is a stylish credenza cabinet with a simple, rectangular form. This is a delicate piece with thin metal sheets that define its shape and a reminiscent of light fabrics. This elegant credenza would pair with distinctive sculptural artwork.
Modern credenza designs are beautiful on their own.
And choosing the right one for your room will enhance the art and design of the entire space. If a mid-century style inspires you or you prefer modern credenza designs, options are available for every niche. Each credenza provokes its own personal history and makes for many memories to come.