18 Beautiful Examples of Kitchen Floor Tile
Hardwood floors work, cork works, and bamboo works too but when it comes to certain rooms of the house tile is an even better way to go. From colors and designs to simplicity and function, there's a lot to take into consideration when deciding on your kitchen flooring. It doesn't matter if you're working with a smaller space or a larger one, because what we've compiled can inspire any size. Check out these 18 beautiful examples of kitchen floor tile below!
1. Natural Tones
HGTV brings us some more traditional inspiration in the form of this naturally-toned kitchen floor tile. The space is open and modern but the floor sets the mood for a more welcoming, warmer space for the family. We love the contacting sizes as well making it a more interesting addition to the chic room.
2. Large Subway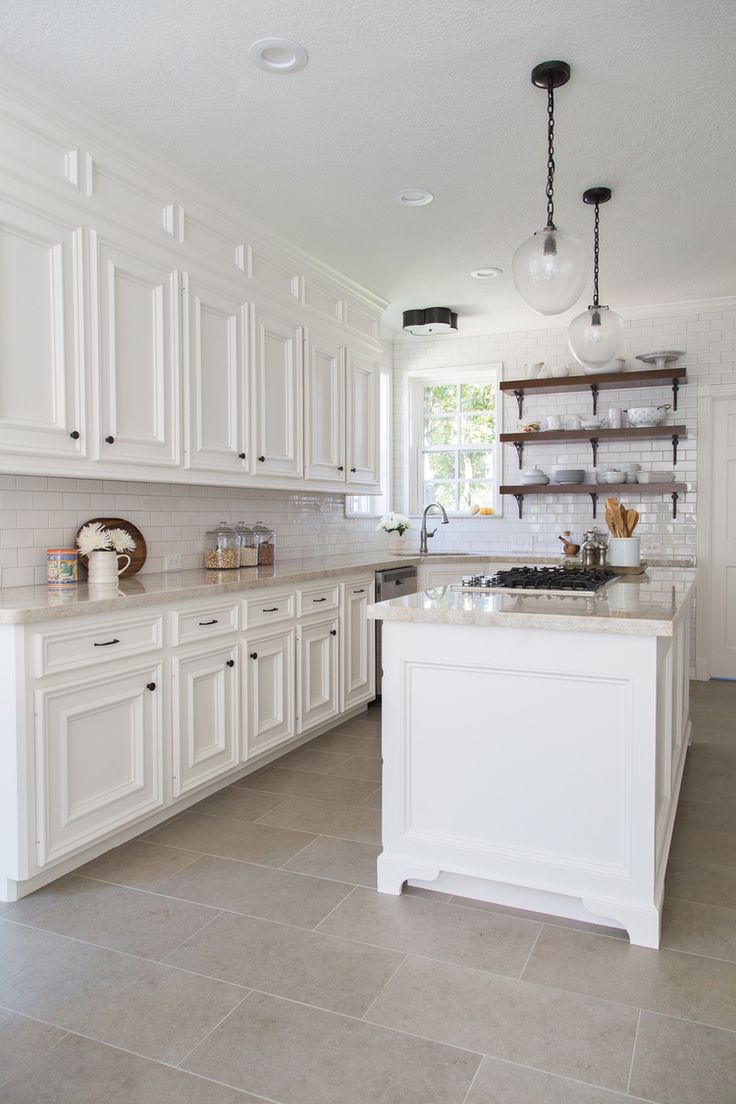 Here's another more traditional choice for kitchen tile. Large, subway pieces in a beautiful natural color set the foundation for this crisp space. We love the white, cottage flair surrounding the room and how it feels both very luxurious as well as family-friendly.
3. Marble Pattern
Black and white is always a classic choice, which is why we're swooning for this tile design. But there's marble thrown in here as well making it an even more on-trend and timeless choice. Add a bit of femininity and luxury to the kitchen by going with something similar.
4. Traveler's Spirit
We love how this find on Goodnova-Godiniaux may us feel. With tiles gathered from different patterns and designs, they come together to create a design with a "traveling spirit." It's eclectic and fun without straying away from the minimalistic simplicity of the kitchen's overall vision.
5. Yellow Chess
Are you looking to add a bit of personality and color to the kitchen? This yellow chess tile floor featured on Trendir is so much fun! It'll fit right into a more family-friendly space, vintage-inspired design or even one with a more eclectic or cottage-esque vision.
6. Small Pattern
If you really want to liven up the small, think about installing smaller designs. This tile featured an intricate, black and white geo pattern that brightens and creates dept in a more modern, crisp kitchen. And we love how personalized it feels!
Add some femininity to your floor's design by using this gorgeous space from Nesting With Grace as inspiration. The tile choice here finished off this cottage-flavored vision with ease and bouts of girlish charms. We love getting a surprise piece of art in a place so unsuspecting!
8. Chic Hexagon
hexagon tiles have a certain contemporary vibe as well. We're loving this posh space from House Tweaking and how it acts as such a clean palette to build and decorate upon. If you're looking for something versatile, then this choice should definitely be at the top of the list.
9. Retro Details
You can easily add unique, retro vibes to your kitchen by choice floor tiles that fall into that same category. Just check out these colorful, patterned tiles from House Beautiful! It really helps to create a throwback vibe in the space, don't you think?
10. Contemporary Blue
We're swooning for this simple, contemporary blue tile design we found on Simo Design. What's even better is that it expands from the floor to the bottom of the cabinets for an extra sleek look as well as providing more length to the room. The bit of wood thrown in creates a comfort within the posh vision too.
11. Traditional Travertine
Jamie herzlinger gives us another beautiful kitchen and one that's been finished off with traditional travertine tile. We love how crisp and clean this entire space is – and the flooring plays its hand in that vision nicely. Also, notice the greens and yellows contrasting beautifully with all of the cream!
12. Geo Floral
Here's a gorgeous geo pattern that's hard not to swoon for over at 100 Layer Cakelet! This design is a bit bigger so it expands the space of the floor even more so – or at least gives the illusion. And it coincides nicely with the trendy, contemporary nature of the kitchen.
13. Warm Hopscotch
Hopscotch tiles are a fun way to add some style in an unsuspecting place. This route coincides well with Southwestern styles or more rustic decor choices. Offers up so much inspiration too, and this is just another great example of how you can add surprising details to a family-friendly home.
14. Multi-Size & Tone
Here's a similar hopscotch style tile that we're loving but this one has varying tones and textures. And those different shades add a new level of dimensioned interior to this darker, richer space. It's the perfect finish to a kitchen with a more industrial vision.
15. Brushed Limestone
Mandarin Stone showed off this brushed limestone and we love how gorgeous it turned out to be. Neutral and traditional at first look, it's a versatile way to add a posh appeal to the kitchen. This too is also a more versatile choice in tile.
16. Moroccan Inspired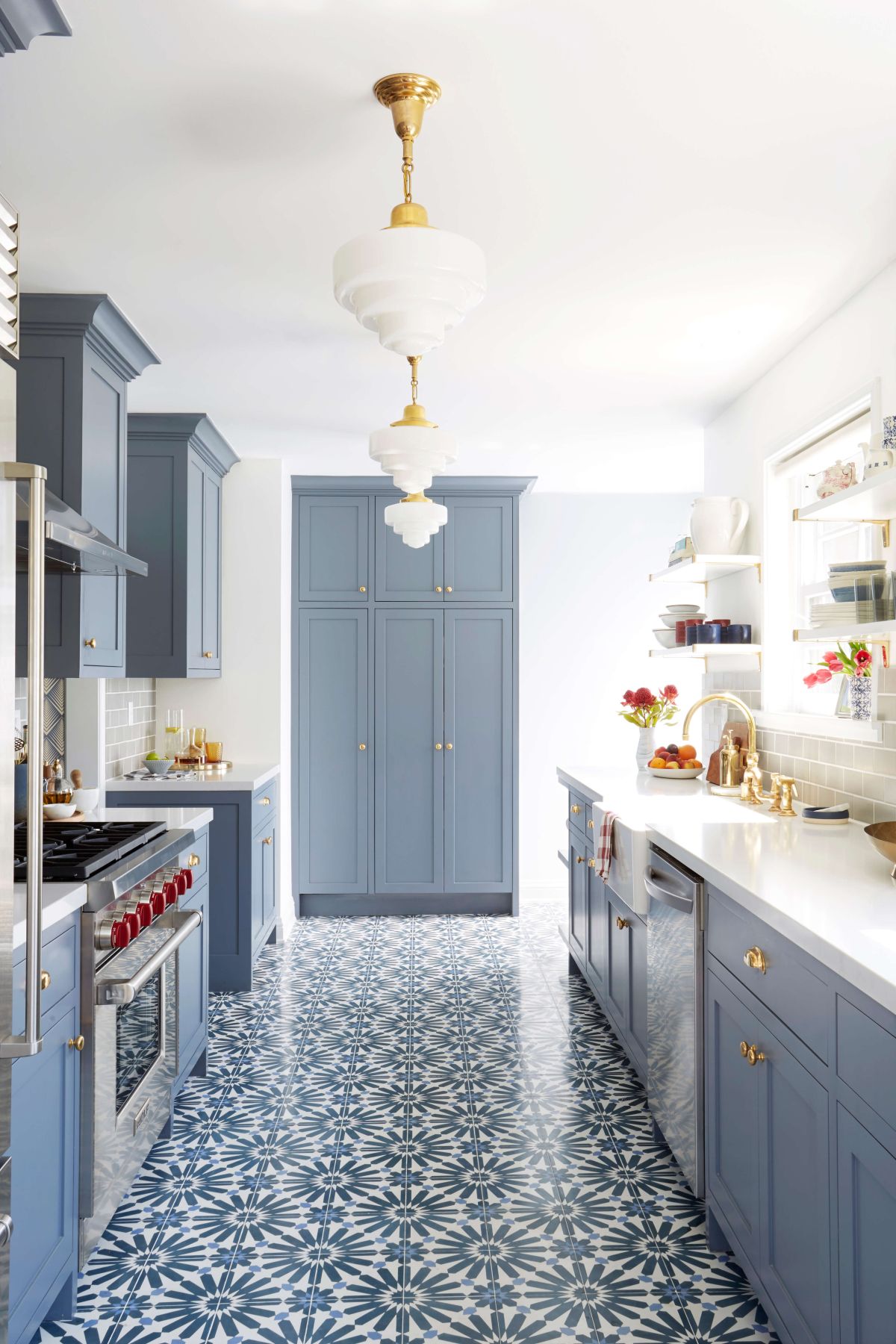 If you love color and patterned prints, add some funky, Moroccan flavor to the kitchen and jazz it up a bit. Style by Emily Henderson showed off this beauty as well and we're loving all of the eclectic and feminine touches. From the golden hardware to those blue sunbursts, it's a stunning room design.
17. Small Sunburst
Here are some small sunbursts to grab inspiration from too! This kitchen is filled with function and style, and a lot of that style comes from this intricate, gray tile floor. It plays well with the neutral wood island and the blue stove as well.
18. Classic B&W
Finally, we leave you off with this classic black and white floor. Checkers add fun to contemporary spaces and a retro vibes to kitchens that have that vintage appeal intact.