30 Beautiful Examples of Kitchen Floor Tile
Hardwood floors work, cork works, and bamboo works too, but when it comes to certain rooms of the house, tile is an even better way to go. From colors and designs to simplicity and function, there's a lot to take into consideration when deciding on your kitchen flooring.
It doesn't matter if you're working with a smaller space or a larger one, because what we've compiled can inspire any size. Check out these 30 beautiful examples of kitchen floor tile below!
Top Ways to Use Tile to Transform Your Kitchen
1. Natural Tones
HGTV brings us some more traditional inspiration in the form of this naturally-toned kitchen floor tile. The space is open and modern but the floor sets the mood for a more welcoming, warmer space for the family. We love the contacting sizes as well making it a more interesting addition to the chic room.
2. Large Subway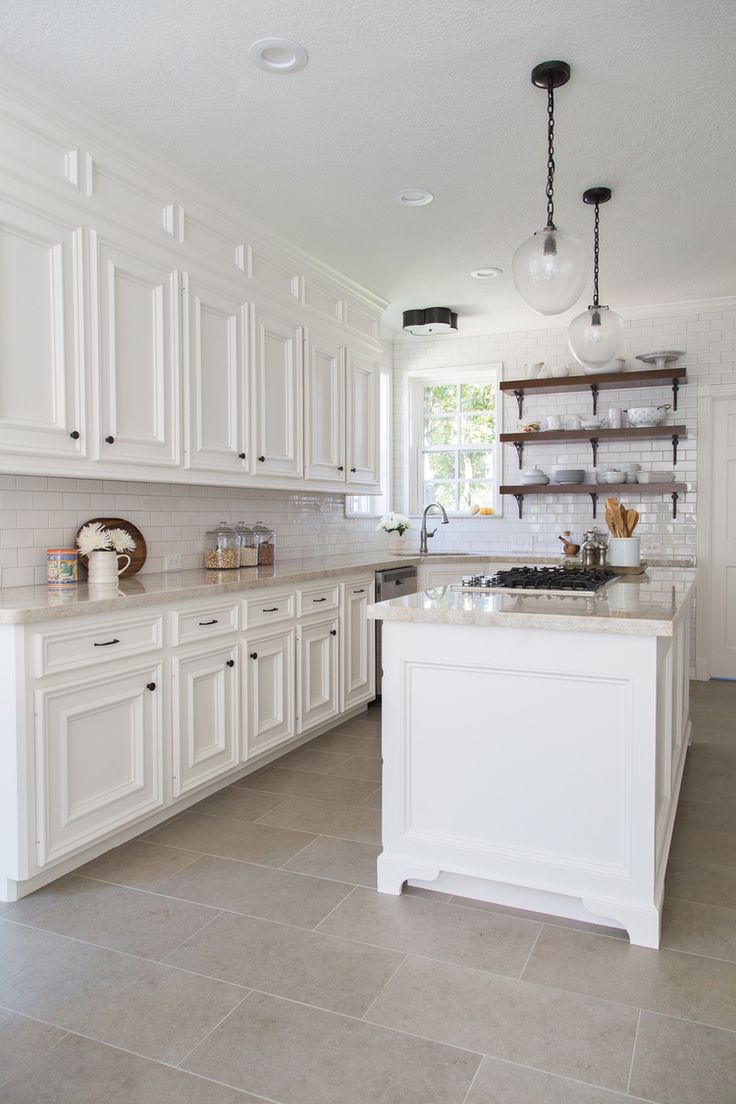 Here's another more traditional choice for kitchen tile. Large, subway pieces in a beautiful natural color set the foundation for this crisp space. We love the white, cottage flair surrounding the room and how it feels both very luxurious as well as family-friendly.
3. Marble Pattern
Black and white is always a classic choice, which is why we're swooning for this tile design. But there's marble thrown in here as well making it an even more on-trend and timeless choice. Add a bit of femininity and luxury to the kitchen by going with something similar. Marble is one of the top material choices for a kitchen makeover. It has a wide selection of patterns and shade options and is a beautiful material to add to any room. You'll find that it's a slightly more pricey tile choice, and you should always consider using a professional for the best results during its installation. Ensure you clean and seal marble tiles regularly, to make the most of your new kitchen tile flooring.
4. Traveler's Spirit
We love how this find on Goodnova-Godiniaux may us feel. With tiles gathered from different patterns and designs, they come together to create a design with a "traveling spirit." It's eclectic and fun without straying away from the minimalistic simplicity of the kitchen's overall vision.
5. Yellow Chess
Are you looking to add a bit of personality and color to the kitchen? This yellow chess tile floor featured on Trendir is so much fun! It'll fit right into a more family-friendly space, vintage-inspired design or even one with a more eclectic or cottage-esque vision. If you don't think yellow is the best option for your kitchen, consider red or orange as another fun color scheme for your kitchen makeover. You'll soon find this room becomes one of your favorite places in your home and your family will love gathering in a warm and fun kitchen space.
6. Small Pattern
If you really want to liven up the small, think about installing smaller designs. This tile featured an intricate, black and white geo pattern that brightens and creates dept in a more modern, crisp kitchen. And we love how personalized it feels! These type of tiles would look great in a very small kitchen, and will make even the tiniest of rooms feel larger and more vibrant. Of course, you can choose any color and pattern to fit your needs, and you'll find patterned tiles soon become the focal point of your space.
7. A Feminine Touch
Add some femininity to your floor's design by using this gorgeous space from Nesting With Grace as inspiration. The tile choice here finished off this cottage-flavored vision with ease and bouts of girlish charms. We love getting a surprise piece of art in a place so unsuspecting!
8. Chic Hexagon
hexagon tiles have a certain contemporary vibe as well. We're loving this posh space from House Tweaking and how it acts as such a clean palette to build and decorate upon. If you're looking for something versatile, then this choice should definitely be at the top of the list. The hexagon shape is one of our favorite tile options on the market today, and you can find hexagon tiles in various sizes and materials. Hexagon tiles transform any room with their unique pattern and are extremely easy to lay down by yourself if you are looking to save money. They add a fun and modern touch to any room and are a great variation on classic square or rectangular tiling.
9. Retro Details
You can easily add unique, retro vibes to your kitchen by choice floor tiles that fall into that same category. Just check out these colorful, patterned tiles from House Beautiful! It really helps to create a throwback vibe in the space, don't you think? Even if you don't think this type of pattern will work in your kitchen, you'll find another pattern and color scheme that still offers that fun retro effect. Retro kitchens are incredibly popular today. Even in more contemporary homes, you can head back into the past and add a fun touch of character to your kitchen with retro details.
10. Contemporary Blue
We're swooning for this simple, contemporary blue tile design we found on Simo Design. What's even better is that it expands from the floor to the bottom of the cabinets for an extra sleek look as well as providing more length to the room. The bit of wood thrown in creates a comfort within the posh vision too.
11. Traditional Travertine
Jamie herzlinger gives us another beautiful kitchen and one that's been finished off with traditional travertine tile. We love how crisp and clean this entire space is – and the flooring plays its hand in that vision nicely. Also, notice the greens and yellows contrasting beautifully with all of the cream!
12. Geo Floral
Here's a gorgeous geo pattern that's hard not to swoon for over at 100 Layer Cakelet! This design is a bit bigger so it expands the space of the floor even more so – or at least gives the illusion. And it coincides nicely with the trendy, contemporary nature of the kitchen.
13. Warm Hopscotch
Hopscotch tiles are a fun way to add some style in an unsuspecting place. This route coincides well with Southwestern styles or more rustic decor choices. Offers up so much inspiration too, and this is just another great example of how you can add surprising details to a family-friendly home.
14. Multi-Size & Tone
Here's a similar hopscotch style tile that we're loving but this one has varying tones and textures. And those different shades add a new level of dimensioned interior to this darker, richer space. It's the perfect finish to a kitchen with a more industrial vision. This just goes to show that you don't have to stick with the same shape and color throughout your kitchen, and you can create a more artistic style by mixing and matching different textures.
15. Brushed Limestone
Mandarin Stone showed off this brushed limestone and we love how gorgeous it turned out to be. Neutral and traditional at first look, it's a versatile way to add a posh appeal to the kitchen. This too is also a more versatile choice in tile.
16. Moroccan Inspired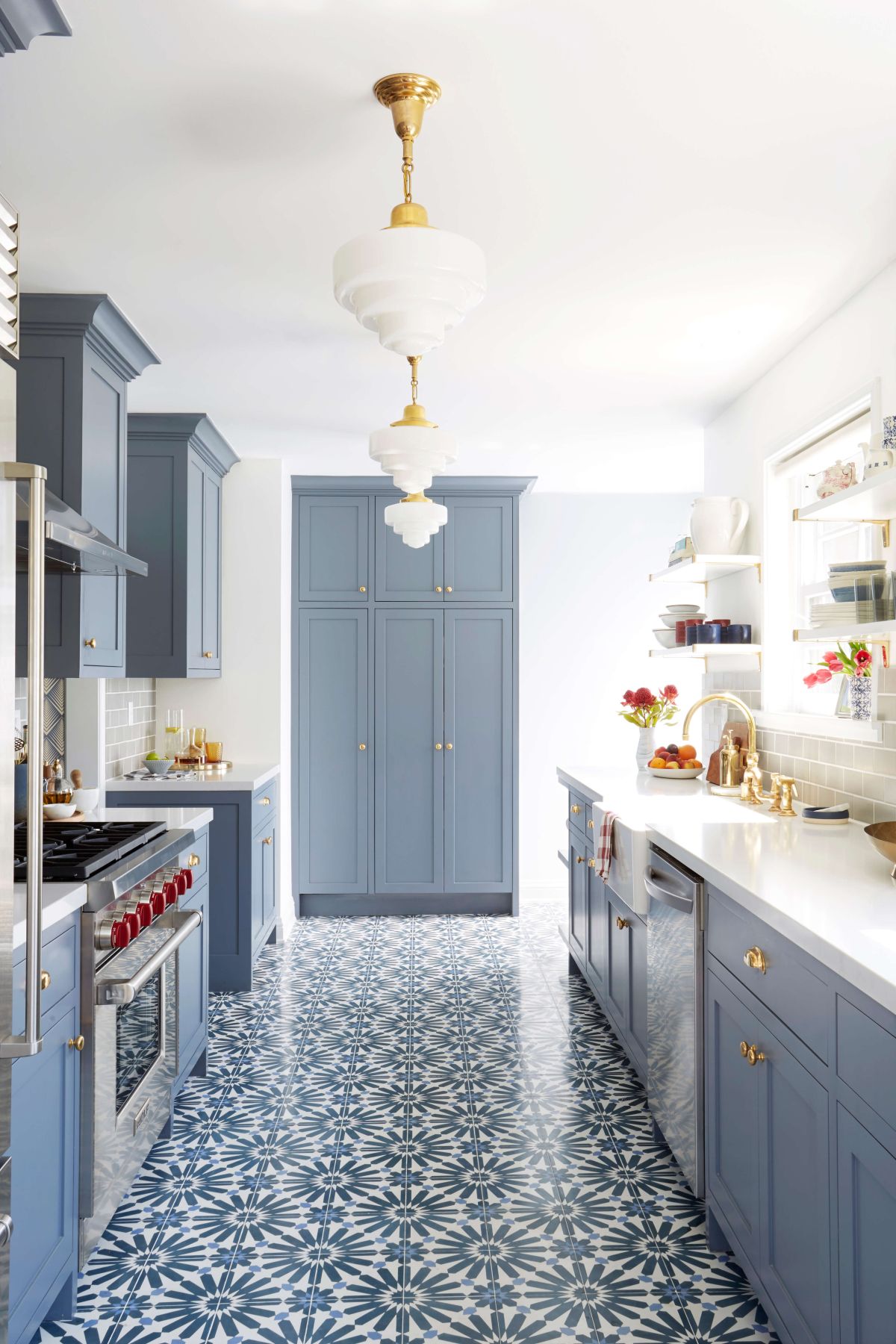 If you love color and patterned prints, add some funky, Moroccan flavor to the kitchen and jazz it up a bit. Style by Emily Henderson showed off this beauty as well and we're loving all of the eclectic and feminine touches. From the golden hardware to those blue sunbursts, it's a stunning room design.
17. Small Sunburst
Here are some small sunbursts to grab inspiration from too! This kitchen is filled with function and style, and a lot of that style comes from this intricate, gray tile floor. It plays well with the neutral wood island and the blue stove as well.
18. Classic B&W
Finally, we leave you off with this classic black and white floor. Checkers add fun to contemporary spaces and a retro vibes to kitchens that have that vintage appeal intact. We believe you can't go wrong at all with black and white tiles, and they'll work in any type of home. Even if you have a smaller kitchen space, consider adding this color scheme. It's easy to match your cabinets and countertop to the floor, and you'll find most utensils and kitchen tools come in this color scheme too.
19. Painted Tile Floor Makeover
If you already have a tile floor in your kitchen but are sick of the sight of the old-fashioned tiles, why not give them a makeover? Make Do and DIY took an old brown kitchen floor and gave it a coat of paint to create a modern, grey tile floor. You won't believe how easy it is to completely transform your space, and it will cost only a fraction of what it would to lay a whole new floor down. You don't even have to use expensive tile paint for this project and you can just find a floor paint in the shade you desire.
20. A Modern Black and White Design
We've already shown you one black and white idea for your kitchen, but this black and white tile floor from House Beautiful will show you another way you can incorporate this classic color scheme into your home. The off-white marble tiles give a little more character to the space, instead of just having a set of bright-white tiles. You'll find that they hide the dirt that often makes its way onto the floor a little better, and you won't have to worry about cleaning the floor constantly as you might with white tiles.
21. Stunning Mosaic Tiles
Mosaic tiles can be one of the more daring options when transforming a kitchen, but we think they look amazing in almost any home. They evoke a Mediterranean feeling in any home, and your kitchen will soon become one of your favorite rooms purely thanks to the new flooring. Studio McGee offers us this home makeover, and as you can see, the space is completely changed just by adding this flooring. Black and white mosaic tiles will go well with a colorful kitchen cabinet range, like the dark green ones used in this kitchen.
22. Dark Hexagonal Tiles
House Beautiful shares these dark hexagonal tiles which would look stunning in any modern kitchen. As we've already established, hexagon tiles make a chic addition to any room, but these ones, in particular, keep with the contemporary feel of your home. The contrasting brown and cream tiles offer a muted palette that's in keeping with the rest of the kitchen design. Due to the shape and design of the kitchen, they actually use two types of flooring, and we love how the hexagon tiles so seamlessly switch over to the wood flooring.
23. Wood Look Tiles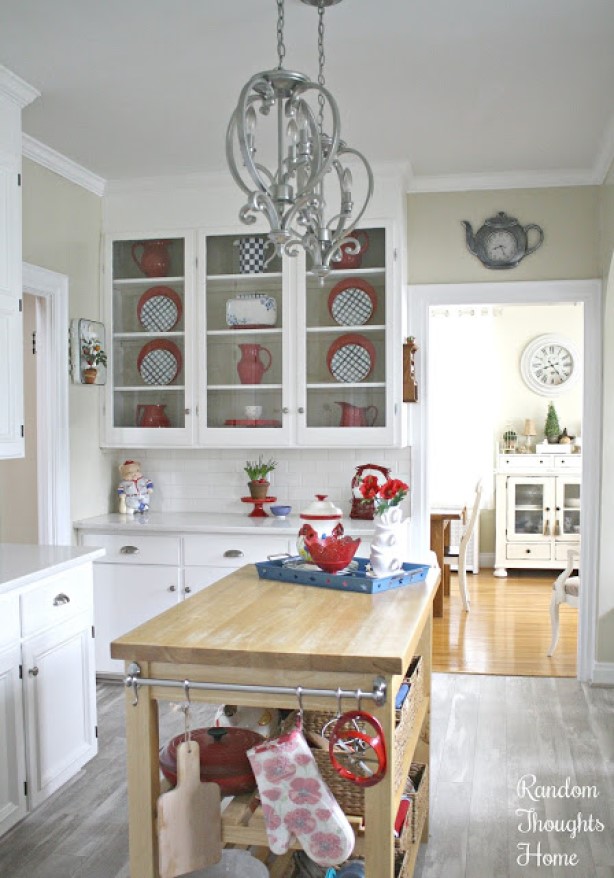 If you can't decide between tile and wood flooring, why not have the best of both worlds? These wood look tiles that Random Thoughts Home used in their home makeover adjust the look and feel of the room entirely. They are a really classy addition to any kitchen and are suitable for both modern and more traditional homes. As with any type of wood addition, you'll find they are available in a wide selection of shades, but we enjoy the paler color of tile used in this project. Avoid going too dark with your kitchen flooring, as sometimes this can drown out the room and make it appear very dark and dingy.
24. Large Square Tile Flooring
Funky patterns and mixed color schemes can work in some homes, but many people would prefer to keep their tile flooring a little more uniform. If that's the case for your home, take inspiration from Vintage Home Love and their kitchen makeover. The square tiles used in this project create a clean and fresh aesthetic in the kitchen and make the space look tidier than before. You can then easily add any furniture to the kitchen as needed, and you won't have to worry about it matching with the design of the floor. When doing a complete kitchen makeover, consider using both ceramic tiles and a ceramic countertop for a matching effect.
25. Porcelain Floor Tiling
Carla Aston Designed shows us how to achieve this kitchen transformation which incorporates porcelain floor tiling. Most homeowners choose between ceramic and porcelain floors when decorating their kitchen, and these are generally the two most popular materials on the market today. It's usually just a matter of choosing the one that creates the best overall aetheric and atmosphere for your home. These porcelain tiles are the ideal combination of beige and grey, and they will still hide any dirt and dust that makes its way onto the floor. The quality of porcelain tile floor is second to none, so it's usually well worth the investment for a long-lasting option for your home.
26. Warm Terracotta
Another classic tile color and material is terracotta, which we think looks great in larger kitchens. It's one of the most sturdy materials out there today and can go with a wide range of kitchen design ideas. You'll find larger terracotta tiles usually work best in your kitchen, and they'll easily cover up any mess you make while cooking or eating. Terracotta tiles add a warm and homely feel to any room, which is why they are used so often in Mediterranean kitchens today. Head to Driven by Decor for more inspiration for adding these to your kitchen.
27. Slate Tile
One material we've not showcased yet today is slate. Slate usually comes in a gray or charcoal shade and is a natural choice for adding to your home. It's a very durable option, so it's ideal for a busy kitchen if you have a big family. The only consideration when adding slate to your kitchen is that it can scratch a little easier than the other materials in your home. Make sure you stripe and reseal the slate regularly and mop it often to keep it clean. Check out Michelle Gage for more inspiration for adding this material to your kitchen.
28. Granite Tile
You may think that granite is just reserved for your countertops, but it's a great option for floors as well. The tiles usually have small flecks with different shades and colors, which add more depth to your room. It's an extremely durable material that is also heat-resistant, which is why it's used so often on countertops. This isn't a good option for a DIY project, as it should always be professionally sealed and installed to avoid issues further down the line. Made by Girl showcases a stunning kitchen makeover with granite tile to give you an idea of how this might look when adding it to your home.
29. Onyx Tile as an Alternative to Marble
Houzz shares this kitchen makeover showcasing a contemporary kitchen in Louisville. If you aren't familiar with onyx, it's quite similar to marble and is a translucent stone. This material isn't as hardwearing as other options on our list today, so stick to using it in quieter kitchens. It's a luxury tile option for modern homes, and you'll find it to be about the same price as marble. You can use one color throughout the room or mix and match a couple of colors to give more variety to the floor. Make sure you maintain these tiles well to avoid any issues within a few years with your new floor.
30. Cement Tile Floor
Cement is a budget-friendly tile material that we recommend using in a kitchen of any shape or size. It's a really long-lasting and low-maintenance option that creates an industrial-style kitchen. The great thing about cement is that it comes in a selection of shades and styles, so you can choose an option that works best for your needs this year. You'll need a professional to install this material, which will help to make it last longer than expected. Clean your tile floor regularly to ensure it doesn't become stained or damaged. Savvy Kitchens shares how cement tile flooring can easily be added to any space.
Tile is one of the best ways to transform your kitchen floor this year, and you'll find there are so many great options to add to any size or design of kitchen. Tiles come in all shapes and sizes, and you'll find that they look great in even the smallest of kitchens. Whether you want to do some kitchen floor tiles that are a little more traditional or a bold and bright color scheme, we hope you've found an idea that works for you on our list today. Whichever one of these ideas you go for with your next kitchen makeover, we hope it transforms your kitchen into a room you love spending time with your family in this year.