How To Soundproof Windows: 7 Ways That Work
If you live in a noisy urban area, knowing how to soundproof windows can help you create a more peaceful home. Noise is on the rise. And the fact that most noise is out of our control can make us feel helpless to deal with it. This can make us irritated and angry.
In fact, noise is not just annoying. According to a study reported by the National Institute of Health, noise can affect our cognitive function. There are steps that you can take to reduce indoor noise that is coming through your windows. Taking these steps will not just help decrease the noise in your home, it will help you take some agency over the problem.
How to Soundproof Windows: Questions to Consider
This article will detail several ways regarding how to soundproof windows. Some of them are more effective than others. But, they will all reduce the noise coming through your windows to some degree. It is important to understand the type of noise that you are facing.
Is the noise constant or does it just happen at certain times of day?
Does the noise have a high pitch or a low pitch?
Does the noise bother you so much that you are willing to spend money to reduce the problem?
How loud is the noise?
After answering these questions, you will better understand which solutions will work best for your situation.
Measuring Sound Levels
| STC | What can be heard at this level |
| --- | --- |
| 25 | Soft speech can be heard and understood |
| 30 | Normal speech can be heard and understood |
| 35 | Loud speech can be heard and understood |
| 40 | Loud speech can be heard, but not understood |
| 45 | The threshold at which privacy begins |
| 50 | Loud sounds can be heard, but are very faint |
| 60+ | At this level, good soundproofing begins. Neighbors generally are not disturbed by very loud speech from inside. |
Experts in the industry measure different acoustic surfaces according to their Standard Transmission Class (STC). The STC score of a surface is its ability to reduce the force or value of sound. The higher the STC, the better the surfaces' ability to reduce sound coming through it. The rating for a typical single pane of glass is between 18-20. This is a low score which shows that it does not create a good sound barrier. The soundproofing window options will increase the STC level and reduce the noise coming through the window.
Solutions for Soundproofing Windows
There are a wide range of options that work for every budget. The best way to soundproof windows is to layer these options to get the best sound absorption.
Acoustic caulk like, unlike standard, stays soft and does not shrink. This will prevent noise leakages over a longer period. To apply, clean the area around your window molding. Look for any gaps that noise or air can come through.
Place the caulk in a caulk gun and cut the tip off the tube. Squeeze the caulk gun and run a bead of caulk along the seams that you need to cover. Clean up with soap and water.
Try an acoustic caulk like this version from Green Glue which will increase the STC score of your windows.
Related: Soundproof Drywall
Weatherstripping functions much the same way as caulk, though it is less permanent. It can also be used together with caulk to make your window more energy efficient and noise-blocking. Clean your window frame and look for any gaps where the window and the frame meet.
The Adhesive Seal Strip Weatherstrip from Cikkiio is easy to install by removing the back strip from the adhesive side.
Weatherstripping is easy for anyone to use. Cut it with a knife or scissor and shape to any length.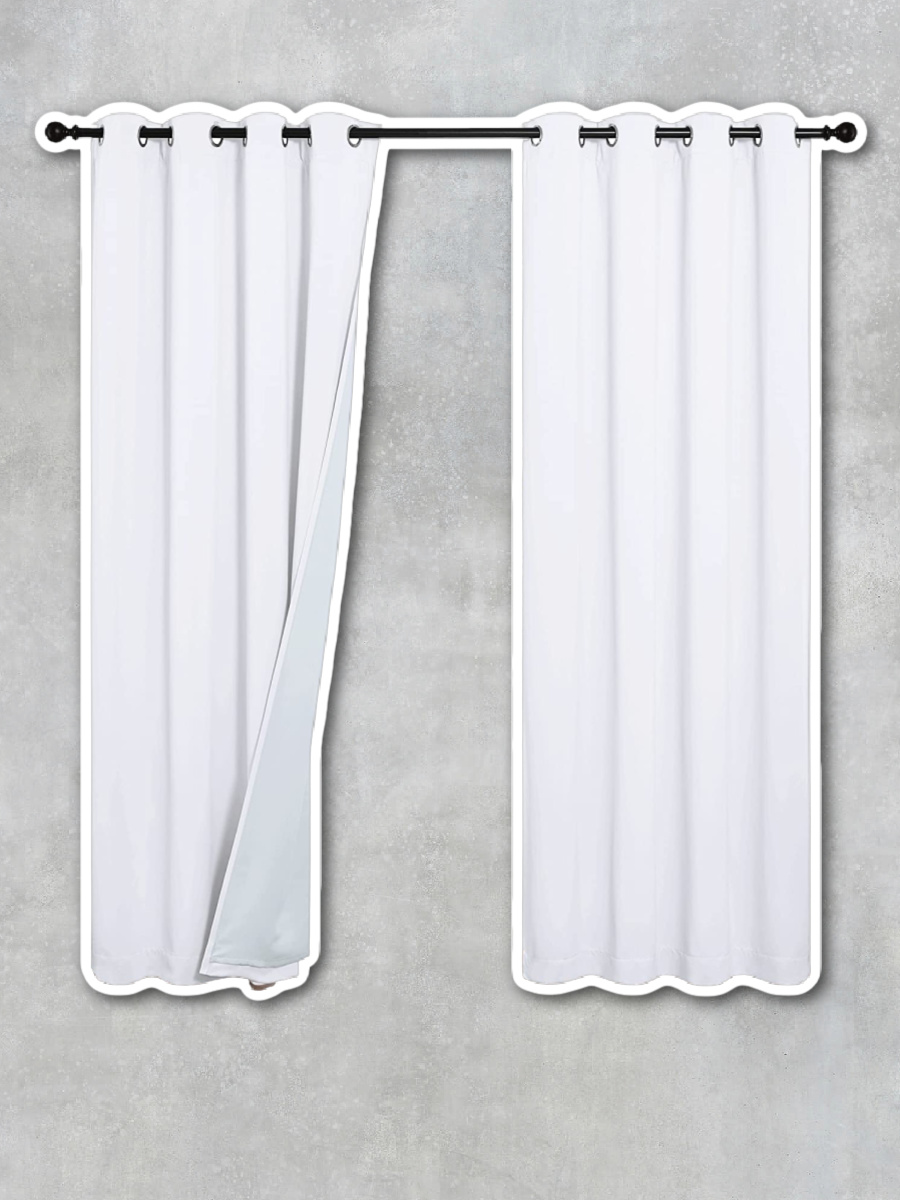 Noise reduction curtains are a great solution for soundproofing windows because curtains are also useful for other things. These curtains from NICETOWN are not just noise-reducing, they are also blackout curtains.
Acoustic curtains have a detachable felt liner that absorbs noise coming through the window.
The thicker the folds of the curtains, the better the sound absorption. Therefore, buying more panels for your window will create a better layer to absorb more sound.
Window blinds or shades can help with noise absorption. According to Hunter Douglas, their Duette Honeycomb Shades absorb up to 70% of sound energy. Also, if you prefer the look of Roman shades, try options with heavy fabric that will absorb more sound.
You can use blinds or shades to soundproof a window on their own. Or, you can use them in conjunction with noise-blocking curtains to increase the efficacy of your window coverings.
This is a DIY solution that is great for keeping noise at bay, but it is not meant for permanent use as it covers the window. Window plugs are sound barriers that fit inside the window frame.
Cut a thin board, acoustic mat, and acoustic foam the same shape as your window.
Make sure they fit well inside the window frame to ensure better sound damping. Attach the mat and the acoustic foam to the thin board with bond or spray glue. Attach a handle to the other side of the plug so that you can maneuver the plug into the window.
Double-Pane Windows
Double-pane windows, also called double-glazed, have two panes of glass in each window. They are separated by a spacer material like dry air or argon. Double-glazed windows are more energy efficient. They are also a more soundproof window than single pane windows having an STC score of 28-34.
There are many options for specific thicknesses and types of glass to consider. Some are built for reducing noise. According to Brennan, some of the best double pane window options for reducing noise are those with dissimilar glass or with one with laminated glass on the exterior. These windows will save you money in the long run as your heating and cooling bills will decrease, but they are an expensive option for soundproofing.
Storm Windows
If you don't have the budget or you can't replace all of your windows, storm windows are another option. These windows go over your existing windows on the outside. There are storm windows with specialized acoustic glass that work better than standard glass. There are various levels of glazing and soundproofing available according to your needs.
If you aren't ready to replace your windows or add new ones, you could consider window inserts. These are window inserts with acoustic glass that you apply over your existing window. These from Acoustical Surfaces are customizable. Once they are applied over the window, they blend in making it difficult to notice them apart from the window.
They have options for double-hung windows, casement windows, and fixed windows with STC scores up to 51.
Frequently Asked Questions (FAQ)
FAQ
What is the least expensive way for soundproofing windows?
The least expensive ways for soundproofing windows include acoustic caulking, weather stripping, curtains, blinds, and creating your own window plug.
What is the best way for window soundproofing?
The most effective way of soundproofing windows is replacing them with double glazed windows with specialized acoustic glass.
How much do soundproof windows cost?
Sound proofing windows can be expensive. According to Angie, the cost to replace windows is between $350-$850 for double paned windows. Window inserts are another effective option. This costs around $250-$500 per window. On the lower end, acoustic caulk costs about $14-$100 depending on how many windows need to be caulked and how much needs to be done on each window. Acoustic curtains cost between $20-$400 depending on how many curtain panels you need.
Can I soundproof a window myself?
There are certain soundproofing strategies that are easier than others. Caulking, weather stripping, and hanging curtains and blinds are easy for anyone to complete. A window plug is another project that is approachable for anyone with some DIY skills. Installing windows is best left to the professionals unless you have extensive DIY experience.
What is the best way to soundproof a window without replacing it?
The best method for soundproofing a window without having to replace it is to make sure that all the cracks are sealed with acoustic caulk and weatherstripping. Next, add a combination of curtains and blinds. When you don't need access to the window, you can use a window plug to block the noise and then remove it when you need the window again.
Conclusion
There are creative ways to soundproof windows that range according to cost and how invasive the solutions are. Reducing the noise in your help will allow you to create a more calm space where your family can relax and thrive. Knowing the best ways to soundproof your windows gives you multiple options to create a solution that works for any budget.