How to Achieve a Rustic Style
Although rustic style started out not as a style, per se, but as a way of life, it has certainly become a primary décor style in recent years. It is built from the humblest of beginnings – a time and place where folks used what they could get themselves, built from scratch, used and reused and then used again.
The name of the game, when it comes to achieving a rustic style, is emphasizing the rough, organic nature of stuff. Let it be (or make it seem) as straight-from-the-earth as possible. Because that's where the endearing style originally came from.
Perhaps that's oversimplifying the rustic style. Or perhaps it's not. It would be ironic, wouldn't it, to have complicated "rules" to obtain a style steeped in simplicity. If you're after a feel of times gone by where things were honest and genuine and simple(r), here are some ways to recreate the feeling of rusticity in your own space.
Rustic 101: Gravitate toward raw wood surfaces. Rustic style capitalizes on an old-time look – weathered, raw woods with very little blemish-hiding surfaces will do more for your style than almost anything else. Rustic style blends the outdoors with in, and you'll want to incorporate wood that is as close to natural as possible (while still being safe and useful, of course).
Rough ceiling beams are a very obvious and successful way to incorporate rustic wood into a space, as are wood trims around doorways, windows, even fireplaces. Of course, don't forget to incorporate a few sleek surfaces for contrast and to tighten the overall look.
Rustic 101: Think natural, earthy textiles. Recalling the times of wagons and barns, solid, hard-working fabrics will go far in giving you the rustic style you're after. Canvas, burlap, wool, linen, and even denim are great options, and don't forget the most rustic of them all – animal skins.
The idea here is to compensate for neutrality in color and lack of print by enhancing the textural balance of your space. If you feel like you really need some sort of pattern, stick to strong patterns such as stripes (think mattress ticking), plaid (think flannel), or ikat to go along with your rustic style.
Rustic 101: Embrace a warm, organic color palette. This tip should come as no surprise, after all our talk of incorporating natural elements in your rustic space. Colors that reflect a serene nature-inspired palette will keep your space from feeling heavy and dark (which is what would happen if you covered all available surfaces in wood tones) while also continuing to infuse a sense of the outdoors inside.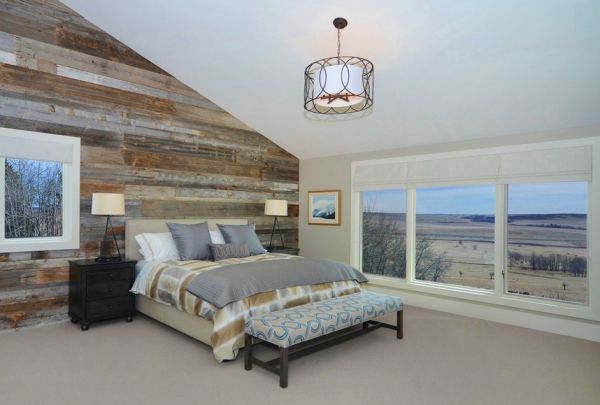 Use nature's more subtle tones in your palette – go with pale-shaded inspiration from stone and soil and bark more than rainbows and vivid sunsets.
Rustic 101: Go organic on the floors. Whether your actual floors are of wood, tile, or stone, you can enhance a feeling of rustic style by using simple, neutral rugs on top of them. Rugs made out of natural materials (think sea grass, sisal, jute, and of course animal furs – faux or otherwise) will provide an organic sense of texture to the space.
Rustic 101: Cheerfully use Repurposed Objects. The more weathered and worn those objects might be, the more charm you'll infuse into your rustic space. Because rustic style is largely about making do with what you've already got, be sure to celebrate opportunities to artfully repurpose!
Go with surfaces that either show their age or fake it well.Reclaimed wood, tarnished metals, and antique glass provide visual interest in and of themselves. When combined, the layers are beautiful and, yes, absolutely rustic.