Suspended In Style: The Hanging Bed Makes A Comeback
Hanging beds are something most people dream of having. Otherwise known as a rope bed or suspended bed, the bed style offers a unique sleep experience.
Hanging beds are comfortable, fun, and can turn a bedroom into an exciting living space. The beds are also great for outdoor social areas.
The most important thing to remember is that hanging beds require professional installation. Unless you have experience, installing a hanging bed in a bedroom is not a DIY project.
The hanging bed is more versatile and durable than its traditional counterpart. Hanging beds come in a variety of styles, including rustic and contemporary. More than anything, the beds provide a better sleep experience. You can stall them in any small space like attic bedrooms.
The beds are also ideal for those with special needs. With adjustable firmness capabilities, after you throw a memory foam mattress over the frame, your bed swing will be good to go and you'll be swept away by the comfort it provides.
Hanging Bed Design Ideas
To provide you with inspiration, we thought it would be helpful if we shared with you some of our favorite hanging beds.
Outdoor Swing Beds
Can you imagine how fun it would be to have a swing bed at home? To build one you need wood, lumber, a drill, screws, a saw, and rope. Make sure your platform is safe and secure when you're adding the rope.
Outdoor Daybed
Wooden boards, wood screws, lag screws, nylon rope or chain, and some wood filler. The dimension of the platform should fit the mattress you're planning to use with around 4 inches of space around it. Cut the lumber and start building the frame.
Attach the deck boards, lag screws, and fill the holes with wood filler. Sand the surface and apply a fresh coat of paint. When hanging the bed, use rope or chain at the desired height.
Hanging Style
But why reserve all that fun and comfort for the outdoors when you can also have a hanging bed inside the house? This one is intended for open rafter ceilings. You need to secure the braces to the ceiling joists and drill a vertical hole in each brace for the eye bolts. Push the bolts through the holes and place a fender washer on the threaded end of each one.
Assembling the bed frame doesn't have to be hard, and it's easy for most people. Once it's all done and painted, attach the bed frame eye bolts to the holes you drilled in it. Use S hooks to attach each eye bolt on the bed to the end of each chain. Lift the bed and hook the chain to the ceiling support.
Bedroom Ideas
A lot of people are intrigued by the idea of having a hanging bed in their bedroom but they just can't take this step without being certain they're going to love it. Well, there's nothing to be afraid about. A hanging bed is pretty much just like any other kind of bed except for the fact that it lets you swing gently and fall asleep easier.
Wood Pallet Hanging Bed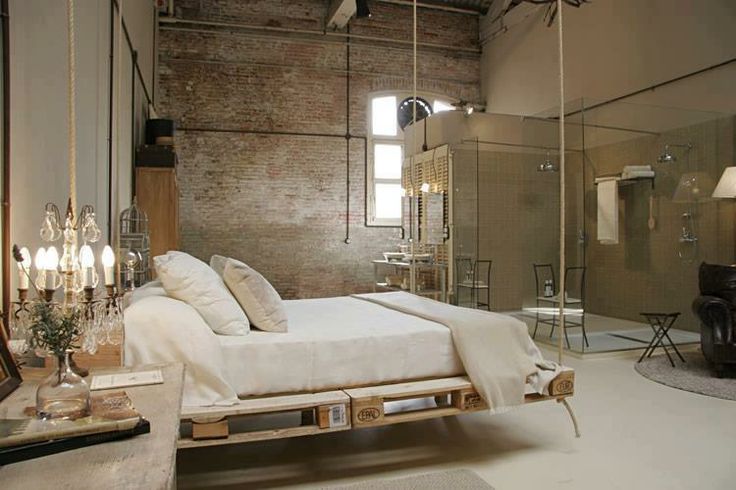 The best DIY materials use when making a hanging bed are wood pallets and rope.
Chic Suspension
Contemporary Hanging Beds
Centuries ago, hanging beds were known as rope beds. Their designs have changed since then and many creative styles have emerged
Double Suspended Beds
When working with a slanted ceiling, you'll need to measure everything twice.
Suspended Bed With Chains
The chains and barn wood frame offer and rustic look.
Reading Nook Rope Bed
Do you have a white room that needs a color accent or a unique focal point? Look no further than this idea. Depending on the style you prefer, you can either use rope or chain to hang the bed.
Porch Swing Bed
Matching Swing Beds
For smaller children, instead of ropes, you can use metal pipes to suspend the beds.
Industrial Swing Bed
Master Bedroom Suspended Bed
Outdoor Beds
For extra strength, use thicker ropes.
Hanging Out With The Kids
Kids would definitely jump at the idea of having suspended beds in their rooms. They associate the beds with swings which they all love and for good reason. So why not give them rope beds? They're just as safe as other beds if installed correctly and they even help you save space.
Here are a few examples of how you can use them in the design.
Bunk Style
Notice in this example how a wall can provide support.
Faux Floating Bed
From a distance this bed looks like a floating bed, but upon closer inspection you'll realize that the top area is connected to the wall. With this example, the wall functions as a headrest and support source.
Love Seat
Screen Porch Designs
The screened porch is the best seat in the house. Sunrooms are the same thing as a screened porch: a cozy room with large windows, sometimes with a glass roof, where you get to relax and admire the views no matter how cold or ugly the weather is outside.
A hanging sofa could work too if you feel a bed would be too casual.
Pergolas Hanging Beds
Let's not forget the patios and pergolas. You can relax, feel the breezy wind going through your hair, the sun touching your skin, and all the other great things that you can only experience outdoors make things even better.
Suspended Beach Beds
If you've visited a tropical island or exotic beach destination, then chances are you spent time relaxing on a suspended bed on the beach. Here are a few favorites that uphold the beach bed aesthetic.
Outdoor Gazebo
If you have a pool, then why not get a hanging day bed to go with it? You don't have to go on vacation to enjoy their comforts. They're easy to make and do not cost much to install. It doesn't take much to turn your backyard space into the vacation-like setting.
Frequently Asked Questions (FAQ)FAQ
How Much Weight Can A Hanging Bed Hold?
The weight limit of a hanging bed is 220 pounds. Hanging beds are limited in how much weight they can hold, unlike beds with solid wood or metal bedposts. 
How High From The Floor Can A Bed Hang?
A hanging bed should be 18 inches to 22 inches from the floor. As it's recommended to enlist a professional contractor to install your hanging bed, if you do it yourself, you can use five gallon plastic buckets to determine the height of your hanging bed. 
What Size Mattress Is Good For A Hanging Bed? 
A twin mattress is the most common mattress size for hanging beds.
Is A Floating Bed The Same As A Hanging Bed? 
A floating bed and hanging bed are not the same. A floating bed has a bed frame that looks like it's floating. When looking at the bed, you can't see its legs. When you look underneath, you'll discover the legs are in the center of the bed frame. 
How Dangerous Are Hanging Beds?
Hanging beds, like anything that requires professional installation, can be dangerous if they're not installed correctly. Reports of children and young adults receiving concussions from hanging bed accidents are not uncommon. Head and neck injuries are also not uncommon. 
Hanging Bed Conclusion
Although the hanging bed may seem unusual, you'd be surprised how their popularity is growing. Unlike a floating bed, the swinging bed is tailored for children, young people, and those with disabilities.
Start with an outdoor bed as they're weather proof. If you build a DIY hanging bed, hire a professional to hang it. They can also check to make sure you built it right. If you need materials, like wood pallets, check your local feed shop.
Swing beds are enjoyed by many who like the gentle rocking sound that they provide. The beds offer amazing comfort in outdoor or indoor settings. For bedrooms, they provide more floor space for storage as they hang from the ground.
One thing you noticed in the photos provided here is they don't require a headboard. This makes them easier to incorporate them into your living space. With the right linen and other creative ideas, you can create an exciting bedroom space.
With adjusted height and added storage space underneath, a rope bed might be the ideal fit for your child's bedroom. Checkout a video tutorial to learn more about how to make one. The images provided and photos here should serve as inspiration. And if you run into problems, contact a professional.