What Are The Best Furniture Stores In San Francisco
San Francisco is known for its home décor. If you're wondering what are the best furniture stores in San Francisco, look no further. The Golden Gate city is home to some of the best furniture stores nationwide.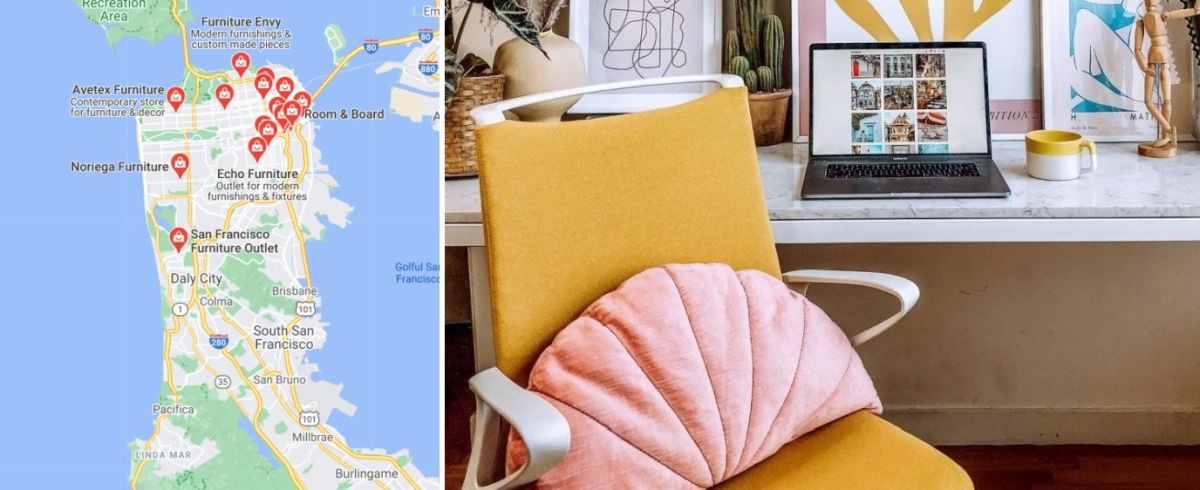 San Francisco has much to offer. When people move here, it's hard for them to leave. As the city has something for everyone, including home furniture.
There are hundreds of furniture stores in San Francisco. To save you the trouble of trying to find the city's top furniture stores, we've made a list for your convenience.
The best furniture stores in San Francisco
Zozi's Loft
Address: SoMa 249 9th Street, San Francisco
Zozi's Loft offers cute furniture. The store may look like a hole-in-the-wall, but it's much more. They sell designer modern furniture and unique, DIY handmade accented interior pieces.
Their prices are in the mid-range. You shouldn't worry about finding items you want but can't afford. Their site is user-friendly. They also have a blog that provides useful information. Locals are in love with Zozi's Loft, and after visiting, you'll see why.
Room & Board
Address: SoMa 685 7th Street, San Francisco
Room & Board is one of the hottest chain furniture stores in the US. While all of their stores are popular, their San Francisco location is the most popular.
Related: What Are The Best Furniture Brands In The U.S.
You can view their San Francisco store online with a virtual tour. You can see their furniture inventory, room setups and take inspiration from their pieces. Order online or visit their store today.
Design Plus Consignment Gallery
Address: 333 8th St San Francisco, CA 94103
Design Plus Consignment Gallery has some of the prettiest furniture in the city. After looking at their selection, their prices might seem out of your range.
The store's name represents their prices. They offer affordable furniture. Their staff is helpful.
They don't offer design services, but they don't have to because they share their décor knowledge free of charge.
Modani
Address: Pork Gulch 1350 Van Ness Avenue, San Francisco
San Francisco is an international city. For example, it enjoys a sister city relationship with Shanghai. Modani offers furniture for every culture.
There are stores nationwide, but their San Francisco location is the real jewel.
While Modani stores sell modern furniture, their Golden Gate location offers more. They know that each area in the US has different needs, so they fulfill them according to region.
CORT Furniture Outlet
Address: Cathedral Hill 1320 Sutter Street, San Francisco
CORT Furniture Outlet is not your average furniture store. When they first opened 45 years ago, they specialized in furniture rentals. Today, they are a leading nationwide provider of transition services, with furniture as their specialty.
They help families relocate, move, and furnish their new homes. Although they rent home items, they also sell used furniture at a 70 percent discount. They sell the best furniture at the lowest prices.
Furniture Envy
Address: Marina District 2240 Lombard Street, San Francisco
Let's face it. Everyone secretly wants someone to envy their house and furniture. That's where Furniture Envy got its name. The store than a high-quality furniture store, it's one all your friends will love.
You can, "choose how large your sofa or sectional will be, what kind of fabric will be put on it, what color it will be, and more when you take advantage of our unique custom upholstery process."
9th Street Designer Clearance
Address: SoMa 540 9th Street, San Francisco
9th Street Designer Clearance, lives up to its name. They offer a large selection of designer furniture for less than full price all year long. Their secret is the connections they have with designers and furniture manufacturers.
If you're not sure if they have what you're looking for, try their online showroom. You'll find their brick-and-mortar store and staged setups for inspiration.
Avetex Furniture
Address: 6114 Geary Blvd San Francisco, CA 94121
Avetex Furniture is known throughout San Francisco. Their prices may not cheap, but their furniture quality makes up for it. You won't find modern furniture like it anywhere else in the city.
They have a blog and offer design services on their website. You can use their décor guides to help find furniture that's right for you. As everybody knows, home design is not easy.
Echo Furniture
Address: 3769 24th St San Francisco, CA 94114
Echo Furniture is a quaint store that offers Danish furniture. Although Danish decor is popular nationwide, this location is the best in SF.
Echo Furniture is a five-star furniture store in San Francisco. Not one person has ever had a problem with Echo or its customer service. The employees are down-t0-earth and helpful.
HD Buttercup
Address: China Basin 290 Townsend Street, San Francisco
HD Buttercup opened over a decade ago. Since then, they have earned a loyal following. Many people buy their furniture exclusively at HD Buttercup. Their site is awesome, and customer service is reliable.
For shopping, visit their store rather than just their website. They often have 75 percent off of liquidation sales where you can buy furniture at a small fraction of its value.
Blu Dot
Address: Mission District 560 Valencia Street, San Francisco
Blu Dot is one of those stores with hundreds of thousands of followers, likely even more. With stores in nine key cities nationwide, there aren't many people who haven't heard of this city favorite.
Those at Blu Dot love the Mission neighborhood and its eclectic scene. The store blends in and offers unique furniture and home decor. If you don't feel like getting out, you can shop online and have your furniture delivered to your home.
MScape Modern Furniture
Address: 521 6th St San Francisco, CA 94103
Mscape is a favorite among millennials and Gen Z. We're talking about reclaimed wood, Italian leather, and rich-colored furniture. With brands like Bracci, Luonto, and Fjords, you can see how they earned the accolade.
Mscape may not be affordable for everyone. Those who shop there are addicted to their furniture. If you are on a tight budget, consider getting just one accent piece from this amazing store.
Sofa Creations
Address: Polk Gulch 1529 Polk Street, San Francisco
Sofa Creations is the best place to buy a couch. They tailor their furniture according to your needs and down to the last detail. Their step-by-step process is easy to follow. There's always someone on standby to help.
It starts with you choosing your style, the hardest part. Next, you pick your measurements, colors, and fabric. Finally, you get your couch delivered to your home within one month, likely sooner.
Belso Home & Garden by FL!PP
Address: 1400 Green St San Francisco, CA 94109
If you want to dress up your outdoor living space and add a zen flare inside your home, you must visit Belso. Their style is unique and awe-inspiring. You won't be able to visit without buying one item.
While Belso Home & Garden by FL!PP has great furniture; their specialty is the garden. They can create rooftop paradises that you thought you could only dream of and even work with small apartments and windowsills.
Stuff
Address: Mission District 150 Valencia Street, San Francisco
Stuff may be a vague name, but there's no better word to describe what Stuff has in store. If you visit one antique store in San Francisco, let it be Stuff. They have more items than you can imagine, but furniture is one of their strong suits.
Stuff is open seven days a week and has every style you can think of. From Danish to farmhouse to mid-century modern, they have it all. "Come Be who YOU Are. Find Your Own Style. Express Yourself in Your Own Way. that is what STUFF is ALL about."
That's a motto anybody can respect.
Frequently Asked Questions (FAQ)
FAQ
What are some tips for buying furniture in San Francisco?
When buying furniture in San Francisco, decide first what you want. The city is a multi-cultural hub. Whatever your cultural background is, you find furniture to fit your tastes. Furniture stores deliver and provide assembly, but make sure you ask about a store's rates beforehand.
What are the benefits of rent-to-own furniture?
Instead of buying furniture, some stores offer furniture rentals. Those who will live in San Francisco for a year or two because of work might want to consider renting furniture. With rent-to-own, if you change your find and want to stay in the city longer than planned, then the money you spent on your furniture would not be wasted. 
Do home furniture stores sell office furniture?
You'd be surprised what kind of furniture you can use for your office. Most stores have office furniture. They also sell pieces that would complement your office space, but you don't see it yet. Ask an interior decorator before making a decision. In the business world, it doesn't hurt to get a professional opinion.
San Francisco Furniture Store Conclusion
San Francisco is a premier city with some of the best home furniture stores you'll find nationwide. When shopping for furniture, take advantage of each store's online presence. Set a budget before you begin so you'll know what you can afford.
Also, don't be shy about asking for help from the employees at each store. You'd be surprised how free design advice you can receive at each store. Keep an open mind, and enjoy the experience of furniture shopping.