The Best Upholstery Steam Cleaner To Keep Your Furniture Looking Great For Years
You should know how to keep your furniture clean because it will get dirty. If you want to find the best upholstery steam cleaner to keep your furniture looking great for years to come, look no further.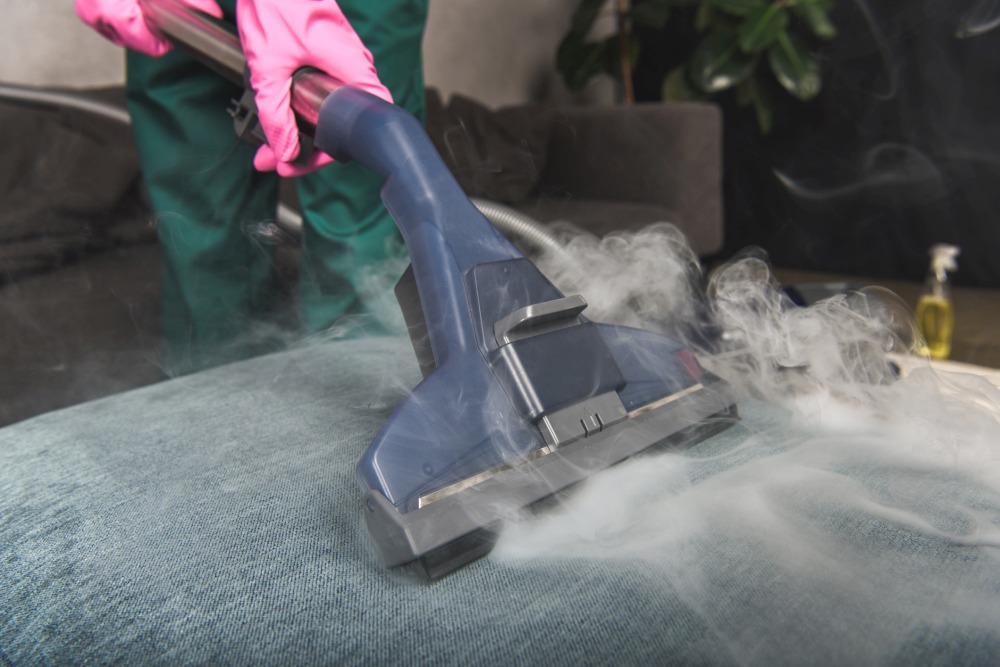 Maybe it was your kids or pets that stained your sofa? Or a guest spilled wine on your favorite chair. You want to clean your upholstered furniture asap after an accident.
Pick Up A New Upholstery Steam Cleaner To Keep Your Furniture Looking Great For Years To Come
High-powered upholstered furniture cleaners can take care of stains and make your furniture look almost brand new. Finding a steam cleaner for a couch or sofa can be tiresome. With so much to choose from making a decision isn't easy. In this guide, we'll take you through the 'art' of buying a furniture steam cleaner.
Steam Cleaner For Couch
A steam cleaner can remove stains from upholstery. Most people do not own a couch cleaning machine. Hiring a pro to steam clean your upholstery it isn't cheap. Today, steam cleaners are smaller and cheaper thank to technology.
Best Steam Cleaners For Couch
Hand-held upholstery cleaner is the new normal in households across the US. Steam kills bed bugs. A one-gallon steam cleaner with steam volume control will do the trick. Do not use a carpet cleaning machine to clean your upholstered furniture.
Couch Shanpooer, otherwise known as a steam vacuum, uses detergent or special formula cleaner for couches.
What Not To Clean With Steam Cleaner
Steam cleaners heat water up to 225 degrees F. Do not use a steam cleaner on furniture that cannot handle hot temperatures and moisture.
Examples:
Porous surfaces like marble, brick, and stucco.
Delicate fabrics like silk.
Wallpaper, but it depends on the steam cleaner.
What You Need To Know Before Buying A Steam Cleaner For Couch
Choosing a steam cleaner for your furniture isn't hard, but it does require effort. We've outlined the basics to consider for when you need a steam cleaner for your couch, sofa, or other upholstered furniture pieces.
Budget – As the saying goes, spend what you can afford. Steam cleaner prices range from $30 to $500.
Size – Steam cleaners come in many shapes and sizes. Handheld, upright, and full-size are a few options. Portable steam cleaners are small and have a compact body.
Brand- Consider the brand of the steamer. It is best to buy a steamer from a brand that is well known and has many online reviews
Attachment – Steam cleaners have add-ons that work on different surfaces. Some of them include a squeegee, water cup, nozzle, washable mop, among others.
Usage – Three factors that show you how easy it is to use a steam cleaner is its shape, weight, and size. One of the biggest reasons to buy a steam cleaner is the fact that it is easy to use.
Steaming time – See how long you can use the steamer before you need to refill it with water.
The time it takes to heat up – Don't forget to watch the time it takes the steamer to pump out steam.
Water tank capacity – It takes longer for steamers with larger water tanks to produce steam. It also takes longer before a refill is required.
Energy – A steamer uses 1,000 to 1,800 watts, about four times that of a computer. The consumption varies depending on the heating system and other elements to heat the steam in the boiler system.
Noise level – Steam cleaners are quiet. They don't make noise when pressure seeps out of the top.
Warranty – Do not forget to check for the warranty before buying.
Best Upholstered Furniture Steam Cleaner
The following products were tested and backed up with favorable customer reviews.
The best furniture steam cleaners:
This lightweight steamer allows you to remove stains anywhere. This steamer removes various stains from everyday mishaps to messes made by pets and children. The five-foot hose allows you to reach spots and stains with ease. It combines the power of suction with a deep cleaning that is hygienic
Dual tank technology separates the dirt, which allows you to refill, empty, and rinse with ease. The cleaner is easy to use and assemble.
It also extracts stains and spots with a multipurpose antimicrobial tool that protects from mold, bacteria, and mildew that forms in stools and other corners.
The hose is self-cleaning, so you don't have to worry about bad odors. Plug the hose into the cleaning port at the back of the machine and turn the Spotless on to remove debris.
It weights 9 pounds and is 15 inches tall, making storage is easy.
Key Features
Lightweight and compact
All-natural. No chemicals needed
Wide reach range
Powerful suction
Dual tank technology
The Bissell 3624 Spot Clean Professional Portable Carpet Cleaner is perfect for households with pets. It's powerful spot and stain remover for carpets, upholstery, stairs, and others.
It combines suction, scrubbing, and professional cleaning solutions to aid in removing stubborn pet stains and dirt. It also has the ability to remove tough messes and protect your stairs from future stains.
Its design also makes cleaning stairs easier as it has a 6" stair tool. When you buy a Bissell product, you help save homeless pets as Bissell's supports the Bissell Pet Foundation, whose mission is to provide shelter for homeless pets.
The cleaner weighs 16.43 pounds and is easy to carry. At 14 inches tall, the height makes storage easy.
Key Features
Compact and portable
Easy to store
Powerful suction
Natural disinfectant
Every pet owner understands that it takes hard work to have a spotless couch when you have a drooling dog in the house. The Wagner 915 on Demand Steam cleaner is an all-natural machine that uses steam alone to clean countless areas around your home.
It holds up to 48 ounces of water and needs 10 minutes to hear. However, it doesn't use chemicals, and runs for 45 minutes before refilling. The steam hose is eight feet long, which allows you to clean in large working spaces, compensating for its short cord. It is also 13.77 pounds, making it easy to carry and store.
It also comes with 11 attachments, which are the wallpaper steam plate, jet nozzle, brass utility brush, nylon utility brush, measuring cup, extension tube, filling funnel, window/tile squeegee, floor cleaning head, and a floor cleaning pad.
Key features
Ability to hold 8 oz. of water
Lasts up to 45 minutes before refill
Heats up in less than 10 minutes
Chemical-free cleaning
Everyone likes a machine that eliminates the hassle of cords and also offers easy mobility. This handheld product brings both to the table as it is cordless and portable.
It removes deep stains and spots fast with its powerful suction. This spot cleaner combines warm water, a targeted cleaning formula and powerful suction to get deep down in spots that need extra cleaning.
This portable cleaner is most suitable for cleaning chairs, stairs, area rugs, auto interiors, and other small furniture.
Key Features
Powerful suction
Cordless and portable
Instant stain removal
Weighs 4.6 pounds
This 7.3 pound cordless handheld steam cleaner is easy to use and has a strong suction power. It is perfect for cleaning up after your pet. The handheld steamer is rechargeable as its ONEPWR battery (which is also removable) is compatible with all ONEPWR products, giving it expansive cord-free range. Its lightweight and compact design make it easy to use and store.
You can use this steamer to clean anything ranging from hard floors and carpets to upholstery and chairs.
Key Features
Cord-free
Portable and lightweight
Powerful suction
Dual tank for clean and dirty water
Easy refill and rinse
Compact; easy storage
No matter the stains, this heavy-duty steamer packs up enough punch to clean for up to 50 minutes before a refill is needed. Superheated steam kills about 99 percent of surface germs without using chemicals.
The model is compact and easy to store. At 9 pounds, it's lightweight. The hose length is about 6″6′. It also takes about seven minutes to heat and works for about 50 minutes before a refill is needed.
It has a warranty of two years as well.
Key Features
Steam temperature goes up to 2750
Compact and portable
Two-year warranty
All-natural. No chemicals needed
Natural disinfectant
Kills bed bugs and dust mites
Comes with about 18 attachments
Tips for Steam Cleaner Use
Some people do not know how to use a steam cleaner and could damage it when cleaning furniture.
To keep the steamer useful for a long time, here are some tips:
Distilled water – Distilled water is the best because it has minerals that will accumulate in your steamer, unlike tap water.
Test before cleaning the new surface – To avoid an allergic reaction on the skin, it is wise to test a new cream on a small scale. This is the same way you should test your steamer when rinsing a new surface type.
Always rinse the cleaner – To preserve it, clean it after each use. Use distilled water if you can.
The Concept Of The Steam Cleaner
How does the steam cleaner work? The vapor from a steam cleaner allows you to deodorize and sanitize your couch without chemicals. Surface dirt is loosened and dissolved when high-temperature steam is applied to it, and the process of giving the fabric's color a little brightening effect.
Before you begin, vacuum first which will loosen stains and lift debris. You can start steaming afterward by connecting the appropriate attachment based on what you need.
Fill the tank with water and wait for the device to heat up, Use a mop to remove residue.
Steam cleaners can act as disinfectants and reach high pressures and temperatures to kill germs and bacteria.
A steam cleaner can be used on microfiber. Choose a temperature for the material and the amount of steaming to be used. However, to make the steaming easier, use a vacuum or a lint roller to lift the debris.
Steam cleaning also helps remove insects.
Types of upholstered furniture steam cleaners
The ability of steam cleaners to remove stains, dust, and mites is unmatched. There are many types of steam cleaners, and by knowing this, it will be easier for you to pick the one that's right for you.
Here are a few that we have taken time test for you:
Handheld Steam Cleaner For Couch
This steamer remove dirt and various stains. It is light, portable, and easy to carry. They can sanitize upholstery, nice pieces, and various fabrics. The steamer requires needs a cup of water to make enough steam for stain removals from your furniture.
Steam Vacuum Cleaner
This is basic a vacuum cleaner that makes steam; it can be used for carpets, floors, furnishings, and upholstery. It would do you well to go through the user manual before you start using this steamer as there are different variations of this machine.
Vapor Steam Cleaner
This cleaner removes dirt from surfaces and dries them. Vapor steam cleaners have various attachments and features, so they can clean different objects, coverings, and floorings. Vapor steamers are good for homes with children and pets, as its drying effect makes the environment safe. The downside is that a big space is required for storage, so it may be difficult for homes without space to store vapor steamers.
Garment Steam Cleaners
This is a portable steamer that is used to remove wrinkles from various types of garments. This steamer should always be used on surfaces capable of handling high temperatures, and being careful not to over steam your appliance.
Advantages of Steam Cleaning
The great thing about steamers is that they do not require detergent or chemicals to clean up stains. It uses steam and nothing else. The heat from steam makes the dirt humid, which absorbs the oil with a hot towel.
Steam cleaning also helps with dust mite control. Temperature as high as 1300F kills dust mites, and the steam that comes off from most cleaners is usually over 2000F. This does not mean that dust mites won't return as steaming is not a preventive measure. You should steam your couch and mattresses every seven weeks.
Disadvantages of Steam Cleaning
High-temperature heat – The temperature of the steam generated by the steamer can be high. This is a safety concern for many people.
Time of warm-up – Some machines take longer to warm up. The wise thing to do is to read online reviews of the product you want before you buy it.
More expensive – The high price is an issue, but worth it in the long run.
Frequently Asked Questions (FAQ)
FAQ
Can You Use a Steam Cleaner on a Couch?
Yes. The vapor form a dry-steam cleaner will deodorize and sanitize your sofa. Dissolves surface grime, enhancing colors as well.
There are many cleaning heads that come with steam cleaner devices. If your appliance's maker has advised the use of a specific cleaning head for upholstery, then use it.
What Is The Best Steam Cleaner For My Couch?
The Bissell 3624 is a product that checks off all the right boxes when it comes to steam cleaners, as it can remove difficult stains, can reach areas that would be difficult to reach, has a long power cord, and comes with a bunch of attachments for all your steam cleaning needs.
Can I Use a Steam Cleaner on Wood Furniture?
Steam cleaners use regular tap water to produce high-temperature steam vapor that is a powerful deep-cleaning agent. They apply heat to do this. Heating water at 225 degrees F will kill bacteria. Avoid using steam cleaners if you have an object that can be harmed by high heat (over 225 degrees F).
How Long Does Steam Take to Kill Bacteria?
A steam cleaner can kill most viruses and germs, or with steam if it's hot enough. Bacteria, viruses, and more are 99 percent destroyed when steam makes direct contact with them for three minutes as long as the 175- and 212-degrees Fahrenheit. Higher temperatures are better.
Can a Steam Cleaner Kill Bed Bugs?
Steam can kill bed bugs at any phase if you use it right.  The quality of the steam cleaner is vital when using steam as a treatment.
Your surface temperature should reach 160-180 degrees F. Bed bugs can withstand temperatures below 160 degrees. When temperatures climb over 180 degrees, you could damage your sofa.
Hand-held steam cleaners have an infrared thermometer. It will help you measure surface temperatures. The rate at which you move the wand controls the temperature. When you move the wand slow, you'll get a low temperature. If it's too high, move the wand faster.
Do Steam Cleaners Also Vacuum?
It is not advisable use steam cleaners as vacuum cleaners. It depends on the model. Not all steam cleaners can vacuum. The role of a steam cleaner for couch is to disinfect and sanitize.
Because it liquefies the dirt, a steam cleaner does a decent job of vacuuming light dirt, but you must keep in mind that the machine will turn dirt into mud, so most of the time, it is hard to extract the dirt from the tank. In order to dispose of the dirty water, you want to keep the amount of solid waste to a minimum.
For the greatest results, start by using a vacuum cleaner and then use a steam cleaner.
Can I Use Carpet Shampooer On My Couch?
You can clean couch upholstery with a carpet shampooer. Remember, a carpet shampooer is a steam vacuum.
Can I Use A DIY Homemade Steam Cleaner Solution?
Yes, you can. All you need is hydrogen peroxide, hot water, and dish soap. Mix the ingredients and put the solution in your steam cleaner and watch the magic happen.
Upholstery Steam Cleaner Conclusion
Steam cleaners aren't cheap. If you live in a house with several people or in a co-op environment, a steam would be a good investment. If you live alone or you do not have children or pets, then a steam cleaner would be waste of money. Renting a steam cleaner can cost $1,000 or more.
Owning a steam cleaner for couch can give you a sense of ease knowing that your furniture will last longer. You'll need to keep your steam cleaner free of dirt and dust, but with home furniture preservation, it's worth it.
Different couch cleaning tool are available, but steam cleaners are the most reliable for quality work. The steam cleaner makes cleaning easier and saves time and effort.