The Best Upholstery Steam Cleaner To Keep Your Furniture Looking Great For Years
The fact is, there is bound to be mess one way or the other in your home. And more often than not, your favorite couch bears the brunt of it.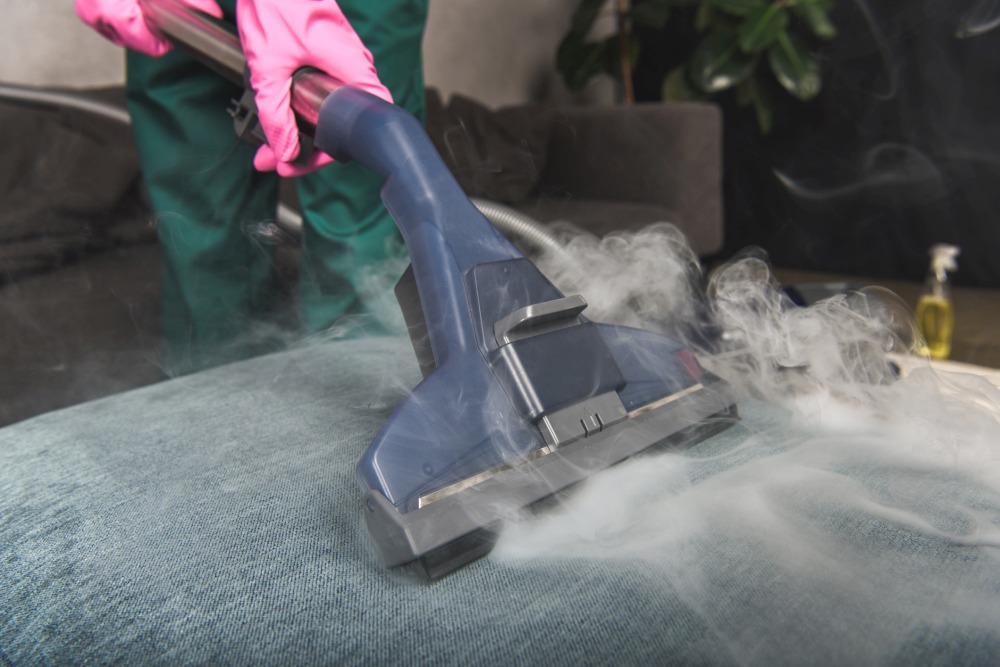 It may be your kids goofing around, or your pet decides to have a go on the couch, or there's a spillage while you're drinking your favorite wine, these things are bound to happen, and you are definitely not going to leave the mess like that.
Pick up a new upholstery cleaner to keep your furniture looking great for years to come.
Fortunately, thanks to technology, various high-powered upholstered furniture cleaners can easily take care of these stains and make your furniture look almost brand new. However, getting a good furniture steam cleaner for a couch or sofa can be tiresome with the array of steam cleaners out there, leaving most people confused as to what to buy. Cheer up, though. In this guide, we are going to take you through the 'art' of purchasing a furniture steam cleaner.
What Not to Clean with Steam Cleaner
As mentioned earlier, steam cleaners will heat water up to 225 degrees F, which means that all items that would suffer damage when exposed to moisture and high temperature should not be cleaned with a steam cleaner. That includes:
Porous surfaces, which includes marble, brick, and stucco.
Delicate items that shouldn't be exposed to high moisture (or fabrics that would shrink under high temperatures), including plastics or silk.
Wallpaper (some steam cleaners can actually remove wallpaper from the walls).
Electrical items (basically any household kitchen appliance should stay away from steam cleaners).
What You Need to Know Before Buying a Steam Cleaner four Couch
As said earlier, selecting a steam cleaner suitable for your furniture is no easy task. After going through several user reviews and with some experience of our own, we established some key features to consider when choosing a steam cleaner for the couch, sofa, or other upholstered furniture pieces.
Budget
It is always good to work with what your pocket allows. However, a higher quality of steam cleaner means a spike in its price as the price of a steam cleaner varies from $30 to $500. So, for quality and long-term purposes, if you can afford the best of the best, please do so.
Size
There are different types of steamers as there are the handheld steam cleaner, upright steam cleaner, full-size steam cleaner, among others, and they all vary in sizes. Normally, portable steam cleaners have a small size with a compact body.
Brand
Consider the brand of the steamer you are about to buy. It is best to buy a steamer from a brand that is well known and have a lot of reviews
Attachment
Steam cleaners generally have many attachments that work on different kinds of surfaces. Some of these attachments include a squeegee, water cup, nozzle, washable mop, among others. The right attachment needs to be connected when various surfaces are to be cleaned.
Easy use
Three main factors that show you how easy it is to use a steam cleaner is its shape, weight, and size. One of the biggest reasons to buy a steam cleaner is the fact that it is relatively easy to use.
Steaming time
Check for how long it takes for you to use the steamer before you have to refill the steamer with water. You need to focus on this when buying a steamer to avoid back and forth when it comes to refilling.
The time it takes to heat up
Don't forget to check out the time it takes the steamer to pump out steam.
The Capacity of the water tank
Obviously, it takes longer for steamers with larger water tanks to pump out steam. It also takes longer before a refill is required.
Energy used
Various steam cleaner consumes different amounts of energy for it to run. A steamer can use between 1000 to 1800 watts, about four times what a typical computer uses. The consumption varies depending on the heating system used and the different elements that are used to heat the steam in the boiler systems.
Noise level
Steam cleaners are usually very quiet. Sometimes, they make little noises when steam pressure seeps out of the tip. But apart from that, the technology and top-notch components in the steamer keep the noise level to the barest minimum.
Warranty
Do not forget to check for the warranty of the steamer before purchasing it.
Tips for Steam Cleaner Use
Some buyers have no idea of how to use a steam cleaner properly or might damage their steamer in the process of use. To keep the steamer useful for a long time, here are some tips to properly use your steamer.
Distilled water – Some companies' instructions say that consumers are allowed to use regular tap water for their steamer. But it is proven that distilled water is the best choice as there is no chance that minerals will accumulate in your steamer, unlike tap water.
Test before cleaning the new surface – To avoid an allergic reaction on the skin, it is wise to test a new cream on a small scale. This is the same way you should test out your steamer when rinsing a new surface type.
Always rinse the cleaner – To avoid the cleaner getting older quickly, clean it up after every use, not forgetting the attachments as well. Use distilled water to do the cleaning if you can.
The Concept of the Steam Cleaner
First off, how does the steam cleaner work? The vapor produced by a steam cleaner enables you to deodorize and sanitize your couch without chemicals. Surface dirt is loosened and dissolved when high-temperature steam is applied to it, and the process of giving the fabric's color a little brightening effect. If your furniture supplier has not recommended a steam cleaner for you to use, you should follow a professional's advice.
Before you start cleaning, vacuum the carpet first, as the vacuum loosens up the stains and lifts debris. You can start steaming afterward by connecting the appropriate attachment based on what you need.
The next step is to fill up the tank with water and wait for the device to heat up, after which you can start cleaning. When this is over and done with, use the mop to wipe up the residue. And do not forget to rinse the steamer.
Steam cleaners can act as disinfectants as it can reach high pressure and a high temperature enough to kill germs and bacteria. It serves as a natural disinfection and is advantageous to a family with kids and pets.
The steam cleaner can be used on microfiber; all you need to do is to choose a temperature suitable for the material and the amount of steaming to be used. However, to make the steaming job easier, use a vacuum or a lint roller to lift the debris.
Steaming also helps to get rid of insects like bed bugs. Some consumers claim, however, that they took longer steaming when getting rid of bed bugs.
Best Upholstered Furniture Steam Cleaner
Considering that we have expounded the makings of a good steam cleaner and shown you how a steamer works, next up in line is showing you some recommended products. Be rest assured that these products are compiled with us intensely testing the products, backed up with favorable customer reviews. Here are 7 of the best furniture steam cleaners.
This lightweight steamer allows you to remove stains anywhere. Yes. Virtually anywhere. This steamer removes various stains from everyday mishaps to messes made by pets and children. It has a 5ft hose, which allows for reaching spots and stains with ease. It combines the power of suction with a deep cleaning that is deemed hygienic
It also has dual tank technology, which has the ability to keep dirty and clean separated, so the tank can be refilled, emptied, and rinsed with ease. It is easy to use, easy to clean, and also easy to assemble.
This cleaner extracts stains and spots with a multipurpose antimicrobial tool that protects from mold, bacteria, and mildew that forms in stools and other dark corners.
Its hose also cleans up itself, so you never have to worry about bad odors in it. All you need to do is to plug the hose into the cleaning port that you'll find at the back of the machine and turn the Spotless on to flush out any debris.
And the chief of all, it is just 9lbs and only 15in tall, making it easy to store anywhere.
Key Features
Lightweight and compact
All-natural. No chemicals needed
Wide reach range
Powerful suction
Dual tank technology
Most furniture cleaners use heavy chemicals to remove spots and stains, but this steamer is 100 % natural, as the hot pressurized steam removes all the stains needed to be removed. It can also clean other surfaces such as granite, tile laminate tiles, waterproof wood flooring, washable wallpaper, and cotton/wool carpets.
It has a 9-piece accessory set, which includes the measuring cup, the funnel, the ironing brush cloth, bent nozzle, nylon brush, straight nozzle, ironing brush, window squeegee, and the extension hose. It heats up quickly within 3-4 minutes, so you don't have to wait for too long before you start cleaning.
You can also clean up your barbecue with this cleaner using the steamer's wire brush tool and scraper tool to get rid of any burnt-on food or hard stains.
It also weighs 8.8 pounds, so it is not burdensome carrying it around, and it is easy to store
Key Features
Compact and portable
Heats up in 4 minutes
All-natural. No chemicals needed
Natural disinfectant
Kills bed bugs and dust mites
Comes with a 9-piece attachment
The Bissell 3624 Spot Clean Professional Portable Carpet Cleaner is perfect for households that own pets. It is a powerful spot and stain remover for carpets, upholstery, stairs, and others.
It combines suction, scrubbing, and professional cleaning solutions to aid in removing stubborn pet stains and dirt. It also has the ability to remove tough messes and protect your stairs from future stains.
Its design also makes cleaning stairs easier as it has a 6" stair tool. When you buy a Bissell product, you help save homeless pets as Bissell's supports the Bissell Pet Foundation, whose mission is to homeless pet centered.
This cleaner weighs 16.43 pounds and is easy to move around. Its 14in. Height also makes it easy to store in the home.
Key Features
Compact and portable
Easy to store
Powerful suction
Natural disinfectant
Every pet owner understands that it takes hard work to have a spotless couch when you have a drooling dog in the house. The Wagner 915 on Demand Steam cleaner is an all-natural machine that uses steam alone to clean countless areas around your home.
It holds up to 48 oz. of water and is heated up within 10 minutes. However, it doesn't use chemicals, and it runs for about 45 minutes before a refill is required. It has an 8 ft steam hose, which allows you to clean easily in a large working area, compensating for its short cord. It is also 13.77 pounds heavy, so it is easy both to carry and to store.
It also comes with 11 attachments, which are the wallpaper steam plate, jet nozzle, brass utility brush, nylon utility brush, measuring cup, extension tube, filling funnel, window/tile squeegee, floor cleaning head, and a floor cleaning pad.
Key features
Ability to hold 8 oz. of water
Lasts up to 45 minutes before refill
Heats up under 10 minutes
Chemical-free cleaning
Everyone likes a machine that eliminates the hassle of cords and also offers easy mobility. This product brings both to the table as it is cordless and is portable.
They remove deep-down stains and spots quickly and more effectively as they use a powerful suction. This spot cleaner combines warm water, a targeted cleaning formula as well as powerful suction to get deep down to the spot that needs to be cleaned.
This portable cleaner is most suitable for cleaning chairs, stairs, area rugs, auto interiors, and other small furniture.
Key Features
Powerful suction
Cordless and portable
Instant stain removal
Weighs 4.6 pounds
This 7.3 pound cordless steamer is easy to use and has a high suction power for lifting dirt easily. It is perfect for cleaning up a pet mess. This steamer is rechargeable as its ONEPWR battery (which is also removable) is compatible with all ONEPWR products, giving it expansive cord-free adaptability. Its lightweight and compact design make this steamer easy to use and store.
You can use this steamer to clean anything ranging from hard floors and carpets to upholstery and chairs.
Key Features
Cord-free
Portable and lightweight
Powerful suction
Dual tank for clean and dirty water
Easy refill and rinse
Compact; easy storage
No matter the degree of stains, this heavy-duty steamer packs up enough punch to clean for up to 50 minutes before a refill is needed. Its superheated steam kills about 99% of germs on the surface without the use of chemicals.
It is very compact, so it is easy to store and also very light and movable. It weighs about 9 lbs, and its hose length is about 6″6′. It also takes about 7 minutes to heat up and works for about 50 minutes before a refill is needed.
It has a warranty of two years as well.
Key Features
Steam temperature goes up to 2750
Compact and portable
Two years warranty
All-natural. No chemicals needed
Natural disinfectant
Kills bed bugs and dust mites
Comes with about 18 attachments
Types of upholstered furniture steam cleaners
The ability of steam cleaners to easily eliminate strong stains, dust, mites, and so on is unmatched. There are several types of steam cleaners, and by knowing this, it will be easier for you to pick the one that best suits you. Here are a few types we have taken time to compile for you.
The handheld steamer
This steamer is basically designed to remove dirt and different kinds of stains. This steamer is characteristically portable, as it can easily be carried about. They can be used to sanitize upholstery, decorative pieces, and various kinds of fabrics. It is not heavy, and it stays comfortable in your hands. All this steamer needs is a cup of water to generate enough steam for stain removals from your furniture.
Steam Vacuum cleaner
This is simply a vacuum cleaner that generates steam; it can be used for carpets, floors, furnishings, as well as upholstery. It would do you well to go through the user manual before you start using this steamer as there are different variations of this machine.
Vapor Steam Cleaner
This cleaner cleans up the dirty surface and dries them out immediately. Vapor steam cleaners have various attachments and features, so they can clean different objects, coverings, and floorings. Vapor steamers are good for homes with children and pets, as its drying effect makes the environment safe. The big downside of this appliance is that a big space is required for proper storage, so it may be difficult for homes that have limited space to keep vapor steamers.
Garment Steam Cleaners
This is a portable steamer that is used to remove wrinkles from various types of garments. This steamer should always be used on surfaces capable of handling high temperatures, and being careful not to over steam your appliance.
Advantages of Steam Cleaning
The great thing about steamers is that they do not require detergent or chemicals to clean up stains. It uses just steam. The heat from this steam makes the dirt humid, and the soil is then absorbed with the hot towel.
Steam cleaning also helps with dust mite control. Temperature as high as 1300F kills dust mites, and the steam that comes off from most cleaners is usually over 2000F. This does not mean that dust mites won't crop up again as steaming is not a preventive measure, so it is advised that steaming is done on your couch and mattresses at least every seven weeks.
Disadvantages of Steam Cleaning
High-temperature heat
The temperature of the steam generated by the steamer can be very high. This is a safety concern for a lot of people.
Time of warm-up
Some machines take longer to warm up. The wise thing to do is to read online reviews of the product you want before you purchase it.
More expensive
They can be quite expensive, but purchasing it is always worth it in the long run.
FAQ
Can You Use a Steam Cleaner on a Couch?
Yes. Deodorizing and sanitizing your sofa can be done with the vapor created by a dry-steam cleaner. Dissolves surface grime, enhancing colors as well.
There are a variety of cleaning heads that come with steam cleaner devices. If your appliance's maker has advised the use of a specific cleaning head for upholstery, then use it.
What Is the Best Steam Cleaner for My Couch?
The Bissell 3624 is a product that checks off all the right boxes when it comes to steam cleaners, as it can remove difficult stains, can reach areas that would otherwise be difficult to reach, has a long power cord, and comes with a bunch of attachments for all your steam cleaning needs.
Can I Use a Steam Cleaner on Wood Furniture?
Steam cleaners use regular tap water to produce high-temperature steam vapor that is a powerful deep-cleaning agent. They apply heat to do this. Heating water to at least 225 degrees F will destroy all the bacteria. It is especially important to avoid using steam cleaners if you have an object that can be harmed by high heat (over 225 degrees F).
How Long Does Steam Take to Kill Bacteria?
Most viruses and germs are destroyed when using a steam cleaner or steam cleaning, as long as the steam is hot enough to do so. Bacteria, viruses, and more are 99% destroyed when steam makes direct contact with them for three minutes as long as the 175- and 212-degrees Fahrenheit. Higher temperatures are better, of course.
Can a Steam Cleaner Kill Bed Bugs?
Steam is a highly successful way for exterminating bed bugs throughout the development phases, provided that it is used correctly. The quality of the steam cleaner you're using is critical when employing steam as a treatment. Follow the manufacturer's guidelines for using the steamer.
Do Steam Cleaners Also Vacuum?
While steam cleaners can be used as vacuum cleaners, it is not advisable to do so. Of course, this also depends on the model in question, as not all steam cleaners can vacuum. The role of a steam cleaner is to disinfect and sanitize.
Because it liquefies the dirt, a steam cleaner does a decent job of vacuuming light dirt, but you must keep in mind that the machine will turn dirt into mud, so most of the time, it is hard to extract the dirt from the tank. In order to dispose of the dirty water, you want to keep the amount of solid waste to a minimum.
For the greatest results, start by using a vacuum cleaner and then use a steam cleaner.
Takeaway
Having clean furniture in the home gives you, especially if you are a mum, a sense of pride and fulfillment. However, it is not all a bed of roses, as keeping them clean takes a lot of effort. You need the right cleaning equipment to make this a reality.
Different tools can be used for cleaning, but the steam cleaners are the most reliable for quality work. The steam cleaner makes cleaning easier and also saves up time and effort.