Front Porch Decor Ideas To Welcome Fall With
It's not too early to start decorating your front porch (or front door) with pumpkins and all sorts of other goodies, especially since autumn has officially started and since you're probably looking for ideas we came prepared. Find below 15 of our favorite front porch decor ideas which we think you're going to like too.
We know Halloween is already on your mind so how about putting together a front porch decor that you can easily customize with a few spooky elements later on? Add a little sign here, some spider decorations there and a few more spooky decorations right next to the door and you should be ready for the trick-or-treat season in no time. Check out 6thirtydecor for more inspiration.
Pumpkins… pumpkins everywhere, and cornstalks and fall wreaths and bucket planters full of seasonal greenery. You can't go wrong with a porch that looks as charming as this one. This is a little something shared by thefinleyfarmhouse.
There's no need to go all out, especially if you prefer your front porch to look clean and simple. You can still change the decor with a few things like some pumpkins and gourds and a green wreath. Let this design shared by hamptonstylecolonial inspire you.
One of the best things about fall is its color palette. All the different shades of orange, yellow, rusty red, brown and dark green create such a warm and cozy atmosphere. Take advantage of autumn's beautiful color scheme to make your front porch look extra welcoming this season. Follow a.little.love.designs for more details and ideas.
We also love this front porch decor idea shared by southernsurroundings. We're particularly fond of the pumpkin planters and all those witch hats hanging from the roof at different heights. Let's also not ignore those cute custom signs.
Here's another lovely front porch decor idea from thefarmhousepages. This time there's this beautiful fall garland displayed around the front door. It emphasizes the arched shape and it keeps the decor simple and inviting.
You can use pumpkins in so many different ways and it's fortunate that they come in so many different varieties. White and green pumpkins are great if you want to keep your front porch decor looking fresh and simple. Check out sdb1970 for more inspiration in this sense.
If there's any way you can get some hay bales this season that would be amazing because then you can use them to create a super cozy and charming front porch decor. While you're at it grab some corkstalks and a few pumpkins as well. Follow rc_stewartauthenticme if you need more ideas.
If you don't want to clutter up your porch with a bunch of decorations, cluster all the ornaments on the stairs, as shown here by deckdhome. Picking out all those pumpkins should be pretty fun.
Of course, it's not always all about pumpkins. A fall porch decor can also include be centered around cute signs that you can craft yourself, potted plants, cute wreaths and even some accent pillows for those comfy chairs you keep out there. This is a lovely example from homeonnativetrail.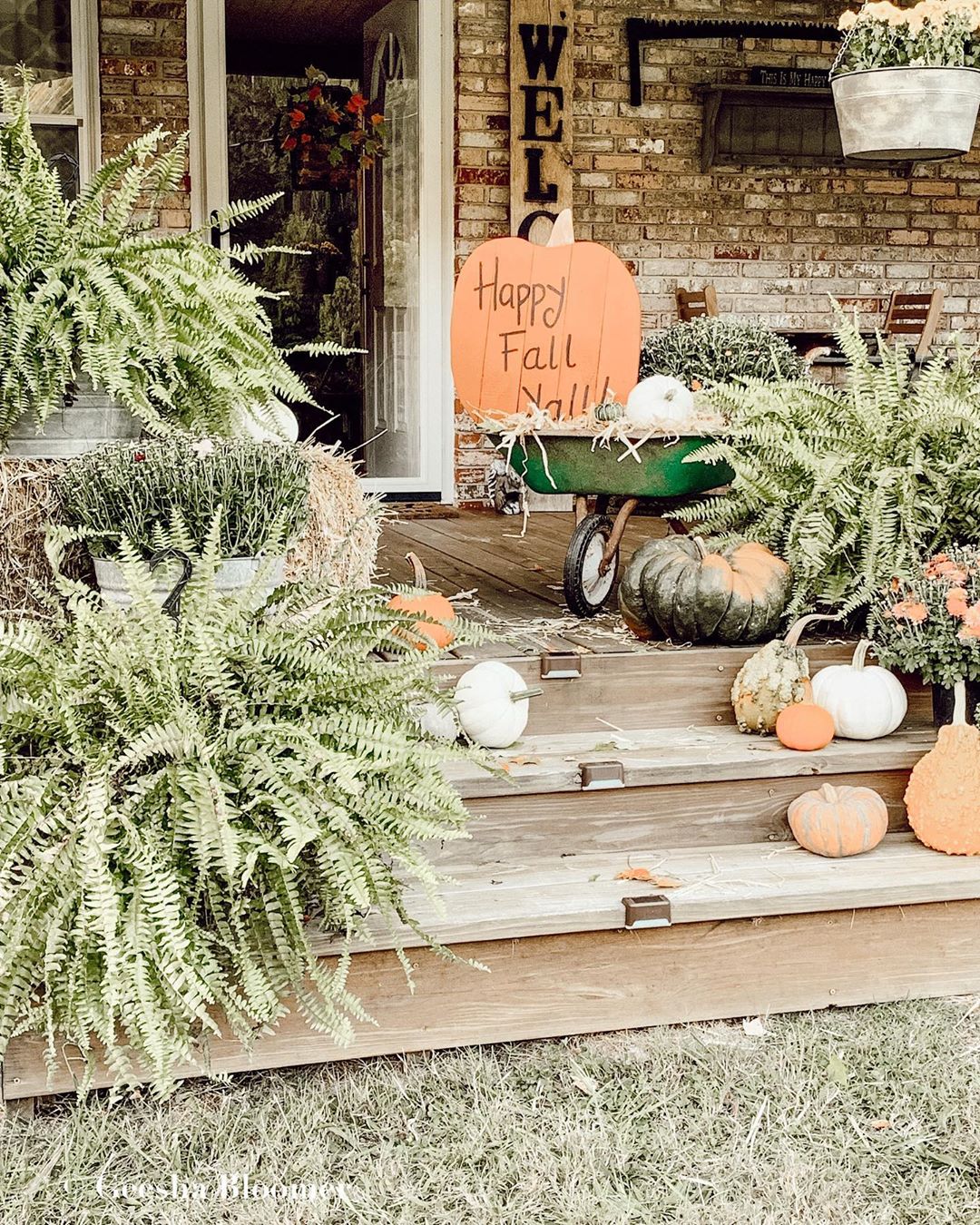 Fall is a great season and some even consider it their favorite one and we can definitely understand why. With all the beautiful colors of autumn, the holidays that bring us all together and also the cozy atmosphere that takes over our homes it's hard to even imagine you wouldn't want to decorate your porch and make it as charming as this one. Follow the_makings_from_scratch for even more inspiring ideas.
You can make your front door look charming without overdoing it with all the possible fall decorations. A few simple items clustered together can give you the type of ambiance you're looking for. We've seen this in this lovely post from bradykari.
Add a bit of color to your front porch this fall. Put a big wreath on the front door, scatter some different-colored pumpkins on the floor and fill in the gaps with greenery. The fact that the walls are white and the floor is light grey definitely helps in this case. Check out white.house.on.the.hill for more inspirational ideas.
Want to limit your front door decor to neutral colors or tones that compliment your entrance? That shouldn't be too hard to achieve. Autumn's bounty gives us all the tools we need to create amazing decors, like this one shared by jenniferkadams. This just shows that less is sometimes more and you don't always need vibrant colors to create decors that stand out.
This front door decor is inspired by the beautiful color of the door itself. Delicate pastels contrast with the grey walls and the wooden porch floor and create a very bright and fresh-looking decor. The green wreath ties everything together in this most harmonious composition shared by farm.love.laugh.