Front Porch Decor Ideas To Welcome Fall With
It's not too early to start decorating your front porch (or front door) with pumpkins and all sorts of other goodies, especially since autumn has officially started and since you're probably looking for ideas we came prepared. Find below 25 of our favorite fall front porch decor ideas which we think you're going to like too.
When to Break Out the Fall Porch Decor
The air is crisp, and Mother Nature is changing up her color palette; it's time for you to change up your home's look as well! Mother Nature knows the perfect time to make these changes, but do you?
It will look slightly off if you're breaking out your porch's fall decor and the temperature is still hitting the 90s. On the other hand, you don't want to wait till Halloween is a week away to transform your porch into a fall wonderland, either. So, when?
The first sign of cooler weather, depending on where you live, will be early to mid-September for many of us, which is the perfect time to decorate your front porch and door for the coming fall season. Sure they may be a couple of warmer days ahead, but they won't last long, and you'll look like you and Mother Nature were planning your fall transitions together!
What to Use for Your Porch Fall Decor
Before you walk out onto your blank canvas porch, you're going to want to have a vision for your fall porch makeover. Taking your time, thinking, and gathering your materials before you get started with your porch can make the process go quicker and opens you up to new and exciting decorating ideas.
Nature provides a backdrop of rich hues of reds, oranges, yellows, and greens for you to take inspiration from when choosing your porch fall decor. Have fun, experiment, and make your home stand out from the rest!
Common Fall Porch Decor
Pumpkins
Cornstalks
Wreaths
Baskets
Planters
Fall Themed Signage
Hay
Decorative Scarecrows
When to Make the Jump to Halloween Decor
Almost universally, the perfect time to transition your porch's fall decor into a more Halloween-themed look is going to be sometime during the first week of October. Any earlier, and you're going to be burnt out on the look before Halloween actually arrives. And if you wait later than the first week of October, you will feel like you're taking your decorations down as soon as they went up.
Spooking up Your Porch
Halloween can be a great time to experiment and go wild with the decorations. How fantastic and spooky you want to decorate your porch will depend mainly on the age of your kids, your neighborhood, and your personal tastes.
With a bit of research and planning, you will be able to strike a balance between spooky fun and a stylish classic look. The end goal? Have fun and make your look your own!
Typical Halloween Porch Decor
Spooky Signs
Creepy Lights
Hanging Ghosts
Fake Tombstones
Witchy Brooms & Hats
When to Take Down the Halloween Porch Decorations
As fun as Halloween can be, you don't want to leave your porch's Halloween decorations up till Thanksgiving. The best time to remove your spooky decor from your home's porch is going to be the weekend after Halloween. Sooner if Halloween happens to land on the weekend.
You don't need to take down all of your porch's decorations, though. Just remove the Halloween decorations and leave the fall porch decor. Your home will still look fabulous and seasonally appropriate through Thanksgiving while decked out in fall decor!
25 Beautiful and Festive Fall Porch Decor Ideas
1.
Easy Fall Porch Transition
We know Halloween is already on your mind, so how about putting together a front porch decor that you can easily customize with a few spooky elements later on? Add a little sign here, some spider decorations there, and a few more spooky decorations right next to the door and you should be ready for the trick-or-treat season in no time. Check out 6 thirty decor for more inspiration.
2. Natural Fall Porch Decor
Pumpkins… pumpkins everywhere, and cornstalks and fall wreaths and bucket planters full of seasonal greenery. You can't go wrong with a porch that looks as charming as this one. This is a little something shared by The Finley Farmhouse.
3. Simply Elegant Porch Fall Decor
There's no need to go all out, especially if you prefer your front porch to look clean and simple. You can still change the decor with a few things like some pumpkins and gourds and a green wreath. Let this design shared by Hampton Style Colonial inspire you.
4. Embracing Fall's Colors in Your Porch Decor
One of the best things about fall is its color palette. All the different shades of orange, yellow, rusty red, brown and dark green create such a warm and cozy atmosphere. Take advantage of autumn's beautiful color scheme to make your front porch look extra welcoming this season. Follow a.little.love.designs for more details and ideas.
5. Whimsical Fall Porch Decor
We also love this front porch decor idea shared by Southern Surroundings. We're particularly fond of the pumpkin planters and all those witch hats hanging from the roof at different heights. Let's also not ignore those cute custom signs.
6. Using Fall Porch Decor to Create an Inviting Entry
Here's another lovely front porch decor idea from The Farmhouse Pages. This time there's this beautiful fall garland displayed around the front door. It emphasizes the arched shape and it keeps the decor simple and inviting.
7. Add Some Whites and Greens to Your Fall Porch Decor
You can use pumpkins in so many different ways and it's fortunate that they come in so many different varieties. White and green pumpkins are great if you want to keep your front porch decor looking fresh and simple. Check out sdb1970 for more inspiration in this sense.
8. A Beautiful Fall Porch Using Natural Decor
If there's any way you can get some hay bales this season that would be amazing because then you can use them to create a super cozy and charming front porch decor. While you're at it grab some cornstalks and a few pumpkins as well. Follow rc_stewartauthenticme on Instagram if you need more ideas.
9. Use Less Space to Highlight Your Fall Decor
If you don't want to clutter up your porch with a bunch of decorations, cluster all the ornaments on the stairs, as shown here by deckdhome. Picking out all those pumpkins should be pretty fun.
10. A little Pumpkin Goes Along Way
Of course, it's not always all about pumpkins. A fall porch decor can also include being centered around cute signs that you can craft yourself, potted plants, cute wreaths, and even some accent pillows for those comfy chairs you keep out there. This is a lovely example from homeonnativetrail.
11. Embracing Fall Colors in Your Porch Decor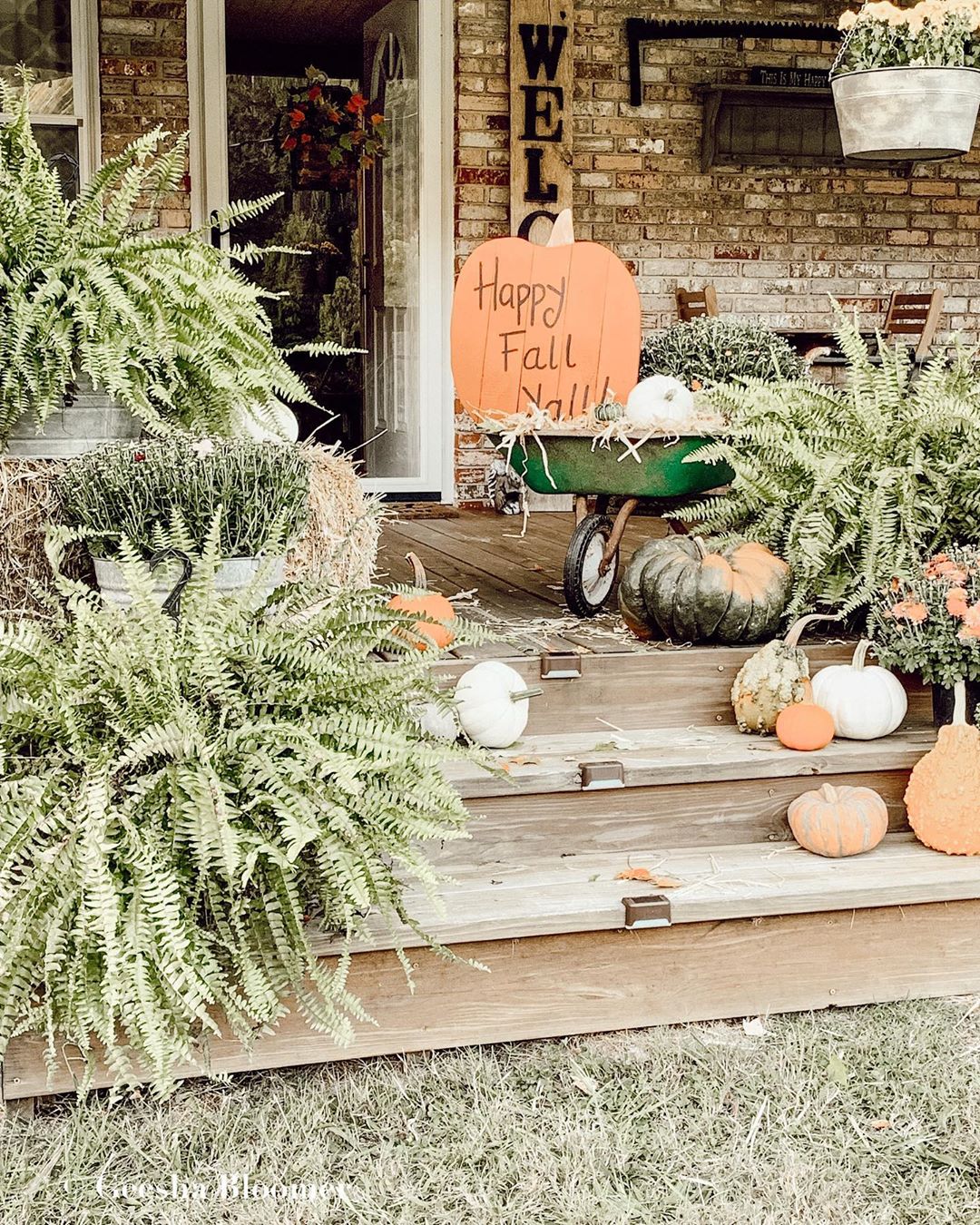 Fall is a great season and some even consider it their favorite one and we can definitely understand why. With all the beautiful colors of autumn, the holidays that bring us all together, and also the cozy atmosphere that takes over our homes it's hard to even imagine you wouldn't want to decorate your porch and make it as charming as this one. Follow the_makings_from_scratch for even more inspiring ideas.
12. Bountiful Beauty in Simplicity
You can make your front door look charming without overdoing it with all the possible fall decorations. A few simple items clustered together can give you the type of ambiance you're looking for. We've seen this in this lovely post from Bradykari.
13. Use Your Home's Colors to Enhance Your Fall Porch Decor
Add a bit of color to your front porch this fall. Put a big wreath on the front door, scatter some different-colored pumpkins on the floor and fill in the gaps with greenery. The fact that the walls are white and the floor is light grey definitely helps in this case. Check out white.house.on.the.hill for more inspirational ideas.
14. Fabulous Toned-Down Fall Porch Decor
Want to limit your front door decor to neutral colors or tones that compliment your entrance? That shouldn't be too hard to achieve.
Autumn's bounty gives us all the tools we need to create amazing decors, like this one shared by jenniferkadams. This just shows that less is sometimes more and you don't always need vibrant colors to create decors that stand out.
15. A Doorway to Elegant Pastels Fall Porch Decor
This front door decor is inspired by the beautiful color of the door itself. Delicate pastels contrast with the grey walls and the wooden porch floor and create a very bright and fresh-looking decor. The green wreath ties everything together in this most harmonious composition shared by farm.love.laugh.
16. Comfy Front Porch Fall Sitting
This porch highlighted on The Frugal Homemaker offers an inviting place to sit and enjoy a brisk fall afternoon. The warm, inviting seasonal color palette, comfy bench, and cozy throw all work together to create a peaceful getaway from the busy world outside of the porch. All that is missing in this porch's fall decor is a nice cup of hot chocolate.
17. Simple Fall Porch Decor
Less can often be more, especially in the world of home decor. Anderson and Grant knew this was true when they showed off this gorgeous pumpkin-filled crate. A simple, distressed crate filled with pumpkins and surrounded by fall foliage is the perfect fall porch decor. Just don't be upset when neighbors are stealing your ideas!
18. A Wheelbarrow Full of Fall Fun
Using a wheelbarrow to artfully and decoratively display a few pumpkins is a great way to bring the feel of the harvest season to your front porch. As showcased over at Folded Ginham, you can incorporate your wheelbarrow into the rest of your porch's fall decor to create a timeless fall look and feel.
19. Beautiful Fall Porch Decor Display
If space is limited, creating a beautiful fall display, as seen at Gray Houses Studio, for your porch decor can be a great option. All you need to create a little fall oasis on your porch is a few weathered crates, fall-colored foliage, and maybe a few pumpkins. It's your display, so let your imagination run wild, and don't be afraid to change things up as the season goes along!
20. Pumpkin Pal Fall Porch Decor
This porch fall decor project can be a great way to get the family involved in decorating. Using some felt paper and cloth, you are able to deck out your pumpkins into adorable little friends that can hang out on your fall porch all season long! The Pioneer Woman gives a great example of your future porch-sitting pumpkin pals.
21. Fall Porch Pumpkin Topiaries
Create an inviting entryway, the way Between Naps on the Porch did, with a couple of brilliantly designed pumpkin topiaries. Using a mix of traditional and heirloom pumpkins, stacked together on a crate or planter you will be able to create a unique and beautiful pumpkin topiary to use as part of your porch's fall decor.
22. A Bushel of Fall Porch Decor Beauty
Over at The Yummy Life they have captured the look and feel of a traditional fall harvest season using a simple bushel basket. All you need to reproduce this classic look is a couple of pumpkins, a little fall foliage, a bushel basket, and to complete the look, Indian corn. The Indian corn is key to pulling off this timeless fall look.
23. Create a Unique Fall Porch Decorative Scarecrow
Scarecrows and pumpkins are classic staples of fall decor, so why not combine them into something fun and unique? Giggles Galore shows us a great example of a happy little pumpkin scarecrow that creates a playful, inviting first impression when stepping up onto the porch. You can copy this cheerful look or carve your pumpkin into something a little more menacing as Halloween draws closer.
24. Add a Spooky Door to Your Porch Decor
As seen in this post at HGTV, you don't need to change a thing with your porch's fall decor to transition into Halloween. Leave everything the same and focus on your door! Add some googly eyes, or something a little more sinister and cobwebs to create a frighteningly fun entryway! Experiment and see what creepy fun ideas you can come up with!
25. Fall Porch Decor with Some Crows and Bones
Another simple way to get your porch's fall decor ready for Halloween is with a murder of crows and a skeleton or two. Nob Hill Design shows off exactly how to pull off this spooky fun look. Add in your favorite Halloween decorative touches to give your porch the spooky look you want.
Now that you've seen this list of front porch fall decor ideas, you should have no trouble getting your porch ready for the season. Just choose your favorite on the list, or mix and match a few, it's your porch and your options are endless. The only rule is to have fun and enjoy the fall season!