Floor To Ceiling Windows: A New Way To Define Your Home
Floor-to-ceiling windows can give you an interior design that provides a special feeling of peace, freedom and infinite space.
You've probably thought of all the ways to make your home feel more cozy and airy. These ideas for floor-to-ceiling windows are the inspiration you've been looking for.
What Is a Floor-to-ceiling Window Called?
Floor-to-ceiling windows are often referred to as window walls. Frames brace the windows to secure them and create a combination of windows that make a wall.
How Tall Are Ceiling To Floor Windows?
Floor-to-ceiling windows are typically 8 to 10 feet tall, with a gap of around 16 inches between the ceiling and the top of the window. However, if your ceiling is angled or comes to a high point, your windows could be 16 feet or more in height.
Are Floor To Ceiling Glass Windows Expensive?
There are several factors to consider for determining how much you will spend on large glass windows. These factors include:
Size

Framing

Treatment

Glazing
Each of these options alone will impact the overall cost of a floor-to-ceiling window.
You can also choose from several styles of floor to ceiling windows like:
Geometric paired windows

Vaulted ceiling windows

Sliding window wall

Floor to ceiling glass doors

Bay windows

Fold up windows
This will also factor into the total expense of your window purchase.
What Is The Best Treatment For Floor To Ceiling Windows?
There are several factors to consider when you decide on the best treatment for your floor to ceiling windows, including:
Keeping your view

Automation

Lighting

Privacy

Placement of furniture
You want to keep your windows unobstructed with furniture and use a treatment that allows you to cover and uncover them quickly.
Different window treatments include:
Motorized or manual shades

Motorized or manual drapes

Floor-length curtains
These window treatments help preserve energy in your home while still provide plenty of natural light. And having your drapes or shade open or close with the click of a button makes it very convenient and easy to preserve the temperature in your home.
Pros and Cons of Floor to Ceiling Windows
Pros:
Just like any other things, floor-to-ceiling windows have advantages and disadvantages. Let's start with the good news! First of all, you should definitely use them to lighten up your home. Natural light will help you to relax after a difficult day and will also enhance your creativity.
Large windows are aesthetically pleasing, they create wonderful visual effects and in the same time they will give you a sense of freedom by making the room seem larger.
If you're lucky enough to live across the sea or surrounded by nature, you just hit the jackpot! Unobstructed panoramic views will bring a special meaning to every morning.
Cons:
Now that we've talked about the good things, let's talk a little about the drawbacks. If you hate curtains and you don't use solar shades for your window wall, you may have a problem: lack of privacy.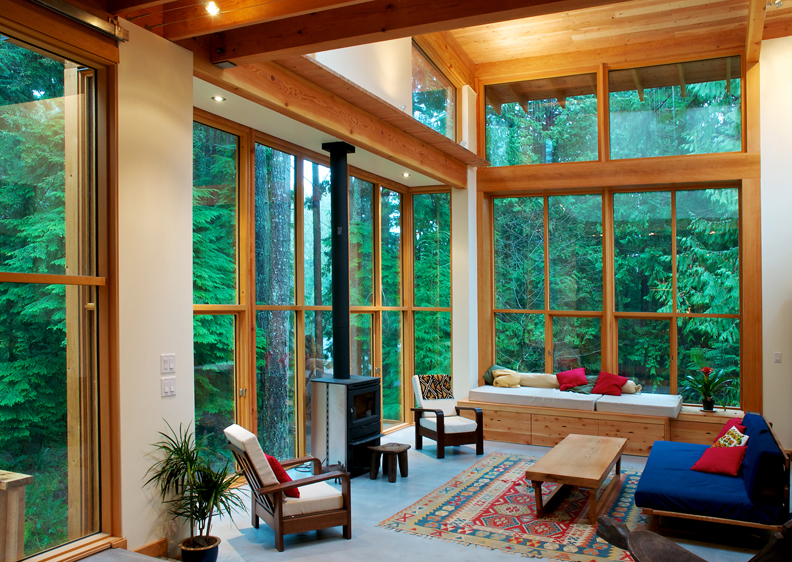 If the glass wall is not tempered, you may encounter safety issues. Plus, tempered glass is very expensive!
Also, given the fact that glass is not the best insulator in the world, you could experience heat loss and lack of ventilation. And if you have kids or pets there is no way you can keep your windows clean for a long period of time.
However, after finding out about the pros and cons, maybe you should see with your own eyes if they're worth trying or not(and in what areas of the house). It's up to you!
Ideas For Your Floor to Ceiling Windows
1. In the kitchen
This gorgeous kitchen is part of a loft in Barcelona designed by Studio Vuong. As you can see, the connection between it and the outdoor patio is made through the window wall. The kitchen looks more spacious, comfortable and elegant.
In this dark-painted kitchen, white cabinets and oversized windows are essential. The bold contrast between the walls and white cabinetry, together with natural light create a relaxing atmosphere, which is exactly what you need to peacefully enjoy a cup of coffee in the morning.
2. In the bathroom
If you live in the middle of nowhere, far away from the prying eyes of neighbors, you can consider adding a floor-to-ceiling window in your bathroom. This master bathroom is part of Ellis Residence by Coates Design Architects.
A luxurious feeling is given by this gorgeous bathroom which is part of Jade Ocean Penthouse 2 in Sunny Isles Beach, Florida. The sloped floor to ceiling window will turn that place in a sanctuary from which you can quietly admire the landscape.
3. In the bedroom
Your master bedroom is probably the place where you spend most of your free time, especially while you're resting. Enjoy the morning Sun through large windows.
4. In the living room
Looking for the perfect living room? How about a great view, a comfortable sofa, a coffee table and a wall mounted TV? This living room is part of a project called The Residence, designed by Hufft Projects. Pictures by Alistair Tutton.
5. Floor to ceiling windows in the dining room
In this residence, the pleasant moments in the dining room have a wonderful backyard view, due to the window walls in this area. This contemporary house was designed by Larue Architects and is located in Austin, Texas.
6. In your office
Having an office with a view and plenty of natural lighting will inspire you every time you will have to work from home. Ceiling windows are just perfect for this living space because it creates the illusion of space, thus making the room seem breezy. This way it will be easier for you to focus on your tasks.
7. Floor to ceiling windows in your hallway
What better way to fill your house with natural light than by adding large windows in the hallway? If you don't believe us take a look at these pictures. If you have a problem with privacy, use shutters (or curtains)and get rid of all your worries regarding this aspect.
8. In your walk-in closet
You probably wonder why you would need ceiling windows around your walk-in closet. Well, the answer is simple: if you organize very well, then you will definitely make a statement by showing all your clothes and the way you arrange them. Who knows, maybe some people will admire you even more.
9. In the kids room
Some people don't think it is a good idea to install a floor-to-ceiling window in their kid's room. If you really want large windows, please make sure you use safety glass.
10. Floor-to-ceiling windows in the reading corner.
There is no better place for a reading nook than somewhere around a huge window. Large glass windows will be just perfect, don't you think?
Frequently Asked Questions (FAQ)
FAQ
Are floor-to-ceiling windows safe?
Yes, they are safe. Most floor-to-ceiling windows are tempered glass, which can absorb a lot of impact and shock. You'd have to try very hard to break the glass. 
Why do people use floor-to-ceiling windows?
Window walls are popular because they give the space an open feel and add lots of natural light to an area. This extra lighting can reduce electricity bills and improve your mood. 
Are floor-to-ceiling windows energy efficient?
Floor-to-ceiling windows aren't considered the most energy-efficient because the sunlight can make a room too hot and need air conditioning. Or it can make the room too cold, and you'll need to turn up the heater. And most windows are the cause of warm air escaping outside or cold air seeping inside your home. 
Are windows cheaper than walls?
Floor-to-ceiling windows are not cheaper than drywall or brick walls. The product and the installation both are more expensive for window walls.
Conclusion
Floor-to-ceiling windows are a unique design to add to your home. They can make you feel more in touch with the outdoors and provide an incredible view to any room in the house.