Fall Porch Decor Ideas For A Visually Appealing Home Environment
Fall porch decor ideas help create curb appeal for your home. A porch filled with seasonal treats like pumpkins, autumn flowers, and wreaths provide the right touches for a hearty home.
According to the National Home Builders Association (NHBA), one out of four millennial homebuyers want a home with a front porch. "The percentage of single-family homes with porches has risen to 63 percent as more emphasis has been placed in outdoor living in recent years," said Allson Paul with Lessard Design.
If you have a porch, but you're not sure how to decorate it, allow us to show you. Porch decoration is an excuse to exercise your creative DIY skills.
The right front porch decor adds curb appeal to your home and doesn't require you to spend a lot of money.
If you don't have ideas of your own, there are plenty to choose from when selecting fall porch decor for your home.
40 Porch Decor Ideas To Make Your Home More Appealing
From our team of DIY home experts, here are the latest examples of front porch decor.
1. White Neutral Colors
White shades and soft neutrals offer the best front porch color backsplashes. For more inspiration, check out thegracehouseinteriors.
2. Pumpkin Display
Available in different shapes, sizes, and colors, take advantage of their variety to create a simple front porch setting. You can put a few pumpkins on display and you could also add a few planters with colors that match the pumpkin-themed palette.
The combo featured on lizmarieblog serves as a fine example.
3. Pastel Pumpkins and Flowers
Pumpkins and autumn flowers go hand in hand, as also proven by this beautiful porch decor featured on homestoriesatoz. The soft pastel colors of the pumpkins are complemented by the vibrant yellow-ish tones of the flowers, a beautiful combo, especially taking into consideration the design of the front door as well.
4. Eclectic Decor
This porch decor example from yellowprairieinteriors infuses fall colors with an upcycled door, corn stalks, a hay bale, pumpkins, and orange pillows. The items contrast with the green chairs. It's an eclectic decor with a soothing and cozy feel.
5. Combine Neutrals and Metallics
Fall-themed decors are often associated with rustic and retro styles and such combinations turn out to be very stylish.
A nice example is this front door decor which blends neutrals with metallic details for something elegant and simple. This example is from tarynwhiteaker.
6. Frame the Front Door
Fall front porch decor from fynesdesigns is symmetrical. The decorations that flank the front door are similar while contrasting with one another.
7. Basket of Apples
Wreaths feature fall colors. They complete your themed decor with class and charm. You can use real apples or faux apples if you're worried about the decorations spoiling. This idea is from savvysouthernstyle.
8. Simple Bucket Display
Fall decor doesn't need to be sophisticated or detailed to look stunning to capture the right vibe. Something as simple as a bucket filled with pumpkins, foliage, and corn cobs can look super chic, as you can see on stonegableblog.
9. Fall Wreaths And Garlands
Create fall-themed decorations with foliage. Wreaths and garlands are the most common examples. You could frame your front door with them, turning your door into a focal point. . With a little care and proper storage, you can reuse these decorations year after year.
Find more inspiring ideas like this one on frommyfrontporchtoyours.
10. Corn Stalks
Corn stalks are the underdogs of fall porch decor and yet they can be used in a lot of interesting and creative ways. They're a perfect neutral element for acting as a backdrop for other aspects of your fall porch decor. Find more inspiration on ourvintagehomelove.
11. Custom Signs
You could also welcome fall with a custom sign which you can display on your porch along with a few other decorations. A simple chalkboard would do just fine. The other ornaments could be repurposed too. Check out cottageintheoaks for more ideas like this one.
12. Hay Bale Accent
Fall-themed ornaments capture the essence of the season. The combination of pumpkins and perhaps a chic sign that lights up at night would augment your outdoor setting. These ideas and more and can be found on lizmarieblog.
13. Harvest Theme
If you find the fall theme to be too vague or complex, try focusing on something more specific. For example, your front porch decor can revolve around the harvest theme. Check out aehomestylelife for more inspiration.
14. Wooden Welcome Sign
The humble corn stalk is featured here in the context of a very lovely porch decor that includes a lot of autumn's treasures like pumpkins and pinecones plus beautiful seasonal flowers. The decor was featured on thewoodgraincottage and includes a wooden Welcome sign which increases the house's curb appeal in a really cute way.
15. Fall Accents
With porch decorations, you don't have to redesign your front porch for autumn. It's enough to add a few things to the existing setup. For example, a cozy blanket or a throw pillow on a chair, a few pumpkins on the floor, and a few ornaments would do the trick.
Adding one or two elements to your front porch is good for establishing a minimalist look and can also help save you money if you're trying to decorate on a budget. You can find a few on onsuttonplace.
16. Layer Elements
You might not think corn stalks would be great to look at but just look how cozy they make this porch feel. Of course, there's more out there than just the corn stalks. The lesson here is to layer multiple elements of fall decor together to make your design look more finished and put together.
Check out thewoodgraincottage for even more details about this setup.
17. Painted Barnwood Sign
This sign is made of reclaimed barn wood which already gives it plenty of character. Upcycling older materials is a great way to add a distressed look to your autumn vibe while also saving money on building your fall porch design. Check out jenniferallwoodhome to see how it was made.
18. Chalk Paint Decor
Chalky paint began as a wooden board with a flat uniform surface. Chalk paint is popular for interior and exterior DIY projects. It provides a beautiful finish and is available in many colors. More details can be found on thefrugalhomemaker.
19. Fall Destination Sign
A vintage sign is a nice porch decor addition. You can learn how to make this by following the tutorial on lydioutloud and, as always, you can adjust and customize the design however you wish.
20. Wreaths and Pumpkins
Decorations like wreaths and pumpkins have always held a place on American porches. Wreaths can be used on small porches. Take a wooden crate or small table and put a few pumpkins and leaves on it.
You can display these on the stairs if your porch has any, just be careful to leave the walkway clear to avoid tripping. There's more inspiration to be found on thecraftingchicks.
21. Wooden Crate Display
Wooden crates are great for porches of all sizes because they can be used in lots of different ways. You can use them to store blankets and pillows. It's nice when the crate looks beautiful, so check out this tutorial on andersonandgrant to find out how you can decorate it.
The wooden crates allow you to add a customized touch to your fall decor. Sunflowers, pumpkins, and corn stalks all look great. You can go with a bare wooden crate for a rustic look or paint it in a shade to match your porch design to add some symmetry.
22. White Pumpkins And White Wreath
Neutral and fresh color palette of all the decorations featured on tarynwhiteaker. White-based fall decor is a smart contrast if you have a darker-colored front door or you have dark porch furniture. Use white painted font in homemade signs to help carry white as your accent color.
23. Marquee Letter Pumpkin Display
Pumpkins are the most popular porch decor items in the US. Check out these marquee light letter pumpkins featured on karaspartyideas. The pumpkins are easy to make. Marquee pumpkins offer old Hollywood glamour to your outdoor fall decor.
24. Fall Floral Wreath
For fall, grapevine wreaths. They have a nice texture and look even without any custom decorations on them. Gathering leftovers from your gardens and borders to add to your fall floral wreath can be a great tradition each year to mark the changing of the seasons.
Check out threadsandblooms for more details.
25. Painted Pumpkins
Use painter's tape and create an interesting pattern on the crate, like the black and white chevron stripes suggested on twothirtyfivedesigns. Notice that this crate is filled with pumpkins and other fall goodies and some of those are painted pumpkins as well. This is a great way to make your front porch fall design look more unified.
26. New Fall Porch Seating
Outdoor furniture like patio loveseats and sofas will make your porch more inviting. Include accessories like a drink tray, side table, blankets and throw pillows to pull the entire sitting area together. For an example of a classy black-and-white fall porch check out Sam and Nate Blog.
27. Fall Porch Planters
If you want to keep the same arrangement throughout the colder holidays, choose faux plants instead. For the real thing, check out the arrangements from Garden Glove.
28. Front Door Harvest Color
Your front door can be a bright autumn color like this example from Maria Killam. A painted door makes a statement. You can change the vibe of your home without investing time, money, or effort.
29. Ceramic Pots
Color, texture, and materials of your containers will impact your front porch design. Mix and match containers just as they did at This Is Our Bliss for a bohemian, eclectic look. The containers are the same shape and look so a balanced is maintained.
30. Haint Blue Ceiling
Haint blue has been a popular color for porch ceilings for hundreds of years. According to superstition, painting your porch ceiling haint blue helps prevents evil spirits from entering your home.
A haint blue porch ceiling makeover like the one from Designs By Donna offers stylish decor ideas for the Halloween season.
31. Wooden Rocking Chairs
The front porch rocking chairs from Southern Living create a rustic farmhouse vibe. Dress up your armchairs with ribbons to bind them into your design. Soft, weather-resistant cushions are ideal for outdoor furniture.
As the American home transitions into a horizontal apartment concept, the front porch has taken on a new meaning. "New community planning will focus on development that moves forward in smaller increments," said Ken Ryan with KTGY Architecture + Planning in Irvine, California.
32. Faux Leaf Decor
Real fall leaves are great for autumn arts and crafts. Faux fall leaves are better suited for fall decor and look will good on a front porch year round. Glue faux leaves on mason jars with modge podge to create lanterns with electric candles.
Another bonus: the plants won't have to be moved indoors when the weather turns cold. Check out Mom Home Guide for more examples.
33. Fall Porch Layered Rug
Layered front porch rugs offer warmth during the fall and winter seasons. A layered rug look requires a large area rug and a smaller tan fiber rug on top of it for your guest to clean their feet.
Decorators at This Is Our Bliss added a fiber rug with a welcome message to give their porch a personal touch.
34. Upcycled Bird Cage
Create ambiance with upcycled accessories and decor. The bird cage from Joyful Daisy makes for charming front porch decor. Fill it with dried flowers, Indian corn, or crow sculptures. A vintage bird cage is a versatile as you can tailor it for each season.
35. Rattan Pumpkins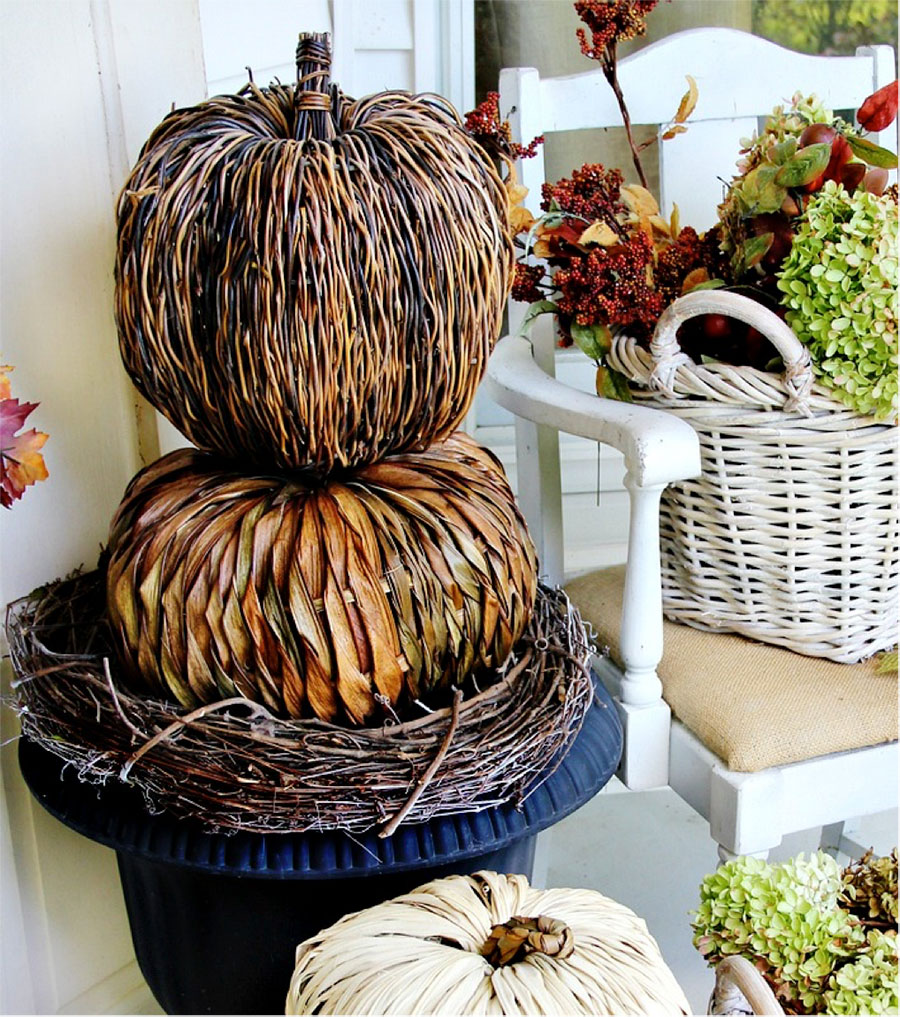 Pumpkins are a popular front porch decor items. Real pumpkins don't last long and need to be replaced every two or three weeks. Rattan pumpkins at Homes do not require maintenance and can sit on your front porch for as long as you like.
36. Preserved Flower Pumpkins
Check out the preserved flower pumpkins from The House That Lars Built. The fall displays can be customized to fit any design depending on the preserved flowers and foliage you use. Display the finished pumpkins with sheaths of wheat or corn stalks for a refined look.
37. Kale And Cabbage
Ornamental kale and cabbage are good replacements for summer annuals in fall porch planters. The plant's foliage turns bright when temperatures begin to drop. They can survive during winter frosts, and come in a variety of eye-catching colors.
See how to arrange them at Deborah Silver.
38. Hanging Door Basket
Mount a small hanging wicker basket like the example from Simply 2 Moms on your front door. Fill the basket with fall knick-knacks like faux autumn leaves, representing healthy harvests. Repeat the natural colors and design elements throughout your front porch for a robust look.
39. Fall Porch String Lights
String lights are popular holiday decor. During winter months, you need more lighting. Lining your front porch with string lights creates a warm outdoor atmosphere. Check out the example at Bower Power Blog on WooHome.
40. Fall Porch Hanging Ferns
Colder climates are not ideal for healthy ferns. If you live in a region where cold temperatures are harsh, you'll need to move your ferns inside during the winter months. In warmer regions, like Florida or Arizona, ferns can stay on a porch throughout the year.
Ferns thrive during early fall weather. In the spring and summer seasons, make sure they have plenty of water. The plants require moisture and will wilt or burn when exposed to hot temperatures. To make sure your ferns stay healthy, mist them so they won't dehydrate.
For more information on how to take care of ferns, watch this video tutorial at The Frugal Homemaker.
Frequently Asked Questions (FAQ)
FAQ
Are Stereo Speakers Good To Add On A Front Porch?
Music creates an inviting atmosphere. When you install stereo speakers on your front porch, you can play seasonal music to create a vibe. You'll need to make sure your speakers are weather proof. For Halloween, play music from horror films. During the Christmas holidays, play popular yuletide classics from Perry Como and Elvis Presley.
And on the Fourth of July, you could play the "Star Spangled Banner." Your neighbors and house guests will appreciate the added layer of spirit that music provides. 
Why Do Front Porches In The South Have Mirrors?
Mirrors protect homes from evil spirits. The superstition dates back to the 19th century. People believed if the Devil saw his reflection, he would stop to admire it instead of entering their home. 
Why Are Empty Glass Bottles Popular Front Porch Decor?
People in the American south once believed that empty glass bottles could catch evil spirits. Glass bottles protects homes from ghosts and evil spirits. For added effect, you could use glass bottles with bright colors, which are easy to find at thrift stores.
What Are Some Front Porch Light Alternatives To String Lighting?
Votive candles offer stylish lighting when you don't want to use string lights. To make a votive candle, take a small brown paper bag, fill half of it with sand and place a small candle inside of it. The sand functions as a weight to the bad won't fall over or blow away. Do not leave votive candles unattended. 
How Does A Front Porch Benefit Your Neighbors?
Sitting on your small porch discourages burglars from robbing your neighbors homes. You may not realize it, but when you're outside, your presence is enough to protect the homes next to you.  
Fall Porch Decor Conclusion
According to Don Powers, president of the Union Studio Architecture & Community Design in Rhode Island, "there will be renewed appreciation for things we already have, particularly outdoor spaces that allow us to interact without making physical contact — specifically the front porch."
New Urbanism is redefining our sense of community. A front porch provides an intentional or accidental gathering space.
Front porch fall decorating concepts are important as they help create friendly environments. A front porch is about creating a warm welcome. Whether you choose rustic flair or a pumpkin patch motif, the extra effort will be worth it.