Dining Room Lighting That Will Transform Your Space
Dining room lighting is one of the most important focal points of the room. Thus, a dining room is a wonderful place to showcase your particular taste and personal style with beautiful lighting.
However, dining room lighting ranges in type and design, and it can be difficult to decide which options to choose. We hope to make your job easier by laying out some fundamentals about which light fixtures and types work well in dining room settings.
Also, we will bring you some inspirational dining rooms to help you understand the different types of lighting available and refine your personal style.
Dining Room Lighting Requirements
In every room of your house it is important to layer different types of room lights as each type of light offers different benefits. Therefore, all the levels of dining room lights provide a greater depth and complex look in the room. Also, individual types of light may be needed at different times.
For example, a chandelier over the dining table is used when you sit down for a meal, but will be turned off throughout the day. Instead, lamps on the dining console will be kept on most of the day to provide soft mood lighting in the room. In short, different light sources provide the versatility you need to use this room well.
Dining Room Light types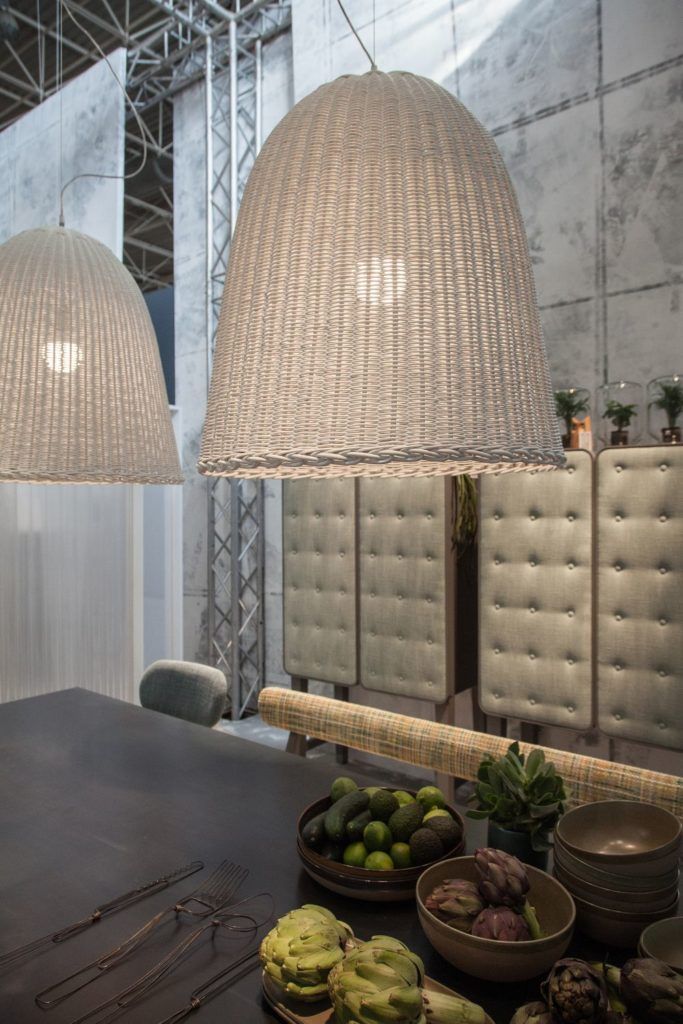 Our dining rooms aren't just used for eating. Rather, we use the dining room as a place for our kids to do homework, as a makeshift office space, and for family meals as well as formal dinner parties. Choose light fixtures that will work in a variety of settings.
Types of dining room lighting
Chandeliers – Dining room chandeliers are one of the most important items to set the tone of this room. These chandeliers are fitted over the dining room table and should reflect the overall style of the room.
Ceiling light fixtures – This is a less overt source of ambient light than dining room chandelier lighting. Most dining room light fixtures are centered in the middle of the room. They are either flush mount or semi-flush mount. These also come in the form of ceiling fans with central light fixtures.
Recessed lighting – Recessed lighting is ideal for providing overall ambient light and task lighting where you need it. This kind of light is not meant to be overt; rather, it is there to provide a warm glow to the overall room lighting.
Wall sconce – This kind of dining room light fixture provides light in a certain area like along a wall. Most of these light fixtures are directional, so they don't provide much ambient light. However, they are helpful in setting a mood.
Pendant lights – A dining room pendant light hangs from the ceiling to single light bulbs within one fixture. You can use these over a dining room table alone or as a group.
Table lamps – Dining room lamps are an overlooked form of dining room lighting. However, these are ideal to create a classic look on a dining room console or buffet.
Dining Room Lighting Ideas
There are many style directions that you can go with dining room lighting fixtures. We have gathered a group of diverse pictures to inspire you to think beyond your normal ideas to make lighting in your dining room extraordinary.
Layered Luxury
Here is an example of multiple light sources creating a look of depth and interest in this dining room. Notice the sputnik-style chandelier over the dining area. This is the immediate focal point of the room and creates a look of drama.
The other light fixtures are more subtle. The table lamps on the console add a soft glow.
The recessed lighting adds ambient light that allows the chandelier to maintain a dim glow rather than need to be full strength.
Mood Lighting in the Dining Room
This dining room uses layered light in a more subtle way. Each individual piece of the dining room pendant lighting is beautiful, but together, they create a stunning effect. The recessed track lighting is invisible, but it lends a warm glow to the overall room.
Coastal Dining Room Pendants
Bell 95 created these textured pendants for this dining table lighting in this design. These are large dining room lighting fixtures but they do not overwhelm the area like glass fixtures of metal or glass. Rather, they blend with the overall serene and textured dining room. Rattan and other woven pendants look right at home in coastal, bohemian, and traditional designs.
Rustic Pendant Lights
With the rise of farmhouse design, rustic dining room lighting is having a moment. This dining space has a neutral color scheme, but there are a variety of textures to add warmth to the overall design.
The white enamel pendant lights enhance the style of the room. Also, the metal coverings of the pendant lights do not allow light to travel throughout the room, so this kind of light fixtures are not good for the ambient lighting needs in the dining room.
Contemporary Dining Room Chandelier
Clean lines and geometric forms characterize contemporary and modern dining room light fixtures. This chrome chandelier from Infinite Lite features interlocking shapes with opaque light bulbs. This is an exceptional style for contemporary spaces where you want to make a statement that is distinct but subtle.
Small Dining Room Lighting Ideas
For many people, their dining room space is a breakfast nook in the corner of the kitchen. Rather than just rely on small flush mounts to conserve space, one of the best style ideas for small dining rooms, is to use an oversized pendant light. This space does not look smaller because of the large pendant, but it does help define the area in a big way.
Hollywood Glam Dining Room Chandelier
If you have a dark and moody space, consider a glamorous crystal chandelier. The designers used layers of crystals to create a look of opulence in this linear chandelier. While this kind of dining room light fixture works well in a transitional room, it would also look stunning in a modern luxury space.
Minimalist Pendant Lighting
If opulence isn't the look you crave, consider the opposite side of the design scale. These gray minimalist pendant lights complement the neutral tones of the minimalist decor in this dining space.
Traditional Brass Light Fixture
If you aren't sure which direction to go, you can't go wrong with traditional light fixtures in dining room spaces. Consider this brass candelabra style fixture. While it has an overall traditional look, you can dress it up or down depending on the other decor in the room. In addition, brass always provides a bright focal point that you can accent with other decor or leave on its own.
Modern Black Pendant Light
If you don't like the look of traditional light fixtures but are still stumped regarding your overhead lighting, you can't go wrong with a black pendant. Black dining room light fixtures are striking in their utter simplicity. This simple fixture was designed by Luna Rossa.
Modern Farmhouse Dining Area
The juxtaposition of this modern bubble chandelier with the chic farmhouse room is beautiful. Together, they create a pleasing look that doesn't veer into caricature; rather, this look is subtle and sophisticated.
Midcentury Modern Dining Room Lighting
The midcentury style remains popular today, and nothing says midcentury light fixtures like opaque spheres and angular metals forms. If you are looking for sleek and modern dining room lighting, midcentury is the way to go.
Scandinavian Pendant Light
This copper frame and banana fiber cloth outer layer from Soren provides the perfect textural and organic appeal popular in Scandinavian design. This pendant light fixture looks solid until you illuminate it. Once lit, the wireframe gives the light a chic industrial style.
Classic Vintage Chandelier
The formal look of this vintage chandelier might not be to everyone's taste, but it is more versatile than you think. Pair a chandelier like this with a rustic farmhouse style dining room for rustic glam or pair with modern furniture for a modern traditional look. You can layer this chandelier with other lighting sources like wall sconces or table lamps to complete the look.
Frequently Asked Questions (FAQ)
FAQ
What Lighting For Dining Room Is Best?
There isn't a best lighting source for a dining room, but layered lighting is the preferred choice. However, if you had to pick one, a light source over a dining table would be it. This provides the most opportunity to express style and taste.
What Color Light Is Best For A Dining Room?
Warm rather than cool light is the best for interior spaces to make them feel cozy and inviting rather than cold and sterile.
How Bright Should A Dining Room Light Be?
There is a simple formula to help you calculate the wattage that should be present in the dining room to create enough light for the space. Multiply the complete square footage by 1.5 for the amount of ambient wattage.
For example, if the room is 12 feet x 15 feet, the equation would be 12 x 15 x 1.5 = 270 watts. Therefore, you would need around seven 40-watt bulbs.
How Do You Light Up A Dining Room Table?
The best way to light a dining room table is with a focused light fixture like a chandelier or pendant light. You can use multiple focused light sources like a group or several pendants or just one, depending on the table's size and shape.
Does The Shape Of The Table Matter When Considering A Fixture?
Once you know the shape of your dining table, you can choose your light fixtures. Some light fixtures work well with many different tables. while others aren't as versatile. For example, with round tables, a round chandelier would be best. If you have a rectangular table, a linear chandelier or line of pendant lights would both work.
How Low Should Dining Room Lights Hang?
Dining room light fixtures should hang between 30 to 36 inches above the dining table. The measurement assumes an eight-foot ceiling height. However, with higher ceilings, raise your chandelier three inches for every additional foot over eight feet.
Should A Dining Room Ceiling Light Hang Over A Table?
A dining room chandelier or pendant looks best when grounded by your dining table. However, you can use multiple light sources like table lamps and recessed lighting that do not need to be centered over the table.
Does A Dining Room Ceiling Light Need To Be Centered?
You should center the chandelier or pendant light above your table rather than center it in the dining area.
Dining Room Lighting: Conclusion
Lighting is one of the best ways to bring texture and depth to your dining room, and there are many wonderful ways to achieve this.
From ambient light sources to decorative lighting, they each have a role to play in the layering of light for your dining room to function at its best. You might be tempted to go with the tried and true, but if you want to be bold, the dining room is a wonderful place to try something new.
In the end, you will not lack amazing choices whatever direction you go.