Cottagecore Decor: Transform Your Home to a Romantic Paradise
Incorporating cottagecore decor into your home is not a one-size-fits-all proposition. The wonderful thing about this latest interior trend is that each space will look different according to the creator.
The cottagecore trend, first used as a hashtag on Tumblr in March 2014, has become a popular home and personal style of the early 2020s. This style has an outsized emphasis on all things home related. So it is no surprise that this style became popular when we were all stuck inside our own homes during the COVID-19 pandemic.
According to Lick, the cottagecore style is whimsical and nostalgic. There is special emphasis on the pursuits of a rural life and a connection to nature often in an idealized and romantic way.
Cottagecore decorating tends to celebrate natural and rustic charm using simple but charming fabrics, comfortable vintage pieces, and handmade items. There is also more emphasis on greater sustainability in the way that we live.
Cottagecore Decor Ideas
Cottagecore decor is nothing if not open-ended, but here are a few tips and tricks that you can follow to create the style in your own home.
---
Natural Color Palette
It is not a surprise that the color palette of cottagecore design tends to echo the tones of the earth. It also is on the lighter side of the color spectrum as many cottages have small windows so interior reflected light is important. Consider palettes that emphasize soft greens and blues with touches of golden peach and ivory.
It is difficult to know where to begin with color. If you need a jumpstart, check out the Cottage color palette from Benjamin Moore or the European Countryside collection from Sherwin Williams. These palettes will provide some inspiration and give you a great headstart for your cottagecore design.
---
Mix and Match Patterns
From wallpaper to linens, everything is fair game for another print. In early rural homes, style was an afterthought to utility. With that in mind, it is important to mix patterns in order to get an unaffected and less cultivated style. This can include mixing wallpaper patterns and soft-furnishings so that they don't look too matchy.
Think florals mixed with stripes and plaids all while keeping it comfortable and cozy. If you are worried about how to do this in an effective way, consider one dominant color idea and accent it with two contrasting or complementary color tones. Vary the pattern size between large and small so that the patterns work better together.
---
Incorporating Flora and Fauna
Adding in flowers and plants may seem like a no-brainer for cottagecore room decorations. This can go well beyond a vase filled with your latest offerings from your garden, though it should include this too.
Consider adding botanical pictures, books, and patterned pillows and throws. Trailing vines (either real or faux) make the cottagecore aesthetic even more enchanting. Consider adding another layer of botanical decor like this wallpaper from The Well Dressed Window in this Seattle guesthouse.
---
Vintage and Antique Pieces
One of the most approachable things about this style is that you don't have to run out and buy all new pieces to get this look right. In fact, the more "used" furniture, dishware, and home decor you incorporate the better. After all, cottagecore room decor should look like it belongs in a country cottage.
Scour your local antique markets, second-hand, and thrift stores in order to find the perfect iron bed or sideboard with just the right distressed paint. If you can't find what you need, don't be afraid to wait to find what you want and fill the room over time.
---
Open Shelving
Cottagecore home decor should be the basis for a well-functioning home to provide better comfort and accessibility. Open shelving in kitchens, bathrooms, living rooms, and bedrooms will allow you to access your pieces and display your collections.
This is a "more is more" design style that looks best with collections that are not minimal but bursting with interesting designs, patterns, and colors.
---
Creating Comfortable Nooks
If you have figured it out yet, cottagecore room decor prioritizes comfort and creating a calm and peaceful home space. To this end, it is important to create cozy nooks for reading, sleeping, studying, and together time.
This may mean comfortable seating, layering each space with natural and soft textured textiles like wool and chenille, and bringing in baskets to sit by chairs that hold all the things you need for a quiet evening at home like a book of puzzles or your latest handicraft project.
---
Cottagecore DIY Crafts
Cottagecore ideals are similar to the ideas of the Arts and Crafts Movement that sought to emphasize and elevate handmade arts and crafts. If you want to absorb the cottagecore aesthetic, this is the perfect time to explore your crafty side. Try working on a piece of embroidery, plant a windowsill garden, or learn to paint. Once you begin to explore these ideas the possibilities are endless.
---
Cottagecore Decor: A Buyer's Guide To Get You Started
Cottagecore decor is a charming addition to any space, whether you are going for an all-encompassing style or not. Here are a few items that can help kick start this new style for you or just help revamp the one you have.
Nathalie Lete Dishes
If you are looking for a whimsical floral tableware, look no further than the Nathalie Lete line of dishes available from Anthropologie. This charming dish collection features plates, platters, mugs, and a pitcher to brighten up your cottagecore home decor for your table or brighten up your walls.
---
Kantha Floral Quilt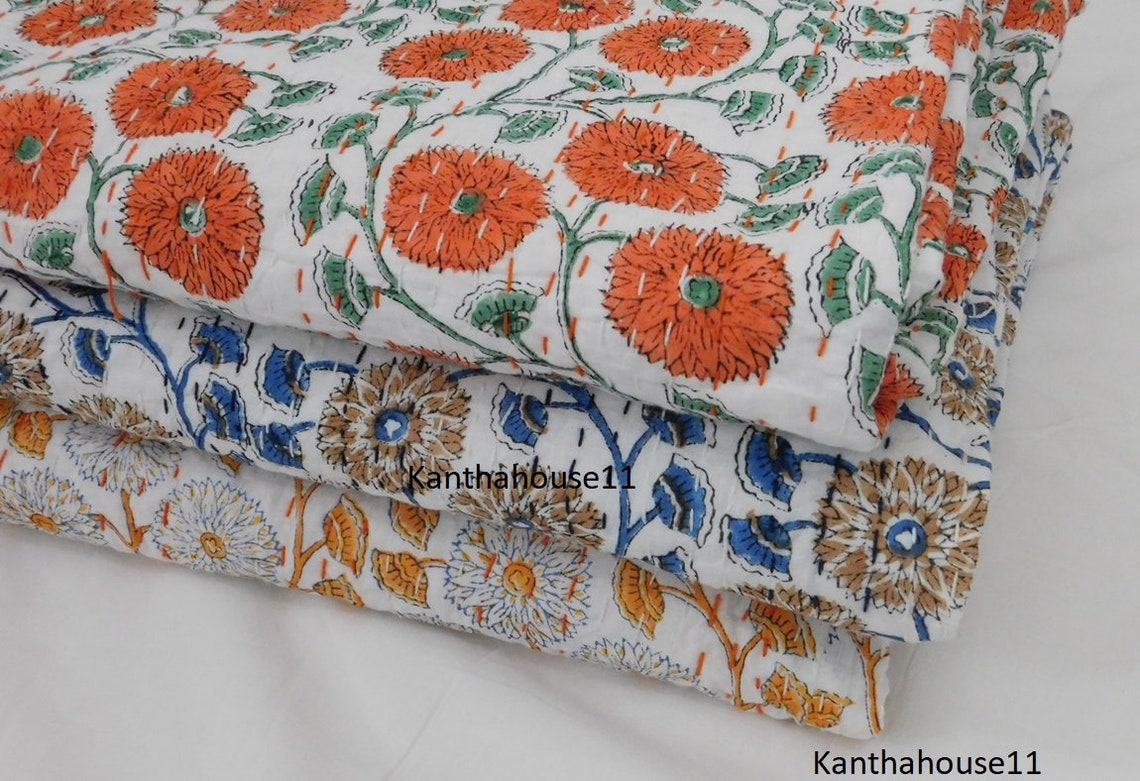 Kantha is an embroidery style that was practiced by handcrafters in East Asia. It features a long running stitch that covers the entire quilt. These quilts feature stunning floral prints that work well in cottage settings. These quilts from Kantha House 11 are light quilts that feature two layers of cotton with no batting between. This is the ideal weight for a summer quilt or to cover the back of a sofa.
---
Botanical Wall Prints
Buy a set of colorful botanical prints like these from YUMKNOW to enhance your cottagecore room decorations. Use them as a set or space them out to decorate more than one area. Either way, the intricate drawings and vibrant colors will become the focus of any room design.
---
Storage Basket
Storage baskets are an essential part of cottagecore decoration. After all, you need somewhere handy to place your new knitting project or your garden planning calendar when you are snuggled into the sofa in front of a roaring fire. Consider a basket style like this one from Studio 350. It is large enough to store all your latest projects with a few extra throw blankets too.
---
Cottagecore Throw Pillows
William Morris, one of the founders of the Arts and Crafts Movement in England, was famous as a textile designer. His prints are delicate and yet vibrant and colorful. Use these pillows from May Evelyne Interiors as part of your cottagecore bedroom decor as an accent for your bed or cozy reading nook. They would also look gorgeous as part of a cottagecore living room design. There are so many amazing designs that you can choose.
Jute Area Rug
A jute rug like this one from Bay Isle Home can be part of a solid foundation for any cottagecore house decor. Use this rug alone or to create a layered rug look with another smaller rug. The jute texture works so well in cottagecore design to create the organic texture that gives it an authentic and earthy look.
Frequently Asked Questions (FAQ)
FAQ
Is cottagecore design just another version of country style?
Cottagecore also goes by the name countrycore and farmcore, so yes, country and cottagecore styles are very similar. The main difference between these is that country style would be more rustic with straight lined furniture that looks like it belongs in a cabin setting. Cottagecore features more delicate lined furniture, fine china patterns, and quaint florals.
What is dark cottagecore decor style?
Dark cottagecore, also known as Goth cottagecore, features some of the same themes as cottagecore, but with a darker, more macabre twist. This includes dark aspects of the natural world including poisonous mushrooms, berries and animals, and dark aspects of the spiritual world.
What are the best cottagecore decor DIY items?
Cottagecore is one of the best styles for DIY because in years past, most of the decorations in cottages were handmade. Use elements from the natural world like pinecones, nuts, flowers, and plants to create decorations. Also, learn a new skill like crochet to create coasters and potholders that will be right at home in your cottagecore home.
What can I use for cottagecore wall decor?
You can create cottagecore wall decor using thrift store pictures that you can use to create your own eclectic gallery wall. Add in some fun floral plates to add a new shape and texture to the design. Create a wall mural using paint. Either free-hand it or use a stencil.
Conclusion
In its truest essence, this style is not just about getting a particular look, it is creating a more warm, comfortable, and livable home that increases our connection and involvement in the natural world.
You don't have to go all or nothing with the style. Instead, start small. Add a few elements to your living room or bedroom and see how it feels. You can add more cottagecore decor as your comfort level and desire dictate.