How To Blend Modern and Country Styles Within Your Home's Decor
Sometimes our personal styles don't fit into one tightly knit box, instead our inspiration comes from a variety of different decor genres. And that's especially true when it comes to creating our home's ethos. Today, we're showing you some gorgeous and simple examples on how to mix modern and country style and design within your home's decor as well as some tips and tricks for making it an easy blended pairing.
Minimal
Here's a living room that blends both country accents with the overall feel of a minimalistic, modern space. It's light, it's bright but the rawness of the woods and neutrals brings a coziness right in.
Slick
One word comes to mind when viewing this bedroom and that's … slick. Every choice made here was a chic, sophisticated decision that left the exposed wood welcoming to all and the black and white accents a contemporary movement.
Enveloped
There is something truly enveloping about this large, galley kitchen. There's a definite country-vibe going on too but with all the clean and chic edges the designer also make the modernism shine through!
Textural
Texture is the definite focus of this bathroom. And if you look close enough you'll be able to pick out the parts that fit in with traditional contemporary design and a more casual look as well.
Youthful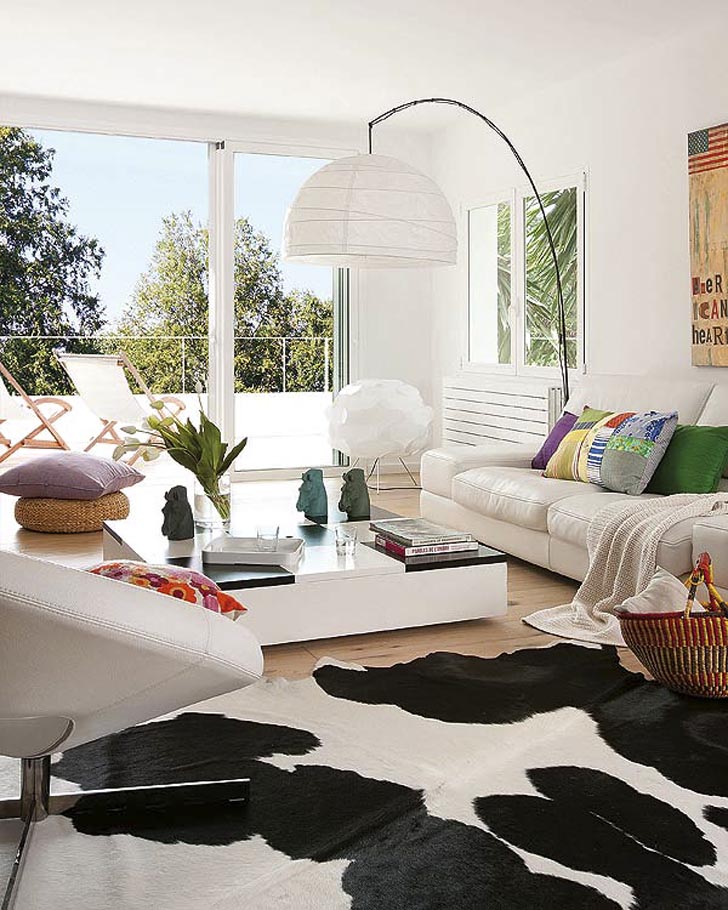 If you're looking for a youthful take on a country-modern blended living room, then here's the ticket. This is a gorgeous mix of country textures, cozy feelings and contemporary, fashion-forward accent choices – and the white foundation only enhances it all!
Feminine
There's a quiet, feminine spark seen and felt throughout this bedroom. The raw, organic nature of the textures shades and wooden ceiling beams brings a bout of country flavor but the chicness of the bedding help to inspire a more forward-thinking experience.
Innovation
This kitchen has so much innovation around it, even though you may not realize it at first. The blending of both vintage, country styles with contemporary looks – like the open shelving and delicate island – make this a really unique space.
Raw
This sink and vanity is practically a piece of art inside this modern bathroom. It stands out but also adds personalized style to the finished room.
Masculine
There's something really masculine inside this living space. From the wooden walls that act as a country-cool foundation, to the slickness and sharpness of the lines of every furniture piece, this room too mixes two popular interior design styles.
Quiet
This room isn't the example of the perfect blend but it does have a beautiful balance. There's a quiet countriness surrounding some of the room's accent choices but overall it's a subtle, modern bedroom perfect for any youth.
Bulk
When you have more space, you can go with more bulk when designing. And here we see a masculine, country kitchen sitting inside a gorgeous, open modern space. And we love it!
Spaciousness
Have you ever seen a bathroom this spacious before? It blends luxurious and clean modernism with the coziness of country-time decor on each side of the room!
Mystery
There's something quite mysterious about this dining room, don't you think? And it's gorgeous but what's really impressive is its classic mix of country texture and modern lines.
Rich
We're in love with this space for so many different reasons. The country vibes are obvious, the modern lines are there and the richness of the black and navy foundations makes this a very unique blend of design genres.
Clean
This super clean bedroom offers up a chic space anyone would love to dive into. The wooden accent wall meshes well with sharp lines of the rest of the bedroom.
Creativity
Here's another sink and vanity pairing that blends in with a country style with ease but it's innovation and forward-thinking style make this a shoe-in for those that want a more artistic, modern home.
Subdued
Windowed cabinets are more traditional – and something country in feel – so when you pair them with more futuristic accents and modern lines, like you see here you get a gorgeous blend of genres that gives the designer a no fail plan.
Charmed
Take a peek at this charming example of a modern bedroom that's been sprinkled with a bit of feminine, country flair. Soft lines, soft neutrals and a pop of mustard make this room a beauty.
Homey
And here's a really homey, modern living room that will make any family feel not only welcome but also stylish too. The textures and casualness of the choices throughout make the country vibe shine through but the sharper lines and monochromatic colors bring in the contemporary style as well.