The 6 Best Cheap Mattresses for Your Budget
Buying a cheap mattress is something that we all aspire to, but sometimes the one that's right for you simply costs a bit over your established budget.
You can't argue on the importance of sleeping on a good bed because it can literally make or break your upcoming day. So, when you have your heart set on a specific bed, but feel like you can't afford, what do you do? Do you look for something cheaper? And what are the not-so-mandatory features?
The Must-Have Features
Regardless of whether you want a cheap mattress or have a more generous budget, there are some features that can never be neglected if you want to be able to get a good night's sleep. You should always consider the mattress as a really important investment, but it is somewhat true that only people who have slept on the wrong mattress can actually understand how important a good bed really is. With that in mind, here are the must-have features of a mattress that you should never neglect when you're scouting the market for a new bed:
Pressure relief is a feature that refers to how well the construction of a mattress can cradle your body so that you never wake up feeling sore. AS your body pushes against the mattress, the bed also pushed back and, in some cases, you could end up with sore body parts. For instance, if you're a side sleeper that's resting on top of a firm mattress, you'll most likely wake up with pain in your shoulders and hips. While plenty of people feel like pressure point relief is a vague concept, it's important to know how well a mattress performs for your favorite sleeping position and body weight.
If you're interested in making a good investment, durability is yet another item on the list. For the most part, even a cheap mattress should be able to give you about seven years of use before you notice any natural sagging. The trickiest thing is foam mattresses (which are the most affordable ones) are also the first ones to sag, so if you happen to come across a foam bed with good durability rating, move it to the top of your "maybe" list.
Another somewhat "vague" concept in the mattress industry is support. Support refers to how well of a job a mattress does in making sure your spine is always resting in its natural position. The support of a bed is tied directly to its core layer, which is typically the thickest one and located close to the bottom of the mattress. You want to avoid mattresses that sag in the middle if you want a bed that offers a good amount of support.
If you're sharing your bed with a partner, always pay close attention to how a bed performs in terms of motion isolation. This refers to a bed's capacity of compressing under the direct pressure of your body's weight without distributing that weight across the entire surface of the bed up to a point where your movements could disrupt your partner's sleep.
If you are a person with limited mobility that needs a good mattress to help them get in and out of bed with ease, then edge support is something you absolutely can't sacrifice. For the most part, hybrid and innerspring beds are the ones who have reinforced perimeters that prevent the edges of the mattress from compressing too much under pressure. This way, you can sit at the edge of the bed when you're trying to put your socks on, but it will also be easier to get out of bed overall.
Top 6 Best Affordable Mattresses
Now that you know the features that you can't give up on no matter how short for cash you are, let's look at some of the best most affordable mattresses on the market and see if we can find a little something in here for you.
When it comes to a cheap and solid foam mattress, few of them can actually beat the price and potential of the Nectar bed. It is a mattress constructed with three different foam layers that work together to provide the best comfort possible for people who want good conforming and excellent pressure point relief.
The top layer is made from quilted gel memory foam and measures one inch in thickness, while the second layer is three inches thick and it's made with gel memory foam. These two layers combined provide great conforming and a little bit of cooling, which is always a much-needed feature in mattresses that are made completely out of foam. The transitional layer of the mattress measures 1.75 inches in thickness and it's made from polyfoam, while the base layer is 5.25 inches thick and provides firm support for your body.
With its 11 inches in height and full foam construction, the Nectar mattress is a bed with a firmness rating of 6, being capable of providing an amazing body-hugging sensation. Despite it feeling very plush for a vast portion of sleepers, it offers really great support. All of these combined truly make Nectar one of the best cheap foam mattresses on the market.
Who Should Buy This?
The Nectar mattress is a good bed for sleepers who weigh more than 130 pounds. Because it manages to isolate motion so well, it is also a perfect bed for couples, but also for those who want to explore some of the best and most affordable options out there.
FREE gift
Pros:
Sleeps cool.
Great price point.
Good balance of support and conforming.
Customer appreciated.
Great motion isolation.
Cons:
Not suitable for lightweight sleepers.
The Layla mattress is a flippable bed that features two sides, each with its own firmness level. The softer side has a firmness rating of 4, and it's constructed with a comfort layer made from three inches of copper-infused memory foam, plus a layer of convoluted foam right under it. These two layers are looking to combat one of the foam's biggest issues: heat retention.
When you flip the mattress to the other side, you get a mattress with a firmness rating of 7. The top layer is also made from the same copper-infused memory foam, only this time, it's only one inch thick. The support core of the bed for both sides is a 4.5-inch block of HD polyfoam. This entire construction is held together by a polyester cover.
In spite of the fact that foam mattresses are really good at conforming and pressure point relief, but they compromise aspects like durability and temperature neutrality in the process, the Layla mattress does an amazingly good job at chapters you wouldn't even expect it to perform in. It is one of the most durable foam beds you'll ever see, with minimal off-gassing, great motion isolation, and pressure point relief that you're going to love.
Who Should Buy This?
The Layla mattress is a great people who love the feel of foam but often tend to sleep hot on such a bed. It provides plenty of support for people who weigh under 230 pounds. It's the best pick for all those looking for an affordable flippable mattress.
flippable mattress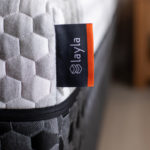 Layla Mattress
Layla mattresses are best for sleeping on your back, as the copper infusion will work its magic best that way.
View Deal
Pros:
Two firmness choices.
Great durability.
Sleep cool.
Great motion isolation.
Good pressure point relief.
Copper-infused comfort layer.
Cons:
Bad edge support.
Not good for heavyweight sleepers.
The Tuft & Needle mattress is one of the least expensive foam beds you'll find, but still isn't one to skimp on quality in favor of getting people to buy it really cheap. The mattress debuts with a comfort layer that's made from three inches of polyfoam. Because of the lower density, it tends to absorb less body heat compared to memory or high-density foam.
The core of the mattress lies in a seven-inch layer of HD polyfoam that makes the bed more stable and capable of supporting the weight of the sleeper. This two-layer construction is all wrapped up in a cover that's made from a polyamide and polyester blend, thus leading to one of the least expensive 10-inch mattresses on the market.
As far as firmness is concerned, this mattress has a rating of 6.5, which makes it a medium-firm bed that contours without making the sleeper feel like they're sinking into the surface of the mattress. Because of its construction, the Tuft & Needle Original mattress is most praised by sleepers who weight between 130 and 230 pounds, but also by couples who love how well the mattress performs in terms of motion isolation.
Who Should Buy This?
The Tuft & Needle mattress is a great option for value seekers that want to stick within a limited budget or perhaps buy a good mattress for their guest bedroom. It's a great option for couples, people who weight between 130 and 230 pounds, and those who like a mattress that sleeps a bit cooler compared to other foam options.
Amazon's Choice
Pros:
Bargain buy.
Great for couples.
Good for average-weight sleepers.
Good pressure point relief.
Cons:
Not very durable because of the comfort layer polyfoam.
The Original Casper mattress is another excellent pick for people who are on a budget, yet it isn't the type of bed that would suit everyone, so let's take a quick look over its construction and see what we can learn from it. The mattress is made with two comfort layers: the one on top is 1.5 inches thick and it's made from standard polyfoam, while the second layer is also 1.5 inches thick and made from memory foam.
The transition layer of the mattress measures 1.5 inches in thickness as well and helps transition from the comfort layers above to the support core below. The center of the Casper mattress is a 7.5-inch block of HD polyfoam that serves as a support for your weight and the entire weight of the mattress. The 12-inch Casper mattress is all wrapped up in a cover that's made from polyester on the top side and a polyester-spandex blend on the lower side.
The Casper mattress is a rather soft bed, with a firmness rating of 5 on a scale from 1 to 10. Because of its upper polyfoam layer and the firmness rating, the Casper mattress is best paired with sleepers that weigh under 130 pounds, regardless of what their favorite sleeping position is.
Who Should Buy This?
The Original Casper mattress is one of the best and most affordable mattresses for lightweight sleepers, regardless of the sleeping position they most prefer. It also does a fairly good job for average-weight sleepers and, because it can isolate motion really well, it also serves as a good mattress for couples.
best for lightweight sleepers
Pros:
Good for lightweight sleepers.
Great for couples.
Good at pressure point relief.
Good for average-weight side sleepers.
Good for combination sleepers.
Also available in a hybrid version.
Cons:
Noticeable off-gassing.
Bad edge support.
Brooklyn Bedding is no stranger to the mattress industry, which should make the Bowery mattress a true contender to this "best of" list. The Bowery is a mattress that has a three-inch comfort layer made from gel foam. Their Energex foam brings together the best qualities of latex and foam in a comfort layer that offers great pressure point relief and the responsiveness and bounce that's so characteristic to latex.
The Bowery mattress is available in two versions. The one that's made from foam has a support core that measures five inches in thickness and it's made from HD polyfoam. The hybrid version of this bed comes with six inches of pocketed coils in the support layer, plus a one-inch base made from HD polyfoam. Both of these versions measure 10 inches in height, as the Bowery Hybrid has a two-inch comfort layer plus a one-inch quilted cover, and the price difference between them isn't too high.
The foam version of the Bowery has a firmness rating of 5.5, making it a good choice for lightweight combination sleepers. The Bowery hybrid, on the other hand, has a firmness rating of 6.5, offering much better support for combination sleepers that weigh above 230 pounds.
Who Should Buy This?
If you're a lightweight individual who prefers sleeping on the back/on the side, you are much better off with choosing the foam version of the Bower mattress. However, the Bowery Hybrid might be more suitable if you weight more than 230 pounds. If you're an average-weight sleeper, you can expect pretty much the same level of conforming and pressure point relief from both mattresses.
best for teenagers
Pros:
Two construction options.
Good value.
Great motion isolation.
Durable construction.
Good pressure point relief.
Cons:
Bad edge support.
Sleeps hot.
To end our round-up in style, we have chosen a customer favorite from our most beloved online international retailer. The Linenspa mattress is probably the king of affordable beds, but can it really deliver despite its ridiculously low price point? While there are many different variations to the Linenspa mattress, we've chosen to talk about the 10-inch memory foam hybrid, as this is the model that's most popular with customers.
This bed is basically constructed out of three different layers: the first one is the comfort layer that's made from polyfoam, the second in an additional polyfoam layer that's meant to provide better cushioning, while the core of the bed is a layer of Bonnell coils. Even if it's advertised as being a hybrid, the Linenspa 10-inch mattress is, in fact, an innerspring bed.
It has a firmness rating that's roughly a 5.5, and it will provide the most comfort for side and back sleepers who weight between 130 and 230 pounds. However, the mattress is mostly designed for people who are looking to get a good deal, so you can't expect it to provide the same level of conforming like the other models in this round-up. Why is it in our list, then? Because those who have bought it believe it's worth every penny.
Who Should Buy This?
The 10-inch version of the Linenspa mattress is a good choice for people that are looking for a really cheap mattress that can provide comfort for an average-weight sleeper.
Amazon best-seller
Pros:
Really affordable.
Good airflow.
Decent edge support.
Very little off-gassing.
Cons:
Not great at relieving pressure.
Bottom Line
One of the greatest things about the mattress industry is that it has evolved up to a point where you're really likely to find a bed that suits you even if you don't have that much money to spend on one. It's true that there are some really good expensive mattresses out there, and when you're on a budget, you are limited mostly to all-foam beds, but remember that foam is a champion at pressure point relief and conforming, so it might not be all that bed to buy this type of mattress.
Keep in mind that when it comes to buying a new bed, there are few rules actually set in stone, so you have plenty of things and features to juggle with in your quest to finding the bed that fits your sleeping needs. You just have to prioritize the features that most interest you and stick to only those if you're on a tight budget.