How To Enhance Your Landscape With Backyard Waterfalls
Water features definitely have the wow factor. They can make even the most simple and boring yard or garden stand out. Backyard waterfalls are pretty wonderful and they're also not that complicated to work with. In fact, you can build your own waterfall in your backyard and it wouldn't even be that difficult or time-consuming.
The first thing you need to do is decide on the shape, size and location of the waterfall. Take into consideration all the aspects of this part. For instance have a good look around the area and see if you can take advantage of a natural slope or if you can highlight a beautiful view.
Types of Backyard Waterfalls
If you are fortunate enough to have space available in your backyard for a body of water, you'll find that few things are more relaxing than enjoying those sounds when you have a few moments to spare. We've put together a list of the most common types of backyard waterfalls so that you don't have to do any extra research before making up your mind.
#1: Waterwalls
When using a waterwall, you get to enjoy water falling down on the face of the wall, after which it is sent back up to the top, allowing the water to cycle through the system continuously. LED lights can be used to create a visually attractive effect. The use of texture on the waterwall wall can be used to change the sound that the waterwall makes.
An exquisite element that elevates the level of luxury in a pool area or perhaps an outdoor kitchen, waterwalls are becoming increasingly popular. In order to ensure that the water remains clean and is not swamped by mineral buildup from the (usually) brick wall, a filter is installed.
#2: Waterfalls
In addition to being built as a separate feature, a standard waterfall can be integrated into a modern backyard to give it a more natural feel. The basic waterfall can be made out of genuine stones, fiberglass, or sculpted concrete, which is then painted and ornamented to look like the real deal.
A big part of the height of your waterfall feature will be determined by the geography of your backyard. However, if you have a limited amount of room, you can forgo the pond at the bottom of your artificial waterfall to collect water and add to its realistic overall impact.
Because there is no stagnant water in the decor, care and maintenance for this type of waterfall is usually a fairly straightforward endeavor that entails topping up the water supply once every two weeks to compensate for the amount of water that evaporates, which is normally a quite simple undertaking. You can also omit this step by incorporating an auto fill function into your website.
#3: Rain curtains
A rain curtain comes with tiny holes located at the top of the waterfall. A pump is installed to recirculate water to the top of the tank. It is possible to install rain curtains over a segment of a swimming pool or to incorporate them into an outdoor kitchen design to create a spectacular design.
#4: Laminar jets
A growing number of people are using laminar jets and they have become so common that it is unusual not to find them in the landscaping surrounding warm weather hotels.
Because of the usage of programmable units, the streams of water that come from the jets have adjustable width. They can also be released intermittently if desired. LED lighting can also be used to create the illusion of a solid stream of liquid light, which can be highly captivating for pool parties held at night.
#5: Fountains
Fountains can be vast or delicate, rigorously modern or minimally baroque and sophisticated, simple or complicated. They can, and commonly do, feature a variety of statues, as well as built-in sconces or scuppers, and LED lights to heighten the sense of exquisiteness.
Fountains are generally always a stand-alone feature that are designed to serve as a decorative piece in and of themselves. Every fountain has a reservoir where water is collected and then pumped back to the top of the fountain.
#6: Sconces
In modern cities, like Athens or Rome, sconces may still be found littering the landscape. Classic sconces often include lions' heads or water "pouring" out of an amphora that is held by a cherubic figure as their focal point.
If you want to create an old world look and feel in your garden, you should definitely think about adding sconces that empty into little receptacle ponds to your landscaping.
#7: Scuppers
Scuppers are similar to sconces, except they are often wider, more numerous, and have a greater amount of water flowing through them. Scuppers are used to transport water from one level to another.
Sometimes the lower level is an existing inground pool, and other times it may be a separate canal with no connection to the pool. Filters are built in to ensure that the water is clean. Adding LED lights may transform a space into something spectacular in both appearance and feel. The costs are extremely variable.
The sound they make will be determined by the volume of water present and the height of the drop from one level to the following. It is possible to employ scuppers in conjunction with waterfalls and other components to create ornate structures that descend in stages and evoke the atmosphere of old-world palaces.
Water Feature Ideas for Your Backyard
After that, clear away any debris and use something flexible like a garden hose to outline the shape of the future waterfall. Adjust it to create the curves. Once you're happy with the form, trace out the final shape with spray paint. Then place the fillers to see if they fit and start digging the pond. The max depth should be somewhere around 18" to 20". You can use the excavated earth to fill in any low areas or to build up height in other places.
Once you're done digging the pond, level the filters at the bottom and make sure there are no dead zones that get little or no water circulation. the placement of the fillers determines the water flow. Then install the underlayment and add the stones on top of that. Arrange the stones so they look natural and, if you want, create caves for little fish or sculptural arrangements that stand out.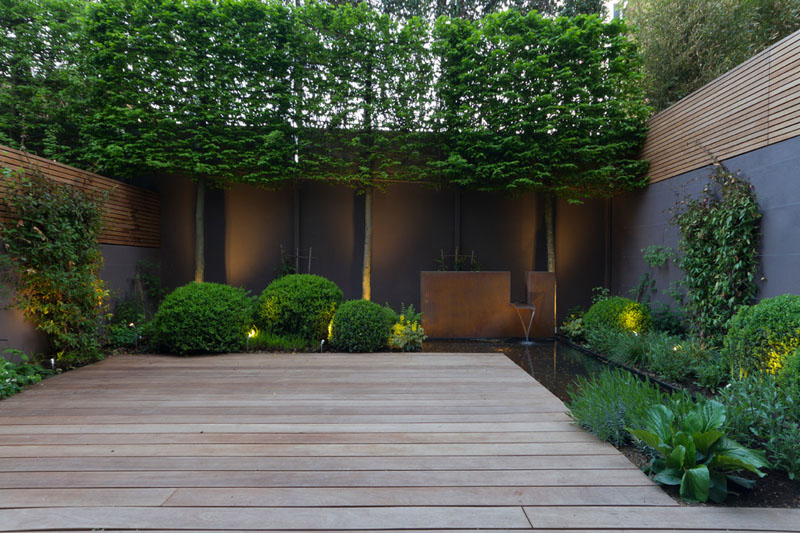 Of course, there are also a bunch of other details that you must take into consideration when building a backyard waterfall. For instance, the waterfall shouldn't overpower the yard so don't make it too big or too extravagant. Also, place it close to the house so you can always enjoy it and use local stone to make it look more natural. And then there's also the issue of customization which can pretty much change the whole plan.
Contemporary Yard Waterfall
If you've a fan of Asian design, architecture, and all this feng-shui, Jennifer Horn Landscape Architecture shows you how to make a water feature that looks about as relaxing as they can get. It helps block some of that traffic noise and creates a soothing ambiance surrounded by natural stone elements and greenery.
Spanish Colonial Water Feature
Greey Pickett delivers another amazing idea for those that want to turn a plain yard wall into a Spanish-vibe masterpiece. This Spanish Colonial setup implies making a tile backsplash to complete the look, creating a yard corner that balances natural elements with patterned tiles.
Natural Stone Waterfall
Another drop of inspiration comes from DC Freeman LLC, showing you how wonderful a natural stone waterfall can be when installed in the comfort of your own yard. The boulders have been painted to mimic the texture and appearance of what you would normally find on a hike in the middle of nature.
Modern Minimalist Water Feature
If you've ever wanted to have a yard with modern elements and a water body, Studio H Landscape Architecture is here to inspire you. The scenery includes a scupper that allows water to fall into a pond, offering one of the most soothing sounds you'll hear at the end of the day.
Garden Water Fountain
A fountain is a great way to add style, luxury, and tranquility to your backyard, so Stride Studio is here to suggest how you can set up everything to make it look amazing. Relying on stone as the primary material, this fountain is surrounded by greenery and a stone arch, offering the perfect spot to relax and take a few pictures.
FAQ
How much does a backyard waterfall cost?
The price of a backyard waterfall depends on the type of waterfall in question. A natural pond can cost more than $5,000, while a standard waterfall costs around $1,000. Laminar jets are less expensive and can cost as low as $500.
Can you build a waterfall in your backyard?
There are a zillion different ways to construct a backyard waterfall. The process consists of digging a hole in the ground, lining it with rubber membrane, then covering it with a pile of pebbles.
What is needed to build a backyard waterfall?
We've briefly described what you need to do in order to make a backyard waterfall, but there are more materials and tools needed for such a project. You're going to need tape measure, a spade, a utility knife, level, leather gloves, hammer, angle grinder, screwdriver, and a few other tools.