Artful Lighting Fixtures that Add an Out-of-the-Ordinary Touch
When considering new lighting fixtures, the first thought is usually about function. While that's important, lighting fixtures can do far more than fulfill a need for good lighting. An artful fixture can be a focal point, complement a room's decor or a touch of whimsy that other pieces cannot. They can be used for ambient lighting and even task lighting. Artful pieces elevate a space and put personality and preferences on display, creating a far more interesting interior space. So before you purchase a run-of-the-mill lighting fixture, consider opting for one that is unusual and as much artful as it is functional. Not sure what we mean?  Check out these fixtures that are far from ordinary.
Light and Leafy
This lighting fixture is by porcelain artist Andreea Braescu and is comprised of hundreds of individually crafted porcelain Ginko leaves. The massive fixture is ideal over a long dining table because it spans the full length and it forms a focal point of great interest. It is lighted to not only provide illumination but to play on light and shadow that falls across the sculptural piece. This type of fixture is best for a room that sees plenty of entertaining because it is definitely a conversation starter.
Lighting as Accessory
The geometric patterns in these round lights from Contardi are reminiscent of bespoke tweeds and retro textiles. Called the Babu, the fixture is part of the company's outdoor collection and uses an LED light source to highlight the decorative waterproof fabrics. A round steel frame is stylish as well as durable. These fixtures are not the typical outdoor accent lighting and lend a very sophisticated element to outdoor living spaces.
Modern Medieval
While this fixture might look like a modern version of a Game of Thrones prop, it is actually a vintage Torciere della Cultura Ceiling Light from the Converso Gallery. The piece was created by architect and artist Sami El-Khazim for the 1964 World's Fair in New York. The centerpiece of the Lebanese Pavilion was a monumental ceiling lamp that was produced by Arredoluce titled, 'Torciere della Cultura'. After the fair, the Shah of Iran purchased the fixture for his palace dining room. Later, it was sent to the Arredoluce factory in Monza, Italy, where it was reconfigured into this smaller version. This is a great example of an important vintage piece that can be a fresh addition to modern decor.
Futuristic
A bit like a fantastical living plant, this light fixture almost seems like it will start moving. Designed by Daniel Arsham for Friedman Benda, it is big, beautiful and highly unusual. This type of fixture is bold and brave, not for the traditional. From the curving base to the bud-like shade, it is a futuristic design that can't help but dominate a room.
Modern Wall Sconces
Galerie Kreo presented these chic wall sconces that are definitely out of the ordinary. With a feeling of both vintage glamor and modern quirkiness, they are more glass art than a simple light fixture. Actually, they provide a nice amount of ambient light and are a great choice for brightening up a darker corner or corridor.
Sculpted Light
Turkish designer Naz Yologlu's wall-mounted light sculptures have a mysterious air, created equally by the shapes, light elements and materials. All together, they form very intriguing fixtures that are a focal poo9nt wherever they are installed. Her Naaz Studio creates pieces for those who "are searching for an emotional element, who are excited about new forms and textures that stimulates the senses."  Totally unexpected in form and design, these light sculptures certainly fit the bill. They are presented by Galerie Scene Overte of Paris.
Ghostly Waves
Originally formed as oversized sheets of light, Partisan's Gweilo light is a fixture that entirely changes the nature of light. The sheet of plastic is heated and then hand-manipulated in an industrial oven. No two are alike because of the organic nature of the process. Once the sheet is formed, a thin metal strip of LED lights is attached to the edge, sending the light through the material and creating a beautiful, fluid illuminated form. Although the concept was born as a larger light sculpture, it has now been downsized into smaller sheets that are assembled into a stunning chandelier.
An Organic Stack
Rather than opting for the typical mini-pendant, try a more unconventional shape like the Cairn Pendant from Hubbardton Forge. The varied stack of organic glass discs was inspired by the stone sculptures that can be found across the globe. In between the glass forms, stone shapes that have been cast from steel add visual interest. Although the light source is at the top of the fixture, illumination spills through all the layers, creating an appealing glow.
Artful and Avant-Garde
In a combination of can't miss hot pink and vibrant orange, these cactus light fixtures by Jonathan Trayte are not for the timid. The artist is known for combining natural forms with completely unnatural colors and finishes in an oddly appealing mish-mash of function and absurdity.  Called the Hot Pink Solar Buzzer, this floor lamp brings up visions of Dr. Seuss from childhood, which is likely at the root of its immense charm.
Geometric Style
Reminiscent of a Calder mobile, the lighting fixtures by French architect Odile Decq have fresh appeal as a wall sculpture. Decq is known as "a creative powerhouse, spirited breaker of rules and advocate of equality." Moreover, she has advanced the stature of women in architecture. So, it's no surprise that her geometric lighting designs are highly architectural, different, and highly ingenious. Black metal forms the stark lines of this fixture, which is punctuated by the spare lighted shapes.
Retro Glass in a Modern Design
The term Pyrex conjures up images of grandma's old plates and ovenproof dishes, but in this dramatic fixture, it is the main material. Designed by Bethan Laura Wood, the Criss Cross Kite ceiling light is hand-blown pyrex in both clear and amber colors. The bell ends hold LED lights that — at least from a distance —  resemble eyeballs. The inventive piece was designed for Nilufar Gallery, with whom Wood works closely for limited edition and one-off designs.
Morphing Bubbles
An assemblage of hand-blown glass pendants creates the feeling of organically shaped liquid bubbles floating in the air. The "Crumpled" pendants by artist Jeff Zimmerman, are representative of his designs in glass, which the R and Company Gallery says hover "between liquid and solid states, its reflectivity and tactile qualities, its habit of moving constantly while still molten." The pendants have a unique combination of qualities: an ethereal look, feeling of motion and a distinctive pattern in the glass.
Brutalist Modular Design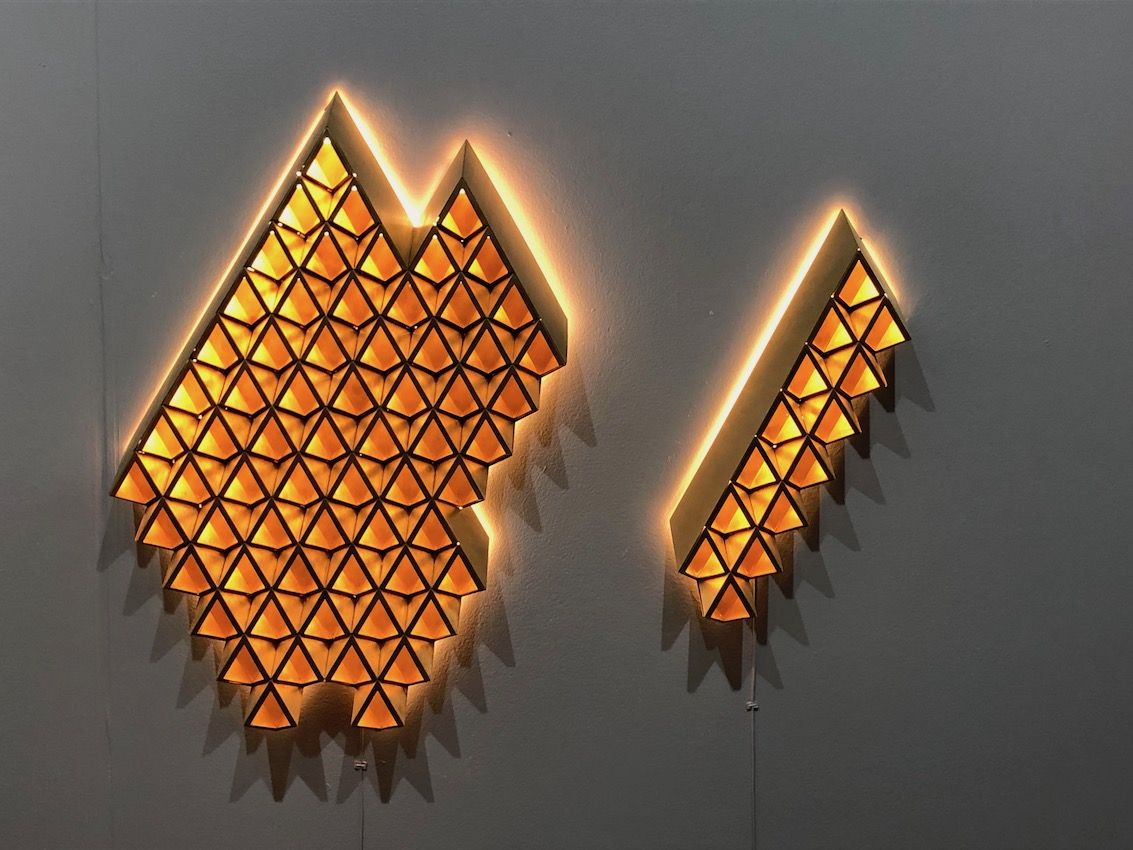 Brooklyn-based Talbot & Yoon created this customizable, modular Sharp Diamond Light that is a marvelous piece of wall sculpture. The fixture is a tribute to the pair's favorite brutalist architecture: Louis Kahn's design for the Yale Art Gallery ceiling. The light source is behind the precisely folded metal design that emits a warm glow and casts interesting shadows on the wall. The individual components are versatile and can be used singly or grouped in various designs, creating unique pieces as large as you want. The fixture is crafted from satin brass and features the LEDs are mounted on the back pane, which is made from aluminum.
Perfectly Peculiar
Looking a little like something from a Tim Burton movie, Brecht Wright Gander's Archon lamp really defies description. Its name is the word for "ruler" in Greek and the floor lamp is spiny and imposing, with a fleshy life-like pink interior. So striking is the top of the design, one might overlook the bottom element, which Gander says is like "a vulnerable pupa which the lamp protects." He also describes it as a vein that pumps power to the fixture. The Archon, shown by the Todd Merrill Gallery, is made from steel, plaster wrap, metal leaf and wire mesh, finished with pearlescent paint glaze that give it a bit of shimmer.
Modern Flora
Galls fixtures by artist Tracy Glover are always stunning and this chandelier is no exception. The smoky gray-green glass is blown into organic cup shapes that when mounted with the bulbs, resemble open flowers along a branch. This type of fixture is very artistic and stands out, but is elegant and serene enough for homeowners who might not be game to invest in some of the bolder fixtures we've shown here. The style is still very distinctive and makes a definite design impression.
The number and styles of artistic lighting fixtures that are available are on the rise, thanks to super creative designers and the opportunities for new forms using LED technology. There's no reason to settle for a basic lighting fixture when there are so many design-forward options out there. All you have to do is decide how bold you want to go, and narrow the choice from there.