Thanksgiving Colors Anyone Can Decorate Their Dining Room With
Thanksgiving is right around the corner, which means it's time to start decorating. Picking your Thanksgiving color can be a daunting task, but all you really need is a nudge in the right direction. Find your taste, and we don't mean pumpkin pie.
While most people pick up a pumpkin, add some new china, and call it good. But there is more to it than that. These popular Thanksgiving colors and unique Thanksgiving colors will leave you wanting even more!
Sage And White
You can pair sage with just about any neutral color for an elegant and charming Thanksgiving table. In this case, we have chosen white, or cream, as the top color of the season to pair with sage. The combo is earthy, yet sophisticated.
You really can't go wrong with this combo. It's not hard to find decor, even at the grocery store, and it looks as high-end as can be. Adding gold dinnerware instead of silver can really bring this look together.
Orange And Green
Orange and green are a classic combination. Most people have used the combo at least once at their Thanksgiving table. But just because it's a classic, doesn't mean that these Thanksgiving colors should go out of style.
What's so amazing about orange and green in Thanksgiving colors is that all you need is a pumpkin and a little greenery. You can even add real plants to your table to give a fresh look and smell to your dining room.
Shades Of White
The best thing about using white as a background is that you can add as many small pops of colors as you want. Find your favorite fall decor and incorporate it into your Thanksgiving colors scheme.
If your kitchen is decorated with roosters year-round, then consider switching the decor out for turkeys in the fall. It has the same look but fits the season a bit better. Not to mention, buying new dishes is exciting.
Blue And Orange
You can choose any shade of blue and orange and you can have unique, exciting Thanksgiving colors. Most people tend to pair orange with green or brown for Thanksgiving, leaving out one of the few colors to contrast it.
If you live on the beach but want to bring autumn into your home, this Thanksgiving color scheme could be perfect for you. It still has the beachy feel because of the blue yet the orange keeps it warm. Add sprinkles of sandalwood for another beach-Thanksgiving marriage.
Plaid And Pastels
Plaid is such a great pattern for Thanksgiving decor. You can get beautiful napkins and table runners in just about any color you want in plaid. That's why pairing pastels with plaid is such a great way to set your Thanksgiving colors.
When choosing your pastel, you can really go with your gut instinct. But if you still need help, consider choosing a pale green or orange. Both of these are easy enough to shop for and add a lot of personality to the table.
Just Orange
One of the sweetest Christmas movies is called Christmas Oranges and it teaches gratefulness better than just about any other. So why not share that message on Thanksgiving day with these bright Thanksgiving colors?
The story of the Christmas Oranges follows a young orphan girl who looks forward to the traditional Christmas orange brought by a loving neighbor. The story brings laughter, tears, and gratitude, all of which should be shared this time of year.
Eggplant And Green
These Thanksgiving colors bring Italy right to the table. The eggplant color is inspired by grapes and the green by the greenery found in a vineyard. While Thanksgiving in November is an American holiday, there's no reason that it can't be multicultural.
Although adding real fruits and veggies is ideal, it isn't necessary. You can use plastic food or just use the color scheme as your inspiration. Add a few bottles of wine around the dining room and table for an authentic Italian vineyard look.
Yellow And Pink
People obsess over fall colors such as orange and brown. But more often than not, they leave out yellow altogether. Try thinking outside the box and pair pink with this forgotten Thanksgiving color.
The great thing about yellow is that you can add any other bright color with it and it will merge well. If you prefer blue or purple instead of pink then go for it. The yellow will keep things festive, giving you the freedom of color.
Brown With Wood And Twine
While wood and twine aren't exactly colors, they give you a nice Thanksgiving color scheme to work with.You can use natural twine and sliced wood or you can buy them online or from most craft stores.
If you live in the Midwest or the South, you have probably been to a Thanksgiving gathering that looked like this. If you want to add authenticity, you can use burlap table runners and use haybales for seating.
Grey With Cool Tones
There are so many colors that you can pair with grey, but with Thanksgiving, it's hard to resist going with cool tones. Most Thanksgiving tables are cluttered with warm reds, oranges, and browns. So it can be refreshing to see a grey base.
If you don't have grey furniture or area rugs, don't fret. Any base works with grey. Just make sure that the other tones are neutral and that you add pops of Thanskgiving colors to the table. You can never go wrong with white pumpkins.
Black And White
Just like with any season, you can't go wrong with black and white. This color combo makes for great Thanksgiving colors too. While black and white can often come across as cool, when paired with a few warm touches, it gives your Thanksgiving table a cozy feel.
If you're worried about this look coming across as Halloween or Addam's Family, then add pops of color or tone down on the black. How much of each color you use can determine your end result.
Copper And Teal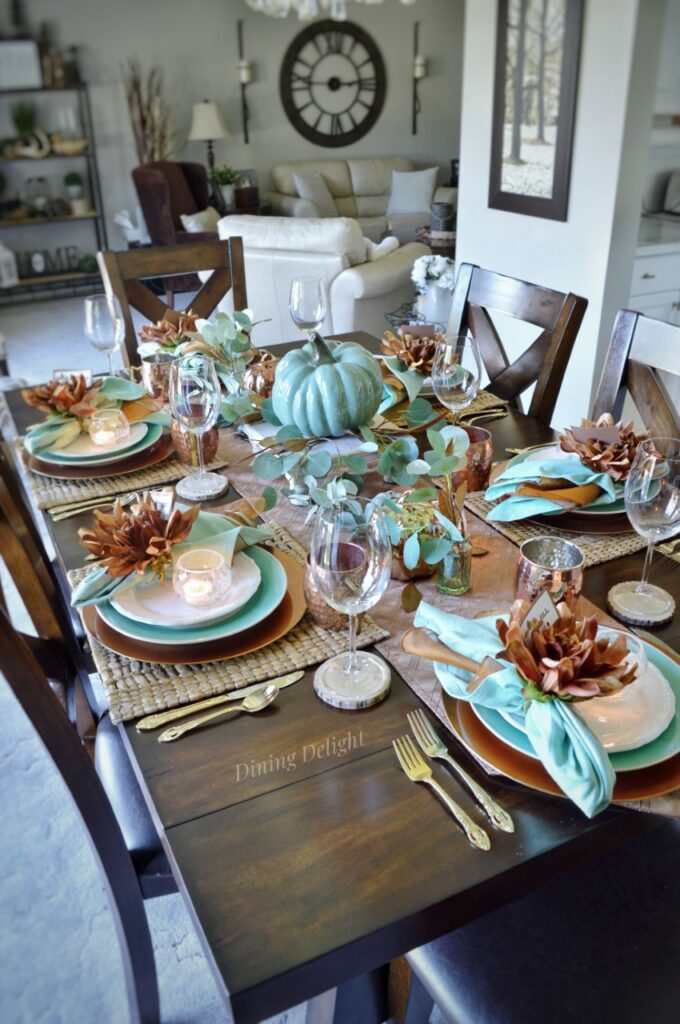 Copper dishes are plentiful right now and every home should have some. If you can find dishes with teal or aquamarine rims or details, you have got it made for Thanksgiving. These Thanksgiving colors are unique yet welcoming.
Both light and dark teal are acceptable when using teal for Thanksgiving colors. Light teal is airier while dark teal is more intense. If you add cream or white, you may want to use light teal. If you add orange or red, you probably want to go with dark teal.
Brown And Cream
Inspired by the original Crock-Pot, this look will give a vintage feel to your dinner. The invention of the Crock-Pot changed the way we do Thanksgiving. Every home should make use of it on this blessed holiday.
For this look, you can add acorns or pinecones for a nature theme or keep it classy with candlesticks and origami napkins. The choice is yours. All you need is a cream table cloth with a brown centerpiece and you can go from there.
Blue Willow
Blue Willow dishes are one of the most sought after antique dishes that money can buy. Using them as the inspiration for your Thanksgiving colors is such an amazing idea! There is such sophistication and class in this look.
If you can't afford Blue Willow dishes, you can buy copycats at a very affordable price. Just look for blue and white dishes and find ones at a price you can afford in a pattern that you love. Or try using plain dishes and painting your pumpkins like Blue Willow.
Gold
Whoever said that you can have too much gold was wrong, especially at Thanksgiving. Gold symbolizes prosperity, understanding, and generosity. It's not just a flashy color for showing off, it's a color with spirituality.
You can make gorgeous decorations at home too with gold glitter and spray paint. Get any color of pumpkin and use stencils or paint the whole thing gold. Then add more shades of gold with dishes or use clear dishes to accent the other golden features.
Pink And Gray
This color combination is exceedingly popular this year and with good reason. There's no reason that such taste should disappear at Thanksgiving. Pink and gray make great Thanksgiving colors every year.
If you really want to make this color scheme special, you can add real pink roses or other pink flowers. Use grey table runners and pink dishes, or vice versa. You can even incorporate different shades of pink to add depth.
Red And Turquoise
Turquoise is perfect no matter the season, but the color you pair it with will have an effect on what ambiance your room gives off. When paired with red for Thanksgiving colors, the warm hints in turquoise items seem to pop.
Red and green are for Christmas, but how do you use red for Thanksgiving if you love red and green? By pairing the red with turquoise. This way, you can slowly transition to Christmas decorations after Thanksgiving.