Thanksgiving Colors Anyone Can Decorate Their Dining Room With
Thanksgiving is approaching, which means it's time to decorate your home. For this feature, we will showcase Thanksgiving colors anyone can decorate their dining room with that will augment your holiday season. Choosing the best colors is daunting, but all it takes is a nudge in the right direction, and we don't mean pumpkin pie.
Most people will start with a pumpkin, add new china to their collection and call it a day. But there's more to it than that. As you will discover, the following Thanksgiving colors will leave you wanting more than just turkey and cornbread.
Thanksgiving Colors For A Festive Day
The Most Popular Thanksgiving Color Combo: Sage And White
When pairing sage, neutral colors are recommended. The color combination provides for an elegant and charming Thanksgiving table presentation. In this example, we have chosen white, or cream, to pair with sage. The look offers a pastoral yet sophisticated feel.
It's not hard to find holiday decor, even at grocery stores. Choosing gold dinnerware instead of silver can complement this look.
Orange And Green
Most people have used the orange and green combo at least once for their Thanksgiving table. Although it's the most classic color pairing found in midwestern homes like Kenosha, Wisconsin, and Des Moines, Iowa, it doesn't mean this is your only option.
With orange and green colors, you won't need more than a few pumpkins and real plants to complete your living room design. And after you have butternut squash, fresh cranberry, and apple pie sitting on your table, your family and guests will be more than impressed.
Shades Of White
When using white as a background, you can add a small color pop however you choose. Discover your favorite fall themes and incorporate them into your color scheme.
You'll find that many American kitchens are decorated with roosters, but this holiday, you can switch them with turkeys. Different shades of white like cream, dirty cream, and light pink cream have become emerging colors, especially in homes located in metropolitan cities like Miami or Atlanta.
Blue And Orange
Most people tend to pair orange with green or brown for Thanksgiving, leaving out one of the few colors to contrast it. But feel free to experiment this year and choose blue and orange to create a unique holiday home experience.
If you live on the beach and want to bring autumn into your home, this color scheme could be for you. It combines the blue feel of the ocean and the warmth associated with orange. You can also add sprinkles of sandalwood for another beach-Thanksgiving marriage.
Plaid And Pastels
Plaid is a common Thanksgiving pattern. You can find napkins and table runners in almost any plaid color you desire. That's why pairing pastels with plaid is an effective way to establish your holiday colors.
When choosing pastel colors, follow your instincts. Should you require assistance, consider a pale green or orange motif.
Just Orange
Orange inspires a variety of emotions. As a fruit, one of the first things that come to mind is the state of Florida, also known as the Sunshine State.
Top Florida agriculture exports include tomatoes, sugar cane, grapefruit, and sweet corn. The colors of the farm-grown items can be found in homes across the state, and by using just orange, you can capture that Thanksgiving feel that any home would enjoy.
Orange endemic of Thanksgiving and Christmas, so why not include the color in your living room design?
Eggplant And Green
Why not bring Italy into your living room this year? In the above photo, you'll notice the eggplant color is inspired by grapes while green represents a classic country vineyard. Although an American holiday, there is no reason why Thanksgiving can't be a multicultural celebration.
Although adding real fruit items and vegetables would be ideal, it isn't necessary. You can use plastic to achieve the same color scheme. With a few bottles of wine strategically placed in the dining room, your table will have an authentic Italian vineyard look.
Yellow And Pink
For some reason, yellow is often excluded from fall color schemes. For this holiday season, think outside the box and try a yellow and pink combination to enliven your Thanksgiving home atmosphere.
With yellow, you can add other bright colors that will blend in as well. If you prefer blue or purple, then go for it and see what happens. The yellow will keep things festive, giving you the freedom to utilize other colors.
Brown With Wood And Twine
While wood and twine aren't technically colors, they do offer a color scheme that is easy to work with and build upon. You can use natural twine and sliced wood or find such items at most craft stores.
If you live in the American Midwest or South in states like Missouri and Texas, you have probably seen similar holiday designs. If you want to add authenticity, you can use burlap table runners and haybales for seating.
Grey With Cool Tones
There are many colors that pair well with grey, but for Thanksgiving, it's hard to resist going with cool tones. Most tables are cluttered with warm reds, oranges, and browns, it can be refreshing to see a grey base.
If you don't have grey furniture or area rugs, don't worry. You'll need to make sure the other tones are neutral if you add them to your table. You also can't go wrong with white pumpkins.
Black And White
With any season, black and white colors can help you achieve the look you desire. This color combo is also a popular Thanksgiving choice. While black and white pair can often come across as cool, especially implementing a few warm touches.
If you're worried about this look coming across as a Halloween theme, then add color or tone bursts over the black. The amount of each color you use can determine your result.
Copper And Teal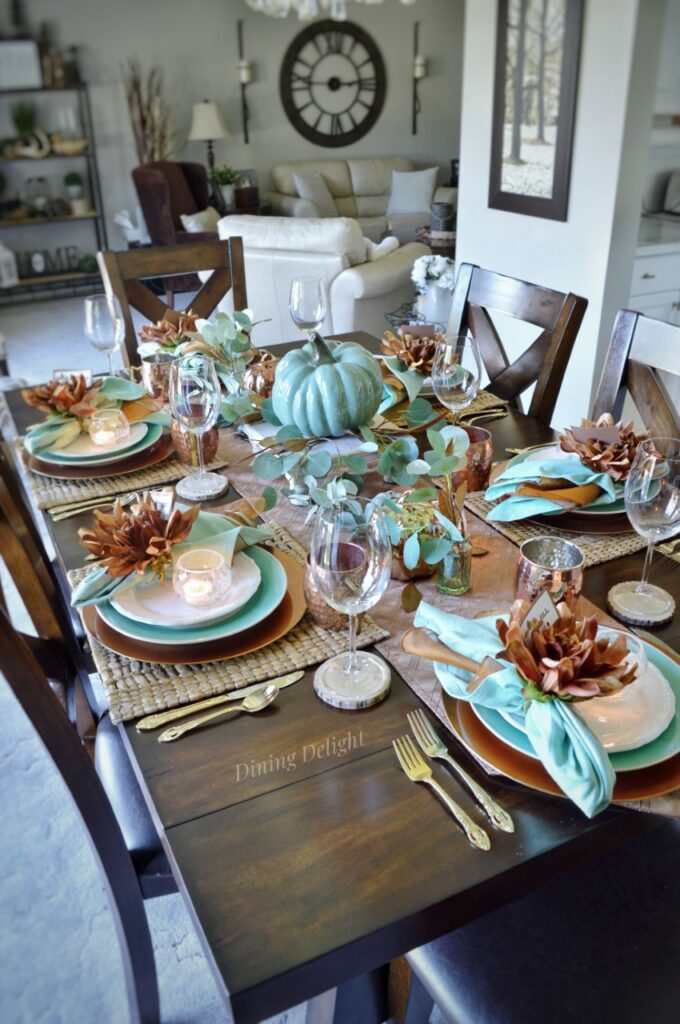 Copper plates are experiencing a resurgence in homes located in US cities like Los Angeles and Dallas. If you can use these plates with teal or aquamarine rims, your holiday setup will be memorable.
Light and dark teal are favorite Thanksgiving colors. Light teal is airier, while dark teal is more intense. If you add cream or white, you may want to use light teal. If you add orange or red, you probably want to go with dark teal.
Brown And Cream
Inspired by the original Crock-Pot, this look provides a vintage feel for your dining room. The invention of the Crock-Pot changed the way Americans celebrate Thanksgiving.
You can add acorns or pinecones for a nature theme or keep it classy with candlesticks and origami napkins. All you would need is a cream table cloth with a brown centerpiece and then go from there.
Blue Willow
Blue Willow dishes are the most sought-after antique dining ware. The antique style offers sophistication and class. You may find it hard to believe, but Blue Willow china was invented in England during the 18th century by Thomas Minton.
In the early 1900s, the china emerged in Buffalo, New York. The designs typically feature images of boats, trees, and Asian pagodas.
As a holiday inspiration source, you can add orange and brown hues to give your dining room a complete Thanksgiving look. Photos of the color scheme are popular on TikTok and Instagram and feature table designs from US cities like Seattle and Baltimore.
Gold
Whoever said that you can't have too much gold was wrong, especially for Thanksgiving. Gold symbolizes prosperity, understanding, and generosity. It's not just flashy as the color also represents spirituality.
You can make home decorations with gold glitter and spray paint. You use stencils and paint to color your pumpkins gold. Afterward, add various gold shades with plates or use clear dishes to accent the golden hues.
Pink And Gray
This color combination is exceedingly popular this year and with good reason. Such class shouldn't diminish during the holidays. Pink and gray are a favorite Thanksgiving color scheme.
If you want to make this color scheme special, you can add pink roses or other flowers. Grey table runners and pink dishes are a popular choice among homes across America. You can also incorporate different pink shades to add depth.
Red And Turquoise
Turquoise is ideal for any season, but your color pairing will affect the overall ambiance of your dining room. When paired with red Thanksgiving colors, the warm turquoise hues will spring to life.
Red and green are for Christmas, but what about Thanksgiving for those who love the traditional yuletide colors? Try red with turquoise and watch what happens. With this combination, you can slowly transition to your Christmas decorations.