Everything You Need To Know About Ranch Homes
When you hear the word "Ranch" it's common to think of a salad dressing or a farm full of roaming cows and cowboys. However even though we're discussing the ranch house style, all three evoke feelings of home and familiarity. Many people grew up in a ranch home and the thought brings warm memories about a childhood full of TV watching, Elvis listening and spaceship dreaming. But nowadays, ranch houses are so common that we pass right by them without a second glance. While they might seem like nothing special, they do deserve a moment in the spotlight, if only to receive the updates and love they deserve. Here's everything you need to know about ranch homes to get you started.
History
The ranch house first made it's appearance in America in the 1920's, in California in particular. Inspired by the Spanish styles of the 19th century, these homes could be found on the working ranches of the west. With sprawling layouts, stucco walls and wide eaves, they were easily modified to fit their surroundings, creating a comfortable home for it's inhabitants. Come the 1950's, ranch style homes were nine out of ten new houses, taking the U.S. by storm. While they had some mixed styles based on region like Colonial or Craftsman, they always kept the same basic ranch elements.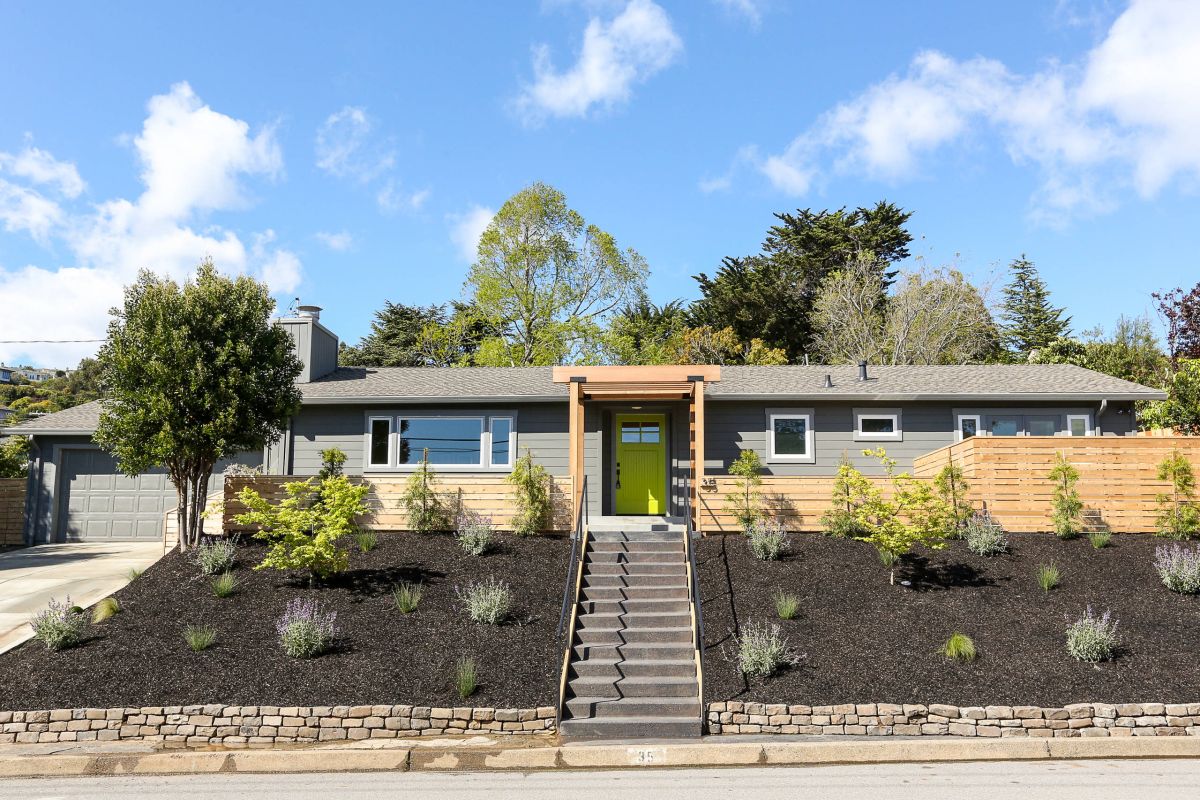 By the late 1960's, American's architectural tastes moved toward more traditional styles and the ranch homes became cheap boring housing and by the 70's, no one was building ranches anymore. However more recently, the interest in the original ranch house has begun to increase. The younger generation that are interested in preserving and maintaining history are acquiring the original ranch styled homes of the 50's and bringing them up to date. They have even begun to take the classic elements of a ranch home and create a completely new and fresh look with them, showing us how history can be preserved and upgraded at the same time.
Features
One quite noticeable feature of a ranch home is the sprawling layout. These houses are by no means compact. The interior boasts large open living spaces and sleeping areas are usually in a separate part of the house. Since all that floor space is all on one level, you obviously need the land to accommodate.
While there are a few examples of a two story ranch house, almost all of them are a single story. When you live in a hot place, the last thing you want is a home that collects heat all up in the bedrooms. So a single story makes sense. Plus it's welcoming to all visitors, whether new or old, on two legs or four.
Often, you'll find that a ranch house is laid out in a U shape or an L shape. This creates a rather protected backyard area for hosting and relaxing. You'll definitely want to hire a landscape designer for this area because it will be the view out of many windows.
When the weather is as stunning as the view, it makes sense to splurge on your outdoors space. Ranch homes know how to use the backyard footage to it's full extent. Many ranches have a connecting patio in their backyard, effectively expanding their living space. Add a pergola to make it really stand out.
If the ranch is a little more custom, your backyard might even be able to boast a pool. It's really the perfect backyard for it because the long house will protect your pool and adjacent patio from view of the street. Your backyard will be the gathering place.
Not only will your ranch probably have a patio and possibly a pool, many ranches have multiple back doors that all lead to the same place. A door from the kitchen, a door from the living room and even may be a door from the bedroom will all look out onto your patio, making it easy for you to embrace the loveliest days.
A patio isn't the only thing you'll find on a ranch house. So many of them have large porches as well. Not the decorative, display a potted plant porch. The gather in the rocking chairs, strum the guitar, drink lemonade porch. The kind that beckons friends and neighbors to sit a spell.
It's lucky for you that ranches enjoy the luxury of attached everything. You'll probably find an attached garage as well. Some of the older ones are front facing garages but in more recent years, any newer ones hide it well by facing the garage to the side or even the backyard.
To accompany your attached garages, it's likely that you'll find a large drive as well. While you probably won't be shoeing horses or branding cattle on it, it's a great option for families with children. There is lots of space for biking, chalk drawing and someday, multiple car parking.
Since the original ranches were modeled after Spanish styled houses, the ranches of the west will probably be covered in stucco. Being a natural material, it shouldn't be expensive to maintain and it will give the exterior of your home a calm look.
Of course like many other homes, ranches are rarely just one material. Usually you'll find two or more kinds on the exterior of a ranch. Brick is always popular and if you're lucky, it might already be painted. Shingles are a newer feature but no less welcome.
For a more modern look with the same rustic charm, consider using concrete on your ranch's exterior rather than brick. Paired with wood, it makes a nice contrast with the duel tones and it will stay in style for a long long time.
Say hello to large windows because your ranch is going to have some. When the landscape around you is so beautiful, it's impossible to cover up the view with wall space. Embrace the glass, even if you might need to replace a window or two in your updating process.
When the hot sun is beating through those big windows, the thing you want most is a little shade. Lots of ranches have deep eaves that provide some respite from those rays. Or you might have a porch over the largest windows to protect them from the sun entirely.
Sometimes custom windows can be expensive, especially if your home is older. Thankfully if you live in a ranch home, there is nothing wrong with replacing your windows with doors. At least french doors. There will only be happiness when you can throw them all open in the spring and let in the fresh air.
You'll find decorative shutters on many houses nowadays but you'll almost always find them on the original ranches. When your exterior is mostly brick and your windows hug the eaves, shutters are a simple solution to add interest and provide personality.
Those shutters also provide the perfect place to add a pop of color to your home. While landscaping will do that for some of the year, it's helpful to have shutters in blue or green or even red to give you that brightness you'll lack in the winter.
Don't forget to look past your shutters and pay attention to other details. A red brick walk might look stunning against your stucco house. Some detail around the eaves might help your rustic ranch blend into your traditional neighborhood. And you can't say no to a bright front door.
If you really want to take hold of the classic ranch style, you'll have to give a nod to the Spanish style as well. A terracotta roof will set the tone and all you have to do is add rustic wood elements like shutters and a big ol' front door. Don't forget to paint your exterior white to make all your Spanish elements stand out.
Obviously when it's your home, you don't have to follow the classic style. Upgrade however much you choose! A modern ranch like the one above has even more windows, black and gray accents and a boxy look. But the long one story layout still defines it a ranch, making it a beautiful example of modern architecture mixed with a classic style.
Modern ranch home in Colorado
In case you're wondering what a modern ranch home looks like, check out this beautiful build by studios Axial Art Architecture and rebaL Design. It's a house that was built in Granby, Colorado and its overall aesthetic is a beautiful blend of rustic, modern and industrial elements. From the outside the rustic details are prominent but the large windows and openings give out the modern side of this design. Inside, the house is very welcoming thanks to the reclaimed wood, sliding barn doors and the warm and comforting colors and textured used.
A beautiful ranch remodel in the Rocky Mountains

Old ranch houses are great because they have that authentic and rustic look that modern home seek to replicate through various different means. In that sense, a remodel or renovation can turn out to be an ideal project. Studio Design Workshop worked on such a project a whole ago. They were tasked with reimagining a ranch house located in the Snowmass village in the Rocky Mountains. The property consists of a main house, a finishing cabin, a pavilion, a storage barn and a caretaker house. The main goal was to preserve the authenticity and rusticity of this place while giving it an update. It all turned out spectacular.
Remote ranch house with a contemporary design in Four Corners
This 100 acre site is situated in the Four Corners region which is between Colorado, New Mexico, Arizona and Utah. It's a remote site without many neighbors and that makes it a nice spot for a vacation home, a quiet and distant place away from everything and everyone. This is where studio Surber Barber Choate + Hertlein Architects were asked to built this modern ranch-style home. In time, this became a permanent home and evolved to contain more spaces and to interact with its surroundings. It's now a wonderful source of inspiration for similar projects.
A rustic ranch house in Wyoming
This house is located on a big property in Sheridan, Wyoming and was designed to have this authentic rustic look and to blend into the landscape and the surroundings as best as possible. It was a project by Faure Halvorsen Architects and the house is big, measuring in total 3,000 square feet. It has three bedrooms and three bathrooms as well as lots of social spaces both indoor and outdoor. It's meant to look as if it's a part of the land, as if it's been here since the beginning of time and the overall rustic aesthetic definitely helps with that.
A classic ranch house in Montana

This ranch house from Livingston, Montana has a pretty classic look. It's rustic and exactly what most of us imagine a ranch house would look like in a beautiful rural setting. It was up to studios Miller | Roodell Architects and Yellowstone Traditions to preserve its charm and beauty and to reinvorate the property. The plan was to retain the original building materials and to repurpose some of the annex building present on the site. The granary for example was transformed into a guest house and a barn became a gathering hall, functions that are much better suited for the present times and the needs of the owners.