12 Must-Have Elements of Parisian Style Home Decor
It's that "je ne sais quois" — a hard to define characteristic that makes something stylish. Just as French women have an alluring mystique, so do homes decorated in the Parisian style. In both cases, they are very chic, have an element of the unexpected, and appear effortless. Most of all, they are not perfect: Stacks of books are not lined up with military precision. Drapes hang loose and billow in the breeze. A collection of photos is scattered across a table. While everyone has their own idea of what Parisian decor looks like, there are a dozen must-have elements that any chic apartment or home will include.
A Beautiful Bath
A luxurious bathroom in Parisian style will definitely feature a freestanding tub. Whether it's a vintage claw-foot tub or one of the many new free-standing designs that are currently in vogue, it will lend instant charm to a bathroom. Pair it with ample drapes, plush towels and golden hardware and you're well on your way to French style. If you have room, a small side table is a chic and functional addition for those evenings you'll spend luxuriating in your tub.
Antiques
Even when a Paris apartment trends to the modern, it will include a few antiques. It's part of the eclecticism that contributes to a feeling of effortless style. Whether it's a couple of small side tables or a large piece like a credenza or an armoire, it will add something old and an air of sophistication.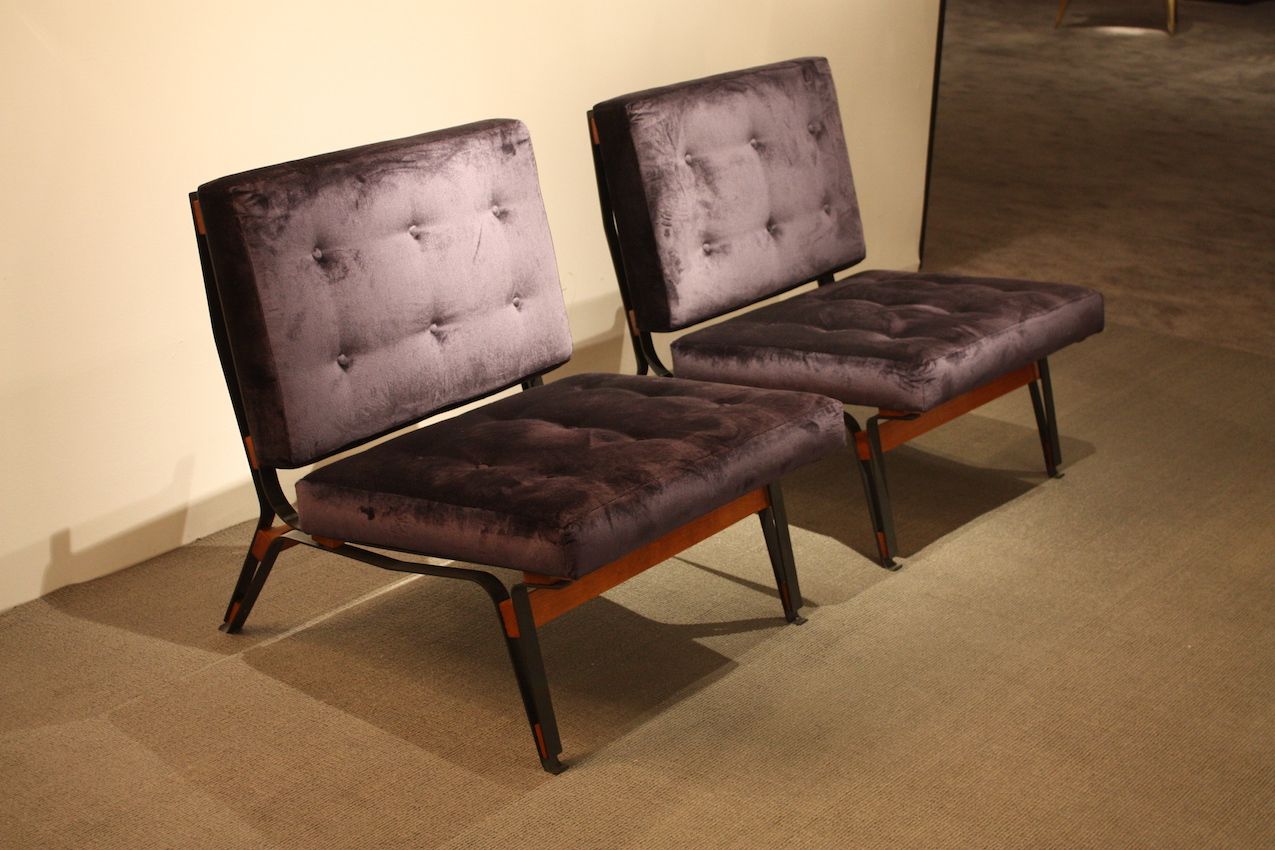 Brocade and Velvet
Choice of fabric for upholstery is also important. Two types of textiles are key for Parisian decor: brocade and velvet. The volume in which you choose to use it depend on your individual style. For a light and breezy feeling, limit velvets and brocades to a chair or two and some cushions. For a more sumptuous, luxurious or formal feel, use larger pieces — or drapes — made with these fabrics.
A Touch of Rococo
Rococo is an architectural and decorative style from 1720's France. An evolved version of Baroque, it features elegant elements of different materials, and yields a delicate effect. Ornamental work typically shows shellwork, foliage, feathers and so on. The lines of its furniture are all curves and include rounded, full-bellied pieces.
A Piece of Modern Art
Somewhere amid the antiques and velvet-covered chairs, add a piece of modern art. It's a sophisticated dose of the unexpected that keep your decor from becoming too serious or stuffy. Remember that Parisian style is imperfectly perfect and is about featuring personal favorites. So whether it's an abstract painting by your art-student cousin, a large piece by an up-and-coming local artist, or a true modern masterpiece, display it proudly.
Crystal Chandeliers
Chandeliers are an easy way to add immediate drama and style to a room. By now, you know that they are not limited to an entryway or formal dining room as they were just a few decades ago. And, for Parisian style, make sure you're opting for a crystal chandelier. The shimmering bling of an ornate light fixture is appropriate for any room – especially a bathroom — and adds a healthy dose of the unexpected.
A serene color scheme
While we love color just as much as the next person — ok, probably even more — Parisian style is not realm for lots vibrant hues. It's more about a serene palette of neutrals with a hint of color, or accent pieces upholstered in a bolder shade. Keeping the bulk of the decor in a tranquil color scheme contributes to the feeling of chic effortlessness and allows details like architectural elements to seem more pronounced.
Architectural Elements
And speaking of architectural elements, these are another common feature in Parisian style. This might have come about because of the nature of apartments and homes in Paris, there's no reason you can't recreate the same details in a modern space. Take note of the details around the fireplace, mirror and ceilings. Architectural framing and wide, elaborate molding that extends onto the ceiling are key in creating a Parisian vibe.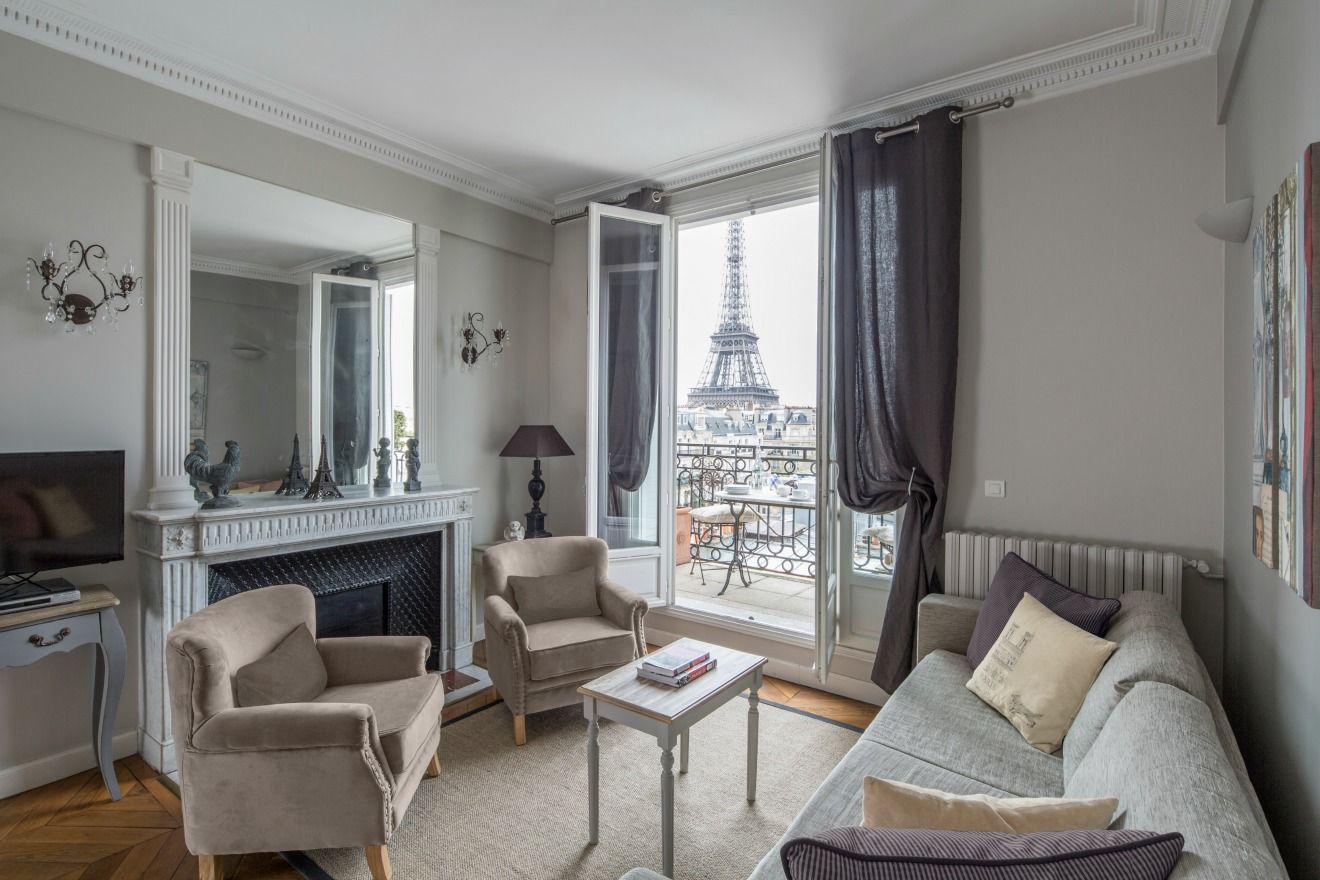 Gold metallics
The only metal you should choose for a Parisian style room is gold. It can accent a modern style fixture or furnishing, or be the defining feature of a more vintage style piece. Either way, use it in good volume, according to your personal taste. This is another important consideration about Parisian decor: It's not forced. It doesn't matter how spectacular a room is, if you are not comfortable living in it, it won't feel natural or effortless.
Curated eclecticism
Parisian style is a perfect framework for combining your assorted stylistic pieces and combining them in one unified decor concept. The room below is bolder than the other examples we've shown you, but it still works. It pulls together contemporary elements like the modern chandelier and striped drapes, combining them with a rococo gold wall frame, traditional sofa and assorted accessories. In addition, it includes fresh flowers, which are also commonly found in French decor. C'est magnifique!
Dramatic Draperies
One of the best elements of Parisian decorating style – in our humble opinion — are the drapes. They can be stateey and velvet, or airy and light, pooling on the floor. Either way, they should start at the ceiling and extend at least to the floor, giving the illusion of added height to a room. Ample fabric also gives a luxurious feeling to whatever type of textiles you choose.
An Armoire
Of all the furnishings, nothing seems more typically french than an armoire. They are versatile pieces for any room of the home. You can display favorite accessories and store basic necessities. Even better, an armoire can also hide a television and electronics, which definitely do not contribute to the Parisian feel of a room. They come in all styles, making it easy to find something that fits with the rest of your Parisian decor.
Rather than a defined set of rules, these are a general collection of elements that are common in Parisian style decor. They leave plenty of room for your own preferences and style choices because, above all, a space must be comfortable and liveable. Focusing on details and artistry are the characteristics that make the French impossibly stylish, from their clothing to their pastries and their apartments.