Craftsman Interior Doors: Choosing the Right Type for Your Home
Craftsman interior doors are the ideal finishing touch on a Craftsman-style home. It is a small detail that reinforces the overall design style to bring a greater look of authenticity to the home.
This American style door "encouraged originality, simplicity of form, use of local materials, and handcrafted quality" according to Arts and Crafts Homes.
Though Craftsman style interior doors suit craftsman style homes the best, this simple design style also works for traditional, farmhouse, rustic, and even contemporary style homes.
---
What are Craftsman Interior Doors?
Craftsman interior doors are known for their simple and unaffected design. The most historical Craftsman door design is one with two lower vertical panels that cover the bottom two thirds of the door. These intersect a single horizontal panel on the top that covers the top third. This is a common design for Craftsman front doors with the top panel made from one or several glass inserts.
Most Craftsman-style interior doors feature recessed panels with straight and square or eased edge stiles and rails. Though there are also some curved varieties called Storybook-style with an arched top panel and top rail. Also, most Craftsman interior door varieties feature solid wood panels, some have glass panes such as interior french doors to allow light to filter from room to room.
---
A Brief History of the Craftsman-Style Home
The Craftsman style home was the dominant home design style in the United States from around 1905 through the 1920s. Numerous artists and designers were influenced by the ideas of the Arts and Crafts Movement in England.
These ideas celebrating simple forms and hand-crafted items were first introduced in the US by furniture maker Gustav Stickley and promoted in his magazine The Craftsman. In California, two brothers, Charles and Henry Greene began to build homes according to this new philosophy. Their designs emphasized simple straightforward designs with a focus on natural forms and materials. In 1903, they first started designing homes that became known as "Craftsman bungalows." By 1909, they had perfected this style and promoted it in magazines such as Good Housekeeping, House Beautiful, and The Ladies Home Journal.
The small one-story home style became the most popular. This incorporated features such as low-pitched roofs, timber frames, exposed rafters, tapered roof supports, wide window, and door casings, and simple-style paneled doors. We know these today as Craftsman-style doors. It was most common in historic Craftsman style to use unpainted wood trim to celebrate the beauty of natural wood, you can find modern interior Craftsman doors both painted and stained.
---
Popular Interior Craftsman Door Styles
The heyday of Craftsman style homes in the United States lasted for over 20 years but the style is still popular today. There are many interior Craftsman door style variations.
3 Panel Craftsman Interior Door
This door style from Belmont Doors is the most traditional Craftsman style interior door. The door features three recessed panels.
One larger horizontal panel dominates the top part of the door. It is intersected by two vertical recessed panels to create a "T" pattern. The door also features a natural wood finish. This is most typical for Craftsman interior doors.
---
3 Panel Painted Craftsman Interior Door
HomeStory Doors of Chicago manufactures this 3-panel Craftsman interior door. This door has the same panel shape as the most traditional Craftsman doors, but it is painted to fit a more modern aesthetic.
---
Inverse 3-Panel Craftsman Interior Door
If you want a twist on the traditional look, consider a 3 panel Craftsman door where the panels have been flipped. For this door, the largest horizontal recessed panel is located at the bottom with the two long vertical panels located on the top side.
---
3 Horizontal Panel Craftsman Interior Door
There are also configurations of 3 panel Craftsman doors with the same-sized horizontal panels. BCN Homes uses these interior Craftsman-style doors in a contemporary home because of their clean and simple design. It works well with the historic and the modern aesthetic.
---
4 Panel Craftsman Interior Door
There are also 4 panel Craftsman interior door options. These range according to door panel shapes. The most common varieties are 4 recessed panels with a central rail and stile to separate the 4 panels. Another common style is 4 horizontal panels of the same size from the top to the bottom of the door.
---
2 Panel Craftsman Interior Door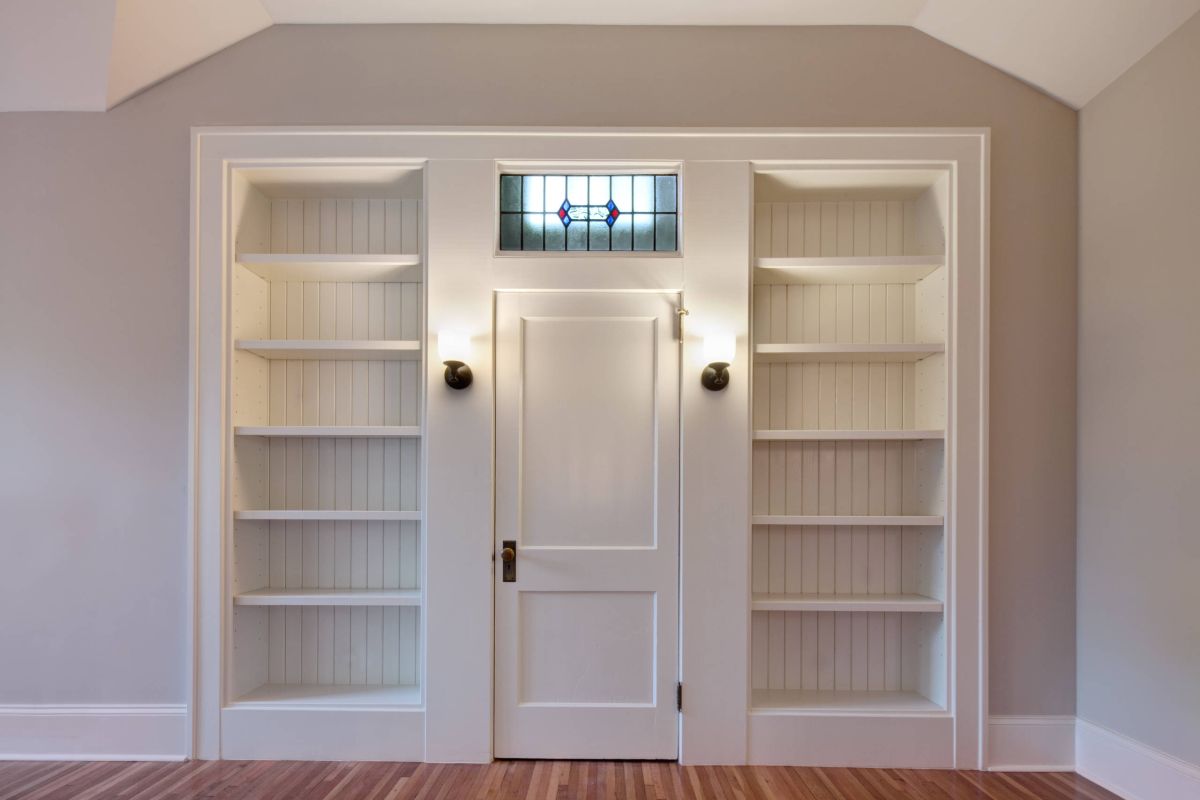 One striking but simple style interior door is a 2 panel Craftsman interior door. This style door features two recessed panels. Sometimes the top panel is larger and sometimes the bottom panel is larger.
This Craftsman door from the Stirling Group uses a painted 2 panel Craftsman interior door with a larger panel on top in this second story addition.
---
Single Batten Panel Craftsman Interior Door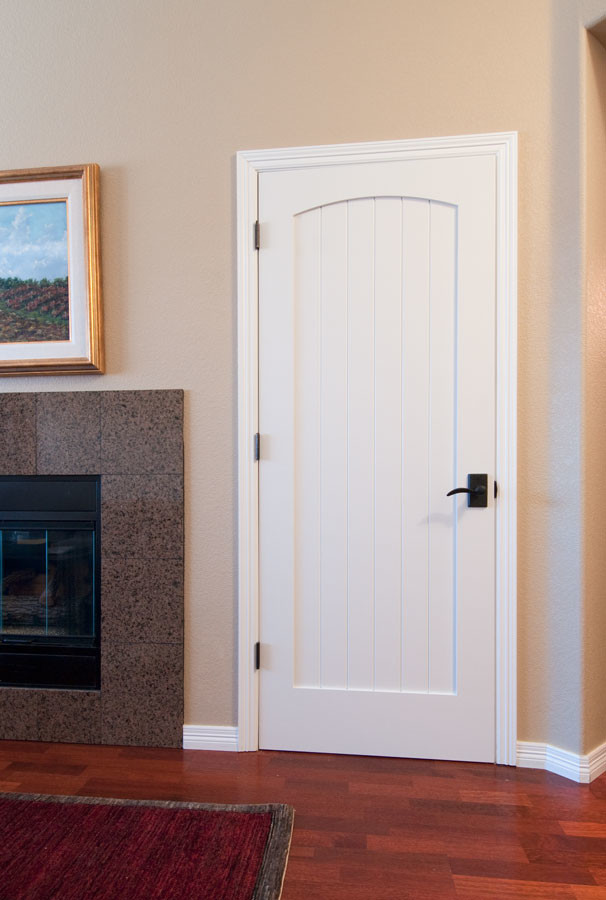 There are some styles of interior Craftsman doors with just a single recessed panel. In this design from Belmont Door, the Craftsman door has one recessed panel with a batten design. These batten doors have small vertical boards which fit side by side to create the panel.
---
Double Craftsman Interior Doors
In Craftsman-style homes with an undiluted style, it is common for all areas inside the home to utilize Craftsman interior doors.
These double 3 panel doors from Everwood Custom Woodworking are made from walnut and have a clear finish to highlight the beauty of the wood.
Use sets of this kind for closets or pantries in Craftsman style homes where you want the small details to support the larger architectural ideal.
---
Double Craftsman Interior Doors with Glass
Not all interior Craftsman doors have solid recessed panels. Some featured glazing that is both plain and decorative.
The decorative glazing features beveled, cut, and stained glass designs. These Craftsman interior french doors from HomeStyle feature a 9-lite Craftsman mullion pattern that emphasizes the straight lines of the Craftsman style.
---
Craftsman Interior Door Construction Type
When you look out over the interior door market today, it is common to see interior doors of different construction types using various materials. This is common for Craftsman interior doors as for other interior doors. Consider the qualities and cost of each door type to determine the best one for your needs.
Craftsman Solid Wood Interior Door
Solid wood doors are made from 100% natural wood. This wood is left in its most natural state rather than engineered into veneer or plywood.
A Craftsman interior wood door is the most authentic type of Craftsman door that you can buy. The natural wood makes the perfect foundation for a clear stain to highlight the most historic Craftsman look inside your home.
Pros:
Insulation – Solid wood doors are the best at keeping out drafts. This is not as necessary in an interior door, but it does help if you live in a cold climate.
Soundproof – Solid wood interior doors work well to insulate the transfer of noise from room to room.
Attractive – Craftsman wood interior doors are the most beautiful and authentic replica of the historic style.
Cons:
Cost – Solid wood interior doors are the most expensive ranging on average from $300-$700 per door.
Heavy – Solid wood interior doors are heavy and sometimes do not fit the door frame without some alteration. This makes it difficult for some DIYers to hang without help from an expert.
Maintenance – Solid wood doors require more maintenance like sealing over time to keep them looking their best.
---
Craftsman Solid Core Interior Door
Craftsman solid core doors are made with an exterior skin made from wood veneer which covers a solid center filled with wood particles made from a substance like MDF.
This is a durable type of interior door that is more affordable than solid wood doors. Even though solid-core doors have just a veneer skin, you can find solid-core doors that you can stain or paint.
Pros:
Insulation – Solid core doors insulate your interior space well.
Soundproof – Solid core doors are the most soundproof option as the inside of these doors have excellent soundproofing qualities.
Attractive – For the casual observer, solid core doors will look much the same as solid wood doors.
Cost – Solid core doors offer most of the benefits of solid wood doors without the costs. On average, they range from $70-$250 per door.
Cons:
Heavy – Solid core doors are heavy. Hanging them requires at least two people.
Authentic Style – Solid core Craftsman doors may give the same impression as solid wood doors, but they are not the same thing. If you want to achieve a true Craftsman style look in your house, solid wood doors are best.
---
Craftsman Hollow Core Interior Door
Interior hollow core doors have a veneer or skin of wood or fiberboard on the outside which covers a honeycomb interior of plastic or cardboard. Because of its low cost, these are the most popular type of painted interior door available.
Pros:
Cost – Hollow core doors are the most cost-effective type of interior craftsman door available. They cost from $50-$150 per door.
Attractive – When they are painted, these doors look like a more solid Craftsman interior door style.
Light – Hollow core doors are easy to install.
Cons:
Soundproof – Hollow core doors offer a bare minimum of soundproofing from room to room.
Authentic Style – Hollow core Craftsman interior doors are not authentic to the time period in terms of finish or material.
Durability – These doors will not last over time.
---
Craftsman Interior Door Hardware
One of the most important crafts in the Arts and Crafts movement was metalwork. Thus, for an authentic finishing touch for your Craftsman doors is the hardware.
Choose from a variety of suppliers. You can find anything from Craftsman interior door handles to strap hinges to attach the door to the frame.
Simple Craftsman Door Handle
A simple door handle like this with its clean lines and black finish would work well with styles like farmhouse and traditional.
Craftsman Interior Door Knobs and Plates
This ornate craftsman door knob and plate have a hammered texture to emphasize the qualities of handmade over machine production. Use a style like this if you want an Craftsman home with historic authenticity.
Craftsman Interior Door Trim
The trim around Craftsman interior doors is simple and square as this works best with the simple style doors.
The most common is to have a side casing on either side of the door that goes straight to the floor. The head casing above the door may have some decorative touches like a bead below it and a cap or crown on the top.