The Best DIY 4th of July Decorations for a Festive Celebration
Celebrate the holiday in style with 4th of July decorations that are simple but brilliant. Of course, many decorations that you buy look the same as everyone else's and are also expensive. Instead, take a little time and get your creative juices flowing by working on a DIY project that will inspire and delight.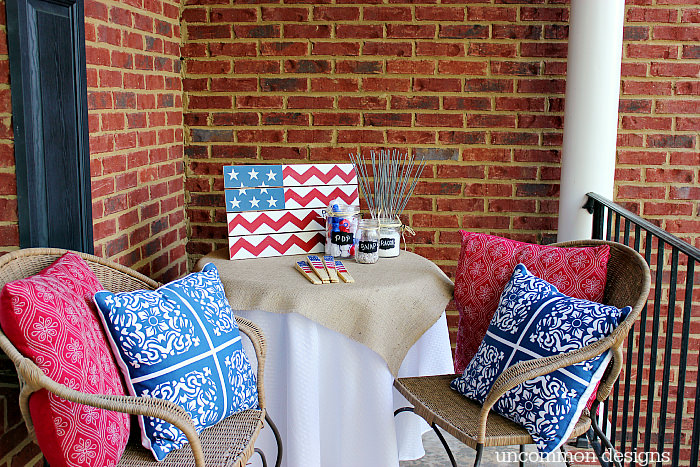 After all, you know what you need and how to make the most use of your time and resources. Fourth of July crafts are the perfect way to pull everything together to create the most celebratory atmosphere for the best party of the year.
4th of July Decorations
The need for 4th of July decor is just once a year. However, you can also use these ideas for other patriotic celebrations like Memorial Day or Veteran's Day.
To this end, we have gathered some fun DIY red, white, and blue projects to make your Independence Day celebrations more memorable and beautiful.
Hanging Banner
Just a Little Creativity designed this fun street number banner. The materials are simple: canvas, paint, tape, wooden dowels, tracing paper, and glue. Also, she takes you step-by-step through the whole process to make sure that you know how to complete the project. We love the fun take on patriotic patterns like stripes and instead, she does a zig-zag pattern.
Tassel Garland
If you need something quick and inexpensive, consider this idea from The Scrap Shoppe Blog. She uses red, white, and blue plastic tablecloths to create this fun tassel with patriotic colors. Better than the cost, this project will take just under an hour to complete.
Star Burst Runner
We love the look of this chic table runner from Let's Mingle Blog. A runner is perfect if you want to create a pretty table without a lot of fuss. For example, this blogger takes a simple white runner and paints it using red and blue paints. The star burst resembles a colorful fireworks display which is appropriate for kids and adults alike.
Galvanized Patriotic Planter
If you are looking for ways to bring more greenery into your outdoor areas, try this planter project from A Pumpkin and a Princess. The project utilizes a Cricut that cuts shapes out of vinyl. This is a project that takes just 15 minutes. In addition, the galvanized planter can be used for other projects as well.
Ribbon Flag
If you want a more lasting banner project than the plastic ribbon project, try this project from The Latina Next Door. This project utilizes ribbons, glue, buttons, and a dowel. This project is inexpensive if you can ribbon for a good price.
Create July party favors with this cute candle project from Crafts by Courtney. These homemade candle favors are a fun craft, easy enough for little hands to create. This project begins with colored sands, glass votives, and candles.
Star Bunting
Celebrate Independence Day with this project from Cuckoo 4 Design. This star garland would be the perfect addition to fences, columns, and above your front door. This is another great project that creates a dramatic look with the simple elements of colored cardboard, spray adhesive, and string.
4th of July Table Decorations
Celebrate America's birthday with these silverware holders from Old Salt Farm. These are perfect for patriotic occasions like BBQs and family picnics. In addition, these are also great party favors for your guests when they leave the party.
Wax Paper SunCatcher Stars
Celebrate your patriotic holidays with a 4th of July project with the kids. In this project from The Suburban Mom she melts crayons into wax paper and cuts them into stars. Also, this project gives you fun ways to use up bits of old crayons.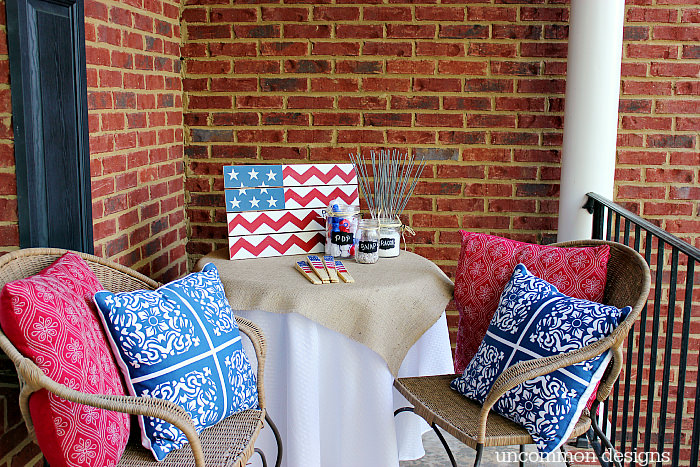 When you celebrate a holiday occasion with your family and friends, it helps to have a table with things to keep your guests occupied for kids and adults alike. Consider this idea from Uncommon Designs Online. She combines all the fun items like sparklers and bubbles to create a colorful display.
Patriotic Centerpieces
If you are in a rush to create a beautiful table for your patriotic celebrations take inspiration from this project from My Frugal Adventures. In addition, this is an easy and quick project that you can complete with stuff around the house, just a few jars, ribbon and some fabric like burlap.
Patchwork Pillow
If you are interested in taking on a sewing project, try this patriotic pillow from Farmhouse on Boone. This pillow has a simple country style that is charming in any context.
Yard Stars
If you are interested in a more dramatic patriotic display, consider this for the occasion. This project from the The Concrete Cottage uses construction paint to paint large stars on the lawn. This project will create joy for all your guests. First, paint the outline of the stars and then fill the interior space. Also, make sure you like this design as the grass is permanent until you mow it off. Shop for this paint at a home DIY store.
Patriotic Wind Catcher
This is the perfect 4th of July decoration for crafting with little ones as it is easy but it creates a dramatic look. How can these ribbons fluttering in the wind bring anything but happiness? Find this project at Hey Let's Make Stuff.
Burlap Banner
Create this adorable patriotic banner that you will be able to hang over your door, gate, or mantle. This project uses just burlap, paint, tape, twine, and hot glue. This project won't take long but it will last you for years to come. Find this project at See Vanessa Craft.
Pallet Flag
Pallet projects are the best because they are inexpensive and large enough to create a dramatic display. For example, this American flag project is more challenging than some of the other DIY projects that we have included, but it is worth the effort. Check out this project at Jennifer Allwood Home.
America Themed Candle
If you need some illumination for your nighttime party, consider this project from Redhead Can Decorate. This project requires some more intense power tools than some of the other projects. Of course, you can also rent these tools if necessary.
Crib American Flag
This project is the perfect way to upcycle when your child has grown out of their crib. This project just requires the crib box spring, ribbons, and a chord for hanging it. Find this project also on Redhead Can Decorate.
Firework Display
Throw a party in style for the USA with this faux fireworks display. This craft from Sadie Season Goods has a vintage and playful style that is perfect for a summer display.
Woven Flag
This flag is the perfect patriotic decoration that you can bring out year after year. This flag is an intricate woven craft that you can feel proud of when you finish. Find this craft at The House That Lars Built.
If you like the rustic style, this craft will work well as an accent for your 4th of July parties. This garland utilizes red, white, and blue burlap with string lights. In addition, it doesn't take long to create and the lights make the garland one-of-a-kind. Find this craft from Create Craft Love.
Clothespin Wreath
If you want to brighten up your door for the big day, this is a great project. It is a door wreath created by painting clothespins and hanging them on a round form. Find this project on The Budget Decorator.
Vintage Patriotic Decorations
If you are into more vintage style, check out these vintage style printables from Live Laugh Rowe. These are beautiful for more rustic themed parties and celebrations.
Mantel Decorations for 4th of July
If you want to go all out for the season or for a particular party, decorate your mantel with seasonal decor that will last. Browse this blog post from Lolly Jane for decor and accessories for your mantel.
Easy Kids Craft
If you are having a crowd of kids over to your house for a 4th of July party, consider setting up a craft table with a few easy pipe cleaner crafts. For example, these crafts are perfect because there are just a few supplies and no mess to clean up. Find this craft and others from Fantastic Fun.
Frequently Asked Questions (FAQ)
FAQ
When should you decorate for the 4th of July?
It is important when decorating for occasions and holidays to set up early in order to prepare but not too early. If you are decorating for the 4th of July, you can begin setting up your 4th of July outdoor decorations the last week of June.
What decorations are used on Independence Day?
The most common 4th of July party decorations are flags, bunting, balloons, and garlands. You can also decorate with seasonal blue and red fruit and flowers for a more natural look.
What are the half circle flags called?
The half circle flags are called bunting.
Is bunting against the flag code?
You are not supposed to use the flag for decoration but just for display. Rather than use the flag, use bunting hung from porch railings and from the ceiling. When you do display the flag, be sure to display the blue on the top.
Conclusion
The summer is a time for having amazing food and hosting fabulous parties for family and friends. There is no more festive summer occasion than the 4th of July.
Celebrate in style with some of these amazing DIY crafts to brighten up your interior and outdoor spaces.
In addition, you will not just feel accomplished by creating something unique, you will bring happiness to those around you and honor these wonderful United States of America at the same time.