16 Wonderful Mosaic Kitchen Backsplashes
The kitchen doesn't have to be your favorite room in the house for you to want it to look pretty and inviting. Even though this is mainly a utilitarian, there are plenty of ways in which you can give it a welcoming and beautiful look. One perfectly acceptable example is the backsplash. A mosaic kitchen backsplash, for example, will always stand out.
Mosaic backsplashes can take many different forms. So whether your kitchen has a traditional, modern, rustic or contemporary, there will always be numerous attractive designs to take into consideration.
The design can be abstract or it can depict something very specific. In fact, there are lots of themed designs you can explore and adapt when designing your kitchen, in case you want to include a mosaic backsplash.
If you'd rather not turn the entire backsplash area into a focal point, you can pick different designs and colors for different areas. For example, the only relevant portion here is the area directly in front of the stove.
A mosaic backsplash can look interesting even without any upper cabinets. Depending on the way it interacts with the rest of the wall and with the countertop, the contrast can be strong or very faint and almost nonexistent.
This type of design is simple and versatile enough to look good in a variety of different settings. The traditional setup presented here is not the only option. Imagine the same backsplash in a more modern décor and combined with other colors.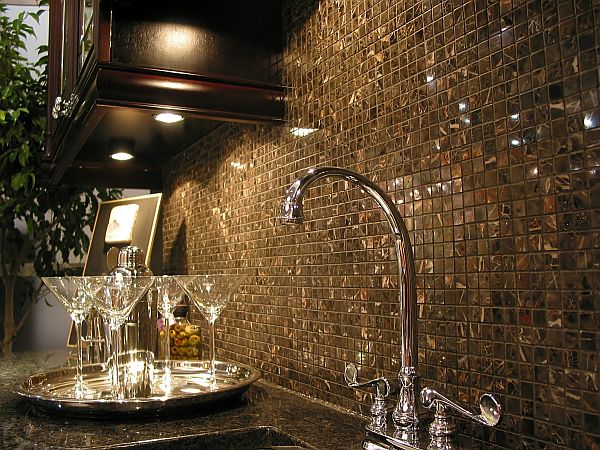 Mosaic backsplashes don't always feature well-defined patterns. Some rely on the overall texture and finish such as in the case of this glamorous kitchen where the backsplash extends to cover a larger portion of the wall.
The portion of the backsplash directly in front of the stove can feature a slightly different design than the rest. For example, you can make it look like a painting. You can also use a different material for this portion.
Modern kitchens are simple and less ornate and intricate than the traditional type. As a result, a mosaic backsplash features simple and classy designs which are rarely symmetrical.
Not all mosaic backsplashes are difficult to install. Some are actually made using large tiles. If the design and pattern are random or abstract, it's virtually impossible to tell this by simply looking at it.
Others, however, are more intricate and require a lot of time and patience to complete. However, it's often worth the effort. The result will be a unique backsplash and a really interesting focal point for the entire kitchen.
The backsplash, even if it has an eye-catching design, also has to coordinate well with everything else in the kitchen. Here, for example, the choice of colors allows the mosaic to match the light wood cabinets, the island and everything else.
Simple, repetitive patterns mostly suit traditional interiors. However, a design such as the one featured by this backsplash gives the space a touch of class and elegance, making it look timeless.
This design is sophisticated and elegant and it suits both large surfaces such as an entire floor and smaller areas such as a kitchen backsplash. The color palette is neutral and easy to match with a variety of shades.
If you want the backsplash in your kitchen to stand out a bit more, then think beyond the pattern and the design on the mosaic. For example, this backsplash extends onto the adjacent walls forming an abstract décor.
A design that would suit well a contemporary kitchen is this one. It's simple, abstract and versatile enough to look wonderful in a variety of settings. The fact that it matches the countertop helps with the cohesion of the décor.
Another way to maintain a cohesive look throughout is to use a mixture of colors that are repeated throughout the kitchen in various ways. Gray is a recurring tone in this case and it's combined with shades of green and brown.