20 IKEA Storage Hacks to DIY for Your Home
If there is one thing that every home could have more of, it's storage. Whether you live in a closet-less apartment or a large home with some real "problem" areas, most of us wouldn't refuse another box or basket. So when we think about those areas that need some organizing, IKEA is a good place to start looking for materials. Their classic and modern pieces are easily customized to fit your own organizing needs. Take a look at these 20 storage hacks and say goodbye to your problem areas in your home.
One of the easiest hacks for a dresser by far is a new coat of paint and some new knobs. You'll be amazed at the difference. Whether you paint it all over in a solid color or paint on a pattern, IKEA dressers are just ripe for the painting. And if you don't prefer their knobs, exchanging them for your favorite will only take a minute. (via Camille Styles)
Believe it or not, this TV console is a kitchen cabinet from IKEA. Those designs are simply pushpins. Now if that doesn't get your mind whirling, I don't know what will! Just think of all the IKEA dressers and shelves and consoles and everything that you could use pushpins to decorate. (via Signed By Tina)
Looking to put open shelves in your kitchen? IKEA can help with that. They have some wonderful open shelving options that you can easily customize with your own wooden shelves like this. Add a big of glamor by painting your brackets a metallic color. Nobody will even guess that it's an IKEA hack.
Affordable sideboards can be difficult to find, but not when IKEA comes into play. This gorgeous modern sideboard is made up of IKEA cabinets mounted low with a black wooden top. Just a little work and you can have this in your dining room by dinner, shopping trip included. (via Made By Girl)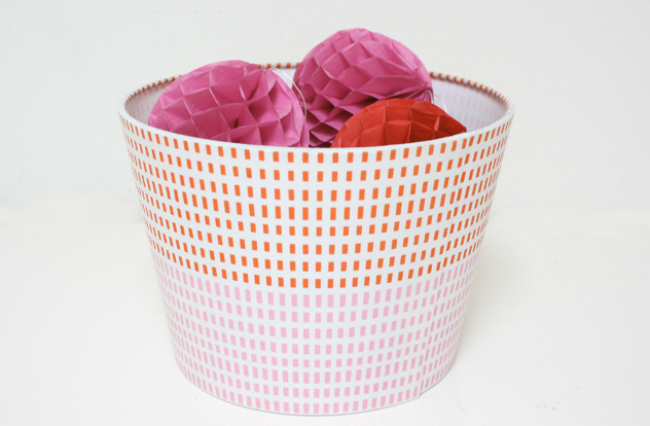 Have you ever seen a lampshade that you loved but couldn't justify buying it because it did't fit your decor? This IKEA lampshade turned storage basket is the perfect solution. While you can use one of IKEA's many lampshade options for this project, you can also think about buying that lampshade you love now. (via A Bubbly Life)
It is a truth universally acknowledged that gold spray paint improves everything, and this bookshelf proves it. This IKEA bookshelf provides such a sleek and simple design that just begs to be painted to glam up your living room. (via Style Me Pretty)
Top an IKEA credenza with a piece of marble and suddenly it will be stealing all the attention in the room. Such a classic piece will fit in your dining room, living room or even your bedroom with ease and beg you for a vase of flowers. (via Design Love Fest)
Adding little plant cubbies to your home can be the perfect thing to fill an empty corner or put some green into a bright room. This ombre house stand uses the legs from an IKEA stool to create one of the best plant cubbies I've ever seen. (via Monster Circus)
Are you needing some extra storage space in the bedroom? Use an IKEA closet storage system to build a platform bed that contains plenty of storage underneath. But those drawers still give you a feel of sleek comfort. (via Apartment Therapy)
What would we do without hooks and rails? While most people use IKEA's Fintorp hook and rail system for kitchen storage, you can also create a space for bags and coats in the entryway without taking up tons of space. (via A Cup of Jo)
Everyone has a pile of papers that contain receipts and phone numbers and reminders. With IKEA's cork boards, you can unpile those papers and give them a fancy place to rest that's easily accessible. Spruce up those plain boards with a bit of paint, using painters tape to make a pattern.
Bookshelves are good for so many things; holding books, keeping plants, storing odds and ends. Using a bookshelf to make up for a lack of pantry space is just another wonderful option. Since IKEA's bookshelves come in so many sizes, it's easy to find one that will work for your space. Then all you have to do is start your glass storage jar collection. (via Remodelista)
Have you ever thought about nightstands? They can be terribly inconvenient storage wise. Usually there is a stack of books, at least one charging cable, a candle, maybe a box of tissues, a bottle of lotion… I could go on. Switch out your cluttered nightstand for IKEA's Raskog cart and you'll gain mobility as well as lots of shelving space. (via The Everygirl)
You might already have these little baskets in your house, but even if that's not the case, these IKEA baskets are super affordable and so is embroidery thread. Because that's all you need to make these lovely wrapped baskets that would go perfectly in your bathroom. (via Tell Love and Chocolate)
I know, more floating cabinets. But this project only uses one with a wooden top. In a small apartment, it's a great solution that combines side table surface space and storage space. Definitely a win win. (via Sugar and Cloth)
Most of us have a stack of papers we've been meaning to file away. IKEA makes it easy by providing plain and simple magazine holders that are easily painted or patterned into whatever will brighten your office. They will make you want to keep those papers organized. (via The Lily Pad Cottage)
Some of us have an old IKEA dresser that really can't take another coat of paint. If that's your situation, take out the drawers and slide them under your bed. It will take you two seconds and bring more space to the room without sacrificing any storage. (via Nur Noch)
When you can hack a piece of furniture to match your midcentury decor instead of buying the same piece for a billion bucks, that's the way we like it. And that's exactly what happened to these simple IKEA bookshelves. With an addition of doors and legs, you'd never know it was an IKEA hack. (via Petite Apartment)
Nail polish is one of those things that's hard to store. It will easily takeover your medicine cabinet or makeup drawer if you let it. I think IKEA was thinking of that though when they made these spice racks. They make such a simple solution for storing all those little bottles and it's small enough that it will fit almost anywhere. (via Buzzfeed)
A bookshelf for a bar cart? That's right. Just screw on some casters to the bottom and handles to the top of a Kallax shelf to make the most amazing bar cart you've ever seen. Feel free to style with as many gold accessories as possible. (via Sugar and Cloth)