34 Walk-In Shower Design Ideas That Can Put Your Bathroom Over The Top
Walk-in showers are elegant and functional for any bathroom. Whether you also have a bathtub or just this area, your décor will be functional and chic.
It will also give your bathroom a modern appeal and it will give you the possibility to efficiently use the space you have available. Get creative or find some inspiration somewhere else. We have selected five designs to get you started.
How much does it cost to put in a walk-in shower?
The cost of installing a walk-in shower can range quite widely, thanks to the variety of choices for materials, doors and accessories. In general, it costs between $2,500 and $15,000 to add a walk-in shower. Most homeowners feel that it's worth the expense for the superior showering experience a walk-in shower can provide.
Any walk-in shower will require some parts and labor that are needed for any type of bathroom installation, but you also need to take into consideration any demolition costs associated with your particular remodeling project.
Installation is the biggest cost
Unless you are very experienced with construction, In general, installing a walk-in shower is not a DIY project. The cost of experienced labor will be your biggest outlay. This will also vary: If you're putting in an acrylic prefab shower, the cost will be far less than a custom tiled walk-in shower.
Also, getting rid of any old fixture or shower and prepping the space for the new one can tack anywhere from $1,200 to $7,000 to the total. After that, according to Bath Planet, your individual choices for each of the components will drive the cost.
Accessories
Yes, we're starting with the extras because these are what will make the showering experience special. You'll want to factor in the cost of having features like rainfall, lighted or massaging showerheads, as well as multiple showerheads. A walk-in shower should also have at least one hand-held shower head for easier cleaning of the shower as well as yourself! The costs for these items – in addition to any extra plumbing – can range from budget friendly styles to more luxurious high-end fixtures.
The Surround
This is the material that is used to protect the wall and keep the water in the shower space. This is where your choice will have a serious impact on cost because basic tile in a variety of colors and designs can be as little as $5.00 per square foot. On the other hand, the very trendy large stone slab tile can be as much as $100 or more per square foot. In between those two extremes is a wide range of porcelain, stone and glass tiling that can work for your walk-in shower. The cost of installing new tile for the shower can be as little as $1,800 and as much as $7,000 or more. If you're just replacing wall and floor tiles, the cost is much lower $1,000 to $3,000.
The Size and Shape
The bigger your walk-in shower, the more it will cost because more surround materials are needed, more labor is required, etc. The layout matters too, because if you can fit the shower in a corner and have a straight front, you'll save a good amount of money because this is the cheapest design.
The Doors
While you can certainly use a shower curtain with a walk-in shower, most homeowners opt to install shower doors. A large number of styles are available – we sum them all up for you in this article – and each one will vary in cost. Sliding doors are the cheapest and can be as little as $300, while frameless paneled doors sell for around $900. Another option, if you have the space, is a style that does not need a door at all.
Is a walk-in shower worth it?
The answer to this question can vary depending on the bathroom situation in your home and why you want a walk-in shower.
For a fabulous showering experience

, a walk-in shower is the greatest. The accessories and spa-like feature available today let you create a relaxing refuges as hedonistic as your budget will allow.

To add value to your home

, the value of a walk-in shower depends on the other bathrooms. In general, adding a walk-in shower to a home is definitely a plus, unless you're sacrificing your only bathtub to do so. Realtors will tell you that every home needs at least one bathtub because it can be the factor that makes or breaks a sale, or brings in a higher resale amount.

Walk-in showers are easier to clean

. Glass doors are simple to clean and tile can be easier to maintain than the mix of surfaces that often come with a tub/shower combination. Also, shower doors eliminate the nastiness that can develop with shower curtains, as well as the need to constantly replace them.

Saving space can be a benefit of a walk-in shower.

These types of showers will fit in just about any size of bathroom. With a custom-tiled shower, you can adapt it to fit the space you have available, even if it is in a corner or has an odd shape.

Walk-in shower designs are easy to incorporate.

By blending the tile with the rest of the bathroom, it's possible to make the space look larger.

It's more accessible.

It's far easier to walk into this type of shower than one that is inside a bathtub, which can be challenging for anyone with mobility problems. Also, as people are choosing to age in place and stay in their homes, having a walk-in shower can be extremely helpful.
What is the difference between a shower stall and a walk-in shower?
There's a bit of a disconnect between what a walk-in shower really is and what people think it is. We've been talking about a walk-in shower being stand-alone shower without a tub, but actually, there's a little more to it. Technically, a true walk-in shower has no door or curtain, or enclosure. There's also no curb or ledge to step over.
Nonetheless, most people consider a walk-in shower one that doesn't have a tub and is enclosed somehow. This is actually a shower stall, which has either framed or unframed glass panels and door. As you might imagine, this style works better for bathrooms that have limited space, while a true walk-in style without doors requires far more space. The enclosed style is generally the most popular, in large part because it's more affordable and fits into an average home.
How much does a tiled walk-in shower cost?
Homeowners are shifting away from sunken jetted tubs in favor of larger tiled walk-in showers, according to Lamont Brothers. We've already identified that a walk-in shower costs roughly from $2,500 to $15,000, with tiled versions being more expensive because they are generally custom. There are a number of components that go into a tiled shower, and each one can affect the total cost.
Shower Pan
This is essentially the floor of the shower, and there are basically three different types:
Acrylic pans

are the most budget-conscious choice. The tile is installed on top of this in order to make things watertight. A typical acrylic pan has a three-inch-high threshold.

Tiled pans

let you create a more custom look. Standard tile pans require tiles that are 3 inches or smaller so that they can accommodate the pan's slope for water drainage. The threshold for these pans is also about 3 inches tall.

Zero clearance pans are set into the floor so that there is no ledge to step over to enter the shower. This also means that you can continue the tile from the floor into the shower, creating a very modern, cohesive look.
Tile
There's an endless array of options for tile and you can generally go as small or large as you like for the shower walls. It's important to keep in mind that the smaller tiles will have a more traditional look while large-scale styles tend to look more modern. Lamont Brothers says that the most popular size is 12×24. The shower wall is where you can be creative with decorative tiles or mosaic designs, if that's something that you like.
You will also need to choose tile for the floor and the type of shower pan you chose may dictate the size of tiles. If you have a threshold, smaller tiles will be required than if you have no threshold, which can accommodate larger sizes.
Shower fixtures
Choosing shower fixtures is another are where can have a lot of fun creating your shower experience. It's important to know what types of fixtures you want and what your budget is because prices go from budget to budget-busting. That said, a number of fixtures are required for a walk-in shower>
Fixed shower head


This is generally your main shower fixture. It's the one that is connected to the wall or ceiling and is the most often used fixture. The styles vary and can be anything from standard to rainfall or massaging. The choice comes down to personal preference and what you're looking for from your showering experience.
Hand shower


This secondary fixture is known as a dual unit and is installed on the wall. Traditionally, it is a hand-held shower head that connects to a slide bar/ This allows you to adjust the height for hands-free operation, or it can be removed from the holder and used to spray the body or the walls of the shower when it's time to clean.
Body sprayer


A body sprayer is a row of small sprayer heads that are attached to the wall that direct water at the full length of the body. Options are for anywhere from two to four heads and it's possible to have more than one set on the same wall or different walls.
Shower valve and diverter

.




Every shower needs a valve to control the flow and temperature of the water. A diverter is required to change the flow of water from the main shower fixture to any secondary fixtures installed in the walk-in shower.
Drain cover


This is the grid over the floor drain that allows water to flow out. While the traditional style is a round drain in the center of the shower, new styles include square designs as well as linear drains that run along the full edge of the shower. Infinity drains eliminate any drain hardware on the floor and direct water through a gap under one wall and into the drain underneath.
Shower enclosure


While a true walk-in shower – also called an open shower — does not have any enclosure or door, what most people call a walk-in shower is enclosed. The most common choice is glass, because it is easy to maintain and can make a bathroom feel bigger. The glass panels can be framed or frameless and within those choices, there are stylistic options that will fit your particular design. If top to bottom glass is not for you, it's possible to combine a partial tiled wall with a glass panel on top, which lends some privacy.
Accessories


As with most things, details and accessories can really ramp up the luxuriousness of a walk-in shower. Looking at the most common types of accessories, these are some that you might want to consider:
Shower niche

– This is an inset section of the shower wall that serves as a spot to put soap, shampoos and other products. A niche is particularly useful because it is recessed and you're not like to bang against it while showering.

Shower shelf

– A real shower shelf is definite upgrade from the rack that hangs from the shower head pipe. The most common style is triangular and is installed in the corner and is the next best thing aside from a recessed niche. Regular shelves are also an option to placement is key.

Bench

– A fixed bench is a super useful accessory in a walk-in shower. Of course, you can sit on it during a shower, but it's also useful as extra storage. If there's really not enough room for a bench, another option is a bench that folds down from the wall only when you need it.

Grab bar

– While you might not think you need one, a grab bar can come in very handy if you start to slip. Looking to the future, including one of these when you construct your shower can be beneficial for resale or if you plan to age in place.

Towel bar

— If the shower is large, it's possible to include a towel bar within the shower. Another option is on the shower door, if the style allows.
What is the best material for a walk-in shower?
The main considerations for choosing a material for your walk-in shower are ease of maintenance and durability. When it comes to style, you'll find loads of options, but by defining your priorities for the shower surfaces, you can narrow down the choices. It's critical to remember that the shower sees a lot of use and it has to be durable and leak-proof. You want to choose long-lasting, durable and quality materials that will perform for the long haul.
Stone and tile are the most durable options and, as noted above, a huge range of looks and prices is available.
When it comes to the floor of a walk-in shower, you have other considerations too: The presence of a ledge, ease of cleaning and maintenance and being non-slip in nature are the most important. For tile, smaller porcelain tiles are a good choice as are a pebble style floor or sealed stone.
What are good dimensions for a walk-in shower?
Honestly, a walk-in shower can be almost any size, large or small, depending on the space you have available, and that is the key determinant for how big you can go. At a minimum, the shower has to have enough room to comfortably move around in when showering as well as to hold some toiletry products.
According to code
Local building codes and plumbing requirements will likely dictate the minimum size of your walk-in shower. In general, the smallest of a walk-in shower should be at least 32 inches by 32 inches. The average size, however, is typically larger: 67 inches by 28 inches. That said, the shower will be more comfortable if you can add to the width. Sources say that the average person will feel comfortable in a shower that is about 48″ x 36, but recommendations would be for of 60'' x 36'' if possible.
Floor Space
The size of the space you have available will dictate the shower size. You don't want an expansive shower at the expense of other essential bathroom features nor do you want to make the traffic pattern in the bathroom difficult. The size of the shower also has to take into account the slope required to move water to the drain efficiently.
Accessibility
An accessible walk-in shower needs to comply with requirements set out in the Americans with Disabilities Act (ADA) requirements. Walk-in showers need to be about five feet in both directions to accommodate a wheelchair and cannot have a ledge at the entry. Even if no one in your home currently has mobility issues, it could help resale to incorporate this in your design if you have the space.
Is it better to have a shower door or curtain?
In most cases, homeowners who install a walk-in shower opt for shower doors instead of a shower curtain. Of course, this too is up to personal preferences and budget. You'll also want to weigh the pros and cons of each option.
Shower Doors
Hands down, shower doors have a more high-end look than a shower curtain because at the very least, they make the bathroom appear larger. Many styles of shower doors are available to fit your particular style of bathroom.
Pros
Shower doors are easy to clean.

They don't deteriorate with time.

Completely block water from splashing out of the shower.

Help contain the steam in the shower area.
Cons
They are expensive and can easily cost $1,000 and more.

Anything other than standard sizes will cost more.

Glass requires regular daily attention to look its best.

All your shower products are visible to anyone who uses the bathroom.
Shower Curtains
Many homeowners opt for shower curtains instead of installing doors, most often for budgetary reasons, but there are other benefits and drawbacks to consider.
Pros
Shower curtains can cost less than a tenth of what most shower doors cost.

Curtains can be more visually appealing thanks to colors and prints available.

They can soften the hard lines typical of bathroom designs.
Cons
Shower curtain liners will need to be replaced every few months.

If not positioned properly with the liner inside the tub, water can spray out into the bathroom.

Most shower curtain liners are plastic, are made from PVC, a fossil-fuel-derived material that some consider toxic.

Fabric liners can billow out and stick to your wet body.
Types of Shower Doors
We've been talking about shower doors as it they are all one kind, but there are numerous kinds that you can consider using for your walk-n shower.
A frameless shower door is essentially one panel that is hinged and opens out into the bathroom. This style has a clean, modern look and is quite durable. The glass is about 3/4-inches thick, which means that they are rather heavy but also easy to operate.
A frameless shower enclosure is ideal for a large bathroom because it preserves the spacious feeling and is a great modern look. These can be constructed in any shape to fit your bathroom.
Bi-fold shower doors are a functional option for a small bathroom or one that has a limited area for the shower. They are just like bifold closet doors that slide and fold up, requiring less space than regular doors that open outward.
Curved glass shower doors allow you to have a walk-in shower in a smaller space because the curve adds some room to the interior of the shower.
Sliding shower doors can be a good option for smaller space that does not have room for a door that opens outward. Like most all other sliding doors, there are two glass panels that slide along a track in both directions.
Frosted glass doors or clear glass doors are a personal choice. Functionally they are all the same, but frosted glass provides a little privacy while still letting light filter in. Frosted glass shower doors can be a good option for a large household where total privacy on the bathroom may be questionable. The same holds true for tinted glass doors.
Walk-In Shower Design Ideas
1. Glass-enclosed shower.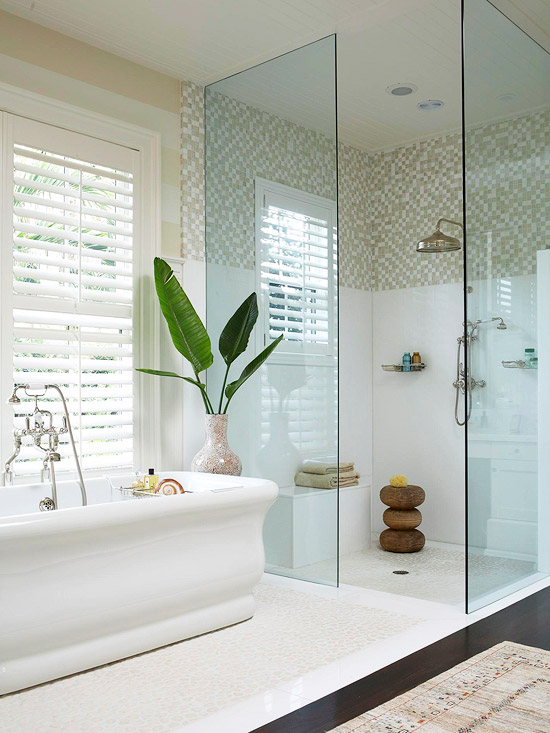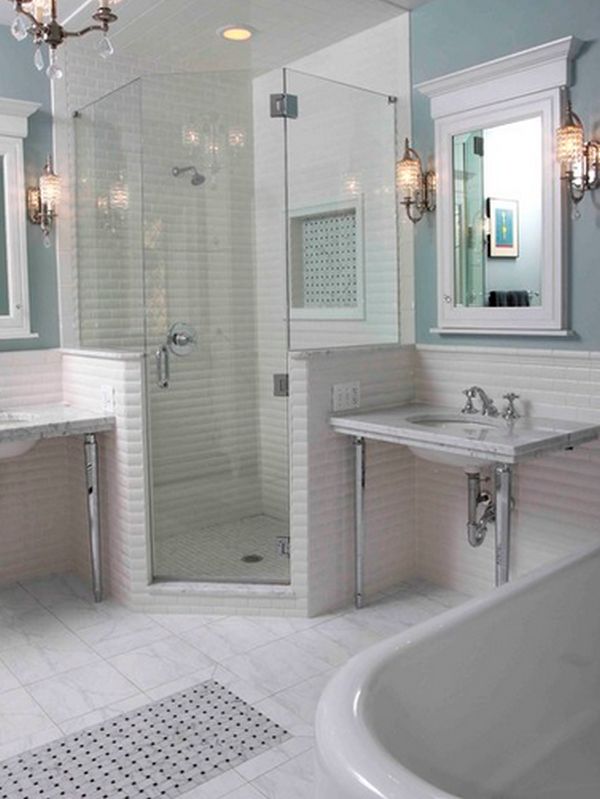 If you want to create a seamless transition between the shower area and the rest of the bathroom, transparent glass is the perfect materials to help you with that. In this example the shower is encased in floor-to-ceiling glass panels. Inside there's a bench and small, practical shelves mounted on the wall. The oversized showerhead is an interesting statement element.
2. Light-filled shower.
A window in the bathroom, regardless of its dimensions, can make a huge difference. It's an especially beautiful addition in the shower. The sensation that you get when you see and feel the light embrace you is unique. Of course, a skylight would be even better. The shower will be bathed in natural light and will have an almost divine look. The decorations you choose for this space can also make a big difference.
3. Shower and steam room in one space.
A designer shower enclosures walk-in and a steam generator can be combined to create your very own steam room. It's a simple way of making your own spa. The amenities are critical is this case. It would be wise to include a small window that can be opened when you use the shower alone to let the air circulate. You'll be able to use this space both as a regular shower and a steam room and you can enjoy relaxing moments right there in your own home.
4. Small shower unit.
If you have a small bathroom you can still have the walk-in shower you wanted without sacrificing too much space. It would simply be a smaller version of the ones presented previously. To avoid making the bathroom feel cramped you can opt for simple lines and materials such as glass that would ensure a seamless transition. In this case, the frameless shower door was a clever choice.
5. Private spa.
If you have the space and resources, you can take these ideas one step further and create your own spa. In this example we have a beautiful and spacious spa-like shower with a limestone bench and white and black mosaic tiles. A wall niche ensures the storage space needed for the usual products used in the shower and a large window lets in lots of natural light.
Modern trend – round shower.
Perhaps one of the most important elements to take into consideration, the shape of the walk-in shower can be the detail that defines your whole design. Round showers tend to look more glamorous, especially if they're encased in glass. However, a round shower is not ideal for small bathrooms.
Nature-inspired.
Perhaps you'd like to feel closer to nature when you're taking a shower, in which case you should consider using materials like stone and wood. Try a combination of materials and make sure you use the contrasts to your advantage, to create a unique design. You could have stone or river stones on the floor and use wood as a decorative feature.
Open.
Maybe you're used with showers being encased in glass or having curtains and dividing walls to separate them from the rest of the bathrooms. Although that's the case in most homes, such features are not strictly necessary. You can also have an open shower and this will make the room feel more spacious.
Indoor-outdoor combo.
Consider placing the indoor and outdoor showers side by side. Allow them to communicate with each other through glass walls and create a connection between them. This way light get in and illuminates the indoor shower area and the outdoor one feels less out of place and more comfortable.
Luxury shower.
It's hard to say what makes a shower look luxurious. It's a combination between the materials used, the finishes, the colors and the overall ambiance. A luxury walk-in shower has no visual defects. Everything it perfectly aligned and there's always one element that puts it over the top.
Benefits of Walk-in showers
It's not just the stylish design that makes walk-in showers so versatile and popular. There are numerous other benefits that they offer. For example:
Walk-in showers are both safer and easier to use. This makes them more user-friendly than tubs or regular showers, especially in the case of kids, elderly people or those with medical issues.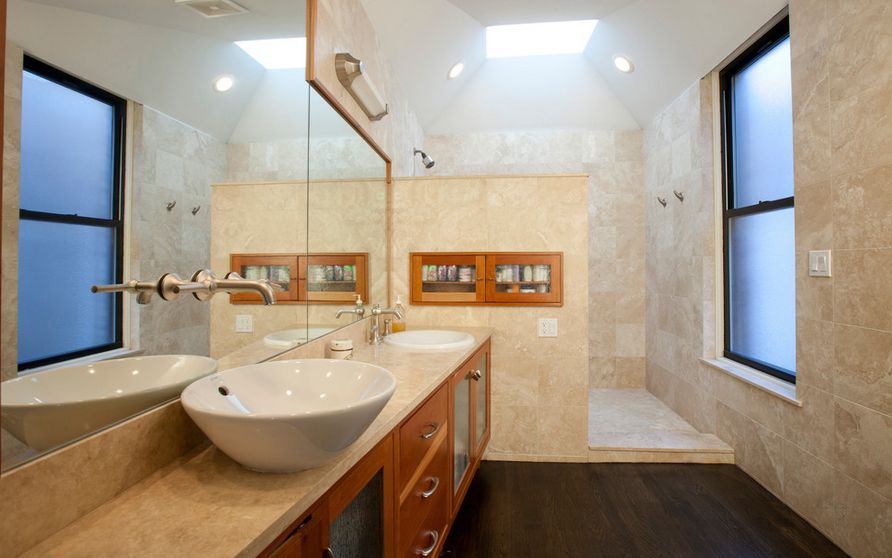 They are wheelchair-accessible, which allows them to stand out as superior compared to tubs or other types of showers.
Apart from being minimalist and elegant, they also offer extra space in the bathroom. Because of their simplicity and straight-forward design, they allow the room to be more airy and bright.
It's also this simplicity that also makes walk-in showers easier to clean. Because they have fewer parts and areas where grime and dirt can accumulate, they reduce the risk of having mold in the corners or a look that's not pure.
In addition, fewer parts in general means that there are fewer elements that can break and this makes walk-in shower particularly durable. This is also due to the fact that they are made of durable and think materials designed to make them safe to use.
Walk-in showers also offers versatility in terms of design. They can customized in numerous different ways and outfitted with lots of different features, types of doors, etc.
The general structure and design of a walk-in shower is created so that it traps vapors inside. This means there's less potential damage which can be caused to the walls, especially if they're made of wood. Also, mold is less likely to appear.
It goes without saying that if you want your shower to look in a specific way or to have specific proportions you should choose a custom design. There are many inspiring custom designs out there, like this one which is completely enclosed in glass and has a sleek and modern appearance. It blends in with the rest of the bathroom and allows it to maintain a very airy look even though it takes up quite a bit of space. This is part of a beautiful residence designed by studio Architrend Architecture.
We mentioned before that it's not always necessary for a shower to have a door or to be fully enclosed. This is a lovely example. This is an open walk-in shower with tiled walls that frame it and help it stand out and look like a separate section of the bathroom. It's a modern design by studio Rina Lovko, one which perfectly mimics the style and color palette featured in the other areas of the house.
A small shower can fit in a variety of different types of spaces and you can even have the area surrounding it modeled around it. This is a master bathroom in a penthouse designed by FORM design architecture and it features a shower and a toilet enclosure positioned side by side for a symmetrical look.
Marble tiles look wonderful in showers. They give it an elegant and timeless look and they go really well with transparent glass enclosures because they're not concealed and you have a continuous and harmonious bathroom décor without needing a lot of floor space. You can find inspiration in this stylish bathroom interior by October Design Studio.
Subway tiles also look great on shower walls. Here you can see a small bathroom which features white subway tiles in the shower as well as on the backsplash wall while everything else is plain and simple. It's a nice way to add some detail to a small room without complicating it too much. This was one as part of a renovation by studio RM \ Architecture.
Speaking of simple bathroom designs, this one is a beautiful example. It has plain white walls without visible patterns except on one and the shower is positioned in a corner lengthwise, leaving enough room next to it for other features. It has a rectangular glass enclosure which suits the overall contemporary style of the room perfectly. The design is done by studio ghiroldidesign.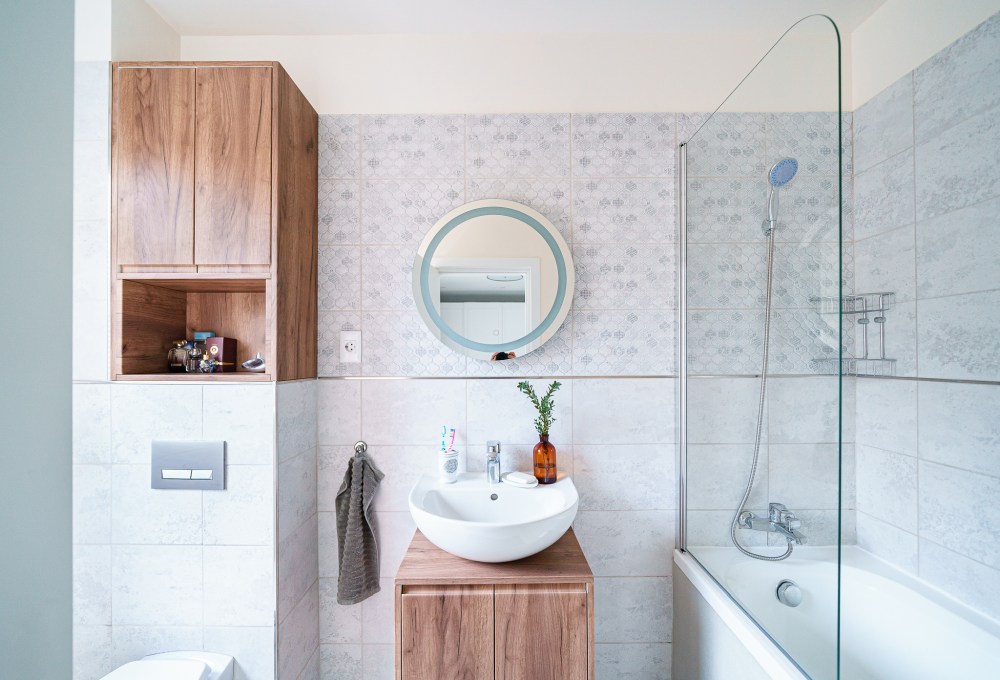 Here's a small bathroom designed by architect Anca Ionescu. It's a typical size for an apartment which means there's not enough space for both a tub and a shower. As a result, a combo was the perfect compromise. The glass divider acts as an enclosure but still keeps the area open for a bright and airy look.
When space is not an issue, that's when you can truly have the shower of your dreams. It could look simple, similar to the one designed by architect Stuart Silk but it can be customized with various extra features like wall nooks for storage, hydro massage and so on. We love the use of white marble tiles to give this minimalistic shower a distinguished look.
If you want a bit of glitz and glamour into your life how about a classic, Hollywood-inspired bathroom like the one designed by Stylt Trampoli. It has such an eye-catching look without being overwhelming or overly decorated. The mesh shower wall and the mirrors really help to bring it together and the purple ceiling is the cherry on top.
A monochromatic palette can also look beautiful in a bathroom, especially if you want to put an emphasis on its simplicity and spaciousness. This one has a minimalistic walk-in shower custom designed to fit in the corner by the vanity which opens up the room quite a lot. This is part of an interior designed by studio OOOOX.
FAQ
How much a walk-in shower cost?
In general, it costs between $2,500 and $15,000 to add a walk-in shower.
Is a walk-in shower worth it?
While this can be somewhat subjective, there are definite benefits when adding a walk-in shower that make it worth the cost. These range from the basic fact that it adds value to the home and is more accessible to the luxury side of the equation: They provide a fabulous showering experience and look great design-wise.
What is the difference between a shower stall and a walk-in shower?
Technically, a true walk-in shower has no door or curtain, or enclosure. There's also no curb or ledge to step over. Most people, however, consider a walk-in shower one that doesn't have a tub and is enclosed somehow.
How much does a tiled walk-in shower cost?
A walk-in shower costs roughly from $2,500 to $15,000, with tiled versions being more expensive because they are generally custom. There are many factors that will affect the cost, mainly:
The shower pan

Tile choices

Shower fixtures

Accessories
What is the best material for a walk in shower?
Material for a walk-in shower should be easy to maintain and durable. You want to choose long-lasting, and quality materials that will perform for the long haul.
What are good dimensions for a walk-in shower?
The absolute minimum size for a walk-in shower is about 36" by 36" although local codes and plumbing requirements will take precedence and may actually determine what size your shower should be.
Is it better to have a shower door or curtain?
Most homeowners opt for glass doors on a walk-in shower but both have pros and cons. Shower doors are definitely more expensive but in the long run are more environmentally friendly and durable. Shower curtains are far cheaper as an initial investment but have to be regularly replaced, even if they do offer more design options when it comes to colors and patterns.