10 Walk-In Shower Design Ideas That Can Put Your Bathroom Over The Top
Walk-in showers are elegant and functional for any bathroom. Whether you also have a bathtub or just this area, your décor will be functional and chic. It will also give your bathroom a modern appeal and it will give you the possibility to efficiently use the space you have available. Get creative or find some inspiration somewhere else. We have selected five designs to get you started.
1. Glass-enclosed shower.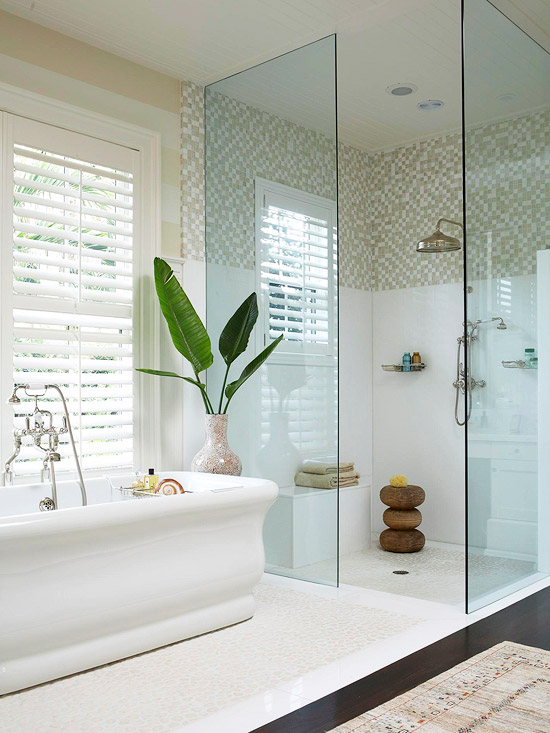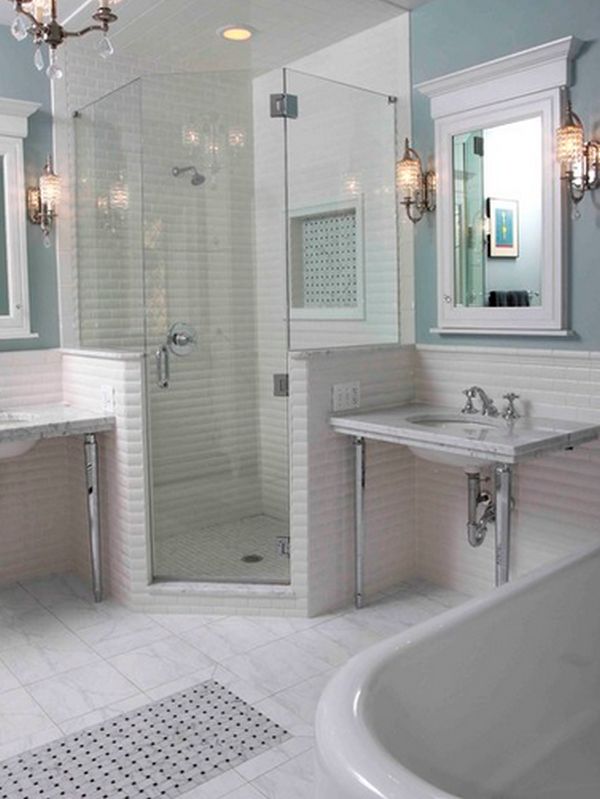 If you want to create a seamless transition between the shower area and the rest of the bathroom, transparent glass is the perfect materials to help you with that. In this example the shower is encased in floor-to-ceiling glass panels. Inside there's a bench and small, practical shelves mounted on the wall. The oversized showerhead is an interesting statement element.
2. Light-filled shower.
A window in the bathroom, regardless of its dimensions, can make a huge difference. It's an especially beautiful addition in the shower. The sensation that you get when you see and feel the light embrace you is unique. Of course, a skylight would be even better. The shower will be bathed in natural light and will have an almost divine look. The decorations you choose for this space can also make a big difference.
3. Shower and steam room in one space.
A designer shower enclosures walk-in and a steam generator can be combined to create your very own steam room. It's a simple way of making your own spa. The amenities are critical is this case. It would be wise to include a small window that can be opened when you use the shower alone to let the air circulate. You'll be able to use this space both as a regular shower and a steam room and you can enjoy relaxing moments right there in your own home.
4. Small shower unit.
If you have a small bathroom you can still have the walk-in shower you wanted without sacrificing too much space. It would simply be a smaller version of the ones presented previously. To avoid making the bathroom feel cramped you can opt for simple lines and materials such as glass that would ensure a seamless transition. In this case, the frameless shower door was a clever choice.
5. Private spa.
If you have the space and resources, you can take these ideas one step further and create your own spa. In this example we have a beautiful and spacious spa-like shower with a limestone bench and white and black mosaic tiles. A wall niche ensures the storage space needed for the usual products used in the shower and a large window lets in lots of natural light.
Modern trend – round shower.
Perhaps one of the most important elements to take into consideration, the shape of the walk-in shower can be the detail that defines your whole design. Round showers tend to look more glamorous, especially if they're encased in glass. However, a round shower is not ideal for small bathrooms.
Nature-inspired.
Perhaps you'd like to feel closer to nature when you're taking a shower, in which case you should consider using materials like stone and wood. Try a combination of materials and make sure you use the contrasts to your advantage, to create a unique design. You could have stone or river stones on the floor and use wood as a decorative feature.
Open.
Maybe you're used with showers being encased in glass or having curtains and dividing walls to separate them from the rest of the bathrooms. Although that's the case in most homes, such features are not strictly necessary. You can also have an open shower and this will make the room feel more spacious.
Indoor-outdoor combo.
Consider placing the indoor and outdoor showers side by side. Allow them to communicate with each other through glass walls and create a connection between them. This way light get in and illuminates the indoor shower area and the outdoor one feels less out of place and more comfortable.
Luxury shower.
It's hard to say what makes a shower look luxurious. It's a combination between the materials used, the finishes, the colors and the overall ambiance. A luxury walk-in shower has no visual defects. Everything it perfectly aligned and there's always one element that puts it over the top.
Benefits of Walk-in showers
It's not just the stylish design that makes walk-in showers so versatile and popular. There are numerous other benefits that they offer. For example:
Walk-in showers are both safer and easier to use. This makes them more user-friendly than tubs or regular showers, especially in the case of kids, elderly people or those with medical issues.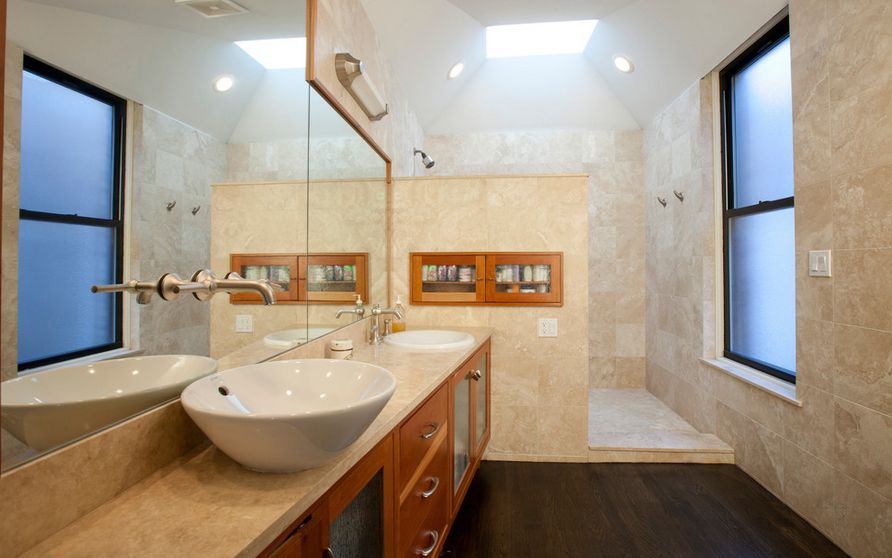 They are wheelchair-accessible, which allows them to stand out as superior compared to tubs or other types of showers.
Apart from being minimalist and elegant, they also offer extra space in the bathroom. Because of their simplicity and straight-forward design, they allow the room to be more airy and bright.
It's also this simplicity that also makes walk-in showers easier to clean. Because they have fewer parts and areas where grime and dirt can accumulate, they reduce the risk of having mold in the corners or a look that's not pure.
In addition, fewer parts in general means that there are fewer elements that can break and this makes walk-in shower particularly durable. This is also due to the fact that they are made of durable and think materials designed to make them safe to use.
Walk-in showers also offers versatility in terms of design. They can customized in numerous different ways and outfitted with lots of different features, types of doors, etc.
The general structure and design of a walk-in shower is created so that it traps vapors inside. This means there's less potential damage which can be caused to the walls, especially if they're made of wood. Also, mold is less likely to appear.