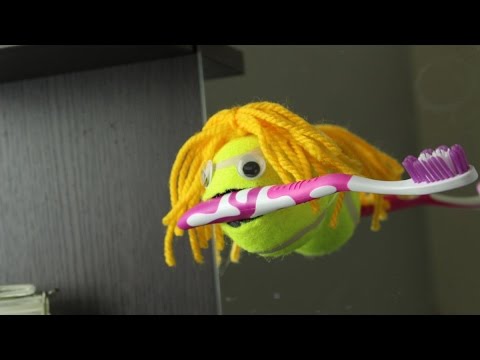 Before you toss old kids toys, take a look at this video with some great ideas for repurposing them. Have a tennis ball that might not be as bouncy? Slice open a mouth, hot glue some googly eyes and a suction cup on the back. Stick it on the bathroom mirror to hold a toothbrush, on the memo board to hold keys or an important paper. So cute!
You can also use a favorite plastic animal and make a glitter snow globe. Glue the animal to the inside of the lid of a jar and fill the rest with water, glycerin and glitter.
Or maybe you need a container. Take a jar and hot glue the animal to the top of the lid. Spray paint the entire thing gold and then fill the jar with cotton balls or anything else you need to store – perfect for a kid's bathroom..
If you're having party, how about making some confetti poppers? Take a toilet paper tube and attach the bottom end of a balloon to one end. Using double stick tape, cover the roll in decorative paper. Fill with confetti and close the other end with another balloon.
Finally, table legs can take a beating from zooming toy cars and rampaging plastic creatures. Make some cute covers for furniture legs by cutting a piece of felt as shown and decorating it.Wrap and tie it around the table legs and you have a removable covering to protect your furniture. So easy.