The Marvelous Mary Kay Mansion in Dallas
I wonder if it's even possible not to love a house like this. Exquisitely positioned on more than an acre with beautiful gardens, terraces and fountains, the iconic Mary Kay mansion is a landmark in prestigious Old Preston Hollow. The grand pink villa was designed and built by Mary Kay Ash in 1984, and the design included carved wood mouldings, 40'ceilings and walls of beveled glass windows that overlook the breathtaking Greek styled swimming pool.
Outside, the beautiful house is surrounded  by an amazing  garden where you would love to stay and look at the fountains or enjoy the beautiful view over the surrounding  nature. Inside, from  the entrance, you can remark the elegant style with tall ceilings, marble floors and vintage decorations, including a sophisticate staircase with a white, iron railing which gives the house a welcoming atmosphere.
The whole mansion  is decorated in two different styles.A part of the house is modern, with warm colors on the walls, pale carpets, marble and elegant, wooden furniture. For example, we can see a room with an interesting mural painting, an exquisite choice for the owners, because it transforms the place in a tasteful location where you will never get bored. The other part of the house is decorated only in wood. One  living room is decorated in wooden ceiling, wooden floors, wooden walls and also with wooden interior balconies from the second floor. In the middle of the room sits an elegant sofa and a sophisticate, vintage piano, a wonderful choice for this kind of room. I just fell in love with the kitchen.
Everything in it is sophisticate, but also useful . It's a large, breezy room painted in warm colors and furnished with quality kitchen modules where you have enough space to  deposit all your ingredients and dishes. The dining room next to the kitchen  is an elegant  space decorated with vintage, wooden furniture and a magnificent chandelier, a place where you can eat and enjoy the outside view. Upstairs, we have the master bedroom which has access to a personal dressing room and a spacious bathroom, but also its own staircase which leads to an open space where is positioned a piano.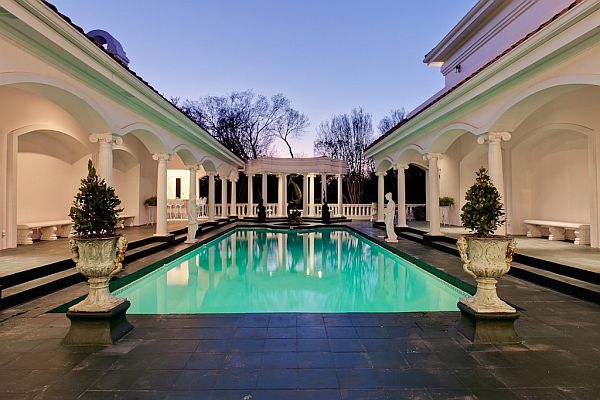 Of course, this kind of house is not complete without a swimming pool. In the back, you can see a magnificent one surrounded by a beautiful construction built in a Greek style, with lots of columns, statues and potted shrubs, a small  chunk  of paradise.