Saatva VS Avocado Mattress: Let's Compare
If you're thinking of purchasing a mattress, you may be overwhelmed with the number of choices that are now available on the market. While having a variety of options means you can slowly take a look at each of the different options, it can be really time-consuming and difficult to know where to start.
To help you get started, we're taking a look at some of the most popular mattress brands in the market and delving deeper into their individual features. Here, we'll be taking a look at the Saatva mattress and the Avocado mattress. We'll take a look at details such as the construction of the mattress, the prices, shipping and even their warranties and sleep trials.
To determine whether the Saatva or the Avocado is better suited to your needs, you'll need to take a closer look at their specifications and which one sounds more like your ideal mattress. If you need one that provides better support for example, the Avocado mattress is the way to go. On the other hand, if you're looking for a luxurious mattress that's relatively affordable, the Saatva mattress is the way to go. Keep reading as we take a look at the construction and makeup of each of the mattresses and provide you with more information.
Saatva Mattress VS Avocado Mattress Comparison
| | Saatva Mattress | Avocado Mattress |
| --- | --- | --- |
| Sleep Trial: | 120 nights | One year |
| Warranty: | 15-year warranty | 25 years limited |
| Free Shipping | Yes | Yes |
| Firmness Level: | plush soft (4), luxury firm (6), and firm (7.5) | 6 out of 10 |
| | Check price | Check price |
Under the Microscope
When comparing the attributes between that of the Saatva mattress and the Avocado mattress, they both come with their own fantastic attributes. The Saatva mattress is a luxurious innerspring mattress that is constructed with not only thick comfortable layers, but also has a sturdy support system due to the coils that are embedded within the mattress. The Saatva mattress also comes in a total of three different firmness levels so you can easily select a firmness level that suits you best. There are also two different thickness profiles so sleepers are able to find an option they prefer.
Similarly, the Avocado mattress is also a great mattress that's perfect for those that are a little more eco-conscious. It's a latex hybrid mattress that also utilizes sustainable materials such as organic wool and natural latex. In comparison to other eco-friendly mattresses, the Avocado mattress is also relatively affordable. Similar to the Saatva mattress, it also comes in two different firmness levels that caters to different sleep styles.
Each one of these options also come with good sleep trial time periods and a number of years warranty. A sleep trial is great if you need some time to decide on whether or not the mattress is right for you. Both of the mattresses also come with complimentary shipping and are not difficult to set up.
Both the Saatva mattress and the Avocado mattress also has excellent credentials that's catered to and suits different individuals. For example, the Avocado mattress is firm enough to cater to heavier sleepers while the strong airflow between the layers makes the Saatva mattress great for individuals that are hot sleepers. If you're looking through the sites and still have difficulty deciding on your mattress, it's always a good idea to take a look at customer reviews to see what other people's individual experiences are.
Why Does the Perfect Mattress Matter?
In this day and age, we're constantly on the go and always exposed to our digital devices. Hence, it's now more important than ever to ensure that we're fully rested and getting the sleep that we need. The perfect mattress should be supremely comfortable and allows you to wake up feeling rested and refreshed. No two individuals are the same however as some might prefer the soft sinking feeling of memory foam while others might preference a bouncier latex material. Nowadays, mattresses are also getting more and more advanced and have cooling gels incorporated into them, and even targeted support zones to cater to individuals with physical needs.
The Saatva mattress for example, offers good pressure relief for individuals that require a bit more support. However, it also largely depends on the firmness level. While the plush soft level helps to alleviate pressure for lighter people, heavier individuals would most like likely need to purchase a luxury firm or firm model to better conform to their bodies.
The Avocado mattress on the other hand also provides amazing support. However, since it's made of latex material it doesn't provide as much pressure relief as its foam counterpart. Hence, this mattress is more suited to those that need support in both their pelvic as well as lumbar regions, and is more suited to stomach and back sleepers. For a latex mattress, the Avocado mattress has pretty good motion support and excellent edge support.
Now that we've taken a look at some of the basic specifications of both mattresses, it's time to get into the nitty gritty details.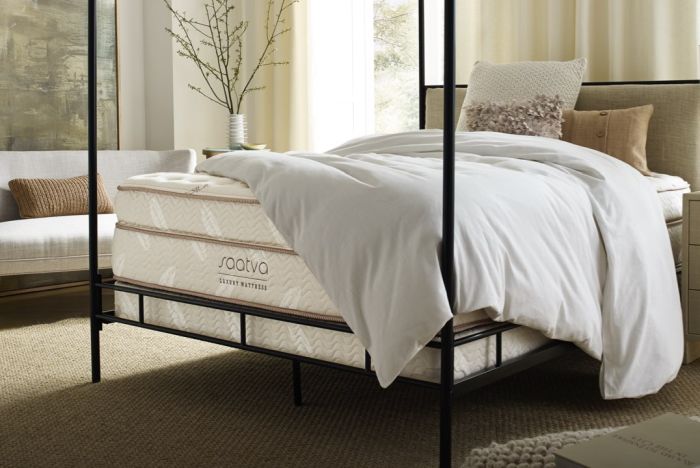 Cost
In terms of cost, the Saatva Mattress is averagely priced. A queen-sized mattress is priced at $1,199 while a twin starts at $699, and a California King is priced at $1,599.
Sizes
The Saatva Mattress comes in a plethora of sizes ranging from a twin to a twin XL all the way up to a California King. Depending on the mattress size you require, there's bound to be one that suits your required needs.
| Size | Dimensions | Price |
| --- | --- | --- |
| Twin | 8" x 75" | $599 |
| Twin XL | 38" x 80" | $749 |
| Full | 54" x 75" | $999 |
| Queen | 60" x 80" | $1,099 |
| King | 76" x 80" | $1,499 |
| Cal King | 72" x 84" | $1,499 |
Construction
The Saatva mattress comes with a euro-top cover that provides that added layer of comfort. It also comes with three different main layers of the comfort, transitional as well as support layer. The top comfort layer is made with polyfoam while the second comfort layer is constructed with memory foam. Depending on the firmness level chosen, there's also a slight difference on the third comfort layer.
The transitional layer consists of pocketed coils that are made from recycled steel. This layer acts as a buffer and helps in preventing sleepers from sinking through the layers. It also helps to provide that added touch of firmness, and makes the mattress a tad more responsive.
Finally, the support layers are made of recycled bonnell coils that are also constructed from steel. This layer helps in stabilizing the surface and reinforce the edges. This ensures that your body won't sink too far in, and still has an adequate amount of support.
Shipping
Currently, Saatva Mattresses are only shipped within the U.S.A and comes with free shipping. There's also complimentary white glove delivery that comes with the shipping.
Where it's Made
Saatva mattresses are currently made in the United States, and they only use the finest eco-friendly materials. Either than having an organic cotton outer cover, their inner springs are also constructed from recycled steel, and they have an eco-friendly foam layer. To top it off, the company is also committed to reducing their carbon footprint.
Special Features
Due to the coil layers, there's strong airflow, and hence the Saatva mattress helps in neutralizing temperature and prevents individuals from feeling too hot at night. The coils used to construct the Saatva mattress are also unique as they're not as springy or stiff as other coils and thus ensures that you'll have a comfortable sleep and won't find the mattress to be overly springy or stiff.
The mattress also comes in different heights depending on the amount of support needed. For example, the 14.5-inch Saatva has exceptional support due to the additional support core thickness. This is an important feature to know – especially for heavier individuals that have trouble finding a bed with the right amount of support.
Firmness Level
The Saatva mattress comes in three different firmness levels. The plush soft firmness level of the mattress is about a four on the firmness scale and conforms quite closely to the sleeper's body. This is great for those that prefer more of that sink in feeling.
The second firmness level is luxury firm which is about a six on the firmness scale. It's only slightly firmer than the plush soft firmness level and still has that soft polyfoam padding. Finally, the firm level is between a seven and an eight on the firmness scale. It's great for those that want a bouncier, firmer mattress and aren't quite a fan of that sink in feeling.
Maintenance
While the Saatva Mattress may be easy to maintain, it's always best to have a mattress protector in place to ensure that your mattress gets adequate protection. With a mattress protector, it'll prevent any liquids from seeping within the mattress – which can be tough to get rid of.
Sleep Trial
Currently, the Saatva Mattress comes with a 120-night trial so you can take your time to decide if this mattress is right for you. If it isn't, you can contact their customer service agents and receive a full refund.
Warranty
In comparison to other mattresses however, the Saatva Mattress only comes with a 15-year warranty. There's also some conditions in regard to their warranty. For the first two years for example, a brand new Saatva Mattress will be replaced at absolutely no charge. However, in years three to 15, transportation charges will be incurred if a replacement is requested.
Cost
Avocado mattresses are on the higher end of the price spectrum. A queen-sized mattress is about $1,399 while a twin starts out at $959 with a California king priced at $1,699.
Sizes
The Avocado Mattress comes in a range of sizes from twin to California King. With a range of sizes available, it can easily fit into any situation or room sized required.
Construction
The Avocado mattress comes with a few different layers. It starts off with a 100% GOTS-certified organic cotton and hand-tufted cover. It's free from chemicals, glue and fire retardants. Then, the comfort layer comes with organic wool which is sourced directly by the company. Since it's a completely natural material, the wool will help in keeping the body cool and wick away moisture.
The support layer consists of very firm latex along with pocked inner springs to provide that right amount of bounce. There are also three different gauges within this layer to provide support to the ergonomic zones. It's firmer in some areas – such as the lower back region, and softer in others.
While there aren't that many layers within the Avocado mattress, they are latex hybrids. This means that the mattress is on the firmer end. Those that want something a little softer though can purchase a two-inch latex pillow-top for a plusher feel.
Shipping
Avocado mattresses are shipped out of Los Angeles and can be shipped from three to five business days anywhere within the United States. While the Avocado mattress will be shipped directly to you, you'd need to opt for the in-home setup and delivery service if you need assistance in moving your new mattress. In-home delivery and setup services however, may not be available in all areas of Hawaii or Alaska.
Where it's Made
The Avocado mattress is designed in Hoboken and handmade in California. They've got their own factory, and only the finest organic certified, natural, and non-toxic materials are used in the creation of their mattresses. The mattress is also handcrafted, environmentally-conscious, ethical, and utilizes sustainable business practices.
Special Features
What makes the Avocado mattress special is the fact that its mattresses aren't only eco-friendly, they're also really affordable for the materials that they're built with. Materials are sourced from co-owned farmer's collectives and they are all natural and GOTS-certified organic. With its multiple certifications in sustainability coupled with its eco-friendliness, you can't get any greener than this.
To top it off, the Avocado mattress also provides fantastic support due to its coils that help to target ergonomic zones. Hence, you can ensure that you'll get firmer and softer support in areas where you need it the most. The reinforced steel perimeter also helps with improving edge support.
Firmness Level
For firmness level, the Avocado mattress sits at about a seven out of 10. For those that include the pillow-top, the firmness level falls to about a six out of 10. Since latex is a very bouncy material, it's of no surprise that this mattress is firmer in comparison to other mattresses.
Maintenance
It's easy to care for the Avocado mattress. While you can normally use some warm water and detergent to spot clean the mattress, you can also purchase one of their mattress protectors. They've got an organic waterproof mattress protector with two layers of GOTS organic certified cotton and a super thin waterproof film for comfort. Alternatively, there's also an organic cotton mattress pad protector that's absorbent and fits all Avocado mattresses.
Sleep Trial
The Avocado Mattress comes with a one year sleep trial period. This is considerably long in comparison to other mattress sleep trials, and it means that you'll get to sleep on the mattress for an entire year before making a decision of whether or not you'd like to keep it. With a one-year sleep trial, you'll have ample time to decide if the Avocado mattress is for you, and also shows that the Avocado company is confident that you'll fall in love with their mattress.
Warranty
The Avocado mattress comes with a 25-year limited warranty. There are certain defects that the warranty covers, and there are some defects that the warranty does not cover. To get a full detailed outline of the warranty, you'd need to head to the Avocado mattress website. There's also full coverage for years one through 10, but years 11 through 25 will have limited coverage.
The Rundown
All in all, you won't go wrong in choosing either the Avocado or the Saatva mattress. Both mattresses offer a considerable amount to sleepers and come with their own set of unique features. If your preference an eco-friendly mattress, than the Avocado mattress is a perfect fit. Since it also provides a good amount of support, it's also more catered to stomach and back sleepers or heavier sleepers. Alternatively, the Saatva mattress is perfect for any type of sleeper since it comes in so many different firmness levels and thickness settings.
Whichever mattress you choose to go with, it's always important to ensure that each of these mattresses are meeting your sleep needs and that you're picking one that will provide you with the most restful sleep. There's also nothing wrong with comparing prices and looking at which mattress will provide you with the most bang for your buck. After all, a mattress is a long-term investment and you'll want to purchase a mattress that'll provide you with amazing sleep for many years to come.
It's also comforting to know that these mattresses are both rated very highly and have great credentials. With all things considering, you can't go wrong in purchasing any of these mattresses. What's most important is deciding what suits your needs best. Try out the sleep trial, take a closer look at the specifications and read some personal reviews of individuals that have bought either one of these mattresses.