How To Give Your Old Stair Railings A Fresh New Look On A Small Budget
A staircase isn't just a practical structure which lets us move between floors. It's also an important interior design element and, as such, deserves our full attention. Today we're focusing on stair railings, specifically on a few very impressive and inspiring makeover projects. They show how easy the transformation is and how big of an impact it can have on a home's decor and ambiance.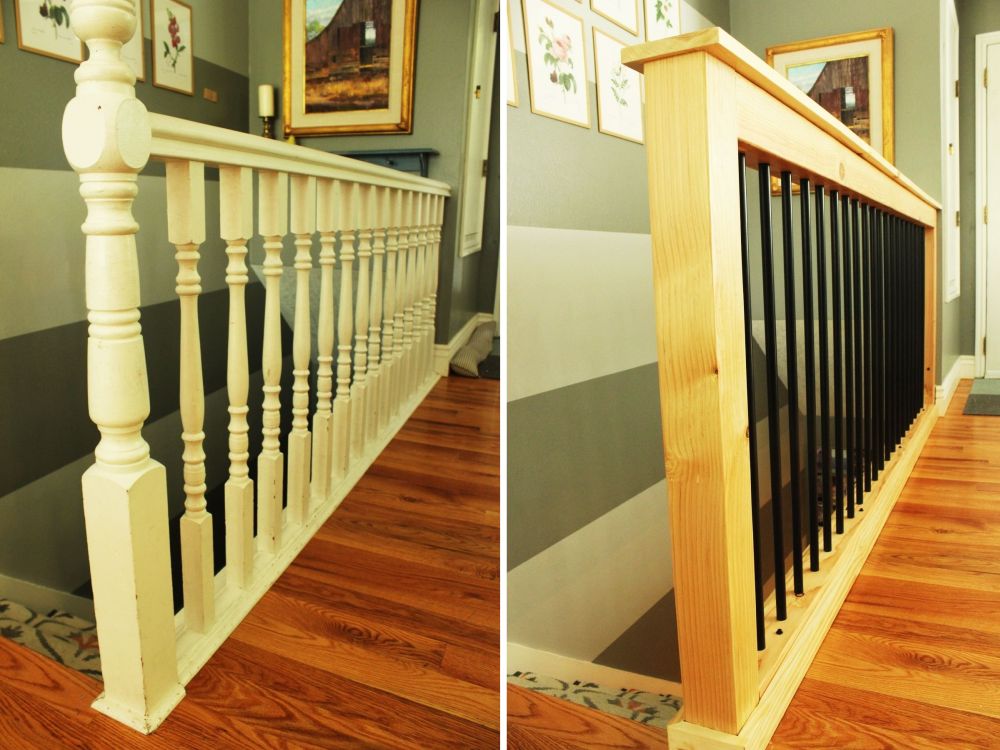 It's not very often than we replace stair railings since they're meant to be durable and long-lasting for safety reasons. When we do replace them it's most likely because they look outdated, like this
Another wonderful makeover project that we really like was featured on welcome-to-the-woods. The new railing is made of steel conduit and MDF. It has a simpler and more modern appearance compared to the old, more traditional design. The change influences the entire house, not just the staircase. The spaces in its immediately vicinity look and feel a lot more open, bright and welcoming.
A staircase makeover doesn't necessarily have to imply the replacement of the old railings with new structures. The transformation can be purely aesthetic and can be done using nothing more than paint. For example, if you want to update the look of your old oak stairs to make them better-suited for a modern environment, consider using white paint to give the stairs and the railings a fresh makeover. Check out seasidesundays to see how it could all look like in the end.
If you're planning a staircase makeover, consider refreshing the look of the railings by changing the pattern or orientation of the posts. It's easier to understand this by visualizing such a look so check out magnolia to see a very suggestive example. Originally the staircase railings featured an array of vertical wooden posts and the new design plays with horizontal lines large-scale geometric patterns.
You can also update the look of your staircase without even touching the stairs just by adding a simple handrail. It doesn't have to look sophisticated or to be flashy in any way, especially if you're doing this for the basement staircase. A simple handrail made of metal pipes and fittings would be just perfect. Check out imgur to find out how to make one from scratch.
Want to add a little bit of color to your staircase and at the same time make the handrail soft and pleasant to the touch? How about a yarn cozy? You could use a knitted blanket. Just wrap the blanket around the handrail, stitch the edges together and then trim the excess. It's that simple. This awesome idea comes from blogalacart.
If you want to give your staircase railings a complete makeover without actually replacing anything, there's one particularly creating idea you could use and it comes from remodelaholic. Basically the suggestion here is to cover up the existing posts and to conceal them behind a brand new design.
An entirely different idea is to replace the staircase railings with something else, like a bookcase. This actually makes a lot of sense, especially if you plan on using the area at the top of the stairs as a sort of open reading nook. Just make sure you secure the shelving to the floor properly and that everything is safe and durable. You can find details about this makeover on justcallmehomegirl.
Things are quite different if the railings you plan on building are for an exterior staircase. For example, let's say you want to add railings to the deck stairs. That shouldn't be too complicated but a lot of the ideas we showed you today don't really apply here. You'll be interested to check out the project featured on bowtospecialist for some useful tips in this case.