Let's Take a Look at the Nolah Original 10 VS Hyphen Mattress
Looks can be deceiving, and what the untrained eye might perceive as being two very similar all-foam mattresses, the expert eye understands that the number of differences between these two beds is huge. We're talking about the Nolah Original 10 and the Hyphen mattress, of course. These are two mattresses that might be made out of foam, yet the similarities between them stop right there. How could two all-foam mattresses be that different from one another, you ask?
Nolah Original vs. Hyphen Mattress Comparison
| | Nolah Original Mattress | Hyphen Mattress |
| --- | --- | --- |
| Sleep Trial: | 120 nights | 100nights |
| Warranty: | 15 years | 20 years |
| Free Shipping | Yes | Yes |
| Firmness Level: | 5 out of 10 | 6 out of 10 |
| | Check price | Check price |
A Closer Look
If you're on the market looking for a soft memory foam bed that good for side sleepers, couples, and people who are on a budget, the Nolah Original 10 is a mattress that will impress you, for sure. It features a three-layer construction and a 10-inch profile, which are two of the characteristics that make it similar to the Hyphen bed. However, the construction of the exact types of foam that are used to make the Original is different, which also results in a different feel, a different firmness, and manages to serve different categories of sleepers.
The Hyphen mattress is another all-foam bed, but with a choice of materials that we found to be rather odd, at least when compared to the usual foam beds within this price range. The mattress is made entirely out of polyfoam, and while we get the choice of material for the middle and bottom layers, it seems strange that a company would opt for polyfoam instead of memory foam in the upper layer.
Cost
The Nolah Original 10 mattress comes at a really convenient price, but it is rather expensive when compared to other all-foam mattresses. The price for a Twin-sized bed, which would be the smallest option available, is $619, but they can go all the way up to $1119, which the equivalent of the Cal King bed. You can expect to find the Nolah Original 10 mattress on discount several times throughout the year, but that means that you should scout their website on a regular basis, hunting for a sale.
Available Sizes
Most mattress manufacturers offer their beds in at least sizes, and the Nolah makes no exception. You can find the Nolah Original 10 bed in a Twin-size, but also Twin XL, Full, Queen, King, and Cal King.
Construction
Nolah has two main mattresses in their line-up, one with a 12 and one with a 10-inch profile. We've decided to review and compare the 10-inch version of this bed because it's the one that comes closest to the other mattress we plan on talking about today, but also because it's a Nolah best-selling product.
As you'd expect from other foam mattresses, the Nolah Original 10 debuts with a cover that brings together viscose and polyester, resulting in a stretchable, breathable, and soft cover. Moving on, we come across the bed's first layer made from something that the company likes to call AirFoam. This layer is designed to offer optimal pressure point relief and contouring, but it doesn't have any additional cooling measures, as we see in other all-foam beds.
Next on, we find the transition layer, which is one inch thick and it's made from polyfoam. This layer helps stop your body in its tracks to prevent it from sinking even further into the bed, making the transition between the top and bottom layers of the bed as smooth as possible. As far as the base is concerned, the Nolah Original 10 comes with a 7-inch HD polyfoam based that gives the mattress structure, durability, and support for all the weight above it.
Shipping
The Nolah Original 10 is delivered via UPS Ground and the company provides shipping to all corners of the United States. Shipping is free, but you don't get any additional services with your purchase, like perhaps white glove delivery or old mattress removal. When the mattress is shipped, each customer will receive a tracking number that provides information on the current status and location of the mattress while it's being delivered.
Where It's Made
Nolah Sleep takes pride in the fact that their beds are made on American Land. The company has eight factories that are scattered all over US territory. The raw materials and fibers that are used to make the Nolah Original 10 are also of American origin.
Special Features
The comfort layer of the Nolah Original 10 mattress is designed using something that the company likes to call AirFoam™. This is basically foam that Nolah has bent to its own will in order to create a soft and comfortable upper layer that can keep the sleeper cool while also doing a good job at relieving pressure points and contouring the body.
But aside from these advantages, the high-resilience foam that Nolah calls AirFoam™ also seems to be more durable, at least when being compared to the traditional memory foam that you frequently find in the comfort layers of all-foam beds.
Firmness Level
The firmness level is a dreaded subject for every expert mattress reviewers because it actually takes a number of different testers of different weights in order to get a more accurate estimate of what the mattress feels like for several types of sleepers. With that in mind, always look at a mattress's firmness rating with a skeptical eye.
The Nolah Original 10 is a bed that has a firmness rating of about 5 out of 10, making it a medium-soft bed that would best cater to the needs of people who like to sleep on the side. When putting together tester opinions and customer reviews, it would seem that the Nolah Original 10 bed does a really great job at providing support and pressure point relief for lightweight sleepers that prefer any of the three main sleeping positions, but also good support for average-weight side sleepers.
Sleep Trial
Sleep trial is all about how much time you have to sleep on the mattress to decide if you want to keep it or return it and get your money back. Since buying a mattress online means you can't test it, looking for a product that offers free nights trial seems like a decent offer. The Nolah Original 10 will allow you 100 nights of testing the bed to see if it does indeed match your expectations.
However, since this is a foam bed that requires time to adjust to the contour of your body, Nolah does require that you submit the mattress to a 30-day break-in period. That means that you have to sleep on the mattress for at least 30 nights before you attempt to return it. If Nolah decides that you are eligible for a full return, they will arrange it so that the mattress is picked up and delivered to a recycling center or donated to charity.
Warranty
The Nolah Original 10 mattress comes with 15 years of warranty and some pretty decent terms to go along with it. You will need to make sure that you own or buy a proper foundation that can support the mattress, otherwise, the warranty becomes void.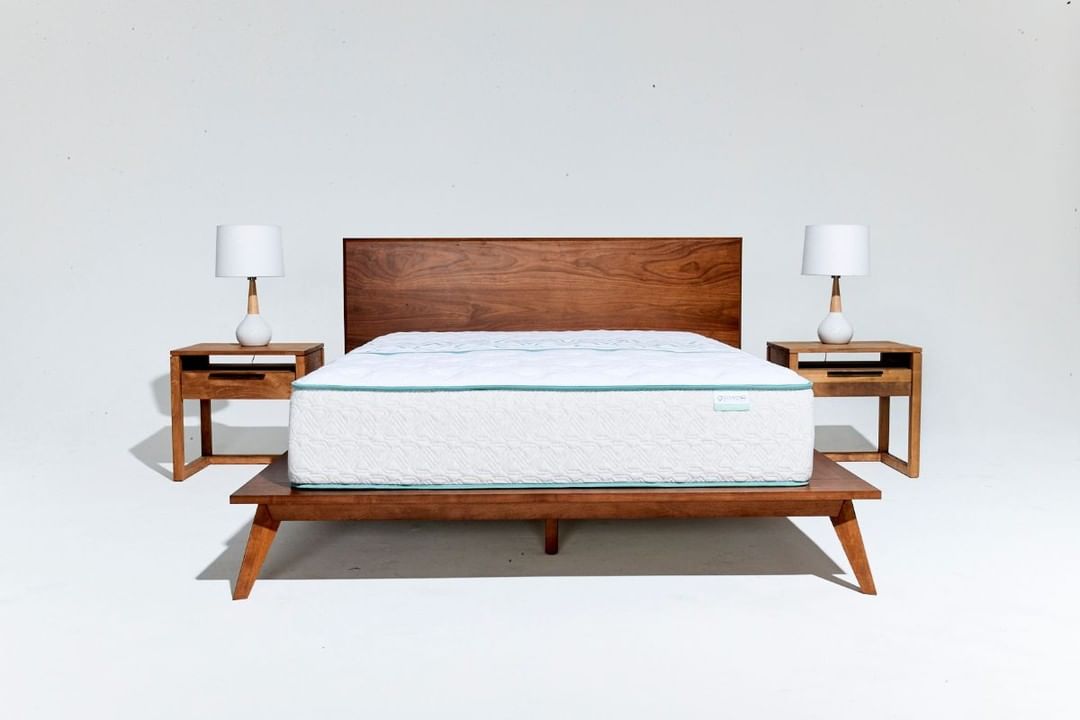 Cost
The Hyphen bed is actually a really convenient foam mattress with quite an average price tag. If you want the lowest price possible, you'll be paying $575 for a Twin-sized bed, while the largest one, the Cal King, will cost you $1095.
Available Sizes
| Size | Dimensions | Weight | Price |
| --- | --- | --- | --- |
| Twin | 38" x 74" x 10" | 40 lbs | $575 |
| Twin XL | 38" x 80" x 10" | 44 lbs | $675 |
| Full | 53" x 74" x 10" | 55 lbs | $800 |
| Queen | 60" x 80" x 10" | 66 lbs | $950 |
| King | 76" x 80" x 10" | 82 lbs | $1095 |
| Cal King | 72" x 84" x 10" | 84 lbs | $1095 |
As expected, people that are interested in buying the Hyphen mattress for themselves can find it in pretty much all the standard sizes that beds are available in these days: Twin, Twin XL, Full, Queen, King, and Cal King
Construction
With its 10-inch profile, the Hyphen mattress is one of the most comfortable memory-foam beds you'll ever see. It all starts off with a cover that's made from a blend of polyester and spandex, making it quite stretchable and breathable.
The comfort layer of this mattress is made with two inches of the company's proprietary foam. It has a faster response to pressure compared to regular memory foam, so you should be able to switch sleeping positions with ease. Normally, foam mattresses tend to have gel-infusions in the comfort layer, but the Hyphen mattress is infused with copper and has an aerated texture in order to prevent heat from being trapped on the surface of the bed.
Next up, the mattress brings forth a transition layer that's made from two inches of polyfoam. This layer adds a nice bounce to the mattress, so it can work together with the comfort layer to make nocturnal movements smoother. The base layer of the mattress is made from 6 inches of HD polyfoam, which is what you'll normally see in other foam mattresses as well.
Shipping
Good news: the Hyphen mattress is shipped all over the US, including to those who order from Alaska and Hawaii. While shipping is free for the most part, Alaska and Hawaii residents will have to pay shipping fees. The Hyphen mattress is a bed-in-a-box that arrived compressed and vacuum-sealed. The company isn't able to provide any white glove delivery services at the current time.
Where It's Made
All of Hyphen's mattresses are made on American territory. The company uses quality materials and makes its beds with the help of artisans that have significant backgrounds in the craft.
Special Features
The Hyphen mattress isn't exactly a remarkable bed in itself, but it does get the job done, and for a very convenient price, at that. Unlike most other similar beds, the Hyphen mattress is made entirely from polyfoam, which might make it less capable of superior contouring as opposed to memory-foam beds.
Firmness Level
The firmness level of a mattress is such a subjective thing, especially when we're facing an all-foam mattress that could so easily contour a lot of different body weights and sizes. For the most part, the Hyphen matt
ress is a bed with a firmness rating of about 6, making it a medium-firm bed. As it is, it can provide a decent level of support for average-weight sleepers that prefer the back and side positions.
Sleep Trial
Your Hyphen mattress can be enjoyed for a full 100 nights before you can decide if you want to return it for a full refund. The company doesn't require that you sleep on the mattress for a minimum amount of nights before returning it. Instead, you can ask for a refund at any time. The mattresses returned are donated and you will have a courier pick up the bed from your home.
Warranty
The Hyphen mattress comes with a 20-year warranty period that has a few things you should know about. During the first ten years of ownership, you can repair or replace the mattress free of any charge. After the first ten years, you will be obligated to pay a flat shipping fee of $99 should your mattress require replacement or repairs.
The Wrap Up
The Nolah Original 10 mattress is a medium-soft bed that would clearly benefit average and lightweight sleepers, due to its superior conforming and the ability to relieve pressure points to well. With minimal noise and really good at motion isolation, the Nolah Original 10 could easily be a bed for couples, but also for those who are looking for a less expensive alternative to luxury memory foam mattresses.
On the other hand, we have the Hyphen mattress, which comes in a medium firmness option, which is neither here nor there. It does provide a nice level of bounce, which is something that latex or innerspring mattress lovers will surely appreciate. While it does perform decently in relieving pressure points for side sleepers, the Hyphen bed has competitors that would easily outrank it at this chapter, making it a choice that would be much more suitable for back sleepers.