How To Create A Farmhouse Bathroom Decor That Looks And Feels Authentic
A little big of farmhouse-style decor charm here and there can go a long way toward making space feel like home. It's mostly the warmth of the natural wood often used in such designs and the authenticity of the materials that make spaces look and feel welcoming and charming.
That being said, next time you remodel consider a farmhouse bathroom decor or even just adding a few little suggestive details here and there, enough to create a warm and inviting ambiance in the room, whatever its function may be.
What Exactly Is Farmhouse Decor?
Farmhouse style is a type of interior design that values functionality, rustic charm, and simplicity. While farmhouse style is influenced by rural buildings, it also incorporates modern conveniences, resulting in an appearance that is both warm and beautiful.
Below are the elements which commonly characterize farmhouse decor.
Form & Function Practicality
Practicality is a key component of farmhouse style. When the farmhouse style began, individuals adorned with whatever was available and practical. Because furniture was scarce, everything made had an explicit, utilitarian purpose.
This practicality extends beyond function to include form. Unlike traditional furniture, which often has ornate details, farmhouse furniture is typically simple in design, with a greater emphasis on practicality than on appearance.
Large & Comfy Furniture
While farmhouse décor retains a minimalist aesthetic, farmhouse furniture is typically larger in scale, focusing on comfort and function above everything else. If you're arranging a modern farmhouse living room, for instance, you're likely to prefer large, comfortable furniture over more visually pleasing pieces.
Natural Materials
Unlike the original farmhouse style, you are not required to use just materials found right outside your home. Modern farmhouse style, on the other hand, continues to appreciate natural elements such as wicker, stone, or reclaimed wood.
To recreate the modern farmhouse's country-chic vibe, opt for low-shine materials and matte finishes to provide warmth and elegance.
Accept Imperfection
The appeal of imperfection is embraced in modern farmhouse style. Indeed, when choosing wood furniture, knots and scratches, as well as distressed finishes, can add to the authenticity of the style. Consider a more worn metal finish for metal embellishments to hint to a lengthy, storied history.
How to Decorate Your Bathroom with Farmhouse Decor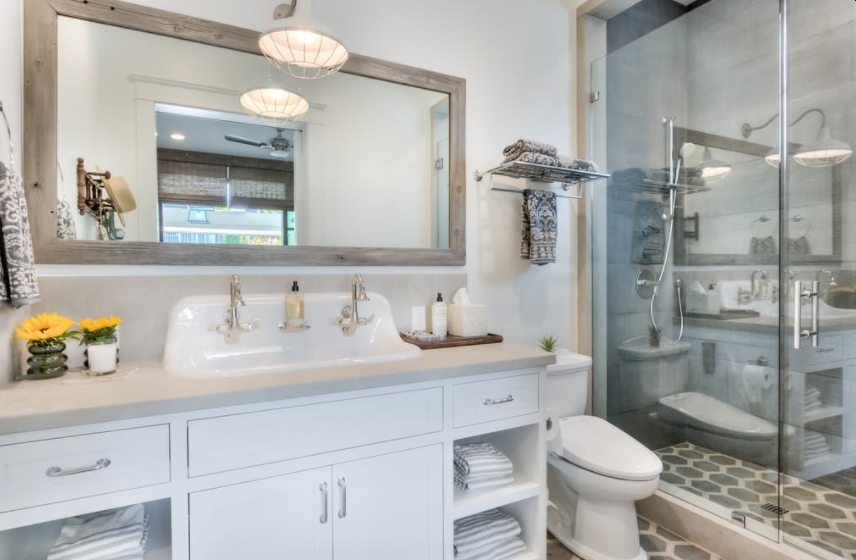 While there are numerous ways to incorporate a modern farmhouse aesthetic into your bathroom, there are a few important characteristics that are frequently carried over. Whether it's rustic, reclaimed wood or vintage embellishments, paying attention to the details is critical in this generally admired approach.
Natural Wood
For a time, it appeared as though homeowners were abandoning brown wooden vanities in favor of a pure white design. Now is the moment to reintroduce them.
Within the design sector, wood is experiencing a renaissance. If you want to bring warmth and texture to an otherwise cold environment, white oak is an excellent choice for a vanity.
Sconce Lighting
If you have the possibility to install wall light fixtures in a safe location in the bathroom, then sconces will totally complement a farmhouse style decor.
Farmhouse Sink
One approach to infuse a plain bathroom with modern farmhouse style is to replace the usual vanity and sink with a metal basin.
Shiplap Integration
Shiplap is either adored or despised in the design industry. However, we believe that shiplap can get a poor rap. When combined with other more contemporary components, shiplap adds a lot of texture to a bathroom without overpowering the area or appearing too shabby chic.
Accessories
Objects are one of the simplest ways to incorporate modern farmhouse style into your home. A stunning pitcher or a vintage vase is an excellent, low-maintenance option to add a touch of rustic charm to your bathroom.
Storage
Finding storage in any bathroom can be difficult, but if you're looking to add a little additional space for your essentials, consider some floating shelves made from reclaimed wood. This provides additional space for amenities while maintaining the modern farmhouse aesthetic of the bathroom.
Easy Mistakes When Decorating Farmhouse Decor
While the farmhouse style can be described as "comfortable" and "chill", it's actually possible to make mistakes when looking to achieve that cozy decor style, so let's look at some of the most common mistakes that people often make.
Replacing "worn out" furniture
The modern farmhouse style conjures an extremely distinct mental image. You're probably picturing pristine whites and calming neutrals. However, true farmhouse style is all about endurance.
Replacing pieces as they begin to show signs of wear or purchasing "quick furniture" in the farmhouse style overlooks the style's actual essence. Rather than that, consider mixing and combining vintage pieces.
Adding more styles
Since the farmhouse appears to be so neutral, it's also easy to go overboard with the combining of types. People frequently choose farmhouse décor since it's simple to incorporate your personal, homey touch.
Where you may run into difficulty is if you combine too many distinct styles. While incorporating farmhouse characteristics into a modern home can work, adding a whole other aesthetic can result in a disaster.
Forcing pieces into the decor
While certain features of farmhouse design can be incorporated into any home to provide a rustic touch, take into account the size of your area.
The very same furniture piece will likely not spark the same effect in every house. Rather than invoking a wonderful, rustic farmhouse, there is a chance that your new piece highlights the room's lack of farmhouse qualities.
Overcommitting
Perhaps you live on a working farm in a real farmhouse. If this is the case, delving into farmhouse style may be both practical and fashionable.
However, if you live in a modern home and are looking to give it a farmhouse vibe, proceed with caution. Excessive commitment may create the impression that your home is more like a setup for a farmhouse-themed party than a well-styled environment.
Trying to make it formal
When it comes to farmhouse design, the general belief is that we adore it for its low maintenance and uncomplicated nature. Dining rooms that match this style are oh-so-comfortable.
A robust, reclaimed wooden table is critical, but be warned: it almost immediately transforms the dining area into a place that isn't scared to be lived in. If you're picturing a more formal home, this style may not be for you.
Easy Farmhouse Bathroom Decor Ideas
Bathtub wood paneling
It's amazing how much a single element can change the way a room looks and feels. Take for example this bathroom. It got a beautiful makeover and a brand new rustic-industrial decor and all it took was covering one of the walls in wood. If you plan on doing something similar for your own bathroom, be sure to check out blesserhouse first.
Farmhouse Bathroom Lighting Fixtures
If you're not in the mood to change the appearance of the walls or to get new furniture for your bathroom, you can still change the ambiance and create a farmhouse-inspired decor with the help of the little things and accessories such as the light fixtures. Consider industrial bathroom fixtures like the one in this image. This is something that you can put together yourself and the cost would be minimal.
Farmhouse Bathroom Mirror
Other little but important things that can help give your bathroom the cozy farmhouse-style decor that you always wanted include the mirror which could have a simple wooden frame, perhaps one made of reclaimed wood for more character. A few small open shelves could also change the mood. Check out homemadelovely for more inspiring ideas.
Toilet Paper Dispenser for Farmhouse Bathroom
You can also add accessories that your bathroom never had but that would make it more welcoming and comfortable overall. For example, a toilet paper dispenser/ storage module could fit in the corner and could hold a few essentials as well as a lovely little potted plant or some other sort of decoration.
DIY Farmhouse Bathroom Decor
Another cute idea and one that we definitely agree with is taking advantage of the usual bathroom accessories and must-have items to add more charm to the room and to customize the decor. A farmhouse bathroom decor might include a cute vintage window panel which doubles as a towel holder. It's a pretty unique combo and you want to find out more about it check out lilluna.
Farmhouse Bathroom with Sliding Barn Door
Rustic and farmhouse decors are very common for mountain cabins and alpine retreats in general. This cozy hideaway featured on peacedesign is a perfect example. Notice the sliding barn door, the natural wood and stone on the walls and the large mirror which prevents the bathroom from looking cluttered and tiny.
Related: The Best Sliding Barn Door Hardware Kits For Your Next Successful Project
Adding a Flower Basket to Your Farmhouse Bathroom
If your bathroom has an exposed toilet tank (as opposed to once concealed inside the wall) you can place a planter on it and instantly change the ambiance and the decor. Similarly, you can have a wooden box that holds mason jar vases filled with beautiful flowers, either real or fake. It's a lovely idea that comes from oldewindmillfarm.
DIY Farmhouse Bathroom Vanity
A farmhouse bathroom decor might also include a wooden vanity like the one featured on mylove2create. Since this is such a simple design and rustic furniture usually makes the most of its imperfections, this could be your next DIY project.
Rustic Farmhouse Bathroom Shelves
Another idea that can prove to be fruitful is to add a few open shelves to the bathroom. It would be a great way to increase storage plus the shelves would look nice and would make the space look and feel more complete, more like a cozy home. Check out cherishedbliss to find out how to make shelves out of wood and metal pipes and fittings.
Wrought Iron Lighting Fixtures
A farmhouse bathroom light fixture would also do the trick and quite nicely actually. That's actually something you can put together yourself, assuming you can't find a ready-made fixture that has the right look, style, size or price. If you're interested in the project, check out the details on lizmarieblog.
Maximizing Space in a Farmhouse Bathroom
There's usually not a lot of space to work with in bathrooms but we're also usually surprisingly bad at maximize the space that we do have. Take the walls that frame the tub for example. They're often empty because we're afraid the moisture would ruin anything we place there but that's actually not true. Just look how beautiful these farmhouse-style shelves look here. They really manage to transform this space and you can take advantage of them in a lot of cool ways. You can find out all the details of how to build something like this for your own bathroom on thriftyandchic.
DIY Farmhouse Bathroom Soap Dispenser
A DIY Mason jar soap dispenser can also to give your bathroom a charming farmhouse-inspired look. The project is very simple and all you need is a jar with a lid, a soap pump (you can take one from an old dispenser), lacquer white spray paint, glue and sandpaper. You'll also need something to cut a hole in the lid with.
DIY Sliding Door on a Farmhouse Bathroom Cabinet
You might also enjoy giving your old bathroom cabinet a makeover. You could replace its door with a miniature version DIY sliding barn door. Doesn't it look adorable? Surprisingly, this is also a fairly easy project, one which you can do yourself using just a few basic materials and tools. Check out shanty-2-chic to find out all the details.
Towel Hooks in Farmhouse Bathroom
A farmhouse-style towel rack is also the type of DIY project you could easily do yourself with little time, effort or money. Go ahead and find yourself a piece of wood that you can could use for this project and some hooks that you like, assemble the rack and mount it on one of your bathroom walls (or on the inside of the door). You can find detailed instructions on angelamariemade.
Rustic DIY Farmhouse Bathroom Vanity
In the mood for something a bit more challenging? How about a DIY farmhouse-style bathroom vanity? You can find free plans for this project on shadesofblueinteriors along with a list of required supplies and tools and detailed instructions for every step of the project.
Farmhouse Bathroom with Burlap Curtains
The burlap fabric used for the curtains and those white-painted shutters really do wonders for this farmhouse-style bathroom. They're simple, good-looking and a bit nostalgic and that's a perfect combo. Complement this sort of featured with other farmhouse-style of rustic accessories for a cohesive look.
Rustic Farmhouse Bathroom Accessories
Another cute suggestion that you might like comes from therusticboxwood and focuses on the little bathroom accessories such as the soap dispenser which could sit in a little tray with a worn look that suggests a rich history and a cool story.
Water Trough Farmhouse Bathroom Sink
Believe it or not, you can even build your own farmhouse-style bathroom sink. You could make one out of a repurposed water trough. Give it four legs and a small shelf and make the necessary plumbing adjustments. It's easier if you have wall-mounted faucets. You can even use the space underneath for storage. All you need to know about this project can be found on countryliving.
Using Tiles in a Farmhouse Bathroom
A lot of design elements are not unique to any particular style and can be adapted and customized based on the desired end result. Take subway tiled for example. They could look sleek and contemporary but they also fit beautifully in this farmhouse-style bathroom from jennakateathome. The difference is in the details like the color of the grout for example.
Before and After Farmhouse Bathroom
Redesigning a bathroom and giving a farmhouse-inspired look can sometimes refresh the décor and the ambiance and strangely make this space look more up to date than before. A beautiful example in this sense is the transformation featured on blessthisnestblog which brings lighter and brighter colors and embraces the imperfections of intentionally worn finishes.
DIY Double Vanity with a Farmhouse Style
There's something really beautiful about the simplicity of farmhouse interiors. In the case of a bathroom that can translate into little furniture and purposeful accessories combined with natural colors and finishes. The double sink vanity featured on twelveonmain is a gorgeous centerpiece for this farmhouse bathroom. It's complemented by two round mirrors and it looks just right for this space.
Modern Farmhouse Bathroom Makeover
White is a great main color for a farmhouse bathroom and it can be combined with lots of other nuances. It also goes really great with natural wood and it helps to highlight the beauty of a lot of the finishes specific to this style. In the case of the makeover featured on homemadelovely the preferred color palette is one based on the classic black and white with warm wooden accents.
Open Concept Farmhouse Bathroom Reno
In case you're wondering, yes the farmhouse style is perfectly suited for small bathrooms too. In fact, it's perfect for such spaces because it has a lot of character in its finishes and overall aesthetic which means the focus can be on functionality and everything else will follow. It's also a style that goes really well with light and bright colors and that further helps to make small spaces seem larger. Check out martysmusings for more inspiration in this regard.
Attention to Details
It can also be interesting to play around with different styles and to give your bathroom an eclectic design inspired by elements from both modern and farmhouse decors. It can be clean and simple but at the same time it can put more emphasis on the finishes used and on some of the decorations and accessories used throughout the space.
Farmhouse Bathroom with Dark Wall Color
Dark colors can also suit a bathroom that is infused with farmhouse details. This dark blue looks gorgeous on the walls but doesn't overwhelm the room. The vanity is a beautiful centerpiece and the large circular mirror and the sconces help to tone down the backdrop. Furthermore, the floor tiles create a lovely pattern which suits this style very well without looking outdated. This is an interior by studio Hart & Lock Design.
Large Farmhouse Bathroom Ideas
It may seem like wood and certain finishes wouldn't really suit a bathroom but can only be determined when the entire context is taken into consideration. This large wooden vanity for example may not look particularly great on its own but it definitely helps a lot to make this bathroom feel welcoming and to look stylish.
FAQ
What are some key things to have in a farmhouse bathroom?
If you're looking to put together a farmhouse bathroom, you can use key elements such as sconces, hooks, open storage, and plenty of natural wood tones.
What colors go best with farmhouse décor?
For a farmhouse decor, you can use different shades of brown, tan, and beige, but you can also choose white. Accent colors that go well with this decor style include greens, yellows, and light blues.
How do you build a farmhouse vanity?
In order to make your own farmhouse vanity, you can reuse some older pieces of furniture which will give it that rustic look (old dressers work really well in this scenario). You can also build one from scratch using old lumber pieces or repurposed palettes.