The Brentwood Home Mattress: Perfect for Everyone!
If you're thinking about getting a new bed, stop and check out our Brentwood Home Mattress review first. Shopping for mattresses can be overwhelming, especially if you aren't sure what you're looking for. As you shop, you should consider what is most important to you in a mattress. This is why researching and shopping online can be beneficial. You can contemplate a number of aspects without pressure to quickly make a purchase. Today, we're looking at the Brentwood Home model to determine if it's the right mattress for you.
Start with brands that offer a number of innovative ideas, such as the Brentwood Home mattress company. Here, you have multiple options that take care of some of the most difficult aspects of comfortable sleep, aiding in creating the perfect sleep environment for you. Brentwood Home offers an extensive line of sleep products, including five different mattresses aiming to meet the needs of every individual shopping for a mattress.
The Beginning
Brentwood Home has been in the mattress and home products industry for more than 30 years, giving them an advantage in terms of experience over many of the companies that have come about with the online bed purchase boom. They are headquartered in Los Angeles and offer a range of mattresses that are all foam or hybrids of foam, coil, and latex. With expert artisanship and tons of research collected through years of practice and consumer satisfaction, Brentwood home has created a line of mattresses that are quite innovative in both quality and pricing.
Their mattresses are available both directly and through major online retailers and are grouped into the bed in a box category, shipped in a compressed roll inside plastic and a box. However, Brentwood Home has designed their mattresses with many natural, organic, and ecofriendly materials. In fact, most mattresses they produce carry the GREENGUARD Gold certification, one of the most stringent third-party certificates for emissions to procure.
The Details
As mentioned, all Brentwood Home mattresses ship in a box to your door, with standard free shipping in the United States. Of course, that's not all they offer. If you aren't excited about unpacking the mattress and setting it up, or about carrying your old, heavy mattress out and hauling it away, Brentwood Home offers white glove delivery service for an extra fee. This means you get to watch while your mattress is opened and set up for you, and you can say goodbye to that old mattress hassle free.
Once the mattress is open, you may experience a little off-gassing. This is normal, and you should set up your mattress in a room where you can open a window or two to let it air out. It should be done by the time you're ready for bed.
All five available mattresses from Brentwood Home work with standard depth sheets, so you don't have to worry about finding deep pockets to assure they fit. Each has its own benefits, which we'll get into later. But all of the mattress offers a bit more than the average bed in a box when it comes to guarantees.
While most shipped mattresses do offer 100 to 120-night trial periods, Brentwood Home assures that you make the right decision by offering an extended 365 night trial. Their warranty is also one of the longest in the industry at 25 years, and you'll find that returns are easy and free as well during the trial period. Repair and replacement are simple as well for damages and items covered in the warranty. Be sure you read the details of the warranty so you're aware of the coverage.
Initial Impressions
The company offers five mattress styles, and all initially need to decompress into their natural shape once they are unpacked. This can take eight hours or more for many bed-in-a-box mattresses. Each of the mattresses offered by Brentwood Home seem to fill out quite a bit faster, with the Cypress Bamboo Gel (the 13-inch medium firm version) taking the longest. In my case, it took about six hours to reach full potential.
I was also impressed with how little off-gassing occurred. Some bed in a box options smell terrible as the chemical off-put releases. But Brentwood Home has used a number of natural materials without all the chemicals required in heavy processing of manufactured materials. This reduces the smell and creates a safe overall environment.
I did opt into the white glove service with one of the mattresses, just to see how that experience rated. The service was quick and courteous, and I didn't have to lift a finger, except to point the gentlemen to the room in which I wanted the new mattress setup and the old one removed. I was definitely pleased with the service and found it to be of great value.
Construction
Each of the five mattresses offered by Brentwood Home is constructed differently to achieve a different purpose. This aims to please a vaster array of people and draw in more of an audience, and it's an effective tactic.
The Oceano, which has been rated among the best mattresses in its class for several years, is a hybrid product that contains both foam and coils. The cover is Belgian stretch knit that is quilted and lined with moisture wicking New Zealand wool. That covers four inches of pocketed coils, with the queen size holding over 1,300 coils that are all individually wrapped. Next is the contouring gel memory foam, with nearly 800 base coils at the bottom that are grouped in five zones for ultimate support. All of this creates a medium soft firmness.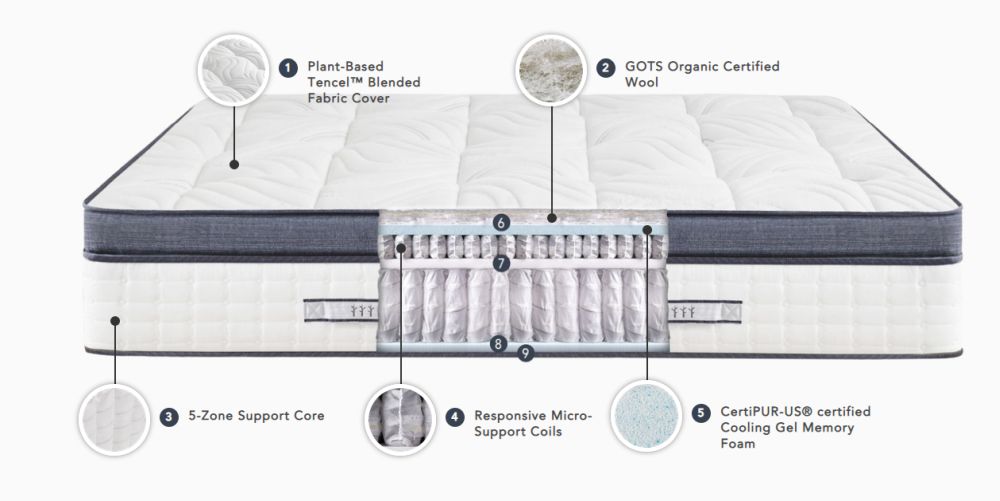 The Crystal Cove mattress is another hybrid, but this one is reversible. It comes with a removable, washable cover that protects two inches of all-natural Dunlop latex on one side and an inch of 'flow foam' that is great for pressure point relief on the other side. Inside the flow foam is a two-inch layer of charcoal infused memory foam, with a layer of individually wrapped coils that offer edge support and sturdiness for the entire mattress. The latex side of the mattress has a medium firm feel, while the other side is rated medium soft.
Brentwood Home offers the Cypress Bamboo Gel, its single foam only mattress, in two profiles, with the 11-inch version being medium firm and the 13-inch version medium. Both have similar construction, with a zipping removable bamboo cover pillowed with natural New Zealand wool, a layer of gel memory foam (2.5 or 3.5 inches, respectively), a 2-inch ventilated air flow zone to keep you cooler while you sleep, and a layer of dense base foam (6.5 and 7.5 inches).
The cover of the Cedar hybrid mattress is a quilted, soft organic cotton, with natural wool. Inside that, you'll find 2 inches of all-natural latex foam for comfort and quick response, followed by the transition layer, another 2 inches of zoned latex foam for pressure point relief. Support is then provided by 8 inches of individually wrapped coils that contour to the body, and the base consists of an inch of coconut husk to support the coils and help the mattress retain its shape. The Cedar has a medium firmness.
The Ojai model is a hybrid with three types of foam as well as coils. An eco-friendly Tencel stretch cover protects an inch and a half of foam for comfort and contouring, another inch and a half of gel memory foam that is responsive to your sleep position, an inch of natural Dunlop latex that is cooling and provides a slight natural bounce, and eight inches of individually wrapped coils that support both you and the mattress itself. All of this creates a medium-firm feel.
Features and Benefits
Each of the Brentwood Home mattresses has its individual features and benefits to celebrate. All are well constructed and durable, with edge support that is sufficient at worst and excellent at best, across the board. I found that, in every case, there was little to no motion transfer, meaning that all of the Brentwood Home mattresses are each great for couples or partners, reducing the interruption of each other's sleep based on movement throughout the night.
Every one of the mattresses employs some form of temperature control, which can be helpful to many sleepers, and most have great contouring, so people who suffer from aches and pains, especially in the joints and most particularly in the back, neck, shoulders, and hips, will find these mattresses relieving to their pains.
Perhaps the major benefits of Brentwood Home mattresses are the quality, price point, and ease of ordering. There is no hassle in getting these mattresses ordered and delivered, with the opportunity to purchase from major retailer platforms as well as directly from the company. The online process avoids the tiresome job of searching storefronts for hours. In addition, you have the chance to add white glove service, and you get incredible value with quality product and exciting trial and warranty options.
Sizes
One of the best things about Brentwood Home is that they provide extended sizes in all their mattresses. It can be difficult to find some of the less common mattress sizes, and when you do find a manufacturer that offers them, they often have exorbitant price tags. But with all five of the models this company offers, you can count on the availability of the size you need.
Of course, the most common sizes of Twin, Full, Queen, and King are available. However, all five mattresses come in Twin XL, California King, and Split King for the ultimate convenience of fulfilling your needs.
| Size | Dimensions | Weight | Price |
| --- | --- | --- | --- |
| Twin | 75"L X 39"W X 14"H | 80 lbs | $995 |
| Twin XL | 80"L X 39"W X 14"H | 90 lbs | $1,195 |
| Full | 75"L X 54"W X 14"H | 115 lbs | $1,295 |
| Queen | 80"L X 60"W X 14"H | 135 lbs | $1,495 |
| King | 80"L X 76"W X 14"H | 170 lbs | $1,995 |
| Cal King | 84"L X 72"W X 14"H | 170 lbs | $1,995 |
Heat Transfer
As mentioned before, all of the mattresses include some form of heat dispersal and moisture wicking technology. And this is assertive in reducing the chances of sleeping hot or sweating more (especially for those who already suffer from night sweats). Instead of waking up several times a night or rising to find you've been sleeping in a wet spot, any of the Brentwood Home mattresses are excellent with cooling.
If you are a hot sleeper or have a condition or medication that causes night sweats, you'll especially appreciate the Cypress Bamboo Gel mattress, which incorporates the gel infusion into the memory foam and has an entire layer for ventilation to keep your sleep space cooler and drier throughout the night.
Durability
While the Brentwood Home mattresses vary in feel and sleep preference catering, they all have a great deal of durability. With some bed-in-a-box mattresses, especially those that have low costs, you get what you pay for. The mattresses wear out fast, or you experience low quality. However, this line of mattresses is created with suitable durability and the warranty to back them.
Perhaps the only issue with any of the Brentwood Home mattresses is that some side sleepers who like to roll to the edge of the bed, as well as those who frequently sit on the edge of the bed to dress (such as pulling on socks and shoes) say that edge support, while mostly adequate, is not what they prefer. Therefore, if you spend a lot of time at the edge of the bed, you may want to consider at least choosing one of the firmer models to help support your habits.
Maintenance, Protection, Care and Warranty
All Brentwood Home mattresses come with removable covers that can be laundered. Wash on a gentle cycle in cool or cold water and hang to dry. While most are rated for tumble dry on low heat and delicate settings, it's always safer to hang dry, since the specifications on dryers are all different.
You can also spot clean both the mattress cover and the mattress itself for convenience of small spills or other issues to help avoid stains. Because the mattress covers are mostly moisture wicking, you won't find that they smell after a few days or that there are stains from sweat. However, it's recommended that you wash your mattress cover at least once every three months.
The warranty on Brentwood home mattresses is one of the company's best features. First, most mattress companies give you a trial period that lasts anywhere from 30 to 120 days. With Brentwood Home mattresses, you get a full 365-night trial period so you can really get attuned to how it sleeps and decide if it's right for you. Any time during that period, you can return hassle free for a full refund if you decide it's not the right choice.
In addition, the warranty is far longer than the standard offering. With a 25-year warranty, you'll have greater protection than with almost any other product on the market. The warranty covers a vast array of issues, so you can rest easy in more ways than one.
Cost
The Brentwood Home mattresses are not the cheapest on the market, but considering the quality of the mattresses, they are a great value. Prices vary depending on which model you purchase and the size of the mattress you choose. You'll find pricing anywhere from $310 (for the 11-inch Cypress Bamboo Gel mattress in twin) to $3,299 (for king sizes of the Cedar mattress). For queen sized options, the prices are as follows:
Reviews and Feedback
Reviews for the various Brentwood Home mattresses are good, with most highly rated. Customers feel that claims of moisture wicking, heat dispersal, and pressure point relief are valid, and they appreciate the durability. It also gets stellar grades for how little motion transfer there is. There is no complaint about long off-gassing periods, and several buyers state that break in periods are extremely short, making the mattresses easy to get used to. Perhaps the only complaint is the edge support, but overall, reviews and feedback are very positive for all models.
Who Would We Recommend Brentwood Home For?
Because Brentwood Home has several models, they cover their bases with catering to all types of sleepers. The mattresses all work to reduce joint pain and overall aches, and they all have low heat retention to help those who sleep hot.
If you're a back sleeper, the Oceano or Crystal Cove are perfect for you, while the Cypress Bamboo gel mattress and Crystal Cover are excellent for side sleepers. Stomach sleepers can enjoy the Ojai and Cypress Bamboo Gel, while those who often switch positions are most likely to want the Crystal Cove or Cypress mattresses.
Our Final Verdict
Overall, the Brentwood Home line of mattresses is a high-quality bed in a box option that can satisfy any consumer's needs, with five options to choose from at a variety of firmness levels and construction options, as well as a range of sizes and price points. They all include as many eco-friendly, organic materials as possible to avoid harm to you or the environment.
In addition, you can choose to just have them delivered or to have white glove service, with setup and removal of your old mattress. The warranty is one of the best in the business, offering a 365-night trial period and a long 25 year warranty on all five models.
Testing out the mattresses, none of them are lacking in quality manufacturing, and they were all cool and dry through the night. Other than the mattresses being heavy and hard to wield without help, which is common with almost any mattress, setting up the product was a pleasant experience.
FAQs:
Is a mattress cover needed?
All Brentwood Home mattress models come with removable mattress covers, so you don't need to purchase one separately.
How does the returns process work?
Brentwood Home mattresses come with a 365-night sleep trial. If you aren't completely satisfied with your mattress after that time, you can return it hassle free for a full refund.
Where can these mattresses be shipped?
The Brentwood Home line of mattresses can be shipped or delivered with white glove service anywhere in the contiguous United States.
Is the loft adjustable?
The loft depends on the model. On a scale of 1-10, where 1 is so soft you are laying in a pillow and 10 means that you're on a wooden board, the mattresses are generally rated as:
Oceano – 4 (medium soft)
Crystal Cove – 4.5 (medium soft) or 6.5 (medium firm) depending on the side
Cedar – 5 (medium)
Ojai – 6 (medium firm)
Cypress Bamboo Gel – 11-inch 5.5 (medium), 13 inch 6.5 (medium firm)
What type of sleeper is this mattress best suited for?
Any hot sleeper or sleeper who deals with joint pain.
Best for what sleep position?
Because there are multiple models, Brentwood Home can accommodate all sleep positions.
Materials variable by model:
Cover – Organic cotton, New Zealand wool, bamboo
Fill – Memory foam, gel memory foam, Dunlop latex, spring coils
Base – High-density foam
Pros:
Wide variety of materials and lofts with variable mattresses, one of which is flappable
Excellent price point for the construction and value
White glove delivery service available
Great heat dispersal and pressure point relief
Cons:
Some off-gassing
Heavy to move