Bidet Converter Kit Ideas For Smart Bathrooms
A bidet converter kit should be a necessity. If you're wondering why you should get a bidet converter kit, the answers are clear: water and toilet paper. A bidet kit easily fits over your current toilet seat.
When considering the toilet paper shortage of 2020 combined with massive water shortages worldwide, adding a bidet converter kit to your home bathroom would be a wise addition.
The word "bidet" is French and means "tiny horse." A bidet is a hygienic bathroom fixture people use to wash their genital area. A bidet converter kit provides a more effective and thorough cleaning experience after bathroom usage as a toilet paper alternative.
What Is A Bidet Converter Kit?
A bidet is a type of sink that provides a rear wash after you use the bathroom. A bidet seat attachment comes with a retractable nozzle and an adjustable heated seat. after using the toilet.
According to most bidet converter kit users, the toilet-seat add-on leaves them feeling fresher and cleaner than when they use toilet paper. Others claim it is a more comfortable option for new moms and those suffering from irritable bowel syndrome.
Those wondering if electric bidet converter kits offer health benefits, the answer is yes. When you use toilet paper to clean yourself, it's not as effective as a bidet. Residue and other germs can irritate your sensitive areas.
However, with a self cleaning nozzle, you get a healthy water cleanse. A bidet is beneficial to those recovering from hemorrhoid or rectal surgery.
Converter Kit Vs Bidet
Bidets offer a gentler alternative to toilet paper, reducing hemorrhoid pain and rectal itch. However, a full bidet can be expensive and requires more bathroom space, making them impractical for smaller lavatory spaces.
Lucky for you, bidet converter kits or add-on bidets are available and easy to find. They are cheaper than full bidets and easy to install, allowing you to experience a better bathroom experience at an affordable price.
Bidet Converter Kits
Bidet converter kits are the cheaper alternative to a full bidet sink. The converter kit offers nearly the same benefits as a full toilet bidet with a toilet seat add-on. Below, we've outlined the pros and cons for your convenience.
Pros:
Cheaper than a full bidet
Saves money on toilet paper
Easy installation
Suitable for small bathrooms
Cons:
Might require a new electrical outlet
Heater may not be reliable
Full Bidet
A bidet is a small, porcelain fixture that stands alone. After using the bathroom, you just sit on the bidet for cleaning. The following information lists the pros and cons of a full bidet:
Pros:
Allows you to save money on toilet paper
Available in many styles
Water temperature and pressure are adjustable
Cons:
Expensive to install
Requires more space
It is not as convenient for people who have mobility concerns
Best Bidet Converter Kits For Your Smart Bathroom
When shopping for a bidet converter kit, it might be overwhelming at first. There are many styles to choose from, so you want to pick one that's right for you. To help you, we've created a list of the best bidet converter kits on the market today.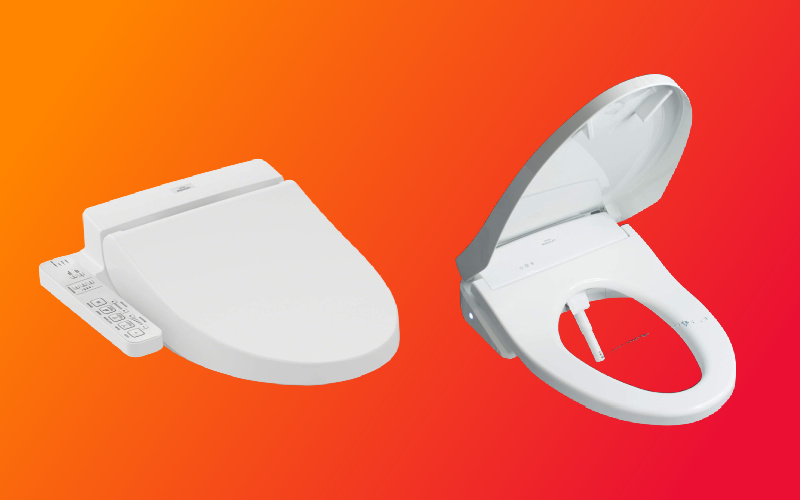 The TOTO Electronic Bidet is a high-tech bidet seat. The model utilizes advanced technology and innovation to ensure cleanliness, providing ultimate comfort and hygiene. The bidet's front wash feature, otherwise known as a "feminine wash," offers protection from germs that can cause infections in sensitive areas.
The bidet converter kit is easy to install and simple to use. It comes with a base plate, tee connector, wash-let, and installation hardware.
Features:
Temperature control
Toilet seat warmer
Water pressure control
Overall dimensions- 7.375" H x 18.875" W x 20.875" D
Interior Bowl dimensions- .87" W x 11.37" L
Product Weight – 16 pounds
Pros:
Adjustable spray that cleanses and refreshes you better than regular toilet paper
Self-cleaning wand, designed to clean before and after use
Hands-free air dryer with warmer
Automatically air deodorizer that neutralizes bathroom odors through the use of powerful filters
Cons:
French curves may inhibit the proper installation. Ensure that your toilet has adequate width space before purchasing.
Fully skirted toilet bowls can restrict the valve inlet from being filled, preventing the water connection.
The bidet model is made from durable material, featuring a hose and brass valve fabricated from quality 304 rust-resistant stainless steel. The kit offers temperature control and a heated seat, smooth and easy to clean.
This model also features a self cleaning device to safeguard personal hygiene. Convenient to use, especially for people who have mobility issues caused by arthritis, surgery, postpartum or other forms of injuries.
Features:
Suitable for outdoor use
Water pressure controls
Overall product dimensions- 4.7" H x 2.76" D
Overall Product Weight- 1.67 pounds
Pros:
Includes installation kit, allowing for quick and easy setup.
Lead-proof hose
Multiple pressure modes for better control
Low-lead compliant
Can be used for Sattaf Muslim shower, cloth diaper sprayer, or personal hygiene.
Compatible for use with hanging or floating toilet bowls.
Cons:
Seat not included
Water temperature cannot be regulated
The soft close dual nozzle toilet seat bidet is an innovative product that eliminates hand usage after using the toilet. The model is equipped with the standard bidet attachments like a high pressure adjustable nozzle and side control panel that allows you to adjust the water temperature and water pressure.
The bidet toilet seat is a hygienic and more convenient alternative to toilet paper or wipes. Suitable for all genders and age groups.
Features:
Water pressure control
Overall dimensions- 3.4" H x 14.4" W x 19.5" D
Overall product weight- 7 pounds
Mounting kit included
Faucet included
Pros:
Nozzle placement in two positions; anterior and posterior.
A soft-close mechanism that allows the toilet seat to close smoothly and quietly.
Maintenance and cleaning are easier with the T diverted, which you can toggle on and off; performing. any cleaning/maintenance you need.
Cons:
Faucet not included
Water temperature cannot be regulated
Step into the world of convenience and style with this ground-breaking new line of toilet hygiene cleaners. It features the latest technology, leaving you feeling fresh and clean after using the bathroom.
Features:
3 in 1 high-quality steel nozzle that offers feminine, vortex, and posterior washes.
Heated seat and regulated water temperature
Slow closing lid
Warm air for drying
Hydro-Flush technology that thoroughly cleans the nozzle inside-out to ensure maximum hygiene
Item weight- 15.82 pounds
Overall product dimensions- 21 x 15.6 x 9 inches
Pros:
This bidet has an energy-saving mode that reduces the electricity used, making it environmentally friendly
The product sports a pulsating massage technology alongside bubble infusion
Innovative heating technology
Comes with a powerful deodorizer
It has a touch screen side panel and a night light for use in the dark
Cons:
Lower water pressure than normal bidets
The BIO BIDET BB-600 is engineered for luxury. It has front and rear warm water cleanse options, cycling both streams for unmatched cleaning.
The model allows you to adjust water temperature, pressure, and stream positions. Activated with the touch of a button, the superb cleansing abilities are accompanied by a mild, warm air dry. The bidet is adjustable in up to three different settings.
Features:
Item dimensions- LxWxH20.47 x 18.4 x 5.6 inches
Soft closing seat
Warm water cleaning for both front and rear
Equipped with anti-bacterial material and massage features
Dual nozzle for all-around cleaning
Smart seating with streamlined comfort and heated seats that can be adjusted.
Pros:
Hands-free cleaning
Discreetly closing seats
Wide clean function
Warm air drying function
Eco-friendly with energy-saving mode to help you conserve electricity
Adjustable water temperature
Kid-friendly
Enjoy the luxury of this recommended freshwater bidet converter kit in the comfort of your home. This easy to install model offers a more hygienic options compared to toilet paper.
Features
Item Dimensions- 17 x 3.4 x 9.5 inches
Item Weight- 1.1 pounds
Made from high-quality, rust proof plastic.
Pros:
Easy to install with detailed instructions and no special tools required
The dial is easily accessible for nozzle adjustment and instant pressure
This product is non-electrical and can be used in outdoor bathrooms
Nozzle retracts automatically after use.
Environmentally friendly
Hands-free cleaning
Simple to use and suitable for children
Cons:
Water temperature is not regulated
Drying system not included
Check out this ultra-slim bidet converter kit designed to be half as thick as a regular bidet.
Features:
Dual nozzle for front and rear cleaning
Non-electric; this product requires no electricity or batteries
Item weight- 1.6 pounds
Product dimensions- 13 x 2.8 x 7 inches
Pros:
Easy to install
Chrome-plated control knobs for a user convenient, more ergonomic experience
Elegant style to match your bathroom design
Self-cleaning nozzle sanitation
Self retractable nozzle
An adjustable nozzle guard gate for extra protection and convenience.
Traditional plastic is swapped for ceramic and metal valves that can withstand high pressure
Convenient for pregnant women, children, senior citizens, and hemorrhoid patients.
Cons:
Slow water pressure during hot water usage.
This faucet bidet converter kit offers the perfect quick installation if you are not looking for something fancy. It has a sleek look and can be used as a regular faucet. The water pressure provides a gentle stream. You can enjoy super easy cleaning from the sink hose attachment.
Features:
This product is designed to eliminate leaks
Made from 304 stainless steel and premium brass
Stainless steel bidet hose is made with a PEX inner tube
Super easy installation process
Product dimensions- 10 x 3.5 x 6.5 inches
Pros:
Perfect for people with disabilities, children, the elderly, and those living with assisted care
Allows cloth disbursement, bathroom cleaning, and Muslim shattaf.
Easy to install, requiring no extra plumbing
Adjustable water temperature
Easy to operate
Cons:
Not suitable for outdoor use
Can only fit on toilets with removable aerators
This product is a smart, beautiful, discreetly designed bidet. It is adjustable to customer preferences and will fit your toilet bowl rim perfectly.
The bidet converter kit provides the ultimate cleansing experience with just the twist of a knob. The extending nozzle thoroughly cleanses you, eliminating the need for toilet paper.
Features:
Multiple nozzles for rear and feminine cleaning
Adjustable temperature for a refreshing wash
Dual self-cleaning, retractable nozzles
Item weight- 1.5 pounds
Product dimensions: 16 x 7 x 3 inches
Pros:
Installation does not require electric wiring
This product is shipped along with the hardware required for installation.
The genie bidet has an ambient water temperature spray.
Quick and simple installation
Cons:
Does not fit French-curved toilet bowls
Experience a lavish standard of living at a low price with this fantastic bidet toilet. It offers an adjustable warm air dryer providing easy clean up with ambient temperatures ranging from 32 ̊F/0 ̊C to 104 ̊F/40 ̊C.
Features:
Easy DIY installation
Weight- 15.77 pounds
Product dimensions- 23.5 x 20.5 x 9 inches
Heating technology for provision of soothing hot water
Warm air dryer with customizable temperature settings
Wide front cleanse, which provides a refreshing and gentle feminine wash
Pros:
The built-in water mist prevents waste from sticking to the toilet bowl
Cleaning frequency is reduced, creating a more hygienic environment
Temperature settings on the seat are adjustable, allowing users to select temperature levels
Heated contoured seat provides maximum comfort
Air deodorizer with high-powered air filters neutralizes bathroom odors
Equipped with night light, illuminating toilet bowl in low-light conditions
Cons:
Additional fittings are required for wall-hung models.
Fully skirted bowls cause restrictions to the fill valve inlet.
FAQs
Why Aren't Bidets Popular In America?
This is changing across the country. In 2019, sales for bidet converter kits were up almost 20 percent in America. Amid the Great Toilet Paper Shortage of 2020, it was reported that bidet sales "were soaring." more
Are Bidets Expensive?
Installing a standalone bidet in your bathroom could cost upward of a few thousand dollars. Meanwhile, a bidet convert kit that fits over your bathroom toilet seat on average is between $30 and a few hundred dollars.
You may not be aware, but toilets outweigh showers, sinks, and lawn sprinklers as the biggest consumers of residential water usage. One toilet flush equates to 1.6 gallons of water.
How Can I Control Water Temperature And Pressure On A Bidet Converter Kit?
Water temperature and pressure are easy to control on a bidet. An electronic touchpad connected to the bidet seat lets you control the features with a simple button push.
What Are The Health Benefits Of A Bidet Converter Kit?
Those suffering from hemorrhoids, plus pregnant women and patients recovering from post-rectal surgery, are already familiar with the benefit of having a bidet at home. A bidet offers a cleaner bathroom experience, which means they're healthier as they wash away germs that can cause infections. Toilet paper does not provide the same protection.
How Hard Are Bidet Converter Kits To Install?
The truth is nothing could be easier. On average, they take about 30 minutes to set up, and that's it. You do not need a plumber to help you install a bidet converter kit.
Would It Be Inappropriate To Give Someone A Bidet Converter Kit For Christmas?
For your climate change friends, a bidet convert kit would be the best and most inexpensive gift you could give them. Think of the trees that would be saved. Americans consume more than 34 million toilet paper rolls daily, which equates to 15 million trees.
A bidet converter might be the most Earth-conscious gift you could give to those serious about saving trees, water conservation, and protecting the planet.
Bidet Converter Kit Conclusion
Bidets are a convenient and comfortable alternative to toilet paper. If you are concerned about saving the planet and making eco-friendly lifestyle changes, you should install a bidet converter kit on your toilet. There is a model for everyone and the option of bidet converter kits if you have a small bathroom.
The great thing about a bidet converter is that allows you to enjoy the benefits of a bidet without installing a full bidet. All you do is attach the new bidet seat to your existing toilet, and you're done.
The toilet attachment is easy to install and offers effective cleansing for your private areas. It's a good option for anyone who wants to save money by reducing their household water consumption and toilet paper usage.