Fall Mantel Decor Ideas That Impress And Inspire
There are so many wonderful ways to decorate a mantel that we don't even know where to start. Since it's now autumn we thought we'd let this be the theme of today's article. We're actually super excited about the fall mantel decor ideas that we found so far. They explore many beautiful design possibilities and they offer lots of room for personalization. Have a look and pick your favorite ideas, then start planning your own version of the project.
Let's start by saying that just because it's fall doesn't mean you have to decorate your mantel with shades of orange, yellow and brown. A neutral fall mantel decor can actually look super stylish and you can even use pumpkins, just not the orange kind. Check out this elegant setup featured on lizmarieblog for inspiration.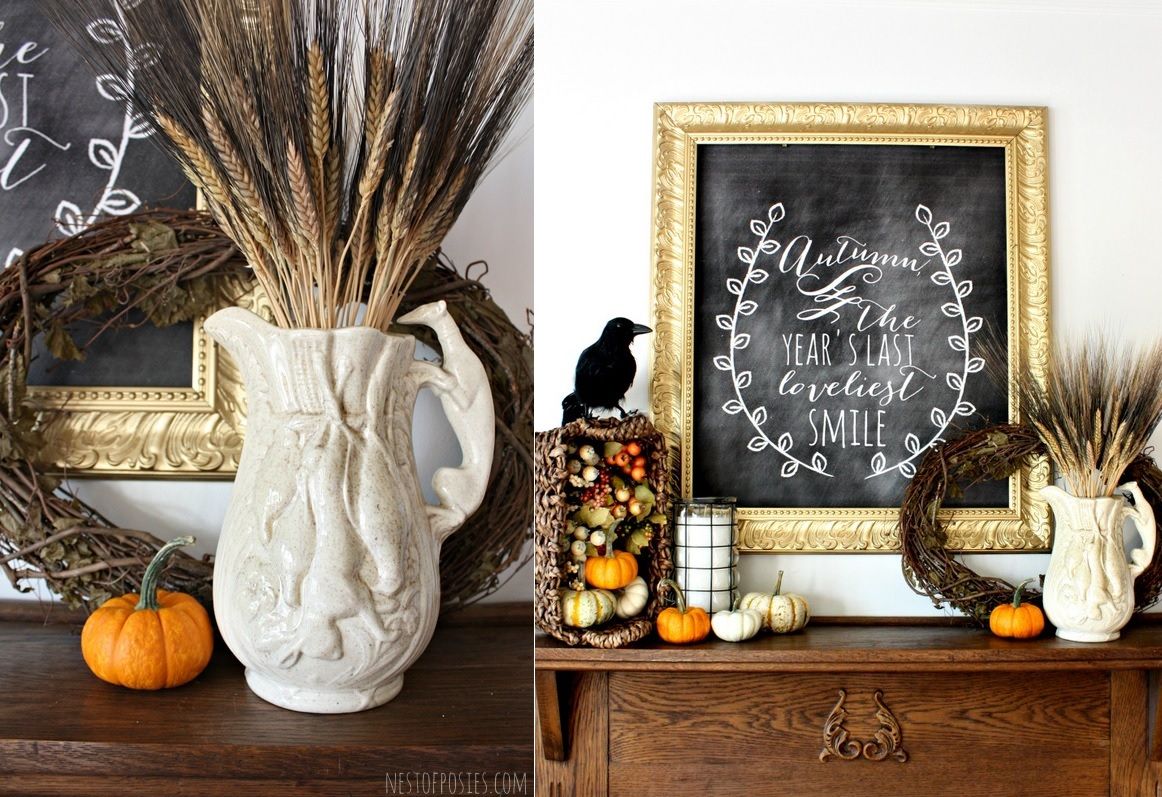 This chalkboard poster is the centerpiece of the fall mantle decor featured on nestofposies. It's easy to make and it's also a very affordable project. In addition to all that, you can actually reuse it or keep it as a permanent decoration even when fall is over and winter comes along. Just wrap the other ornaments with some new ones and put a different message on the board.
A successful fall mantel decor is not only about one element in particular but about the whole ensemble and that means you can put together a bunch of different ornaments which together can send the right message. A nice example is this setup that we found on myblessedlife. The wreath, the garland, the pumpkins and branches all look great, for individually and as a group.
If you like things to be simple, including your fall mantle decor, then it would be a good idea to avoid clutter and to create a fresh look with only a few simple colors. We suggest checking out the idea from thehappierhomemaker. It features a stylish combination of silver and gold details mixed with white elements.
We also found a simple and chic example of a fall mantel decor with plenty of style on craftberrybush. The star is the wreath which is made out of paper leaves and feathers. A multitude of other neutral-colored decorations are displayed on the mantel, featuring contrasting textures which complement each other.
Give your fall mantel decor a touch of gold so it looks extra chic and sophisticated. There are plenty of ways to do it and we really like the idea suggested on athoughtgulplaceblog. The garland is pretty funky, featuring gold letters on black and white patterned backgrounds and the painted pumpkins are super cute too.
As you know, pumpkins in various shapes, sizes and colors and when put several together they look really charming. This can be the inspiration you need for creating a fall mantel decor with character. You can see how such a display of pumpkins could potentially look like if you check out justagirlblog.
You can actually use pumpkins in a lot of cool and creative ways. For example, you can take four similar-looking pumpkins and you can glue vintage-looking keys on them to create a "fall" mantel decor. It's an updated pumpkin project with a lot of potential.
Reclaimed wood is super versatile and useful when it comes to DIY project of pretty much any kind. This even includes fall mantel decorations. You can use a few boards from a wooden pallet to make a simple sign which you can display on the mantel. It can serve as a rustic backdrop for your other ornaments. The idea comes from thefrugalhomemaker.
Another good idea which comes from thefrugalhomemaker is to decorate the mantel with a combination of seasonal and non-seasonal items such as the usual pumpkins, foliage, fall flowers but also candlesticks, lanterns and other things.
A fall mantle decor with metallic accents can also look interesting. You can spray paint a few pumpkins, either real or faux and you can also decorate a few other things using the same technique. Perhaps you'd like to spray paint some foliage too for example. On thescrapshoppeblog you can find instructions on how to make that lovely pumpkin crate.
Check out this eye-catching fireplace decor. It takes full advantage of the fall color palette. It combines a bunch of things like a foliage garland, a bunch of faux pumpkins and gourds, a wreath, twigs ties in bouquets, orange candles and also a fall sign. You can find details about this on theseasonalhome.
Orange is not the only fall color with style. If you prefer your fall mantel decor to be a bit less bold but still eye-catching, try some shades of brown, copper, maybe some silver too and play with different textures and finishes. Perhaps this project from serendipityrefined can inspire you.
A fall-themed mantel decor can also be centered around foliage. You can use real eaves which have fallen from trees but you can also use the faux kind or you can cut out paper leaves. Use them to make a garland or display them in bouquets. Find additional inspiration on dining-delight.
Another beautiful leaf-themed fall mantel decor idea is featured on adventuresindecorating1. In addition to a leaf garland and foliage bouquets displayed in vases there's also a wreath decorated with foliage and a few cut hanging leaves.
There's any number of items which can be used in the creation of a fall mantel decor. Some are autumn-themed and some are general, permanent ornaments which you can reuse on other occasions. Check out misskopykat for a few ideas in this sense.
When decorating your mantel for fall, look for ways to keep the decorations that are basically always there and to add a few more which are specific to this season. A custom garland or a banner could work and don't forget the seasonal flowers and those cute pumpkins and gourds that are basically everywhere right now.  Have a look at the decor featured on 2beesinapod if you'd like more details.
Don't you just love the way these black and white decorations and the colorful foliage and decorative pumpkins complement each other? The contrast is so crisp and beautiful, especially with that stone fireplace surround as a backdrop. Check out the printable designs for this fall mantle decor on cleanlivingcleaneating.
Seasonal or themed decorations don't really go out of style so chances are the ideas from a few years ago would still look stylish today. A few trendy adjustments here and there can definitely made but some things are classic, like pumpkins displayed on mantels or wreaths. Check out creationsbykara if you'd like more details about this particular mantel decor.
We love clean and modern decors and we also love chic and classy color schemes so, naturally, we fell in love with this fall mantel decor from randigarrettdesign. It's simple but it's not boring and it's charming but it doesn't look too rustic.