50 Christmas Table Decorating Ideas for 2011
It's Christmas. It's time to have family get together. To host the entire family and friends your table is the unparallel venue. If you can give your dining table the festive look, it will be a signature step towards the entire family's Christmas dinner.
Cover the table with a white piece of tablecloth with tiny embroidered flowers on it of subtle colors. The napkins, tablemat and other table adornments are to be kept in an apple pie order. Now, the center of the table is to host a small Christmas tree to set the Christmas mood. Two glass vessels on either side of the tree containing colored balls. And last, not the least the presence of two lit candles in metallic golden colored candle holder on the edge of the table will speak the rest. Since the tablecloth is of white color, the candle holder will be in perfect harmony with that.
You may cover the table with a red tablecloth. White ceramic plates will simply get accentuated. The use of white tablemats and neatly folded white napkins are advisable to enhance the contrast. You can simply put small milk glasses as candle holders (it would be best, if you can paint a red colored rim on the upper part of the glass). Just light the candles and start your dinner with family and friends.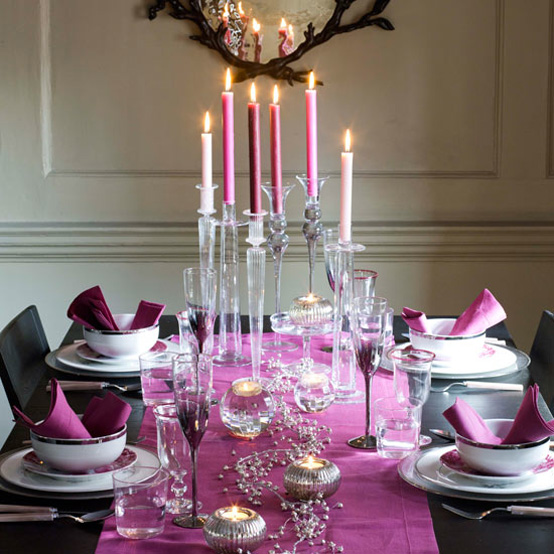 Cover the table with a navy blue tablecloth with lemon yellow tablemat and napkins. Fold the napkins and tie them with navy blue ribbons. You can assign this job to the children. Put silver white candle holder. Let different shades of blue parade in the color of candles. Now you can put small transparent glass vases containing small floating candles along with petals of flowers in it. If you want you can also add some lemons in them.{pics from bhg,flickr,design-remont}